POV Holder:
?
Next POV
May 1st
POV Used
?
POV Ceremony
May 3rd
HOH Winner
Kevin
Next HOH
May 6th
Nominations:
?
Have Nots
Zach, Bobby
POV Players
?
8:28pm Bruno and Godfrey
Bruno says the Diapers want to get Bobby out either Bobby or Godfrey. If Bobby wins the veto either Bruno or Godfrey will be the replacement.
Godfrey – He already has a veto
Bruno – yeah
Bruno saying he's tired of all these f***g kids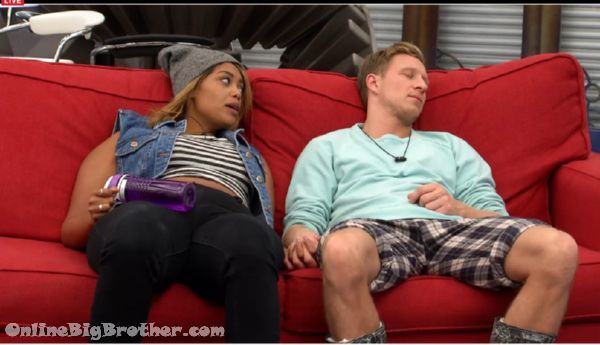 8:37pm Handmance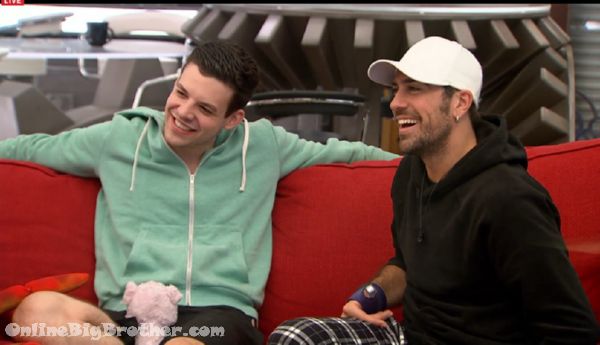 9:33pm Living room
Not sure what exactly Bruno or the other houseguests saw. Sounds like the house got to see the evcited houseguest intro videos. Bruno may have saw everyone's interviews. (Not sure at this points its all a bit murky) They all saw Ashleigh's family video
Bruno brings up Kevin's boob clip that happened right before Rishas, The one that he motor boated the camera. Kevin says it makes sense because "they" (Production) really pushed him to talk about breasts
Bruno says Naeha was a chiropractor and a super fan.
Zach mentions a conversation with Naeha where he said he didn't trust chiropractors because they make you sign a waiver. Mentions Neaha seemed offended.
Bruno brings up the video of Johnny that showed him in front of a bulletin board with the big brother 2 houseguest flashcard.
Kevin says that's funny he thought he was going to get a clip of the game. Bruno agrees says he thought he was going to get something useful.
They talk about Naeha being wealthy, Sarah says if you work in Brampton and live in downtown Toronto yo make money.
Bruno says they could use Naeha in the house right now because his neck is messed up.
A lot of them agree they thought they were "Super Fans" before coming into the house but once they heard Johnny and Jordan talk they realized hey were just fans
There's Diary room Feed leak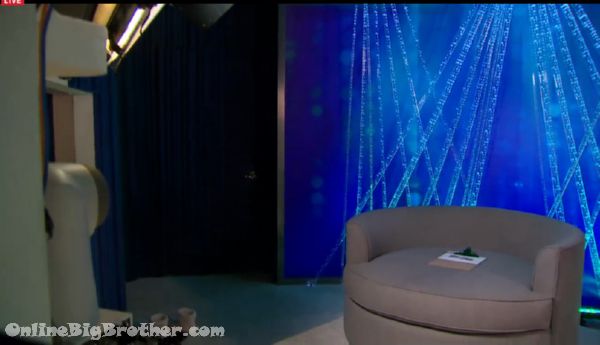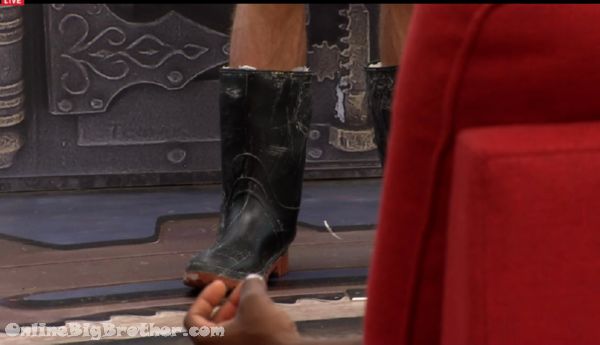 Bobby's Slop boots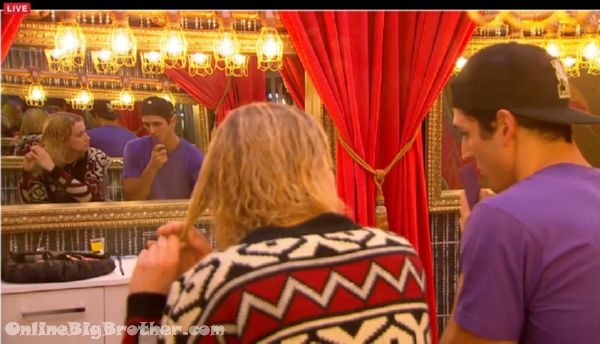 10:10pm HOH Ashleigh and Zach
Chatting about Ashleigh's video from home. In the video it was brought up that Zach never wears a shirt.
Zach – if we won HOH next week would we take a shot at them
Ashleigh – I would.. I would do Bobby Bruno
Zach – no no
Ashleigh – This video has lit the fire under my a$$
Asheligh says she would rather play against Brittnee and Sarah than Bobby/Bruno
Zach thinks they need to keep Bobby/Bruno in the game because they aren't coming after them. Zach thinks Sarah will come after him but Brittnee will go after Kevin.
Zach says the second they get out of power the house will be coming after the couples.
Zach – the only people that won't come after the couples next week are Bobby and Bruno
They agree they have to break Bobby/Bruno up eventually. Zach stresses Boby/Bruno are very loyal
Zach – Brittnee and Sarah are not big threats but they are cutthroats.
Zach really wants Bobby/Bruno left in the game is convinced it benefits their game. He brings up if the next HOH is endurance and Bobby wins who is he going to come after the two of them or Kevin and Pilar. Zach thinks Kevin and Pilar will be the targets.
Zach says Brittnee will backdoor him in a second.
Zach – next week if Bobby or Bruno win it's not bad because we can use them to get rid of Sarah
Zach points out that Sarah and Jordan were really tight and she voted him out calls her cutthroat and Dangerous.
Zach wants to wait one more week so they can get rid of one more person like "Sarah, Brittnee or Willow"
Zach – as soon as we attack Bobby Bruno we're done we have to win out
Ashleigh – I think Willow is with out
Zach – we trust her .. she's too flip floppy
Zach tells her he's really going to try and win HOH's he thinks the time of throwing comps is over.
AShleigh reminds him that Sarah has to win a HOH before she can come after them
Zach – she'll do something behind the scenes
Zach – I feel Bobby and Bruno are pulling away a bit.. we have to strike next week
Ashleigh points out he just did a 180
AShleigh – I rather strike at Bobby and Bruno
Zach – Ya I dunno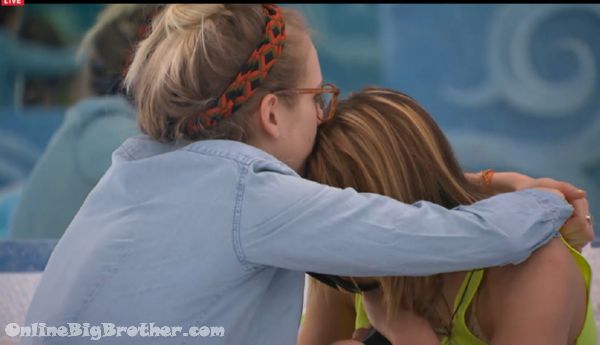 10:33pm Bedroom Willow and Sarah
Willow says she thinks the couples are going after Bobby. Willow says they will have to vote out Brittnee. Willow and Sarah agree they really don't want to but they would have to vote out Brittnee.
Sarah – I would Vote Brittnee out before Bobby
Sarah says she wants to do that but Brittnee will hate her is worried Brittnee will blow up their game.
Willow – Than Bobby has to win Veto
Sarah – Pili is starting to get on my nerves.
Willow brings up telling the couples that the entire house was noticing the couples were up in the HOH late last night.
Sarah says if they keep brittnee she's with them 100%, If Bobby goes Bruno has nobody.
Willow doesn't think Brittnee has a problem with her.
Sarah wants Godfrey out this week says he's been making deals with Kevin she's certain he'll blow them up.
Willow – ya God's gotta go
Sarah – Bobby's so annoying
Sarah – Bobby has a closer connection to those people than B does.. but you're right what does B bring to the table.. Bruno is less threatening without Bobby.
Sarah points out if they vote to keep Bobby it puts them out there.
They agree they'll have to keep Brittnee otherwise it's them against the house
They're upset that Bruno didn't get to see anything important. Sarah says Bruno told her he was told he's not allowed to lie about what he saw.
Sarah says it was confirmed by Ashleigh that Kevin threw the Have nots comp last week.
Sarah – Look at the team he picked (in the have nots)
Willow – these people are so mean they are so rude..
Sarah – I've been mean to I feel like
Sarah – this is going to be stressful we gotta get God out
Sarah adds that this would leave Bobby/Bruno being the targets for two weeks.
Willow – I got to stop talking to everybody.. Zach was like Willow the best thing is not to talk
Sarah says Ashleigh gives her so much information
Willow – AShleigh and Zach don't game talk alot the boys are keeping everything from the girls.
Willow says Pili believed Sindy over her "That hurt"
Willow and Sarah agree "We're not having another Emmett and Jillian"
Sarah says it's not only the couples it's Pili/AShleigh and Zach/Kevin that foursome is very deadly
They want to pull Ashleigh in but they have to get rid of Zach first.
Sarah says Pili wasn't even interested in auditioning, wasn't even interesting in playing the game "Doesn't that drive you nuts"
Willow brings up Kevin saying he wants to bang Sarah. Sarah says Kevin thinks he's playing her by calling her hot.
11:22pm Feeds cut Probably Nominations
12:30am Feeds blocked
1:00am Feeds blocked
1:38am Feeds blocked
If you are outside Canada and want to watch the FREE Big Brother Canada Live feeds sign up for a VPN service here https://www.hidemyass.com/vpn/r16399/. It's safe to use, easy to set up, and cheap. Need to know more check out this post explaining how to set it up.
[polldaddy poll=8834825]