POV Holder:
?
Next POV
?
POV Used
?
POV Ceremony
April 7
HOH Winner:
Heather
Next HOH:
Apr 10
Original Nominations:
?
Current Nominations:
?
Have Nots
Sarah (Slop Pass?), Kenny, Rachelle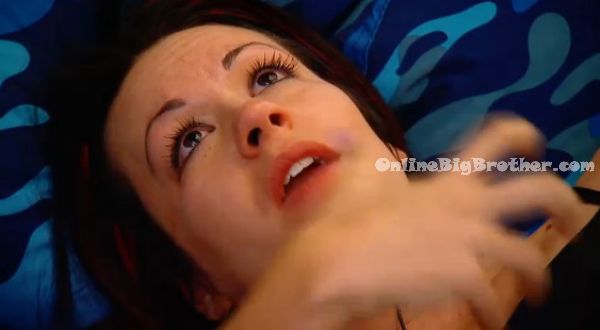 1:15pm – 1:50pm Sarah tells Allison, Rachelle and Sabrina – I don't want Heather to put up Rachelle with Kenny. I want her to put up me with Kenny. If something gets f**ked up at least I can go home to my kids. If you guys wanted to keep the strong Kenny then I would be okay because I would be with my kids. I just feel like a strong one is coming up and I think Kenny is going to win it. Sabrina says I am not going to vote you out. Sarah says I could go on a rampage and then everyone would vote me out. I could self-sabotage. If we could convince them to put me up then you guys could still stay strong. Sabrina says I am not going to vote you out. Sarah says you don't know the sh*t I am going to say about you to get you to vote me out. Sabrina says what, what would you say? Sarah says I would get you to vote me out. Sabrina asks what is wrong with your head! Sarah says my kids mean more to me than this. Sabrina says what about the money you can pay for their school. Sarah says I can work harder, they will still go to school. Sabrina says yeah this is only a $100,000 its not a million dollars. Sarah says I feel like I am teaching my kids that money is more important than love. Sarah says obviously I haven't thought it all the way through.. I am just thinking about getting out before jury if I can't get far in this game. Sabrina tells Sarah that she can get far in this game. Sabrina asks if you win veto you would take Kenny off? I would go up. Sarah says I am just thinking if it was me and Kenny up there.. If I took Kenny off it would really piss off the other side. Sabrina asks is Jon going to vote out Kenny? Sarah says oh yeah HUNDO! Jon is bashed from being tossed aside by Kenny and Andrew. There are clear indications that Kenny and Andrew were not going after him but he wants to be king fish in here and it is going to back fire on him. I know JOn and Kenny and no matter what situation you bring to him.. his ego will get in the way. He feels like Kenny kicked him in the face. 100% he will vote out Kenny and be happy about it! Based on his actions the other day in the competition he doesn't listen to me because he took me out over that stupid broad (Heather). Well not stupid broad she just had quick fingers..
2pm – 2:10pm The door opens up and all the house guest race over to see if anything has changed. The find a new MUG in the house with a fans face on it. Sarah says I know this girl! I know her, it's Rebecca! The nose, the glasses! It's my friend Rebecca! The house guests find that big brother also stocked the storage room and they start eating and making food to eat.
RACHELLE EATING CANDY WHILE SHE'S A HAVENOT:
(It might have been a piece of a slop cookie. There are differing stories of what she actually ate.)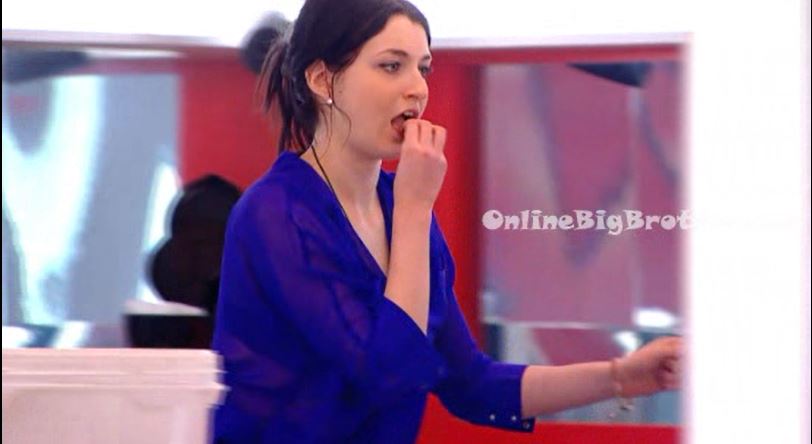 2:25pm Jon joins Sarah on the hammock and asks her why she's sad. She tells him that she's just replaying things in her mind. Sarah tells Jon that she told Kenny to use Jon's name ..to use any name that they wouldn't expect. Sarah tells Jon that how he kept Heather over her showed her how he feels about her. I won't hold any decision against you but if I go home next week I will say I told you so. Sarah says if Kenny goes home and from what you did by keeping Heather .. shows me that you don't have my back. Jon asks how do you think people view you and Kenny? Sarah says people view you and Neda just the same.
Meanwhile in the havenot room – Sabrina talks to Kenny. Sabrina says that Andrew told her that he got to the race late. Kenny asks what does that mean. Sabrina says in campaigning he started too late. Kenny keeps telling Sabrina that the points she is bringing up are bullsh*t. Kenny gets annoyed that Sabrina keeps talking about Kenny and Sarah this and Kenny and Sarah that. Kenny says you talk about it like its a bad thing. You had Andrew and Rachelle. I didnt have anyone .. so I bonded with Sarah. We share everything!
2:35pm Up in the HOH room –
Arlie is talking to Heather about his alliance with Andrew, Kenny, Sabrina. Arlie says that he jumped ship when they started to turn on Jon. Arlie says I have been avoiding you guys the last few days because Kenny questioned me and he was pretty spot on about working with you guys. Arlie says I smoothed it over and now they tell me information which is good for us and that's why we should keep us a secret. I am a billion percent on board with us! Heather says that she sees how people treated her and how they are treating other people and when I see it I don't want those people here any more. Arlie tells Heather that Sabrina is being really mean. Arlie tells Heather that when he comes to her and tells her quick information he never wants her to think that he is telling her what to do. I
2:45pm Big Brother just ANNOUNCED PACK ALL YOUR THINGS IN A BAG YOU HAVE 15 MINUTES!! All of the house guests start freaking out and run to the bedroom to pack. The all say that they think its an INSTANT EVICTION! Heather starts packing and the other house guests tell her she doesn't need to pack, she HOH. Heather says but they said all house guests.. Some of them wonder if they're going on a trip. Big Brother then blocks the live feeds.. (Rachelle also ate candy while she is a havenot so they could all be getting punished.)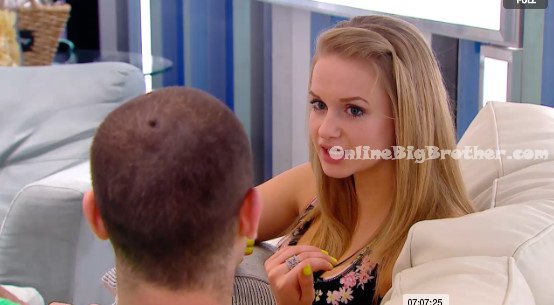 Stay connected and interact with other Big Brother Fans on our Facebook page.
And Follow: @BigBspoilers and @Dawgsbigbrother on Twitter for the most up to date spoilers.