POV Holder:
?
Next POV
?
POV Used
?
POV Ceremony
April 7
HOH Winner:
Heather
Next HOH:
Apr 10
Original Nominations:
?
Current Nominations:
?
Have Nots
Sarah (Slop Pass?), Kenny, Rachelle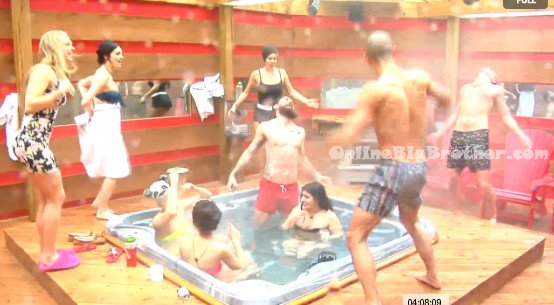 11:40am Kenny, Sabrina, Arlie, Rachelle, Neda, Adel, Allison and Sarah are all in the hot tub talking about random things. Jon and Heather come out and they all start dancing in the rain. Adel says Allison & Kenny you probably know Andrew best, what do you think he's doing right now. The others say he's crushing darts and beers. Kenny says in 24 hours he is going to be absolutely obliterated. Big Brother blocks the feeds. When the feeds come back, Big Brother has told them that they need to go to the backyard for a lock down. In the bedroom – Sabrina asks if Neda knows any new news? Neda says no. Sabrina says I am not voting out Rachelle. Neda says yeah I won't either. Sabrina says even though I will be going home next week. Neda says its not okay that they're threatening you. Sabrina says well they're not directly, I just know what's going on. Meanwhile in the bedroom – Adel and Arlie are getting ready to be locked outside. Arlie gets n@ked to change and then says oh yeah I have to cover my c*ck and b@lls!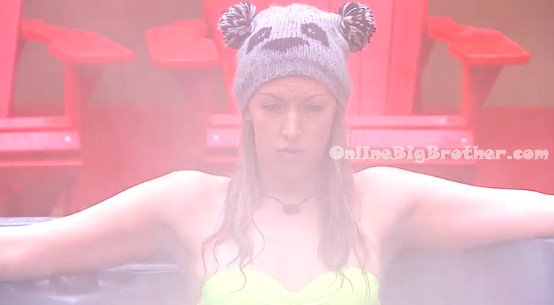 In the hot tub – Allison, Neda and Sabrina are in the hot tub talking random things like reality tv stars and fictional crushes. Meanwhile over by the pool – Heather, Rachelle, Sarah, Jon, Adel and Kenny are talking about twitter and other random things. Jon comments that Janelle could beat the f**k out of Neda. Jon says I've had 3 dreams in a row of Janelle cheating on me. Sarah says its just its on the forefront of your mind. Arlie says imagine if they paid Janelle 10 G's to come in and kiss Kenny on the lips. Arlie says I would kiss Kenny for no money. Jon says Janelle wouldn't do it. Sarah asks why not its not like she's giving him a Bj! Adel says stop you're going to f**k him up. They talk about drinking Heathers HOH alcohol and comment on how wasted Rachelle got that one night. Jon says I was white girl wasted on the challenge. I was di*k faced! I was toilet faced! Jon says nice pants Deli where did you get them? The toilet store! Heather says its weird the things that can give you scars. Jon says its weird the things that can give you a yeastie. Arlie says we should just call you yeastie-V. Arlie says for Adel's nickname we should just drop the meat on meat-balls! Adel laughs.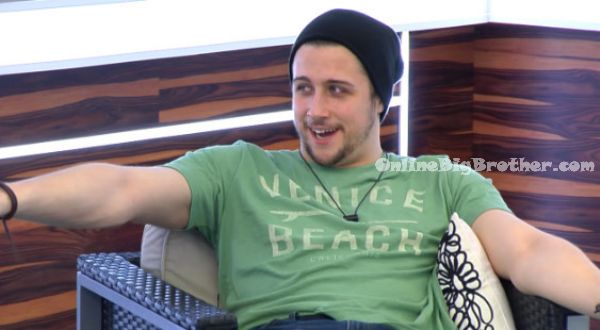 12:45pm – 1:20pm Out in the hot tub –
Neda is talking to Allison. Neda says that she thinks everyone in the house is already in duo's. Allison says except for me. Neda says well you're welcome to join. Allison lists off the pairs in the house and says everyone has someone except for Arlie. Neda says well there you go ..there's you pair. Neda asks who would you guess is going up with Kenny? Allison says I would guess RoRo. Neda says yeah. Allison says if she was to put up someone to ensure Kenny goes home .. she should put up his closest person. Allison says I am a free agent right now..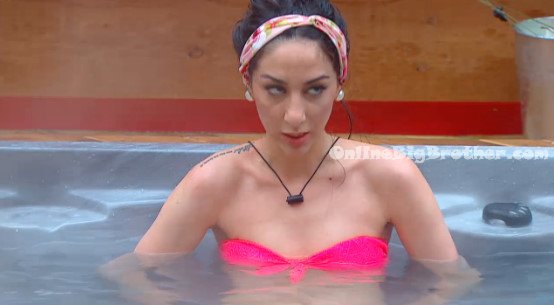 12:50pm – 1:20pm In the backyard – Sarah and Sabrina are talking alone. Sarah tells Sabrina – I want you to know that you are 100% okay, they're not coming after you. They want Kenny out. Sarah says I know in my gut that they are putting me and Kenny up together because they know I would vote to keep Kenny no matter what. I almost think you keeping Kenny in the game is better. If I won POV I would maybe take him off so that I just go home because you guys having Kenny would be better for your game. I would sacrifice myself. I have a feeling that Rachelle isn't as loyal to us as you may think. Sabrina says I am not talking any more because people tell lies. Sabrina says if its her (Rachelle) and Kenny on the block I would shoot myself in the brains. Sarah says I think right now its most important that we all be honest with each other because one of us is going home. Rachelle joins them. Sabrina tells Sarah if she puts up you and Kenny I would vote out Kenny. Sarah says I don't think thats a good idea. Sarah says if I win HOH I am going after Jon and Neda. This whole act I have going with him is getting harder and harder. Jon joins them and the conversation turns to talking about the possibility of a double eviction next week and all the lies going around the house. Sarah says I should have put clothes on .. I'm going to get a yeast infection now!
Stay connected and interact with other Big Brother Fans on our Facebook page.
And Follow: @BigBspoilers and @Dawgsbigbrother on Twitter for the most up to date spoilers.