POV Holder:
Jon
Next POV
?
POV Used
NO
POV Ceremony
March 31
HOH Winner:
Canada
Next HOH:
Apr 3
Original Nominations:
Andrew and Sabrina
Current Nominations:
Andrew and Sabrina
Have Nots
Jon and Adel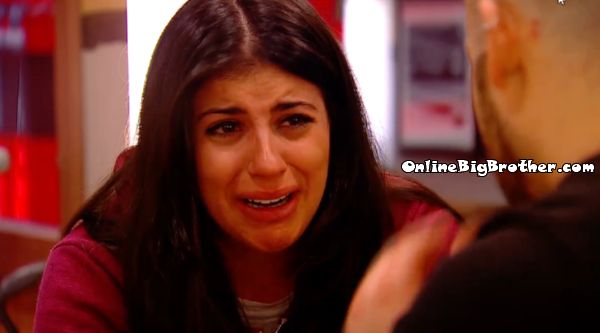 7:15pm Andrew and Sabrina
(They start off in the bathroom where Sabrian is crying saying that People are so mean)
He's telling her he's going home and she needs to stop acting like she has no one in the house because from what he can see she still has the 1st5 and Allison/RAcehlle.
Andrew says he wants to be her friend outside the house, "The relationship I have with you is real and I love you "
Sabrina – "You are going to be more than my friend outside"
Sabrina asks him if people in the house are saying they are annoyed with her.
Andrew says no they are not the major concern is Sabrina saying that she's alone because it's making her other friends feel like they are not as important.
Andrew says she has to stick with the team they have and get Jon, Adel and Heather out of the house.
Andrew – "don't turn your back on Allison. "
Andrew says Jon, Adel and Heather want him gone theres nothing that will change that, "I'm OK with it.. When I leave I want you all to keep your head"
Sabrina says she will not leave Allison and Rachelle. Andrew says Jon is a lying piece of sh!t and he's going to lie to everyone.
Sabrina starts to cry swears she never said anything against him. Andrew hugs her and say he doesn't want them to be spending their last days mad at each other.
Andrew says Adel, Jon, Heather, Neda, are all Shiesters.
Sabrina starts going over how the Dairy Room "pokes" her.
Sabrina – "Theres so many things they tell you on purpose"
Andrew – "Ohh of course"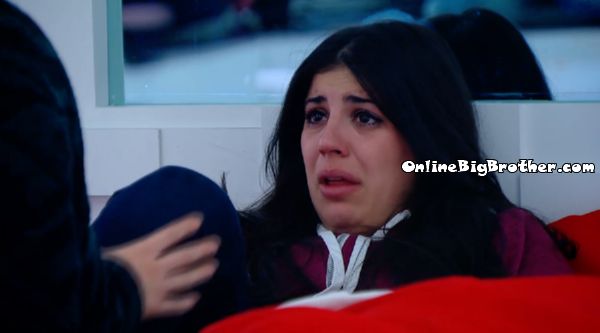 7:37pm Bedroom Allison, Sabrina and Andrew
Sabrina says she's 100% with them (Allison etc) Allsion and Andrew don't question Sabrina's loyalty they know Jon is trying to turn their team into chaos. Andrew mentions the conversation Jon had with him and Allison by the pool. Sabrina sobs tells him when he goes home he can watch the episode and see she was not campaigning against him.
Again Sabrina mentions about production telling her something that set her off today. Production tells them to stop talking.
Sabrina tells Allison tomorrow if they don't win they're dead. Allison agrees says she's going to fight.
Sabrina gets up to leave tells them she should leave them alone. Andrew tells her to stay.
Sabrain – "I just want you guys to be together.. I just feel like you should be.. she (Alison) can talk to you the way she wants to"
Sabrina "Allison I love you to death but lets say it wasn't her here it would be me on the bed with you.. it's very hard for me because you can be here doing thing and I can't" . Sabrina leaves ..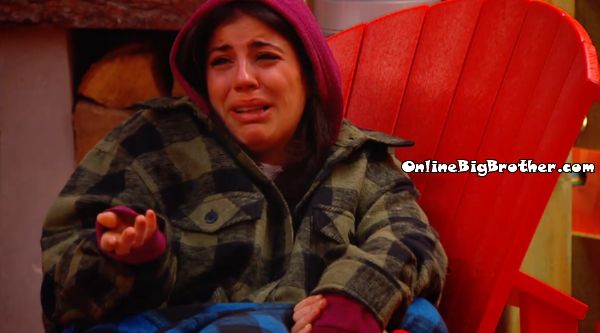 7:52mp Hot Tub Sabrina and Rachelle
Sabrina full breaks down says nobody thinks she's telling the truth and she cannot tell who is lieing to her. She explains that Andrew is making it sound like people within her own alliance are turning on her.
Rachelle and Sabrina Are worried about how they are edited. Rachelle plans to watch the first episode when she gets home and take a break
Rachelle plans to check out her phone first thing and see all her followers and read all her hate mail. .
Sabrina – "I'm going to be so affected by that"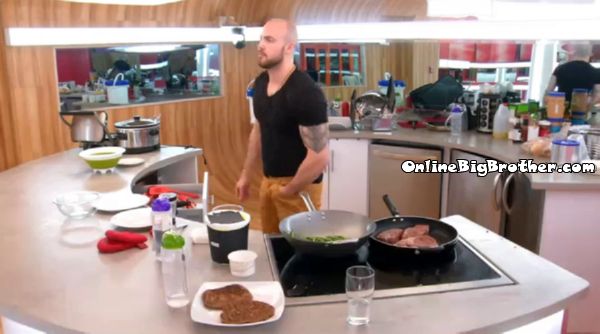 8:17pm Andrew in the kitchen tells a bunch of houseguests in the living room he's not motivated to cook for everyone today.
8:21pm Hammock Heather and Allison
Allison want to know who Heather will put up. heather won't say but the person she's after is the person she trusted completely at the beginning of the game stabbed her in the back and that is why she's in the shitty position she is in.
Heather tells her she's doing her best to protect Allison, Every Time her name comes up she tries to shify the conversation away. Allison appreciates it.
Heather says she needs to be quiet because she's been on the block two time before.
Allison – 'It sucks feels like I haven't played much yet"
Allison says that they need to watch their backs with Jon, she has no idea what is going on with him and it's freaking her out.
Heather says Jon is the one person in the house that seems like a nice guy but she's never gotten close to him, "WE're just not close"
Heather adds that Sarah, Kenny and Jon are all people she would like to have a deal with but she isn't close to them in that way.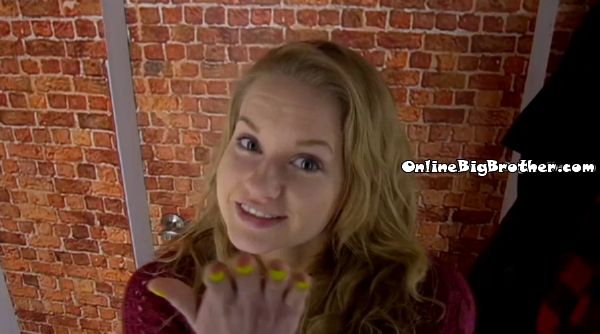 8:33pm Hot tub Heather and Jon
Heather tells JOn about her conversation with Allison "She just told me a bunch of crap so I wouldn't vote out Andrew" Heather and Jon both Agree Allison is lieing through her teeth. Heather mentions how Allison told her if Andrew stays it will buy her 2 weeks.
Jon says they are going to take out Andrew this week and maybe next week Kenny. Heather says kenny before Allison because he is controlling them all.
[polldaddy poll=7935497]