POV Holder:
Godfrey
Next POV
May 1st
POV Used
Yes
POV Ceremony
May 3rd
HOH Winner
Pili
Next HOH
April 29th ?
Nominations:
Sindy and Brittnee Godfrey
Have Nots
Brittnee, Sarah, Kevin, Godfrey
POV Players
Godfrey, Pilar, Sindy, Willow, Bobby, Kevin.
Host is Sarah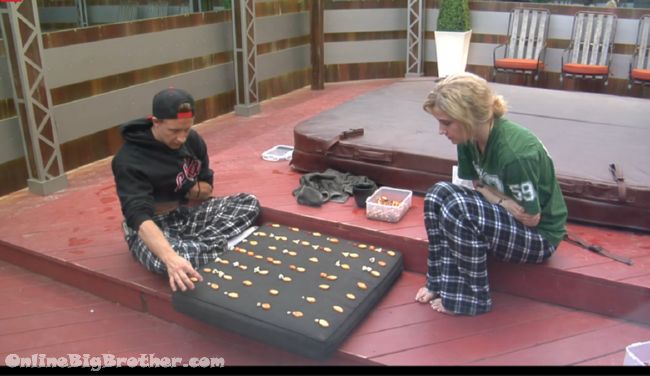 7:13pm Studying for the HOH competition Ashleigh, Bobby, Bruno and Godfrey
(They think the HOH will be dates. Using twistos as study aids)
They get to the KFC challenge.
Godfrey – KFC man .. Killed the F***g Challenge that's what it stands for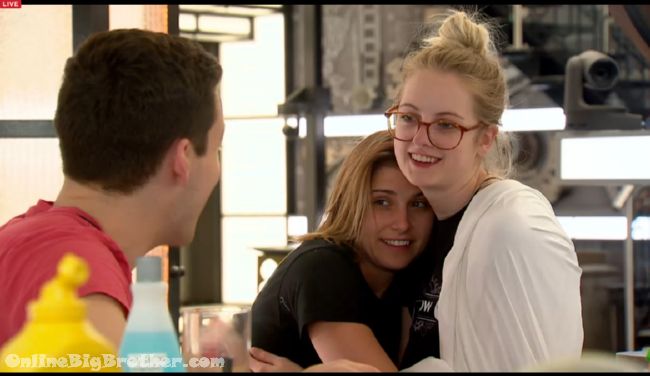 7:24pm Chit chat in the kitchen Sarah wearing Willow's Hashtag shirt, Willow wearing Sarah's hashtag shirt.
Willow comes by start snuggling with Sarah. Kevin says their relationship is so weird asks them if they love or hate each other. Willow says they like to push each other's buttons.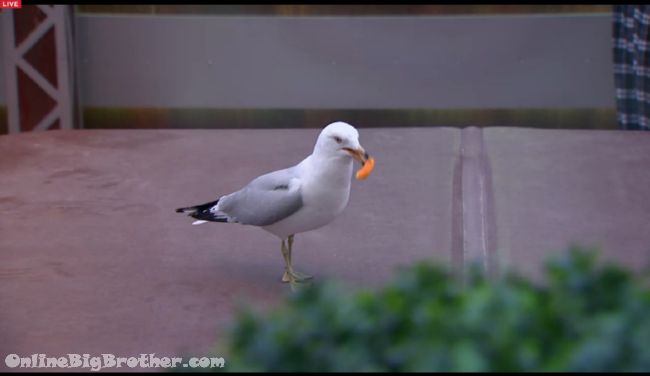 7:46pm Hot tub A seagull visits
They feed it some cheese puffs and twistos but it won't eat the slop.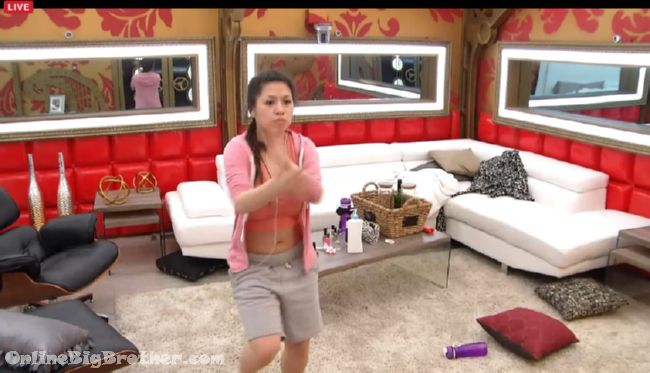 7:57pm HOH Sindy's last dance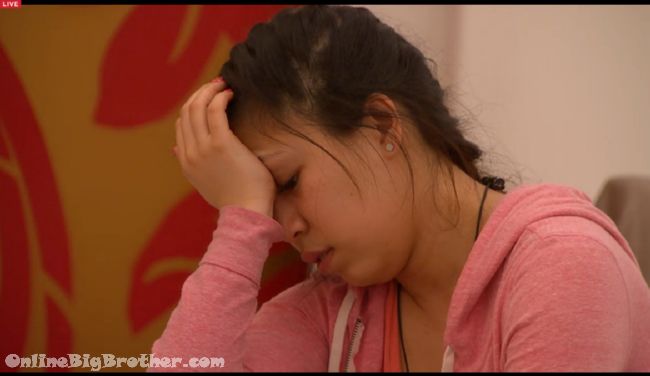 8:06pm HOH Godfrey and Sindy
Sindy says it might not be double eviction it might be the HOH picks two people and they both go home.
Godfrey – could be anything man
Sundy says she doesn't have to talk to Bruno and Bobby they are too stubborn, "I don't need to talk to them I can tell.. Bruno isn't going to work with me"
Sindy – we could have started something the 6 of us everyone is such a idiot in this house
Sindy – anything can happen but I already had my second chance
Sindy explains the house is split with the votes on one side there's Bobby, Bruno, Godfrey and on the other side there's AShleihg, Zach and Kevin. Willow and Sarah won't vote out Brittnee they are in the middle
Godfrey says there side doesn't have the numbers to save Sindy she needs to talk Zach.
Sindy says the chop shop is still together she still see them all talking together. Sindy wanted to form a team Ontario.
Godfrey says this is what happens when 1/2 the people are in the game for a showmance. Sindy wonders if the showmances are now in an alliance. Godfrey points out everyone would think that the showmances are together it would be poor strategy on their part if they went through with it.
Godfrey adds every time he talks to Pili Kevin is always there, "It's not even being hid.. at least Zach and Ashleigh are trying to deny"
Godfrey – Zach and ASh are going to vote the same they will tell Pili what to do those nomination are not her own idea
Sindy doesn't think Zach can get Kevin or AShleigh keep her. Godfrey says Zach controls that side of the house. Godfrey coaching her on what to say to Zach. Godfrey stresses that Sindy needs to make them understand if Brittnee stays she's with the other side but if Sindy stays she's a free agent and can work with them.
Sindy tells him she doesn't have Willow's vote.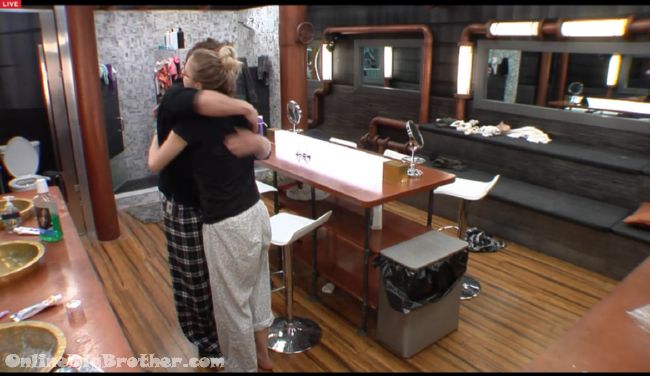 8:30pm Hot Tub Bobby and Kevin followed by Bobby and Sarah
Kevin asks if Bobby is still sticking to the plan. Bobby claims he is. Kevin reminds him that Brittnee and Sarah going out during the double eviction makes sense. Kevin asks him if he wants Sarah gone. Bobby says he's down with whatever. (hard to hear because of the hot tub)
Bobby heads to the bathroom where he tells Sarah about the conversation with Kevin. Bobby says Kevin is pushing for Brittnee and Sarah to go up.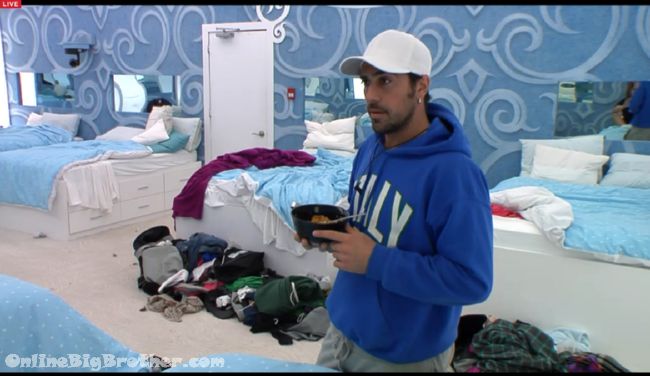 8:39pm Sarah and Willow
Sarah – My brains is running a thousand miles a minute right now
Willow – I smell bacon
Sarah – there's something up with kevin
Bruno joins them. Willow says that Kevin was out there and noticing how well they know the dates. Bruno says Willow knows she dates better than anyone he doesn't think Kevin or Ashleigh now them.
Willow says she had a meeting the Diapers want Bobby/Sarah or Bobby and God. Sarah chimes in that Godfrey went to Kevin to make a deal, "God is just covering his bases"
Willow adds that Kevin thinks he's good with Bruno
Bruno – I'm going to be straight with you guys.. I love what we have..
Sarah – this is everything right here (There alliance).. we need our numbers
Sarah says Brittnee is so emotional she wanted her to relax today.
Bruno tells her he feels comfortable with them he can tell is different.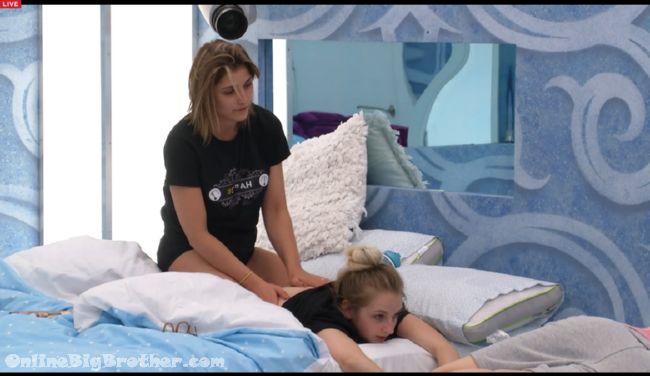 Bruno leaves.. Willow and Sarah talking about Bruno being a little loose lipped around Kevin. Sarah wonders why he feels so comfortable around asks if it's because the thinks Kevin is "Kinda a idiot". Willow thinks so.
Sarah asks where the diapers think they're at with Bobby/Bruno. (Can't hear her response) information. Sarah tells her when she talks to Zach make it clear that Sarah doesn't want to work with Bobby/Bruno. Willow says today Kevin talk game to her for the first time "day 45 mark it in your journal"
Sarah says Brittnee hates Kevin so F***g much. Sarah says Brittnee they can at least control a bit Sindy will go off and do her own thing
Godfrey walks in "What's going on in here yo.. a rub down.. jesus"
If you are outside Canada and want to watch the FREE Big Brother Canada Live feeds sign up for a VPN service here https://www.hidemyass.com/vpn/r16399/. It's safe to use, easy to set up, and cheap. Need to know morecheck out this post explaining how to set it up.
ALLIANCES IN THE HOUSE
There are always a lot of Alliance but we've tried to make sense of it all.. Read our alliance help guide
[polldaddy poll=8819718]