POV Holder:
Godfrey
Next POV
May 1st
POV Used
Yes
POV Ceremony
May 3rd
HOH Winner
Pili
Next HOH
April 29th
Nominations:
Sindy and Brittnee Godfrey
Have Nots
Brittnee, Sarah, Kevin, Godfrey
POV Players
Godfrey, Pilar, Sindy, Willow, Bobby, Kevin.
Host is Sarah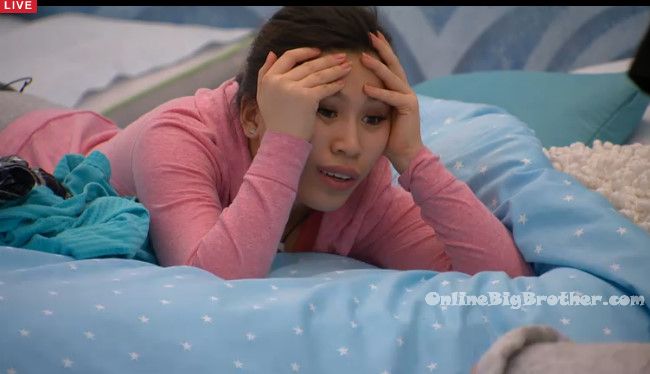 4:25pm In the bedroom – Sarah says I hate this. Sindy says I know. Did you eat? Sarah says no. I am going to have to stuff myself before the HOH. I have to win. Sindy says or you could keep me and I could help you win. Sarah says I talked to them and there's no chance, like zero. There's no way. Godfrey isn't going to do what Bruno and Bobby do. What you've done for me is priceless because the rest of the house is like this. Everything is out in the open now. Sarah says I have no where to go. Since week 1 its been what the house wants. Godfrey is sweet he just says anything. Sorry I don't want you to feel more defeated but I've done everything I can do. I'm sorry. Sindy says its okay. Sindy says Bruno told me that he said he wanted to work with me on the way out the door and then I come back and he didn't say a word to me. He says I threw his name under the bus so why would he work with me.
UP in the HOH room – Ashleigh complains to Willow how she just went into the bedroom and Sarah and Sindy went silent. Willow says we should call a house meeting because I'm also tired of walking into a room and people going quite. Ash asks What would they be saying that they didn't want me to hear? Do you think they're on to us? Willow says no.


4:50pm HOH bathroom – Zach asks Willow do you know what you're going to do tomorrow? Willow says Godfrey. Zach says nice.. or you could do Bobby and make him use that veto. Zach says that way is good because it makes him flush his veto and then its a fair game. Put him up with Sarah and then make him use it. Zach says make sure if we put God on the block we have the votes to get him out. If B and Sarah are on the block there is a chance of the veto not being used and one of them going home which we don't want. We would want someone on the block that he (Bobby) would use it on. Ash says if it was Bobby and Godfrey just tell him there's a backdoor plan. Zach says we could do that with Sarah and Bobby then tell him there's a b@ckdoor plan .. to get out Godfrey.. and tell him worst case if we don't win the veto then at least you have the secret veto to take yourself off. Zach says you can tell him .. A b@ckdoor plan can never fail when there's a secret veto. Ash says part of me wants him not to have the veto and for us to send him home. That's what you get for lying to us. Willow says that Kevin is set on Sarah and B. Zach asks and then b@ckdoor Bobby? Willow says yeah.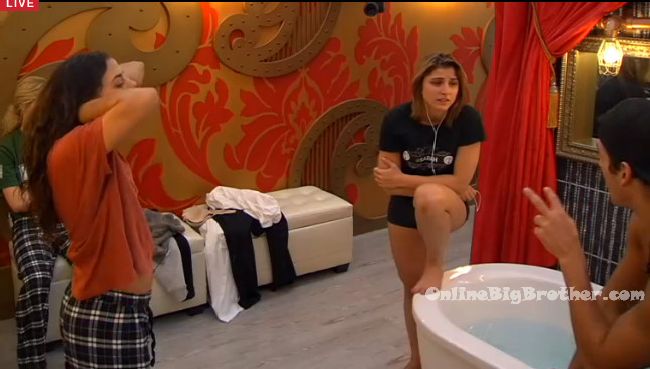 5:35pm – 5:45pm Out in the hot tub Bobby and Bruno are talking. Bruno says no one knows it yet but my hands are my strength. Bobby says yeah you've been working with them for 20 years. Bruno says I just want to get out there and rip it man. Bobby asks what do you think it might be? Like a short endurance? (What? Oxymoron?) Or a day thing? Bruno says I can't believe Ashleigh came up to me and suggested you to go up.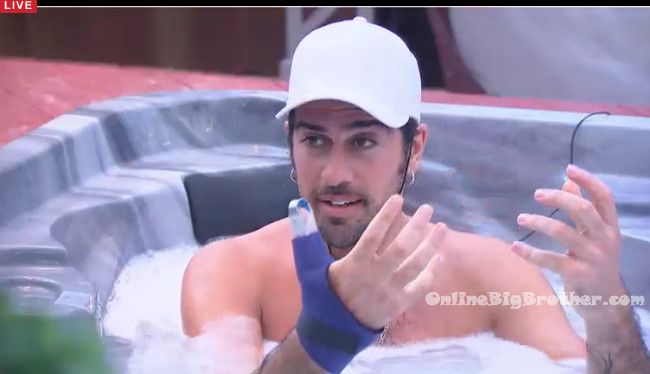 Hot Tub – Bobby, Bruno and Zach are studying the events of the house using Twistos snacks. Zach heads inside and Godfrey joins them.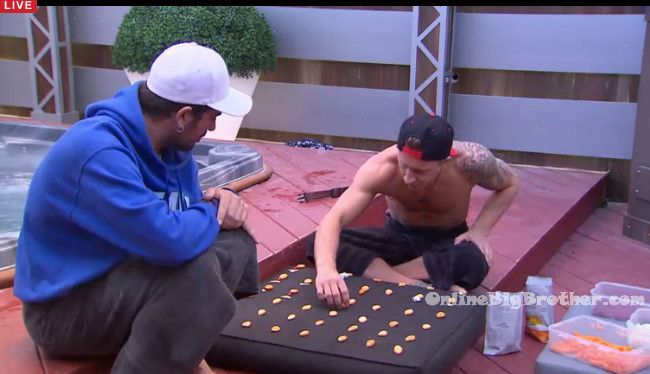 6:10pm – 6:20pm Out in the backyard – Pilar is trying to tell Kevin about the HOH bathroom conversation about nominating Bobby and Sarah.. and telling Bobby there's a b@ckdoor plan (Godfrey) that can't fail because he's got the secret veto. Pilar can't remember the conversation. Kevin tells Pili to just relax. You're not playing HOH so you don't have to make any crazy decisions. I just see your mind go crazy all the time. Zach joins them and they study past events.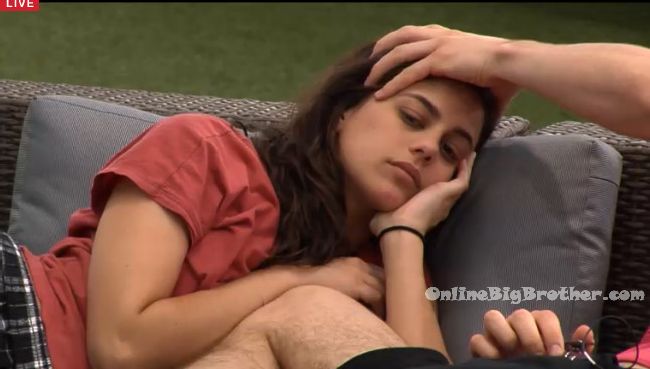 6:30pm Zach asks Kevin what would you do if there was a double? There are two scenarios that we could do. Kevin says I just talked to Ash and she told me about the plan to get out Bobby with the veto in his pocket. Zach and Kevin talk about the possible nominations they could do. "There's a safe play and a s*xy play." Zach says we could put up Bobby and Sarah and tell Bobby he's safe with his secret veto. Zach says it would rock the trust with Bobby & Bruno a little bit but it wouldn't break it.
7pm In the kitchen – Pili and Kevin are cooking. Meanwhile out in the hot tub – Ash, Bobby, Bruno and Godfrey are studying.
7:10pm In the bedroom – Sarah, Willow, Sindy and Brittnee are talking about phone numbers. Sindy says her's spells out her name with the area code 647.
If you are outside Canada and want to watch the FREE Big Brother Canada Live feeds sign up for a VPN service here https://www.hidemyass.com/vpn/r16399/. It's safe to use, easy to set up, and cheap. Need to know morecheck out this post explaining how to set it up.
ALLIANCES IN THE HOUSE
There are always a lot of Alliance but we've tried to make sense of it all.. Read our alliance help guide
[polldaddy poll=8819718]