POV Holder:
Kevin
Next POV
April 3rd
POV Used
?
POV Ceremony
?
HOH Winner
Bobby
Next HOH
April 1st
Nominations:
Kevin and Brittnee
Have Nots
Jordan, Brittnee, Naeha, Godfrey
POV Players
Godfrey, Willow, Johnny, Britt, Kevin, Bobby.
Jordan is the VETO HOST!
If you are outside Canada and want to watch the FREE Big Brother Canada Live feeds sign up for a VPN service here https://www.hidemyass.com/vpn/r16399/. It's safe to use, easy to set up, and cheap. Need to know more check out this post explaining how to set it up.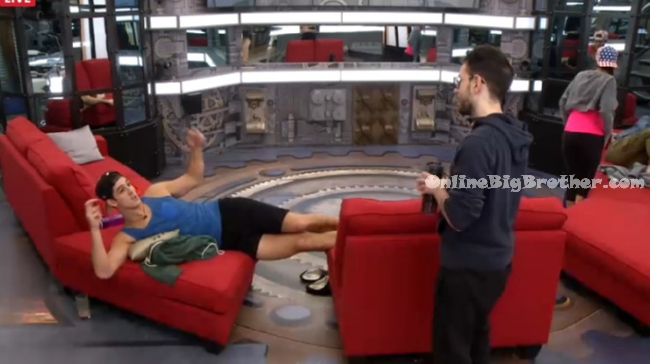 11:15am In the living room – Zach and Jordan are talking about sports. In the bedroom – Sarah and Johnny are talking about Big Brother 15 and all the controversy around the comments made by Gina Marie and Aaryn Gries. Johnny says "Go eat a bowl of rice!" ??? Are you kidding me?! Johnny asks was that Gina Marie or Aaryn that said that? Sarah says Aaryn. Sarah comment that where Gina Marie is from – Staten Island is one of the most racist places on the planet. Big Brother keeps cutting the feeds. Johnny and Sarah talk about her classes and how we live in a racist world. Sarah says because I am not white and I don't have a british last name people ask me all the time where I'm from. And other white people in the room realize that they're guilty and say well I'm just asking. Sarah says Oh F**K, Damn, that is a privilege that I have because of my whiteness. SO f**k I need to start recognizing this. Its a defense mechanism. We live in a racist society! Its not that you're racist and you're a good person. It's not a thin line that you can flop back and forth. We live is a racist society. We do what we can.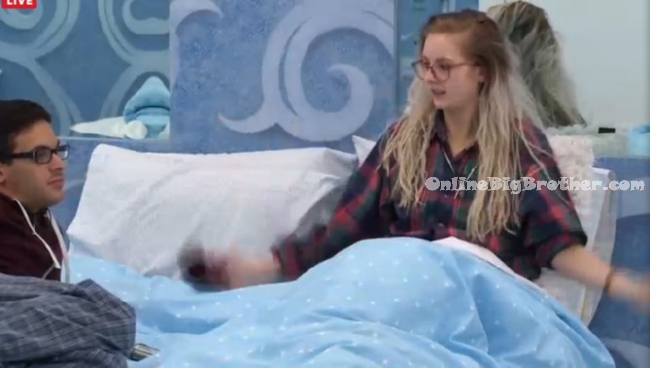 Zach telling Willow to not say vag!na because Canada and her mom are watching. Willow says yeah she was to hear all about the D!

12pm – 12:15pm Big Brother blocks the feeds..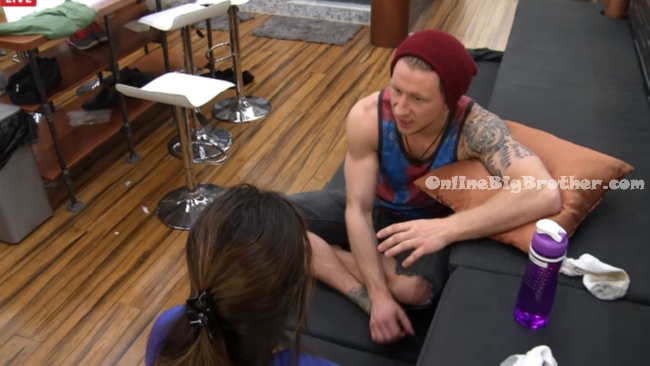 In the pantry – Kevin and Bruno chat about how good it was that Cindy opened her mouth. Kevin says all we need to do now is chill. They head out of the room. UP in the bathroom – Cindy campaigns to Bobby. She asks what she did to deserve to go up. Bobby says no reason other than my name was mentioned. If it was Naeha said it, she would be going up. That's all I had to go off of. I hope you understand it from my position. I know its a sh*tty situation because you probably didn't say anything bad about me but.. Cindy asks why not put up God? Bobby says I can't. Then the guys would hate me. You guys kind of forced that. Cindy disagrees. Bobby says I can't change my mind now after I said I would put you up because then it looks like I'm flip flopping. Cindy says If I am still here next week, then I am the target. If you were to put up Godfrey. Bobby says the guys wouldn't trust me. Cindy if you didn't put me up then I can promise you that in the next couple weeks if I win you wouldn't go up. The next two votes / HOH I would have other people on my mind.

After, Bobby heads to the bedroom and tells Willow and Graig that Cindy just talked to him again. He says she wants me to put up Godfrey. Not a god damn chance!!

Cindy heads into the pantry and tells Britt the conversation she had with Bobby. If Godfrey goes up, he goes home hands down. Britt says I don't know about that. Cindy says I think its best we don't go against each other. Britt tells Cindy that she appreciate her telling her the conversation.
12:50pm – 1pm Pilar & Kevin / Zach & Naeha compete at shooting into the basket.
1pm – 1:25pm Willow is upset that she doesn't get called to the diary room and the others comfort her. She was called in and got excited only to learn that they wanted her to pass out new batteries. She says that she wants this dream so much and wants them (production/Canada) to like her. Cindy says you're too happy all the time and this is a way to bring the emotional side out of you.(I think she's upset because she wasn't called into the diary room to talk about the POV.) They took the costumes out of the pantry. Cindy says they might bring it back. They might have just needed to dry it off. Watch they're going to get you to comment about the logs. Sarah says it might be because all the episodes so far might have been Willow, Willow, Willow. They love you.

1:30pm – 3:30pm Big Brother blocks the feeds.
Stay connected and interact with other Big Brother Fans on our Facebook page.
And Follow: @BigBspoilers and @Dawgsbigbrother on Twitter for the most up to date spoilers.