POV Holder:
Allison
Next POV
?
POV Used
Yes
POV Ceremony
March 24
HOH Winner:
Racehlle
Next HOH:
March 27
Original Nominations:
Allison & Heather
Current Nominations:
IKA & Heather
Last Evicted Houseguest
Paul, Kyle, Anick
Have Nots
Adel, Sabrina, Heather, Arlie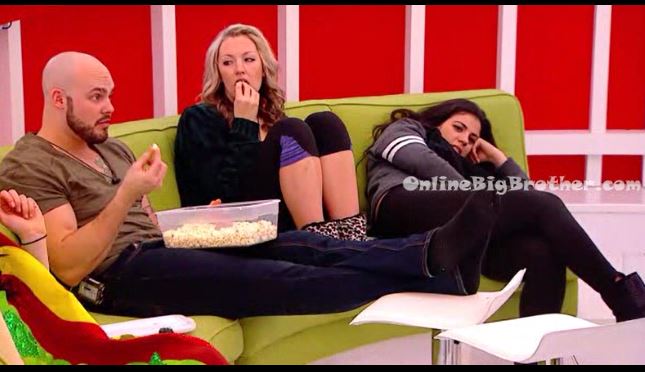 3:45pm In the living room – The house guests are sitting around talking about random things. Andrew starts making his usual obnoxious comments and Sarah gets upset with him. They're talking about the possibility of Canada saving Ika over Heather. Andrew says that there are so many more Satan worshippers than there are church people. How big is the church now a days… There are so many people that worshippers Satan, lets be honest. Sarah says lets be honest Canada is never going to save you Andrew. Andrew says I didn't say everybody was, you're so weird. Andrew says its more of a jab at Satan.. Andrew says how do you not understand my under tones. Sarah says I do. Andrew says well then why do you disapprove so much! Andrew says I am no longer making jokes about anything in this house. Sarah says I dont see any reason to be overly rude and obnoxious. Most of the time I find it funny. But if I have one moment of you going over board all you need to do is say fine and let it go.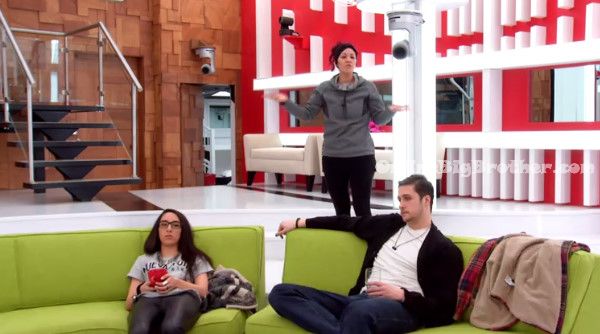 4:20pm Sarah leaves the room and heads into the main bedroom. She starts crying and says that she can't take it. I can't take all of this bullying! Sarah says and he's aloud to bully and I say one thing goes after me. Sarah says my integrity of sitting in a circle with a person that says deplorable things .. I have a life and a job outside of here. I don't need people to see me sitting in a circle with people laughing at the disgusting things he says. Arlie says don't worry I see it, Canada sees it. Sarah says that he keeps going on about the IKa stuff. Can we just have a minute without the that stuff. I get it we're all pissed off .. it's just I don't want to be seen sitting there laughing at the stuff he says. Sarah says I have to go home and explain to my kid how I was a part of something like that and how its not right. Sarah says haha the demon hunters. I get it for a minute it's funny but it doesn't need to go on and on.. Sabrina says we've all acted like that.. Sarah gets annoyed that everyone is around her.. she gets up and leaves to go to the HOH room to be alone. Sarah talks about being in the house away from her family is just really getting to her..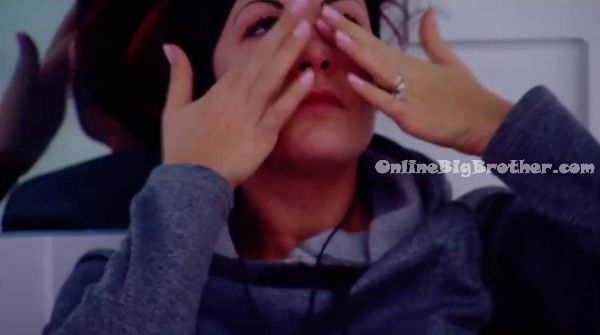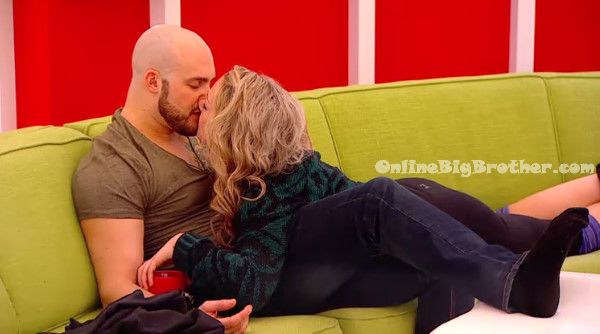 4:30pm In the main bedroom – Adel tells Ika how Sarah stuck up for her when she got into a fight with Andrew in the living room. Ika says oh really? That was nice! Adel talks about how he hopes he gets asked to do a lot of charity things after. Adel says that if he won the 100K he would give a charity 25K to random charities.
4:45pm – 5pm Sabrina freaks out because she says Adel took the sugar out of her hand and used it all. Sabrina goes out to the hot tub room with Arlie and Sarah. Sabrina goes off about how she just walked away because she was going to beat Adel and get evicted. Sabrina says I am so angry I don't know how I didn't take the pan and BEAT ADEL IN THE FACE! Arlie says that he doesn't let things like that get to him. Sarah says that she can't believe she didn't blow up on him. Sabrina heads inside and goes up to the HOH room to cool down. She tells Rachelle that she's going to self-evict herself if she has to be around Adel.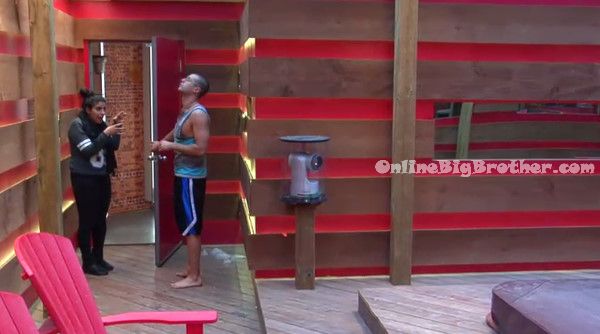 Check out the NEW OBB Forum https://forum.onlinebigbrother.com/
Stay connected and interact with other Big Brother Fans on our Facebook page.
And Follow: @BigBspoilers and @Dawgsbigbrother on Twitter for the most up to date spoilers.