POV Holder:
Allison
Next POV
?
POV Used
Yes
POV Ceremony
March 24
HOH Winner:
Racehlle
Next HOH:
March 27
Original Nominations:
Allison & Heather
Current Nominations:
IKA & Heather
Last Evicted Houseguest
Paul, Kyle, Anick
Have Nots
Adel, Sabrina, Heather, Arlie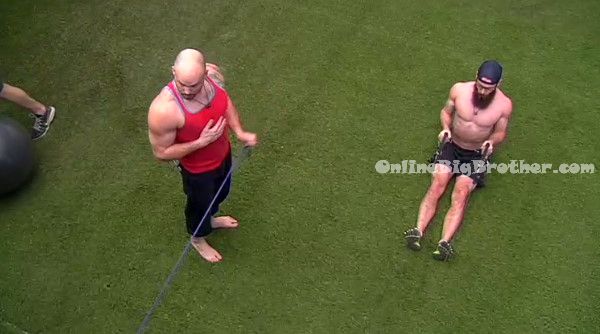 12pm Out in the backyard – Andrew and Kenny talk about how the fame they get from being on Big Brother is short lived. Kenny says it has a 1 year expiry. Next year there will be a new cast and we'll be forgotten about. Andrew talks about wanting to capitalize on it. The cams switch to Jon and Sarah sitting by the pool. Arlie tells her they should have an alliance just the two of them. He tells her they can go into the diary room and laugh it up. Sarah agrees. Arlie starts talking about how he wanted to play the single guy coming into the house but the first day found out 5 of the girls were taken. He says he really wanted to play up the single guy but had to play the nun instead. He starts talking about his ex-girlfriend. He starts describing her big blue eyes, perfect lips, 5'2″, tight body and nice big t!t$. Sarah laughs and says Arlie. Arlie says yeah I love her. He then stops himself and says oh ah! Sarah laughs. Arlie says now I realize how JOn says it. They both laugh.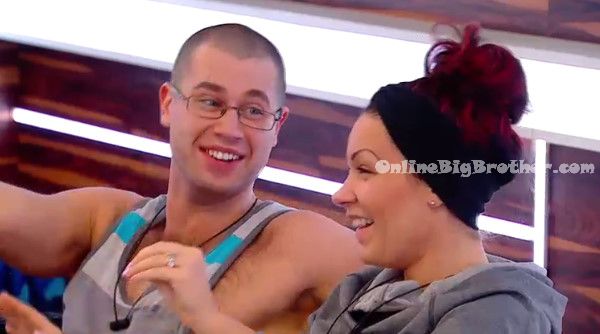 The cams switch back to Andrew and Kenny working out. Kenny is using the band to work out when all of a sudden it breaks and whips his arm. He yells out how much that hurt. He says f**k me sideways! He says that Ika probably cut it.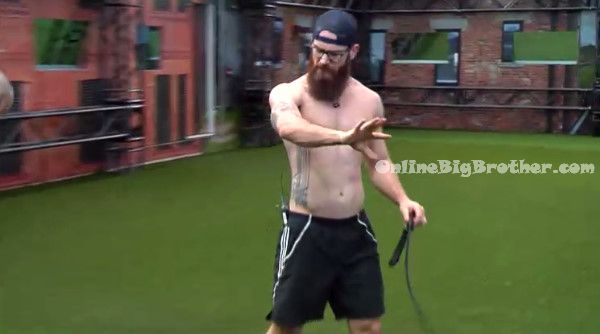 Up in the HOH room – Sabrina is colouring Rachelle's hair. Sabrina and Rachelle talk about getting acting opportunities when they get out. Sabrina says that she thinks she'll get lots because she's done it before and because shes the only one from Montréal. Rachelle says that she hope to get a commercial or something. Neda joins them and they talk about the fight last night. Sabrina comments how Ika kicked her letter last night. Neda says she can't believe Ika started throwing out her name. Neda says she told her to stop saying her name! Neda is pissed that Ika was telling the others during the fight that Neda had told her she was going up before it happened. Neda says that she never told Ika she was going up and didn't even know for sure. She says that she only talked to her after she was already up.
12:50pm Sabrina and the other girls are trying to convince him to let Sabrina cut his hair. Jon is really nervous and unsure about it. He says that he needs to go ask Kenny. Sabrina says he'll say no because he won't want you to look better than him. Jon goes to ask Kenny and he tells him to do it. Jon asks if Sabrina is really a hair dresser. Kenny says yeah. Jon says Adel says he's an inventor and I've never heard of t2t before. Kenny tells him to do it. Jon says okay I'm doing it. He runs inside and says he's getting a hair cut. He says this is going to look stupid! Jon heads into the HOH room for Sabrina to cut his hair. Sabrina can't get the attachment off the clipper. Jon says this isn't a good start! Are you sure you know how to do this? Jon is still nervous. Are you sure this is going to look cool?? Sabrina finishes his hair cut and tells him that he is going to get lots of modeling jobs when he gets out not. All the girls tell him he looks so good!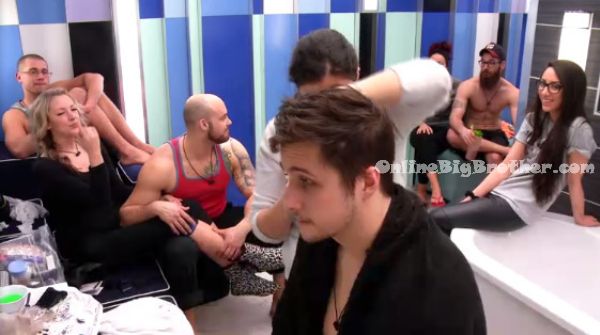 1pm – 1:35pm In the living room –
Ika and Adel talk about random things. Ika then says that she is so glad she won that challenge last night. Adel agrees. Ika says I went Tina Turner up in this b***h! Adel says his advice to someone would be to never go hustlin.. he says that he regrets it and has to do so many good deeds to make up for it. Ika says be careful of the memories that you make because you have to live with them. Adel says that he'll give a speech – be careful of the mistakes you make because you'll have to live with them. Adel and Ika head out to the pool area to hang out and talk. Adel tells her that she should get a sling shot and shoot cheese burgers into the house for him. Adel says he hopes when he is evicted that there are like 10 people in the audience wearing Whalla Bro t-shirts. Ika says that she is going to come to the studio audience if he's on the block.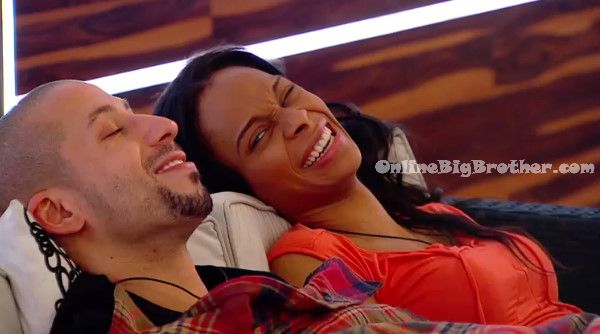 2pm Up in the HOH room – Sabrina washes the dye out of Rachelle's hair and then cuts it. Rachelle complains about how much she's cutting off. Half way through Sabrina stops and says fine I won't cut any more.. it'll just be crooked. Meanwhile down in the storage room Jon says to Neda – I act like I like you. Neda asks what? I can't hear you. Jon says I act like I like you. Jon says all I am saying is that you're the only person that I can actually trust. Neda says same. Jon tells Neda love ya! Neda doesn't say anything and Jon tells her to say it back! Neda says OKAY! And leave the room.
Adel comments that he Adel and Ika continue to talk about the challenge last night and Adel talks about how at first some of the others thought Ika was going to choose the letters instead of the money. Adel says that at least she got a good chunk of change. IKA says Andrew picks his nose and seasons his food with it! I can't eat that booger food!
2:30pm – 2:55pm Sabrina, Sarah and Kenny are out in the hot tub room talking. Kenny says that he is going to try hard for this HOH. I want that letter bad! Sarah asks if they think its okay to mention the first five to Ika in her goodbye message. Kenny and Sabrina say no because they don't know if someone is coming back. They talk about how they can't wait to reveal the first five alliance. Sabrina comments that they'll be remembered like chilltown. Neda and Jon join them. They talk about how Big Brother told them to bring family heirlooms. Sarah says that she brought a small light house. They wonder why big brother got them to bring them and wonder what they're going to be used for. They talk about auditioning for the show. Kenny says that he didn't even post the photo of him and Andrew Monaghan BBCAN1 because he didn't want anyone to know that he tried out.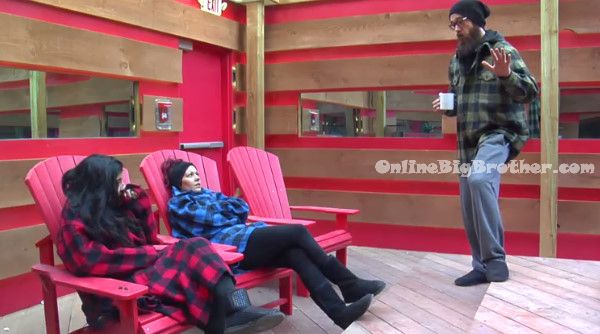 3:30pm Most of the house guest are sitting around the living room couch chatting about random things. Adel and Ika are there as well and look really annoyed with the others especially Sabrina as she is being really loud. Ika and Adel head up to the bathroom.
Stay connected and interact with other Big Brother Fans on our Facebook page.
And Follow: @BigBspoilers and @Dawgsbigbrother on Twitter for the most up to date spoilers.