| | | | |
| --- | --- | --- | --- |
| POV: | Angela | Next POV: | Aug 4th |
| POV Used | ? | POV Ceremony | Aug 6th |
| HOH: | Angela | Next HOH: | Aug 9nd |
| Noms: | ROCKS and Tyler | Have Nots | |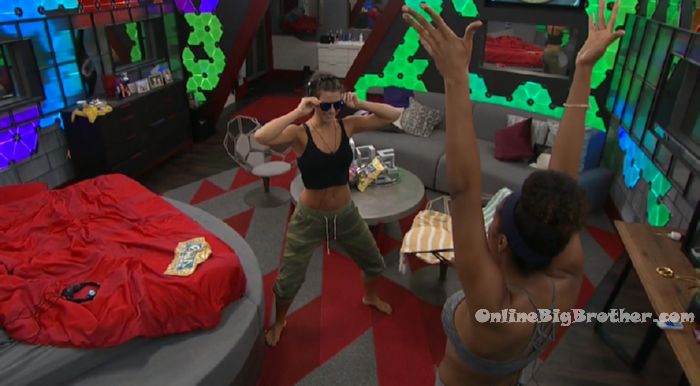 7:37pm HOH room. Bayleigh and Angela. Bayleigh – If you make this move tomorrow (take Tyler off and put up Scottie), I promise to use my power on you. Angela – do you!? Bayleigh – and its literally me and you ride or die! Angela – what?! Bayleigh – I just thought of it and I am SO serious!! Bayleigh – AMAZON ALLIANCE FOREVER!! Angela – amazon alliance, amazon alliance, amazon alliance! Bayleigh – amazon alliance, amazon alliance, amazon alliance! Bayleigh leaves. Angela talks to herself – Someone might get backdoored tomorrow! Who will it be?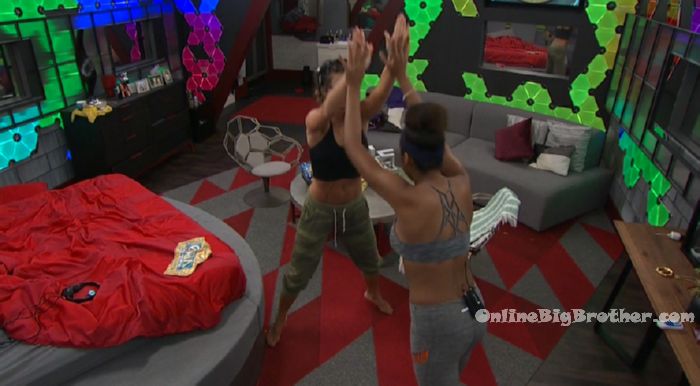 Bayleigh – "AMAZON ALLIANCE FOREVER!!!"
Angela – "Someone might get backdoored tomorrow!"#BB20 @bigbspoilers pic.twitter.com/zx9cXiHRxx

— Dawg (@DawgsBigBrother) August 6, 2018
8:05pm HOH room. Brett, Kaycee and Angela. Angela – so Bay just came up here and said okay! I just decided huge news! If you decide to make the biggest move in big brother history.. AKA Scottie and Tyler …backdoor one of them. I will use my app on you. I was like really!? Brett – really why would you want the app to be used on you? kaycee – if she is in jeopardy of going up. Brett – yeah because now she is in jeopardy of going up. What an idiot. Fes is paranoid as f**k, he thinks its him. Angela – what does he think is going to happen? Brett – he thinks he is getting backdoored. Angela – really?! Brett – Yeah. I kept telling him that I think it is me. I think after Bay leaves he is going to latch onto me. Kaycee – they both came up telling her she is going to be a legend! They laugh. Tyler and JC join them.
8:14pm Bedroom. Brett and Sam. Brett – I just wanted to let you know that everything is okay with us. Its all a part of the big plan. I promise the world, okay?! Not between me and you but between me and Angela. I am just keeping you in the loop, that everything is okay. Sam – okay. And me and you? Brett – oh god yes! They hug. Sam cries and says its just hard.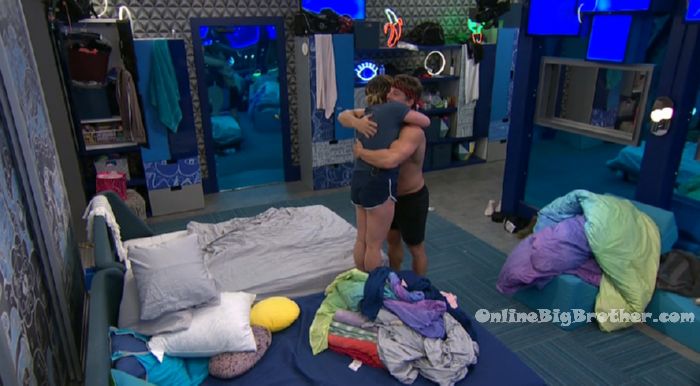 8:55pm Kaycee does a choreographed dance with the other house guests when the health nut music comes over the PA.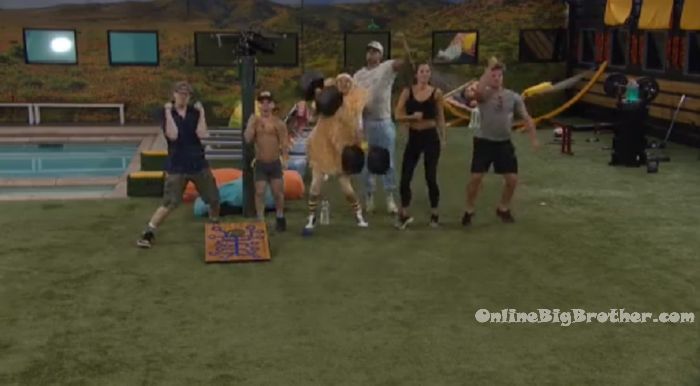 *** Bayleigh thinks she could be pregnant ***
9:25pm Bathroom. Bayleigh and Haleigh.Bay – I had a dream.. Haliegh – like mine? Bay – worse. You have to read my mind. Haleigh – are we on the same page? Bay – I hope so! Haleigh – how did you feel about it? Bay – freaked the heck out! Haleigh – we're on the same page. Bay – oh that would be so fitting Bayleigh .. that wouldn't happen to you on national television!? Great!? Haleigh – has that been confirmed to not be a thing? Bay – no. Its more like pure fear. I don't even want to know. Its fine. Haleigh – everything happens for a reason. Bay – like cool. Haleigh – but that is a story to tell! Bay – laughs can you try and not use me for television right now!? America its fine! Are we?!? What day is it?! Haleigh – are you going to purse the avenue of discovery? Bay – maybe next week or the week after. Literally I will just wait. Haleigh – we will notice. Bay – you and me. We're on the same page. Haleigh – then what will you do? Bay – we will talk when we get out of here. Haleigh – can you imagine the conversation. Bay – Yup, that's literally what I've been thinking about. Imagine the conversation with my parents! Haleigh – how does that even start? It starts well because I will be there holding your hand. Its so fitting, like this is how it was supposed to happen. Bay – that is the part that is so funny .. did you (god) really bring me here for this?! Really!? Like I need you to be in a stressful environment for this .. completely away from your phone. Haleigh – take hold of your life. Bay – so we will just monitor. Haleigh – nothing but good things.
9:39pm HOH room. Angela, Kaycee, Tyler and Scottie. Angela – Scottie this is probably going to hurt your feelings a little bit but.. I want you to know that both Haleigh and Fes's pitch to me was for me to .. basically what I did at the veto thing was epic and I convinced you and Tyler to hand over your life to me and that it was amazing .. that this could go down in big bother history .. be a legend if I backdoored Scottie or Tyler. Basically telling me that if I was to put one of you back up on the block or not use it on you. Telling me that it would be an epic move in big brother history. Scottie so next week when we win HOH, we're going to fry their a$$es! Tyler – f**K THEM UP! Angela – its crazy what comes out of their mouths when their backs are against the wall. They haven't talked to me all week .. they thought with Tyler on the block he would stay there and then as soon as I won the veto .. anything that anyone tells me from here on out is just total bullsH*T. Angela – she originally told me that she would not use the power on me and then just now she came up here and told me she would use it on me if I made this move. Tyler – she would never use it on anyone but herself. Angela – you four are the only ones that know what is going to happen tomorrow. Angela – everyone act scared.. Scottie – If I win HOH next week .. when I nominate them that will be my speech – "I always wanted to be a BB legend.. " Tyler – I will probably get my vote cancelled. Scottie – if you laugh during the ceremony you will totally be cancelled. If you don't it will probably be Kaycee's vote. They talk about how in Angela's speech she will pretend to have a hacker detector .. and point it towards Bayleigh.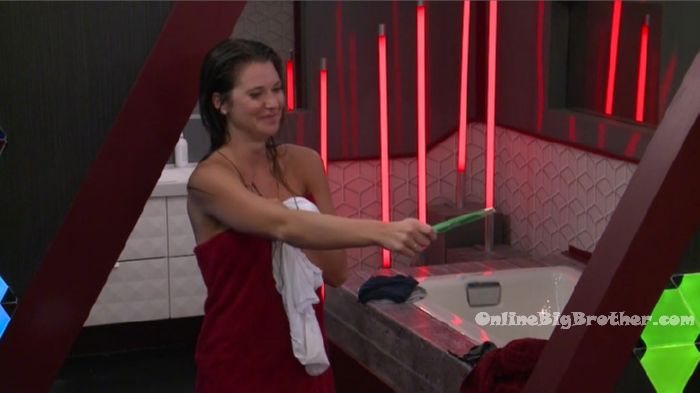 9:45pm
Haleigh and Bay yoga in the backyard..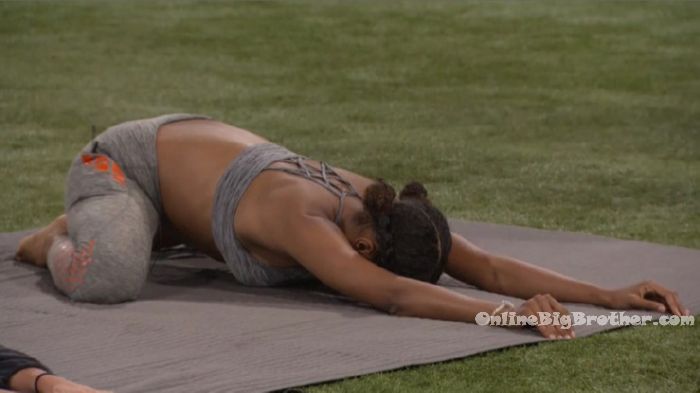 Scottie during the veto ceremony – "It going to take everything in me to not be like F**K YOU!"#bb20 @bigbspoilers pic.twitter.com/wHSpl4pcLj

— Dawg (@DawgsBigBrother) August 6, 2018
10:13pm Hayleigh and Bayleigh telling Brett about what the best position to give birth in. Bay – I'm going to be crazy fit when I'm pregnant.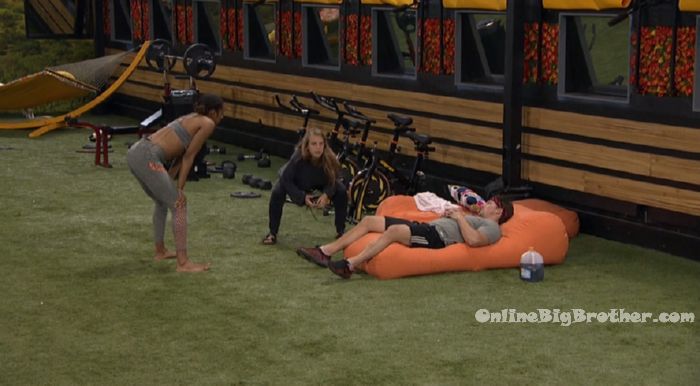 10:43pm HOH room. Angela and Kaycee. Kaycee – do you really think you should do the beep beep thing? Angela – I don't know. Do you think its stupid and insensitive? Kaycee – I think it would be funny but then.. Angela – it would cause more drama? Kaycee – probably. Angela – it would be hilarious though. Kaycee – you can be funny in another way because you know that is very funny. You reasoning for putting her up is her messing with your HOH. Angela – I was wondering if I should make it ambiguous about who I am talking about .. so that it could also fit Scottie. Kaycee – yeah. Angela – you know I've know since day 1, every conversation we've had was just a string of lies to further manipulate my HOH and I've know all along and I've been planting the right seeds so that I could end up with the veto. And so the identity of the hacker is ..SCO.. BAYLEIGH. You had your week last week how dare you take mine from me. Angela – she's been telling me that she's wanted to work with me this last week. ..I've known shes the hacker so if you really wanted to work with me you would have told me you were the hacker. JC joins them. JC how pathetic Rockstar being the nachos.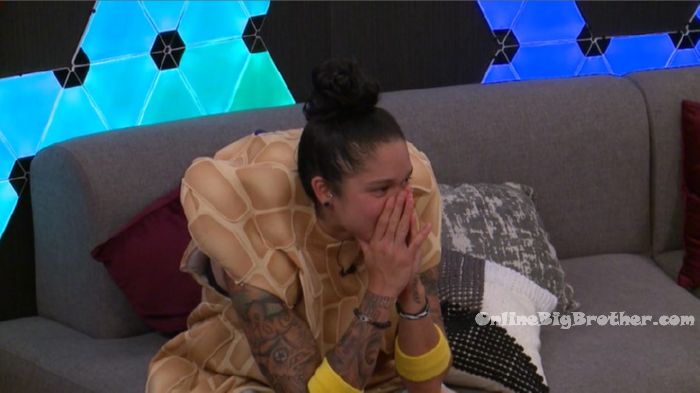 If you've enjoyed our live feed updates so far this season, please consider donating.
Any amount is greatly appreciated! Your donations go directly to paying the fees required to run this site.
Rank the houseguests!
Easiest way to Rank the house guests use link below