Head of Household Winner – Holly
Have note are: Jessica, Nicole and Sam
Nominations are: Sam & Nick
Power of Veto Players are – -Holly, Sam, Nick, Cliff, Jessica and Tommy
Power of Veto holder – Nick
Power of Veto Ceremony –
Powers in the game
Christie – Panic
At any of the next four Power of Veto Ceremonies, Christie can turn the Golden Power of Veto into the Diamond Power of Veto and allow the current veto holder pull someone off the nomination block, but instead of the Head of Household naming the replacement nominee, the veto holder names the replacement.
Field Trip
America votes for 3 houseguests to go on a field trip that will put one houseguest's game on the line
Grab your live feeds —-> BB21 Live Feeds Subscription Link
Rank your houseguests —-> Big Brother 21 Ranking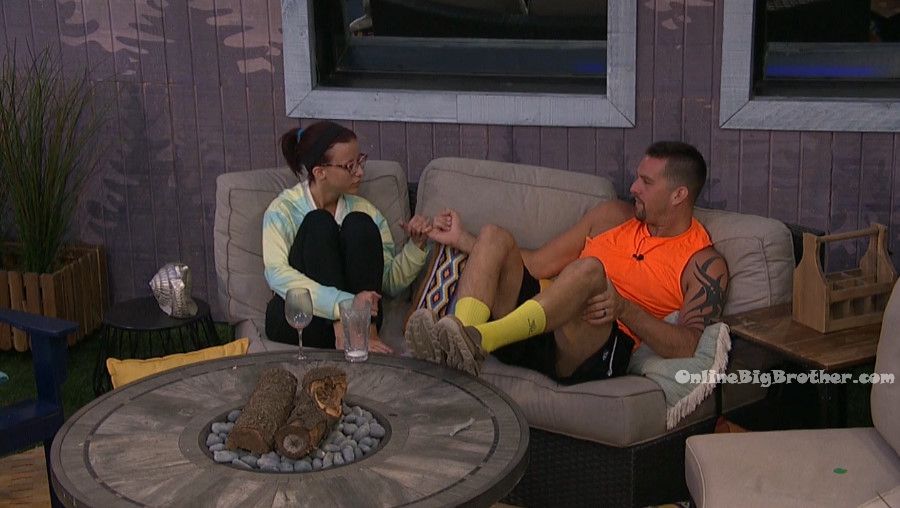 8pm Backyard. Nicole and Sam.
Sam – I'll tell you what I might do in my eviction speech because I want to have a total surprise. I want to blindside Christie. I don't want her going around trying to fix things. Nicole – have you spoken to Christie about her targets? Sam – Ummm… yeah, Christie wanted Michie out. That's why it was total BS that she was looking me in the eye last night saying I never wanted Jack and Michie out. Yes you did! Swear you won't say anything about my eviction speech? Sam gets Nicole to pinky swear. Sam – I am thinking it could help you, Nick and Cliff. I want to put a target on her because if its the truth .. I want to say .. I'll give my little shout out thing and then I'll say house guests lets take a walk down memory lane. When Cliff was HOH, Cliff wanted to make a big move and he asked me to go find out from the house if the house would have his back. In doing so I went to Christie and asked if Cliff made a big move would the house have his back. And Christie was like as long as its not me I will do whatever Cliff wants. I will vote however he. Totally whatever Cliff wants as long as its not me. I said cool, what are you going to do about your power? She said that she was going to blame Jack and Michie for bullying her, for putting her under peer pressure .. she would shut down and not use the power. However turn of events Michie wins the veto and leaves Jack up there on his own. Now Christie was forced to pretend that she had this whole major plan to save Jack with her power thence leaving me out to hang and dry all by myself making me look like the villain here. I am not. So I am just saying whoever looks trustworthy might not be as trustworthy as you think. So when you go into that voting booth just remember who was loyal and who was trustworthy and I never even spoiled anyone's games leading up to this point. Because then if I get evicted out it might cause chaos. And Christie would be like I never said that bla, bla, bla.. She will probably cry and do the whole thing.. Why would he even say that?! But she said THAT! That's why Nick and I were like what the f**k. But Nick doesn't want me to use his name. I told that speech to you, Cliff and Nick because I trust all three of you. Nicole – why is it when people are on the block that's when we decide who we trust and who to work with? Sam – I did not want Kat up next to me. Don't throw me a sympathy vote or nothing. You need to vote with the house.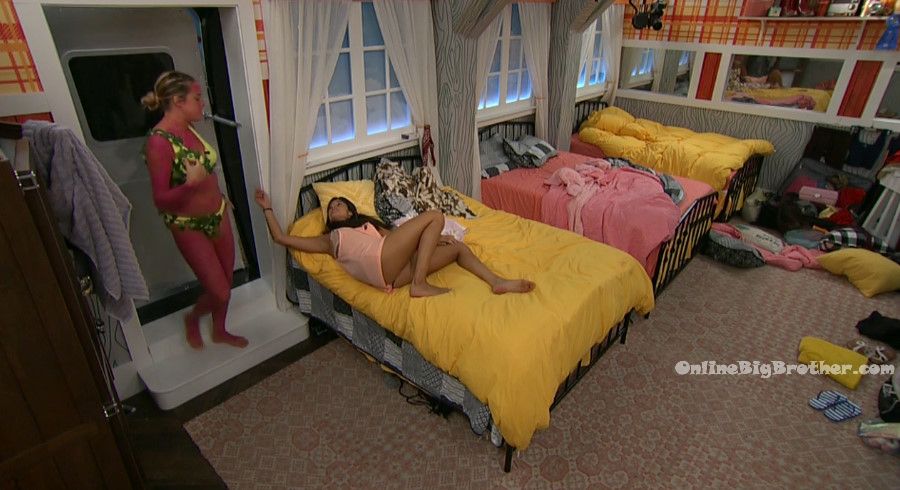 8:17pm Bedroom. Christie and Sis. Sis – fun fact about me… I've always enjoyed $*x but I've never really enjoyed it. Like fully enjoyed it. Christie – but you are? Sis – YES! Christie – do you feel comfortable? Is that why? Sis – I always feel comfortable.. Christie – he's just really good? Sis – I think its just really good. Christie – the way he talks about it too .. I would hope that he's good. Sis – what does he say? Christie – no not about you guys but before. Sis – oh. Christie – like that he cares and he's a giver. Like he wants to make sure she c**s first. Sis – but I haven't c** with him. Christie – NO?! Sis – no.. Christie – how is it that good? Sis – because it just feels good.. Christie – and its hot! Sis – yeah its hot. Christie – but you haven't? Interesting!! Sis – well I've never … no guy. Christie – what?! Oh we need to talk! Even o*@l? Sis – MMMMhhhhmmm. Christie – what about o*@l and … at that same time? Sis – no. Still haven't but he almost made me yesterday.. not yesterday the day before. Christie – its easy for us because we just know. I always say that no guy could s*** a d*** like a guy because a guy knows what a guy wants. But that literally blows my mind. Do you give instruction? Sis – no. I'm too shy .. is that weird? I won't talk unless they .. the feeds are making nervous. I'll talk if they want me to. I don't know why I'm so shy. Christie – I was always too shy to tell guys what to do. Sis – with my ex because we were together for so long I would say what to do .. but it wasn't amazing. Big Brother blocks the feeds. Christie – you have to like lean forward like you're h**p!*g and ru**!ng your c*!* on the top. Sis – oh okay, I'll try that. I'm going to do that tomorrow. I've never o*g@$m*d having $*x with someone and I want to. Kat joins them.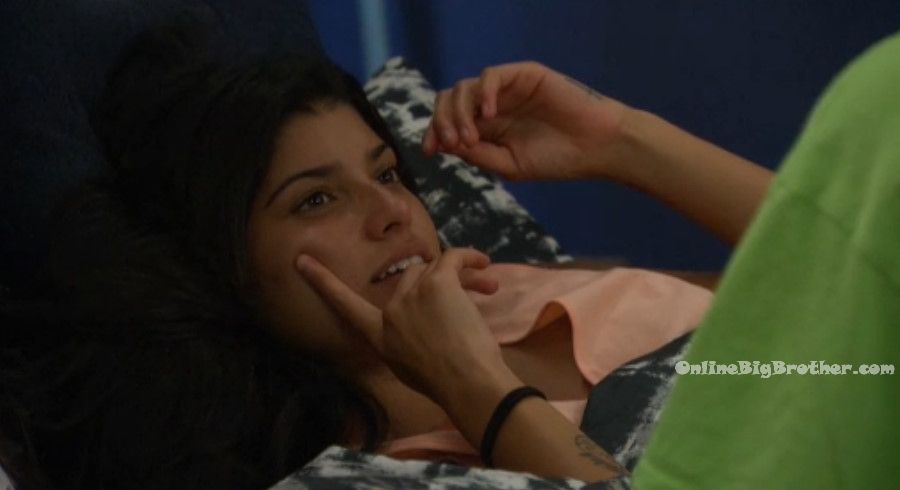 8:27pm Jack hides in a cabinet in the storage room and scares Sis when she opens the door.
Jack scares Sis #BB21 @bigbspoilers pic.twitter.com/8TyDyKzuMa

— Dawg (@DawgsBigBrother) July 30, 2019
9:05pm – 9:15pm The house guests are lounging around chatting about random things. Hammock – Jack and Sis. jack – if I was to win HOH I would probably put up Nick and Nicole. What would you do? Sis – literally the same thing. Cliff scares me too. Jack – I told him he is safe with me through the double eviction. Sis – I just want to get out of here. I want to see behind those walls! Don't you? Jack – no, I want 500K thank you very much! Haven't you heard everyone in this house thinks I'm going to win it. Sis – I hope you do win it. I really do. Jack – I don't know, I think just because everyone else saying that puts a bigger target on my back. I'm leaving earlier but we'll see. I just need to win more stuff. Sis – yeah to be safe yeah. Jack – of lay low for a couple weeks and let everyone think I'm mortal.. which I am. Sis – I am just sad once it gets to the six. Jack – yeah it will start to get bloody. Sis – I wouldn't even know what to do with all that money. I'm too young to have that much. Jack – put a down payment on a house, put some in savings, set up a retirement plan. Sis – I would invest in some stocks. Jack – wow, I would invest in real estate. I would buy small houses. Start renting them out and from there start buying others.
10pm Backyard. Sam, Cliff and Jess in the hot tub. Sam and Cliff are telling more stories. The kitchen crew are talking about comps where you have to estimate the amount of time a comp took.

Backyard. Cliff and Jess. Cliff – I hate to say it but Sam is probably out of here. It is what it is. Jess – talking to everyone and it seems like that is the consensus. Cliff – somewhere down the road and I'm not asking who but if we ever what to make some kind of offer to one of the couples to team up and do it. I am curious somewhere down the road seeing who you feel tightest with I just don't know how that will fall out. Jess – I feel like Sis doesn't really like Jackson. Holly and Jackson did break up but then they just got back together again the next day. And I am assuming this was slop related. It was a hangry situation. Cliff – somewhere down the road.. Jess – well no its not somewhere down the road its going to happen within the next week especially if this next week is going to be a double eviction. Cliff – we will need to figure out who to go against and who to team up with. The only people I trust are you, Nicole and Kat. If I can't trust you then I'm almost done.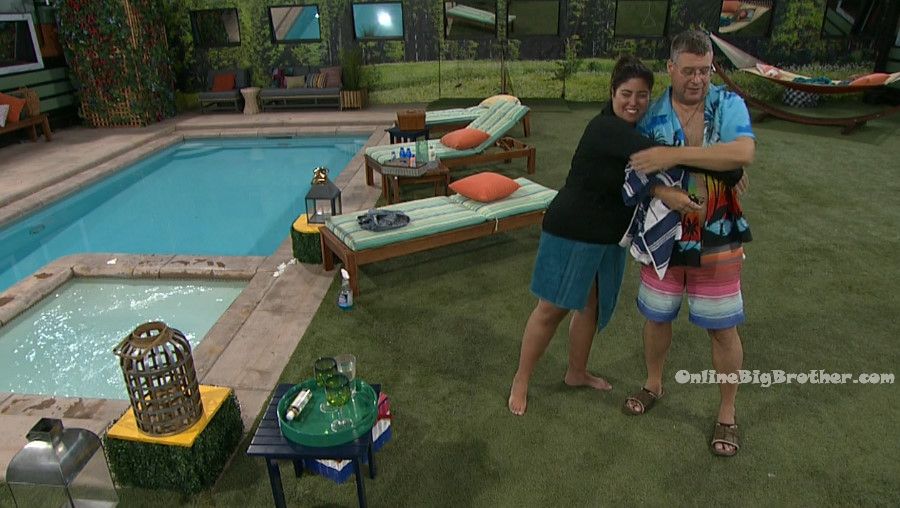 10:16pm HOH room. Nicole and Holly. Nicole – I just want to thank you for not putting me up. I feel like I can't prove my loyalty and honesty until I win something. I look forward to an opportunity show that I am loyal and trustworthy.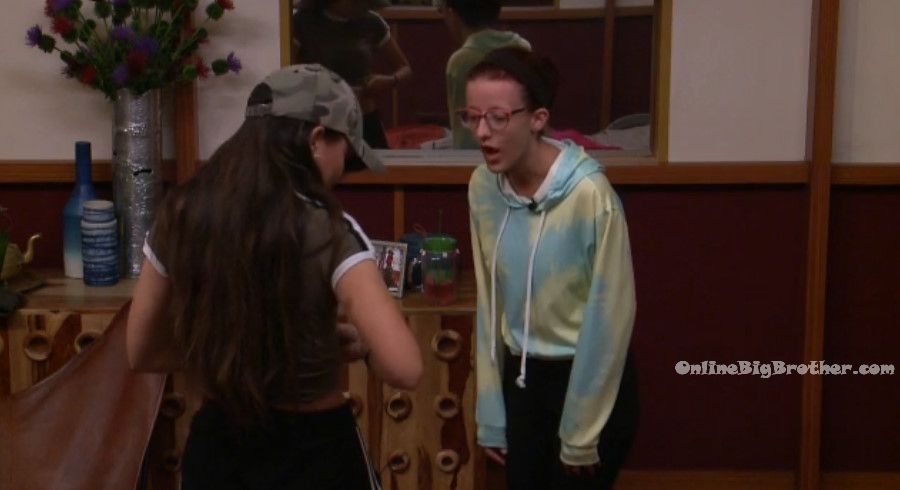 10:30pm Nick talks about video games and paintball.
`

11:17pm HOH Room. Jackson and Holly. Jackson – I feel like this is just one big co-ed fraternity. Holly – Sis was trying to explain it when Christie was feeling pressured to use her power. Like she was originally pressured by somebody else. and then she blamed it on Nick and Sam. Jackson – that would explain why Sis and Tommy are so close. I feel like they're on the outskirts of us four. They build alliances with other people and then almost got caught. So they get even closer because they're having to dig themselves out of a hole and they're pinning everything on Nick and Sam. And now they want Nick and Sam gone because they're all lose ends. Holly – I am really afraid I'm doing their dirty work. I have a weird feeling in the pit of my stomach. If Sam would have just talked to me and put it all out there and maybe sold them out… but he was scared to name names. He didnt really tell me anything so I can't go on gut suspicion. But apparently Christie doesn't want to go far with couples. She didn't tell that to me but I heard it through the grapevine. Jackson – who did you hear that from? Holly – Kat or Sis. I don't know what to think about Sis. She is very cold in this game.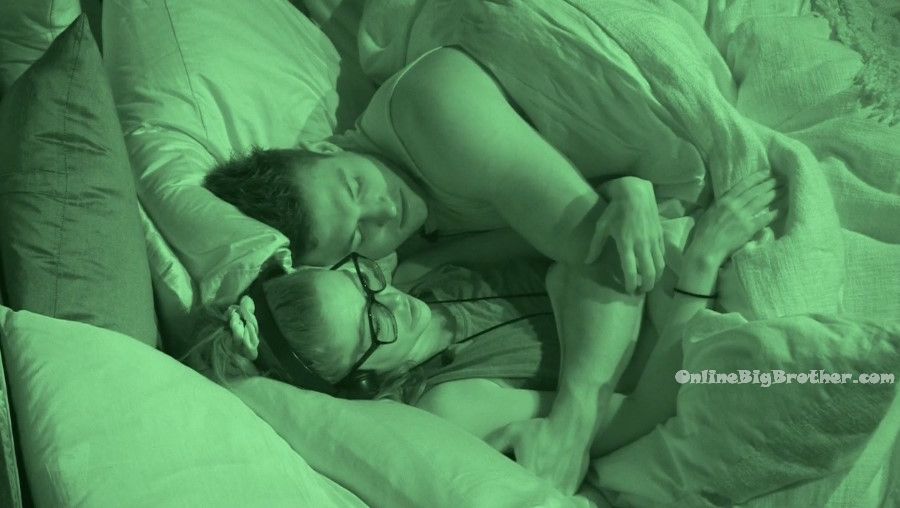 12:30pm Christie – I dated someone that was 50 .. I've spent the last 7 years dating someone that was 21 years older than me. Nick – that's crazy. How old were you when you started dating? Christie – 19. Nick – so that means that.. Christie – she was 41 when I started dating her. Nick – so that would be like you dating a 5 year old. Big Brother switches the feeds to the havenot room.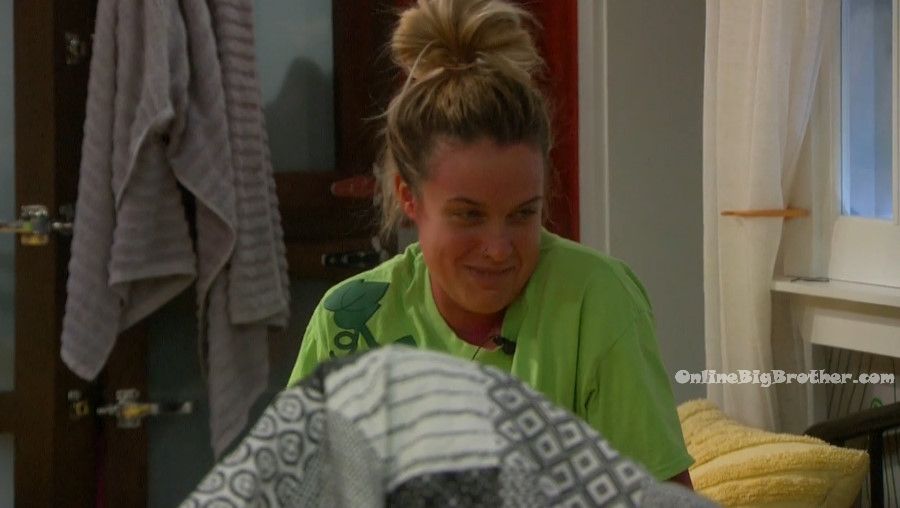 2:45am All the house guests are sleeping..
OBB wouldn't be possible with our your support!
If you are one of the generous people that donate to help keep the updates coming, we're giving out a bit more this year. Check out this page for more details: OBB Members