Head of Household Winner – Holly
Have note are: Jessica, Nicole, and Sam
Nominations are: Sam and Nick Kat
Power of Veto Players are – -Holly, Sam, Nick, Cliff, Jessica and Tommy
Power of Veto holder – Nick
Power of Veto Ceremony – Nick used the POV on himself Holly nominated Kat in his place.
Powers in the game
Christie – Panic
At any of the next four Power of Veto Ceremonies, Christie can turn the Golden Power of Veto into the Diamond Power of Veto and allow the current veto holder pull someone off the nomination block, but instead of the Head of Household naming the replacement nominee, the veto holder names the replacement.
Field Trip
America votes for 3 houseguests to go on a field trip that will put one houseguest's game on the line
Grab your live feeds —-> BB21 Live Feeds Subscription Link
Rank your houseguests —-> Big Brother 21 Ranking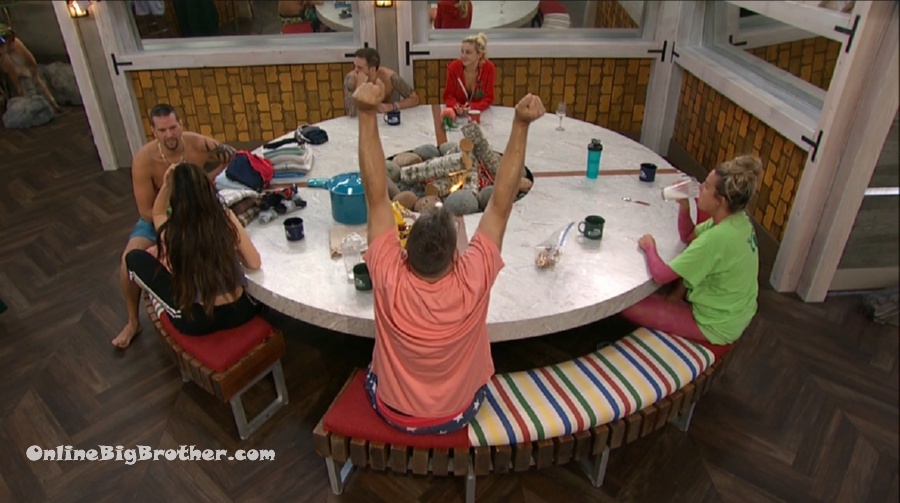 NOon They've been having a conversation about sh1ting their pants..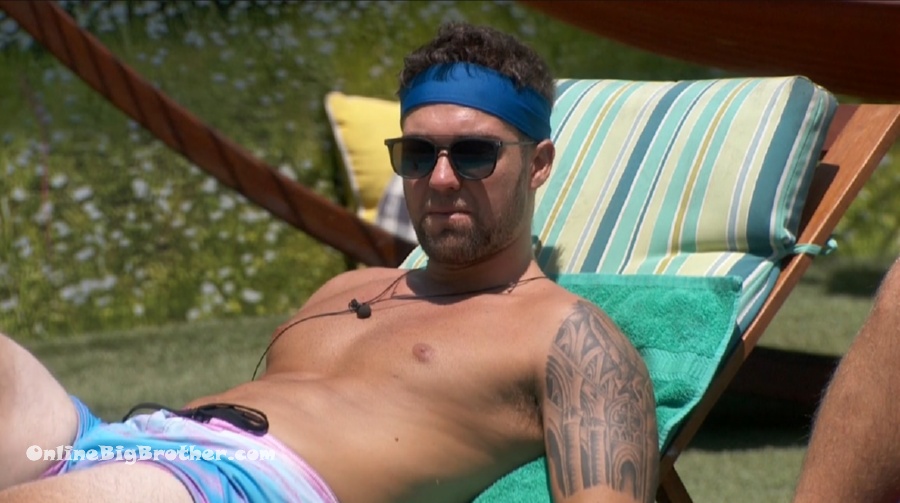 1:30 pm Sam and Nick
Sam – did you say something to Christie about my eviction speech
Nick – No why
Sam – you swear
Nick – No why She say something to you
Sam says that Christie told Sis that someone told her that Sam was mad at her
Sam – Sis told me. You Told Christie that I was mad at her
Nick – I said he's probably mad at her
Sam – you swear you didn't tell her about my eviction speech .. you swear dude
Nick – no .. are you actually going to do it bro? You're crazy bro
Sam – why
Nick – it's going to make you look petty
Sam – so what? If I could create a ripple and then help you, Cliff and Nicole out
Nick – I don't think it will actually help us though
Sam – so what Am I supposed to do give a nice speech and leave?
nick – yeah, What's it going to do they're not going to believe. You think on your death bed
Sam – They might go around hey is there any truth to that.
Nick – she'll just say ohh yeah I told them (Nick/Sam/Cliff) what they needed to hear
Sam – so you don't think I should do it. You think I should just leave friends with everybody
Nick – yeah
Nick – Dude she's in such a good spot that even if you say that … uhh.. how would there be any validity to it
Sam – Yeah, cause she'll just deny everything
Nick – she's in such a good spot bro, I don't care what you do as long as you don't say my name
Nick – no one is going to believe it
Sam – you don't think it will cast some doubt
Nick – not yet it's too early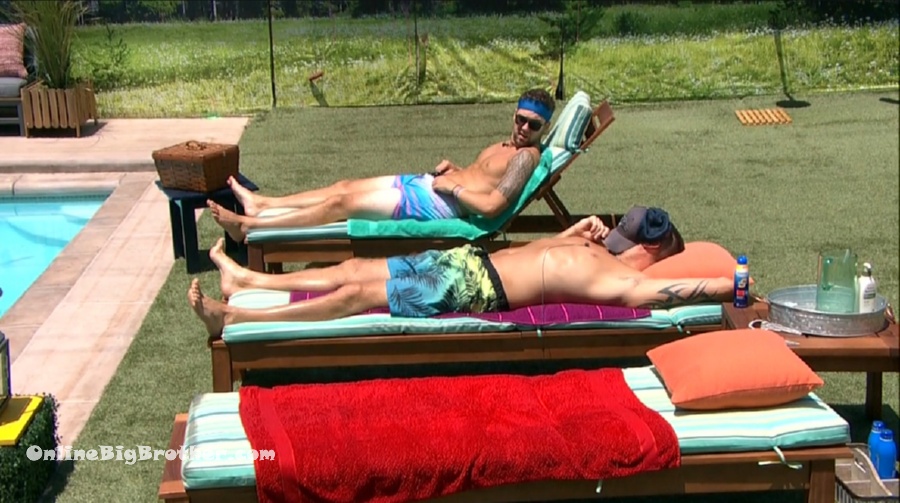 Nick – we were really f*ed when Bella said she was targeting Christie
Sam says Sis was going to put up Nick and Nicole "I would never have put you up maybe next week you were going up."
Sam says he was rooting for Holly.
Nick – Nick, and Nicole would have been amazing, that would have been the dumbest thing for her
Sam – why
Nick – If I won't you would have been the replacement
Sam says that he's leaving because they didn't want the two of them together. One of them was getting evicted this week regardless.
Sam – I'm at peace with whatever happens
Nick – I just have to float to 7 Sam. If I can float to 7 then they're going to need me to take shots at their showmances.
Sam says he told Nicole and Cliff about his eviction speech plans "Nicole's never rating me out I have too much dirt on her and Cliff is good for his word"
Nick – right
Nick – I want to win next week to prove to them but at the same time like I think I already kinda am proving to them
Sam – NO.. NO … NO… you're still screwed.
Nick – you think
Sam – YES, Sis talks to me dude
nick – what she say
Sam – like they still want you out they don't trust you they like you way more but at the same time you cannot be trusted
Nick – when she tell you this
Sam – she told me yesterday. You are next to go you have to win
Nick – ok
Sam – Don't feel comfortable you need to win everything or you're outta here
Nick – even if I don't put them up next week if I won
Sam – if you don't put any of them up maybe it would help a little bit but at that point, you would have two weeks off I still think you would go they're too close!
Sam – they're all too close to each other
Nick – I can't put them up anyways cause then I would guarantee I'm gone. I don't have a choice
Nick – I would rather not take a shot at them and hope that they trust me again than if I take a shot I am definitely gone
Sam – the way Sis talks you are still going everyone still talks about how you are the one that's supposed to go not me like all this sh1t
Chit chat in the sun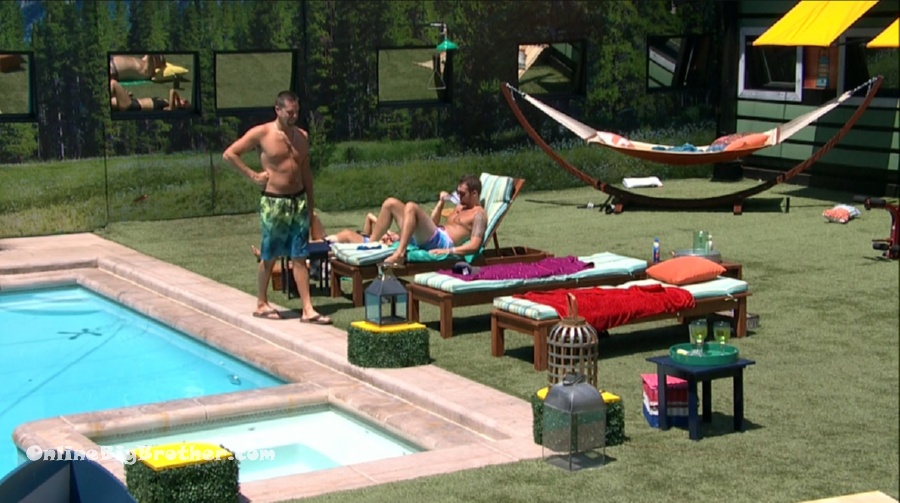 2:01 pm Sam, Cliff, Nicole, and Nick
Sam tells them he's not doing the eviction speech.
Cliff – we'll take care of it we'll play our game and see what happens.
2:10 pm poison Ivy is over.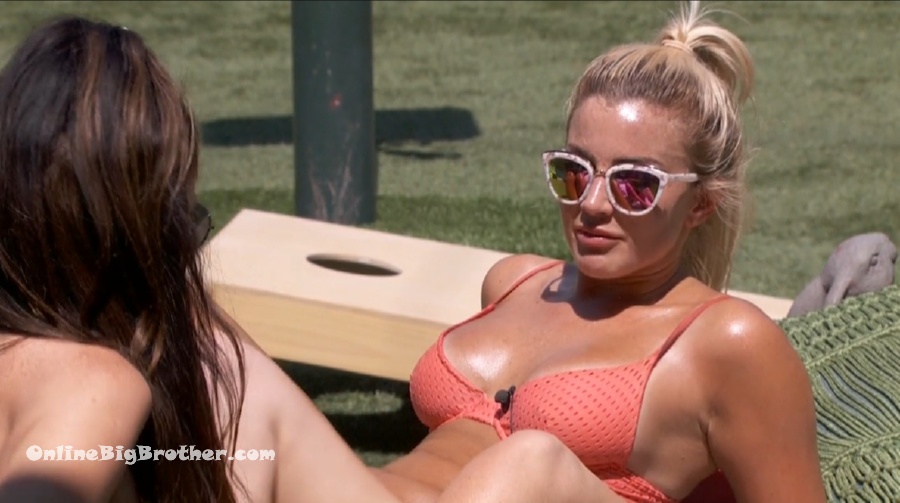 2:49 pm Kat and Holly
Kat – I don't think Sis watches the game. She applied for clout
Kat – she's playing typical high school mean girl
Holly – that's definitely the case
Kat is worried people are going to forget about Nick
Holly – I hope not
Kat is worried that Nick and Sam have a plan in motion to f*& her over
Holly doesn't think that will happen, "I'll be f*ed I'll feel like an idiot.. and I'll be next"
Kat says it's good that she's a pawn because it doesn't show people their cards but she doesn't want to go up again. She wouldn't have volunteered on anyone elses HOH.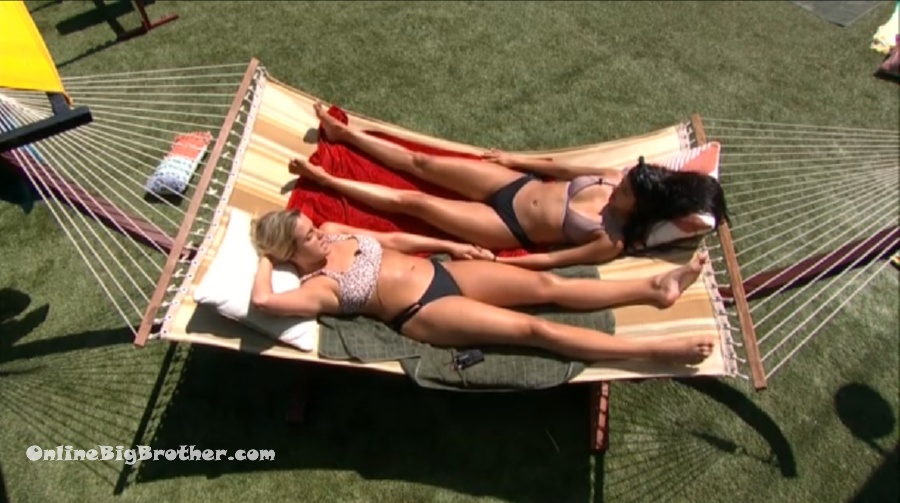 3:00 pm Christie and Sis
Christie – I feel calm I feel grateful I feel centered.. my brain is quiet
Sis – I feel sad for Sam
Christie- I do too, Personally, I'm sad
Christie – I don't want him to be mad at me.. I'm want to tell him I love him.. I know he's pissed.
Christie warns her about spending too much time with Sam. Some people like Jack "might get pissed.. you never know just be careful"
They talk about how they can't trust Nick.
Sis – I love watching Jack work out he's so f*ing hot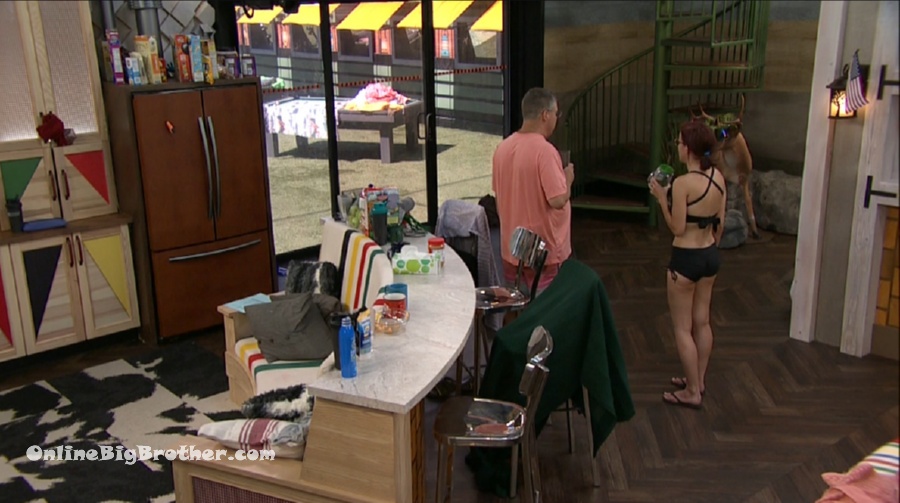 3:18 pm Cliff and Nicol
Cliff says if either of them wins HOH they'll have to decide who to go after. Cliff wants to team up with Christie this week because she still has the power.
4:36 pm Nick and Tommy trying to save Bees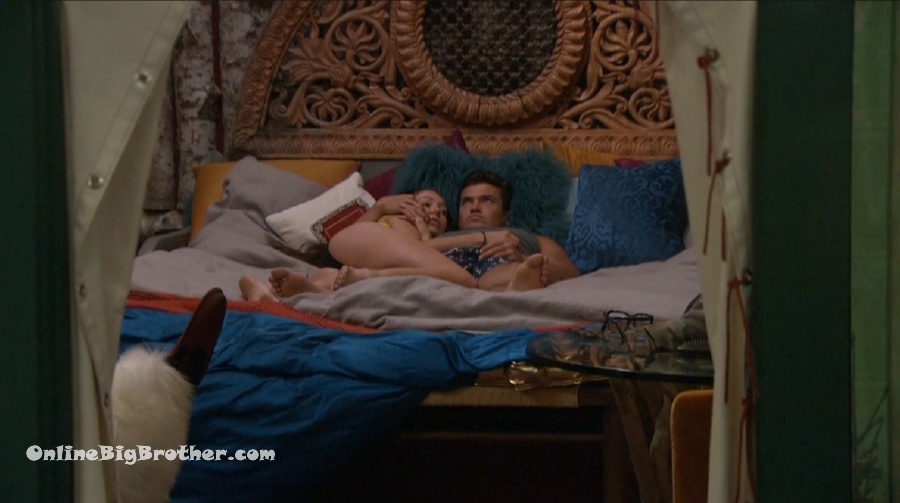 5:10 pm Holly and Jackson
Holly is worried about Christie having a lot of relationships outside of the six.
Holly is worried people want to target the six but they are too scared to go after the power players
Holly isn't confident she'll stay over Sis if they're on the block.
Holly – Christie is running things in the house everybody is afraid to touch her. What Christie says goes. Like Sam trying to blow up her game, nobody will believe it because it's christie
Holly brings up Christie started Flamin Five
Holly – She's just momma manifest nobody wants to go after
Holly says everybody loves Jack and nobody wants to be his target so nobody will go after him.
Holy says one of the competitions Jack got to see beforehand "he got to see where everything was.. that's not fair.. whatever"
Holly – Cliff told Jack recently that he still wants to work with him
Holly – Sis has been really distant to me
Jackson – exact opposite to me
Holly – Damn girl shameless.
Holly doesn't think sis is getting enough attention from Jack.
Jackson wonders if he should play into it. It could drive a wedge between her and Jack. After some discussion, they decide to not play into Sis' flirting unless they are alone.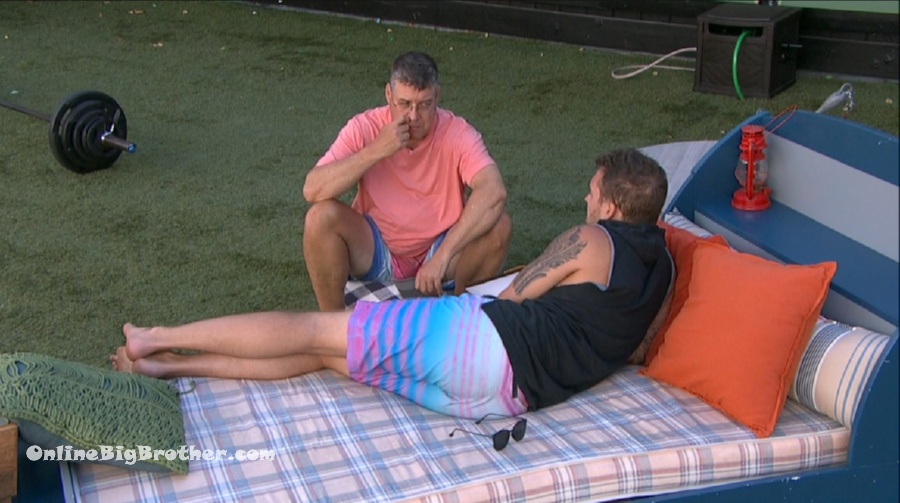 5:18 pm Nick and Cliff
Nick trusts Christie and Tommy. Would feel comfortable if they won HOH.
Cliff – If I win I'll grab you and Christie and Tommy .. be like you want to play
Nick – don't say names
Cliff – I want her to feel like she's calling the shots
Nick – if we did something Bold we're f8ed for a double if we don't do something bold we have some life ..
Nick – I'm trying to get back in with them.. IF we can get the 8 the chances are so much better..
Cliff – it seems like you and me could help one couple match up against the other two
They agree Nicole will do something in their favour.
Nick points out that the 6 will push for Nicole to go up.
Nick – I don't want to put up Nicole
Cliff agrees.
Cliff – I like Jess as a person but she's not going to do anything
Nick – she's on the other side
They both think Kat talks too much they want
Nick – I don't think a lot of people will want to win Jack wants to play in the double
Cliff has mentioned that Tommy is slow playing (aka not trying hard in comps)
They agree the other side won't be fighting for the HOH.
Nick – we need it
Nick – if one of us is not there in the double it's so f*ing bad
Cliff – our path forward is you and I
Nick – as long as we continue to be floaters
Cliff says about Christie "I Kinda trusts her"
Nick – the worse case is Sis/ Jack
Cliff agrees
Nick says if he wins HOH he's going to go with the 6 and make a deal. He'll put up Jess and either kat/Nicole
Nick – they want her because she can float they can dispose of her at any point
Cliff – Jack is scared to death about this double eviction
Nick says double is the best time to make a move because you can get them out quick
Nick says Sam knows something about the speech getting to Christie says it was Sis "I trust Christie to an extent"
Nick says he never swore on anything to Sam.
Nick asks the 6 would want Nicole gone next that is what will be pushed if they win the HOH. Cliff agrees the safe move is best.
Cliff – I would hate to do it. the game's a game if it buys us more time and credit with people it is what it is. (Cliff has no problem scumming Sam and Nicole but when it comes to the cool kids he all about his word)
Cliff says he won't put up Jack without talking to Christie and getting her thumbs up (Not shitting you folks)
Nick – we have to make a safe move it's not our fault . .
Cliff – I decided that when I made the deal 2 weeks ago. I hate it but that's the way it is.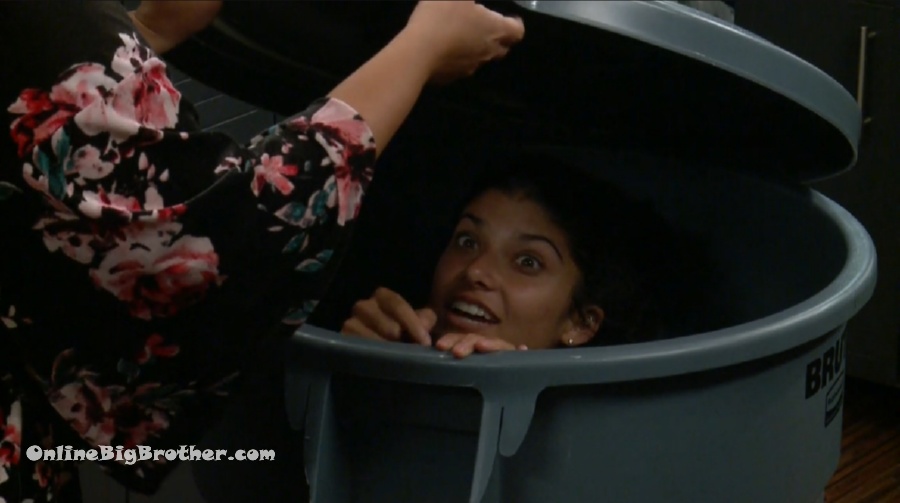 5:50 pm Sis gets tossed into the garbage.
(tries to scare Jack doesn't work.)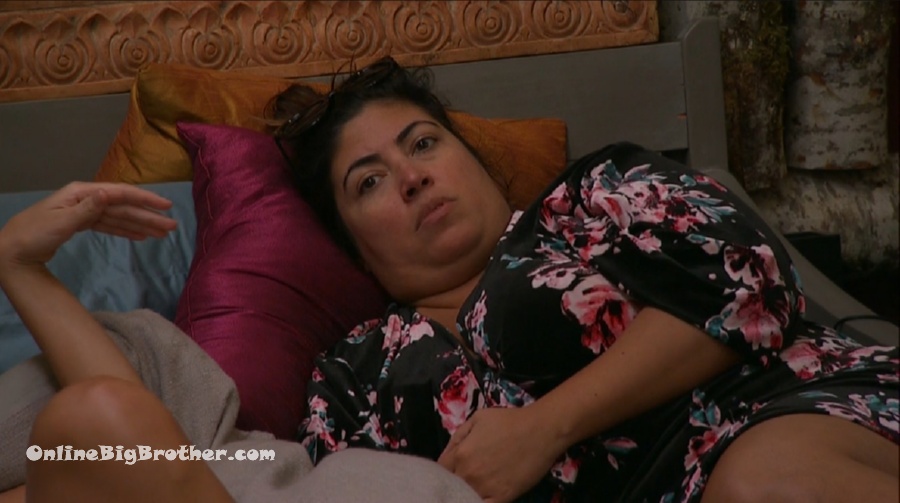 6:30 pm Jessica and Kat
Jessica – I woke up with three different joint pains.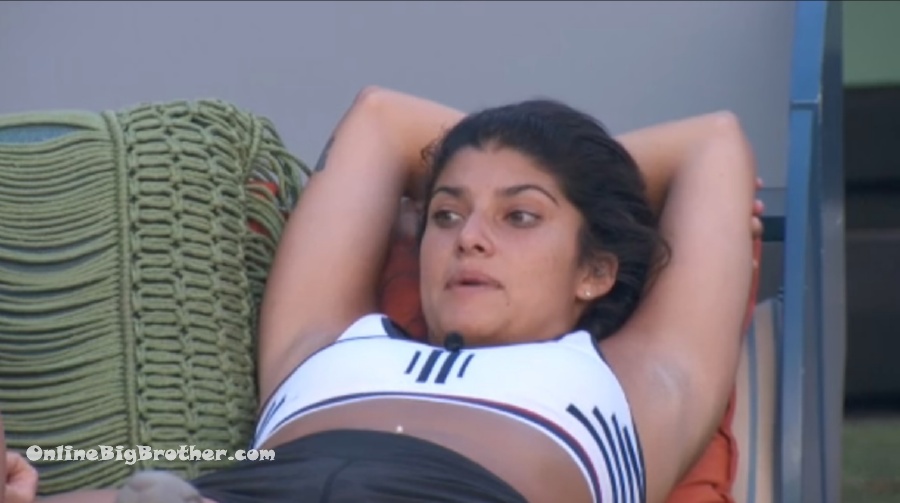 6:36 pm Sis, Christie and Tommy
Sis – every day I am in here I like him more and more that sucks because I know he's still in love with his ex .. which is fine totally fine.. after this he'll go back and it'll just be over..
Sis – we both know that we're hot and we can get anybody we want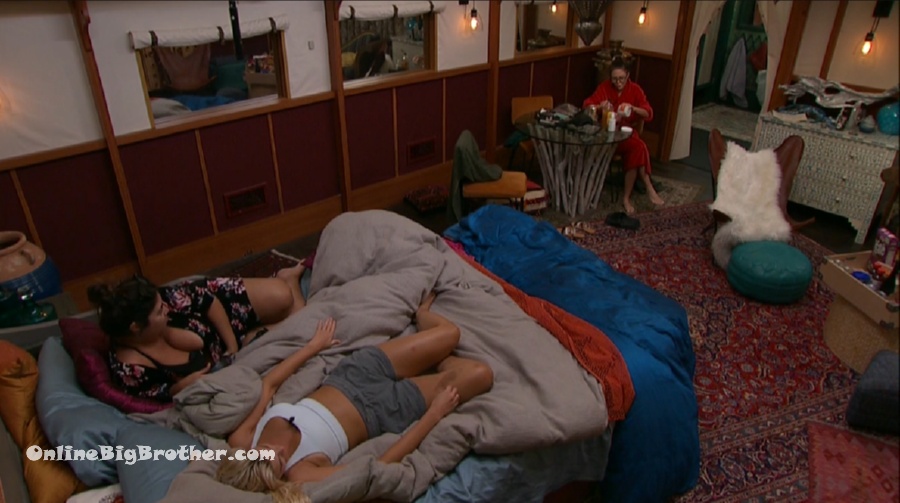 6:40 pm Kat, Jess and Jess
Jess had headphones on.
Kat asks her if she will have a relationship outside of the house. Holly isn't sure in the real world they hook up.
Holly – He has a lot of growing up to do and I don't want to take that away from him.
Holly says Jess, Kat and Jackson are some of the people she wants to keep in her life forever.
Kat thinks Nick and Sam are going to try to pull something
Jess doesn't say they haven't really been talking much.
Holly says it's pretty set in stone.
They start talking about Sis playing a mean girl game.
jess – she came in really quiet
Kat – she like I can't talk to anyone because I don't want to
Holly says Sis has been way way more flirtatious with him
Jess – that seems really odd
Holly – because we're friends
Jess – yeah you're friends..
Kat says she heard him talk sh1t about Jackson Holly has too.
Jessica says Sis is flirty with everyone
Holly -= that's her main gameplay flirting .. she told Nick she would have dated him if he didn't get with Bella.
Kat says Jack and Sis are really playing closer together than they letting on, "He might be sending her out to flirt with these guys"
Holly – that occurred to me…
Holy says Jackson is pissed at sis for thinking he's that shallow.
Holly mentions Sis telling Jackson when they get out of the house she's got a perfect girl for Jackson.
Kat – I feel like she (Sis) flirts with Christie and I don't like that
Holly – She stuck her a$$ in Christie's face and twerked like a$$ A$$ (HAHAHA)
Kat says SIS over laughs at Christie's joke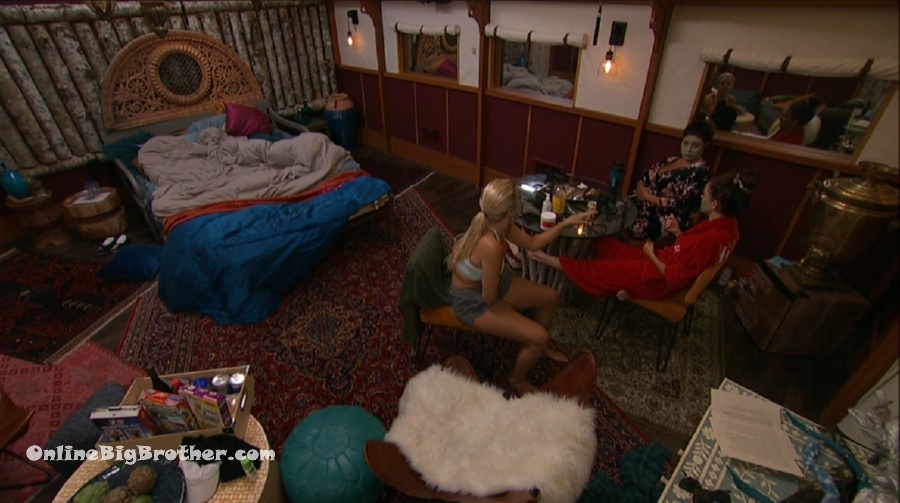 Holly says Sis and Sam had a final 2 that is why she was pushing for her not to put Sam up.
Holly adds that Sis was the one that told CHrsitie and Tommy that Cliff and Sam might be working with Jackson and Holly.
Kat says Sis knows she's onto her sh1t
Holy really plays up how sweet Jackson is. Goes on about how he didn't run her HOH at all. Kat points out that Sis was going around saying that he was.
Jess brings up Christie saying sometimes Sis get mad at Jack for not talking game to her.
Holly points out how "mushy" Jack has gone "He's backed off so much, he's a smart dude"
Holly says Sis talks more sh1t about people in the house than anyone, "Says she hates everyone"
Kat – I'll say I'm putting you up because you say you hate everyone
Kat says if Sis went up would she had the support to stay
Holly says if it's soon Sis will.
Holly – Sis was pissed when I didn't throw the comp to her. I didn't do what she wanted
They talk about how Sis was saying that Holly looked at her during the HOH competition and said she really wanted to drop but Jackson was yelling at her "Don't drop"
Holly says Sis is trying to drive wedges between her and Jackson/CHristie.
Holly now thinks Sis is saying to Jack that Jackson is flirting with her
Kat – true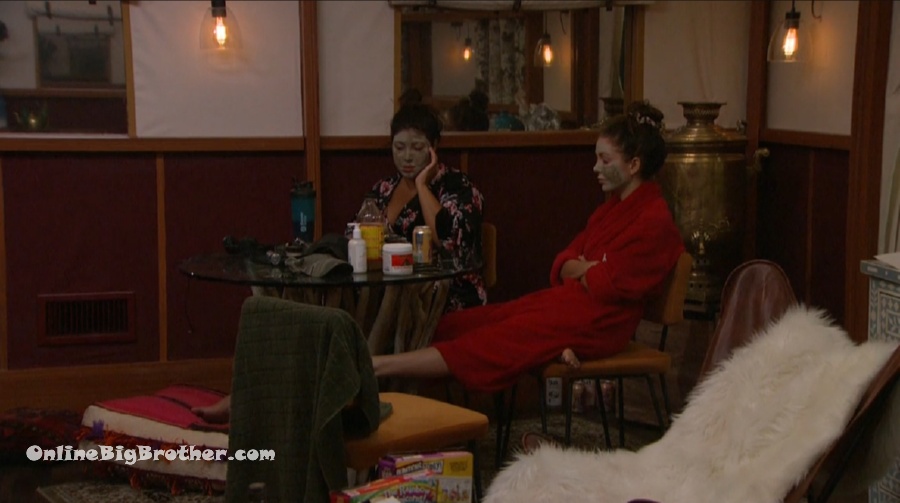 7:28 pm HOH
Kat is removing her face mask she's looking for a face cloth
Kat – what towel can I use for my face
Holly – Jack took both the face towels I was using and used them for his sex stool (floor stabilizer)
Holly- use my body towel.. it's really annoying I put a towel right there for my face. Jack took it for his sex stool
Kat – when I win HOH ain't no one having sex in my shower except for you and Jackson.
Nicole joins them.
7:43 pm Jessica finds a bug.
Kat, Sis, and Holly think it's a bed bug
Sis – you get them from eating in bed
Holly says she's getting bites she's only had them while in the HOH room.
feeds go down