Head of Household Winner – Holly
Have note are: Jessica, Nicole, and Sam
Nominations are: Sam and Nick Kat
Power of Veto Players are – -Holly, Sam, Nick, Cliff, Jessica and Tommy
Power of Veto holder – Nick
Power of Veto Ceremony – Nick used the POV on himself Holly nominated Kat in his place.
Powers in the game
Christie – Panic
At any of the next four Power of Veto Ceremonies, Christie can turn the Golden Power of Veto into the Diamond Power of Veto and allow the current veto holder pull someone off the nomination block, but instead of the Head of Household naming the replacement nominee, the veto holder names the replacement.
Field Trip
America votes for 3 houseguests to go on a field trip that will put one houseguest's game on the line
Grab your live feeds —-> BB21 Live Feeds Subscription Link
Rank your houseguests —-> Big Brother 21 Ranking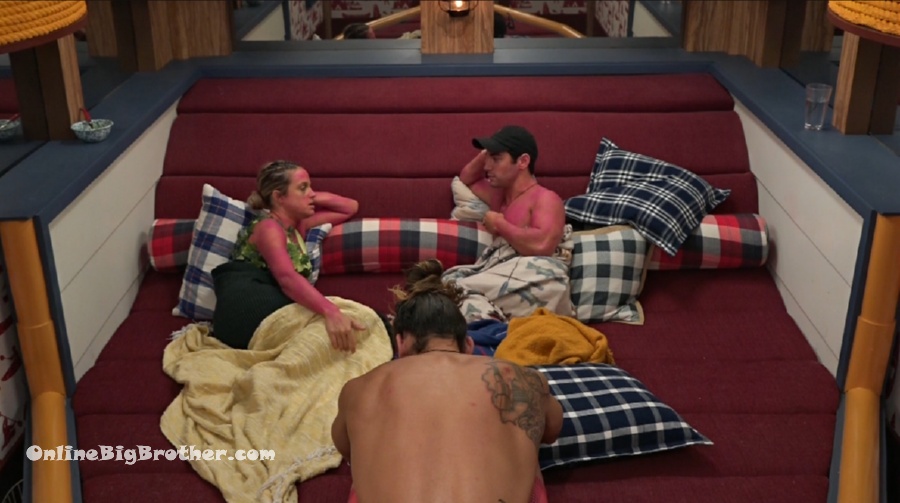 2:38 pm Christie, Tommy and Jack
Jack says Cliff is still pushing for them to formally sit down and create something "I don't think he's fully bought in I told him he's good through double eviction"
Jack – I told him I love you gameplay I love the way you move. He wants an alliance name
They talk about the three or Cliff need to win during double
Christie would take out Nick followed by Nicole
Jess walks in
Christie – Hi mommy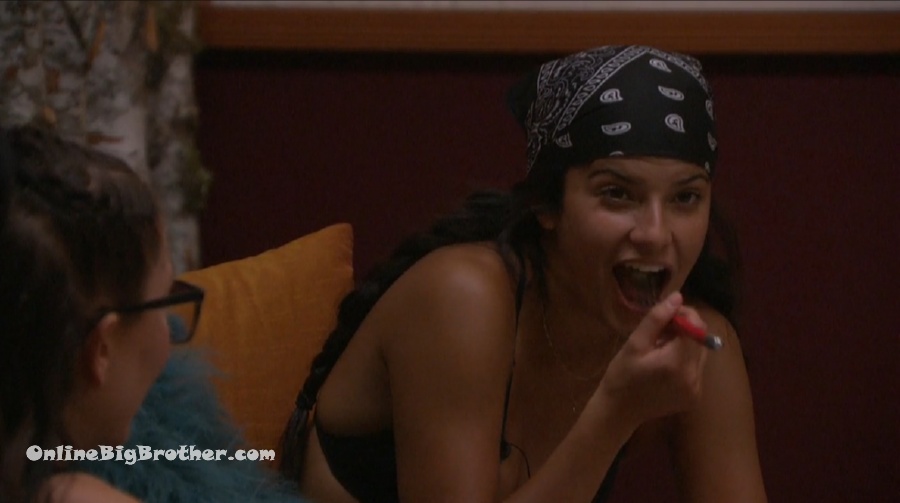 2:53 pm Sis and Holly
Sis goes over some dirt Sam told her about CHrsitie. Before Cliff's nominations, Christie said she's fine with Michie and Jack going up and she wouldn't use her power. Christie making a plan with Sam and Nick to make it seem like CHrsitie was being bullied by Michie and Jack to use her power so she could say that is why she's not using the power. Then when Michie won the veto she flipped it and made it sound like Sam and Nick were pressuring her to not use the power.
Holly – I wonder if he would tell it to me
They wonder if Tommy/Christie are working with Nick.
Sis – Tommy was really pushing for Nick not to go
Holly – I know he really wanted Sam to go
Sis – Christie talks so much sh1t about Nick so I don't know. Last night Sam tried to call Christie out for doing that Switcheroo thing and Christie was denying it and Sam said he just shutdown because he didn't want to argue with it because nobody would believe him anyways
Holly – sh1t, I feel so bad
Sis – I love Christie but I'm starting to get Kinda nervous
holly – she's making me really nervous and I hate even saying that because I F*ing love her
Sis – she gets into my head
Holly – She's playing really hard the fact they had that 5 person alliance too even if they say it was false
Sis – Did I ever tell you? Nick told me she made it up
Holly – Really, if she's saying ti was fake why did she make it up
Sis – listen this is what Nick told me, The reason why I got so paranoid about Jack putting me up was because Christie came up to me and said she was scared that Jack was going to put her up because she was really upset with Jack over the whole Kemi thing
Sis – she went to Nick and said jack was going to put her up that is why they made the flamin five
Sis – I went up to Christie and told her that Nick was saying that and of course, she denied it.. maybe it's true
Sis – she sketches me out she has really loose lips she talks to everyone
Holly – EVERYONE
Holly mentions how Christie makes decisions for the team as she did with Cliff
Sis – remember how out of the loop we were that week, She wants to be in control
Holly – it's my HOH
Holly says Michie is the only person that lets her do what she wants to everyone else that comes up has an agenda.
Holly – I love Sam and I thought I owed it to him to explore every possibility
Holly – I wanted to make sure it's super OK to send Sam home. He's not getting into jury I just feel really bad he's never done anything to me. I don't have a reason to send him home.
Holly – If I leave Nicole in the house she will be a target later on
Holly brings up Christie telling everyone about her power, "She makes a deal with Cliff on behalf of all 6 of us
Sis – she offered him safety for 2 weeks
Holly – this week what If I wanted him as a pawn
Sis – Jack, Christie, and Tommy all talk about it all the time they run a lot of it.
Sis – Jack has been backing down a little bit. When I talk game with CHirsite which I do because she fills me in on everything. She gets me paranoid. I'm sorry she got me paranoid there was a deal between you, Sam and Nick
Holly – that bums me out so much that she would think that. Christie, If you thought that come talk to me.
Sis says Christie tells her Nick is lying to her even though she can feel in her gut he's not.
Sis – I trust her opinion a lot because she's so involved
Holly – She definitely exaggerates things.
Holly retells a time where Christie forgot she was part of a conversation with Nick and when Christie went over the conversation she was like "WOW" Christie's retell was off base.
Jackson comes in wonders why everybody is inside.
Sis says they are all in the boat roam because that is where Christie and Tommy are "Christie and Tommy so if they are inside everyone is inside"
Holly – it's the christie and Tommy effect
Feeds flip
(Just a note . the feeds are hyper jumpy with conversations)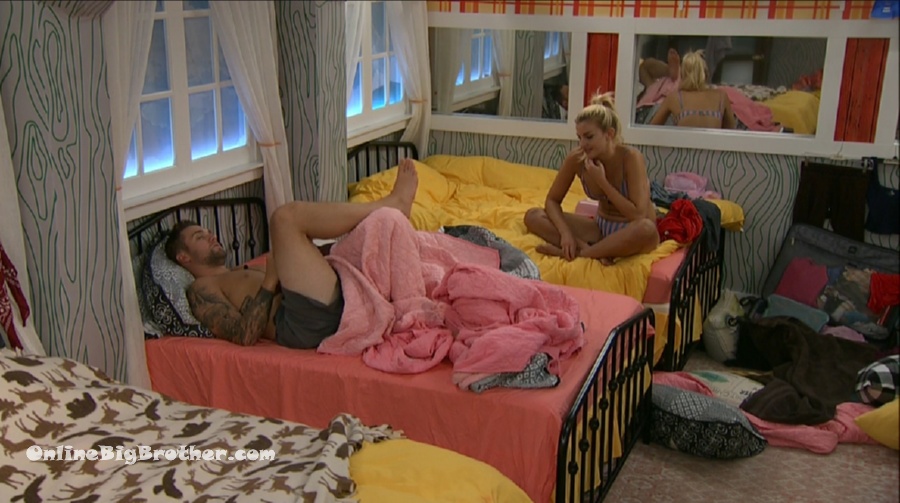 3:10 pm Nick and Kat
Nick says the vote will be 9-0 she's been fine. They both knew one of them was going home this week. they had already discussed voting each other out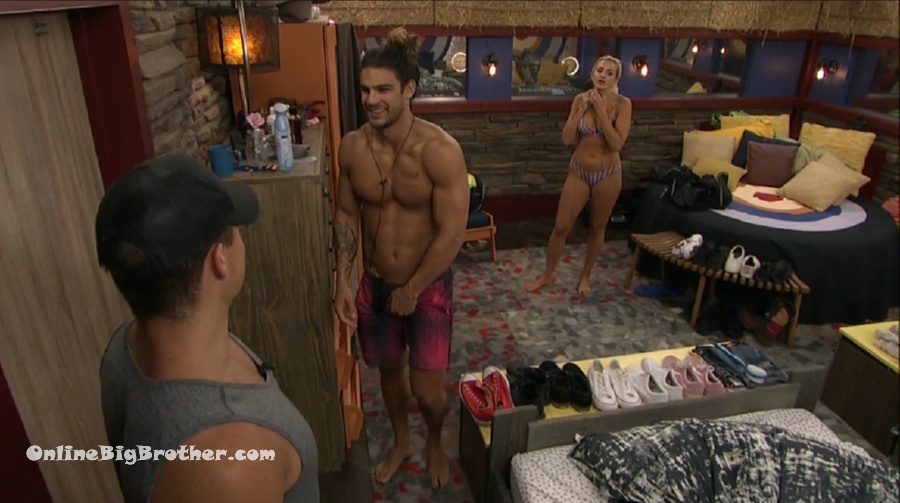 3:20 pm Jackson, Kat and Jack
Jackson – they called Christie they called Tommy, They'll probably call you to
Kat – ohh sh1t
Jackson – you're fine
Feeds flip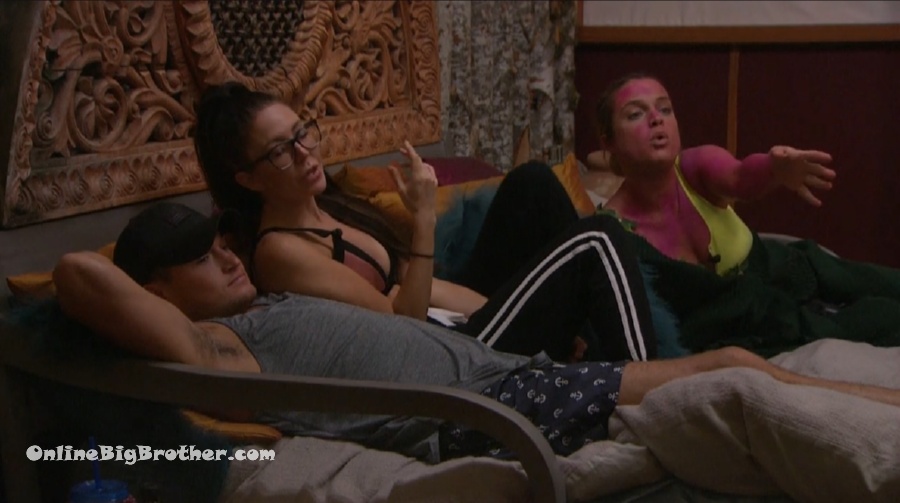 3:25 pm 6shooter talking about what to do with Nick
Michie thinks they should let Nick do whatever he wants as long as he doesn't send one of them home.
Christie thinks that Nick has a reason to put Cliff up
Michie – Let Nick win if he put one of us up he's f8ed
They seem to think Nick would take a shot and Cliff and Kat
Christie – If jess wins HOH it'll be two guys
They don't know who Nicole would put up
Christie – I don't think she'll win HOH to be me honest
Jackson – still.. day 41 she's still girl power
They think jess will put Nick up
Jack thinks it will be him and Nick
Jackson asks Jack if he's had a coffee because he' seems frantic
Jack says their 6 should not be seen in a room talking ever
Jackson – why
Jack – it needs to be brief
3:34 pm
Christie – I vow personally not to allow for anything to sway my potential paranoia going forward regardless of what is said to anyone or any place and I don't I do not care what forces may or may not try "
Feeds Flip
(She was talking about DR)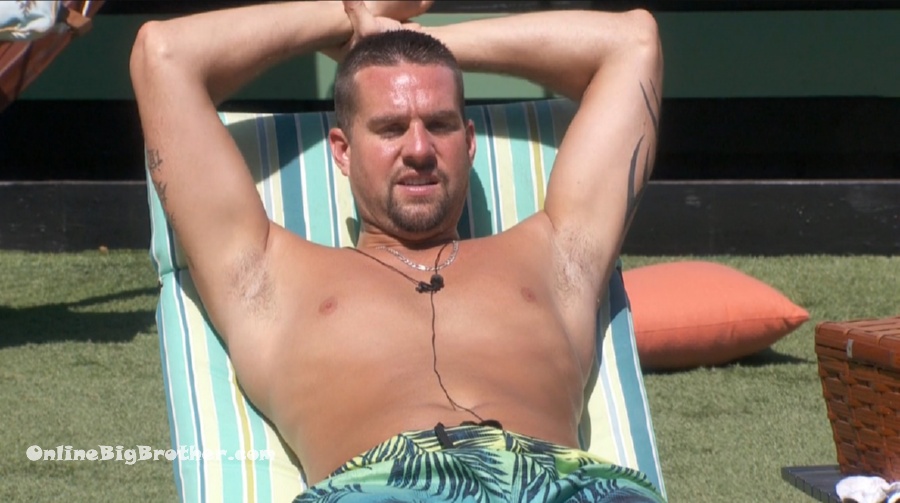 3:35 pm Cliff and Sam
They talk about Calling Christie out during his eviction speech. Exposing how Christie was during Cliff's HOH saying that she supported Michie and Jack going up and that she wouldn't use the power as long as it was her.
Sam – it'll cause chaos behind me and help out the rest of us bottom feeders
Sam – she'll probably just lie out of it
Sam – if Michie didn't win the veto I don't think she would use the power
Sam – Christie swore up and down that she would vote Jack and Michie out and that she would do whatever the Cliff wanted and when I asked her if she would use her power she said she was going to claim
Sam – and this, this is all true
Sam – she was going to claim shew was being bullied by Jack and Michie and she would shut down and not use the power and that would respect Cliff's word
Sam – Michie won the POV making her having to switch and threaten to sue the power on Michie leaving me and Nick out to dry
Sam – I gotta get my facts straight she'll be interrupting me THAT's not true this or not
Cliff – she's not allowed to interrupt
Sam – She'll probably start laughing.. they say you get a minute
Cliff – if ti's things that cause Drama you'll get more. You may want to double-check but I think that's the rules nobody is allowed to comment
Cliff says the line "I know it you know and all of America knows it"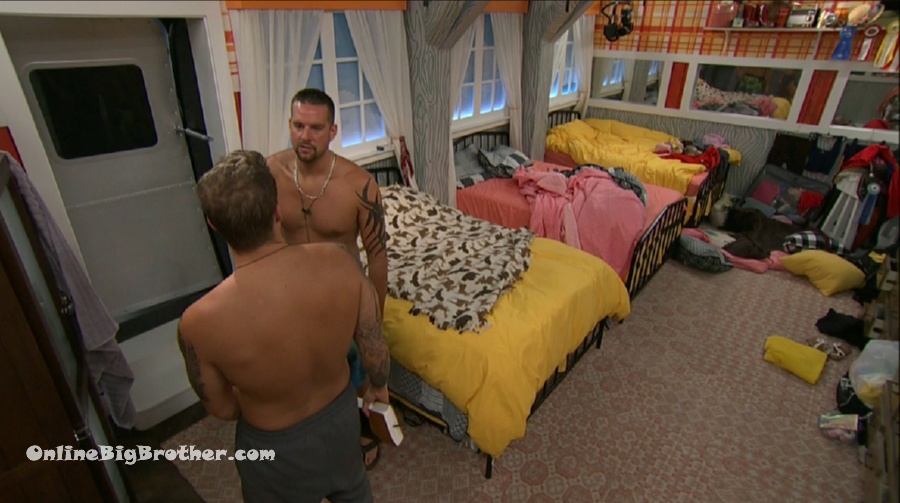 3:45 pm Sam and Nick
Sam – I'm going to blow up Christie's game with my eviction speech
Give him the gist of it. Says only Cliff and Nick know because they were involved in what he will say.
Sam – Alright houseguests lets take a walk down memory lane. When Cliff won HOH he wanted to make a BIG move. He wanted the house to have his back so Cliff told me to talk to the house so I talked to Christie and Christie said she'll do whatever Cliff wanted because she did not want to be on the block when I asked her what she will do with her power she said.
Sam – she was going to pretend that Jack and Michie were bullying her when you guys were to ask her she would shut down and not use the power
Sam – however, plans changed Michie won the veto resulting in Christie into having to have Jack's back leaving me and Nick out to dry and looking like the bad guys
Nick – Don't say my name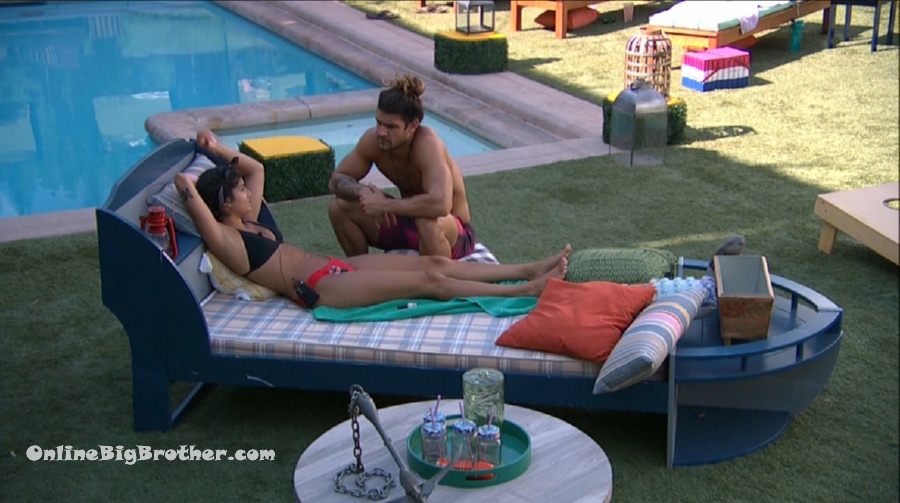 4:06 pm Sis and jack
Sis _ I f*ing love Christie and I trust Christie she's going a little crazy lately
Jack – Maybe she'll settle down and if not
Sis – she talks a lot it's really worrying me I never say anything really
Sis – when she says stuff it always comes back to on all of us and it worries me
Jack – take things to yourself and keep your game about you that will end up working out not in Christie's favour so let her highlight herself
Jack says Christie running her mouth like she has been benefits them.
Nick – Jack you working out later?
Jack – does a bear sh1t in the woods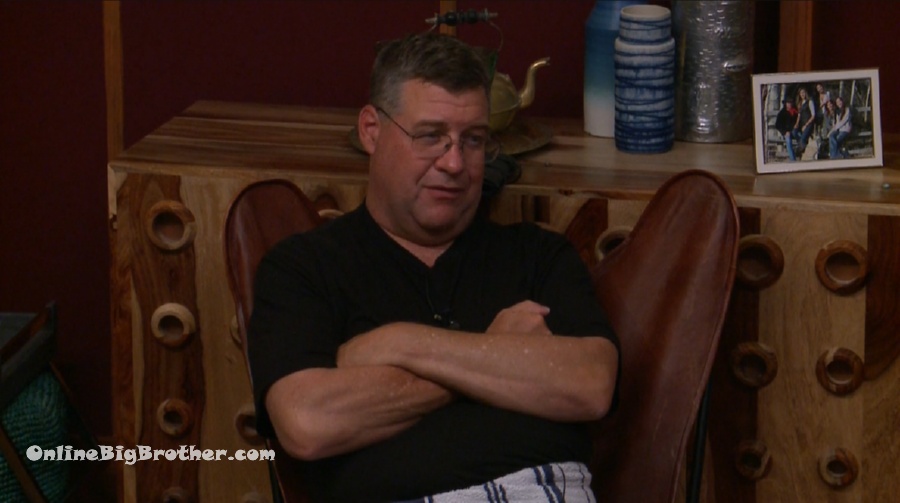 4:05 pm Cliff, Holly, Kat and Jackson
Cliff goes over his talk with Sam how it was "Same old same old" how they will all get picked off they need to stick together
Cliff – that ships already sailed Sam
Cliff Chuckles
Kat says Sam was pretty confident when he called them all bottom feeders
Cliff – the writing is on the wall
Cliff to Kat – Do not fall for anything he says if he's trying to get your paranoia.
Holly – If I put up Nicole people might vote her out
Cliff – he knows you're not going home Kat unless he does something drastic.
Kat isn't worried about Cliff campaigning against her
Cliff – everybody has your back this week when you see it's a unanimous vote you'll feel better about it
Cliff – I like him as a guy but game-wise it's not working
Cliff chuckles
4:22 pm Kat and Christie
Kat says her HOH bruises look like the Hawaii island
kat – these flights are so expensive I miss Pangea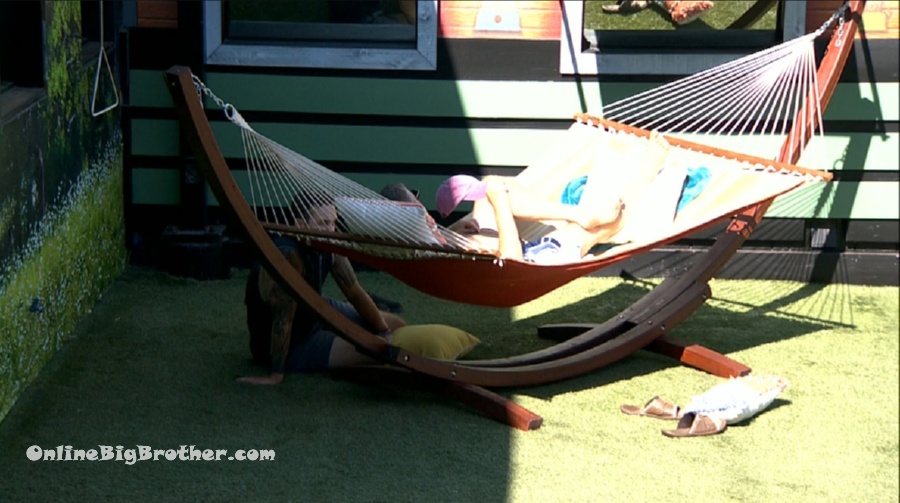 4:37 pm Nick and Cliff
They agree they don't want anyone to know they knew about Sma's eviction speech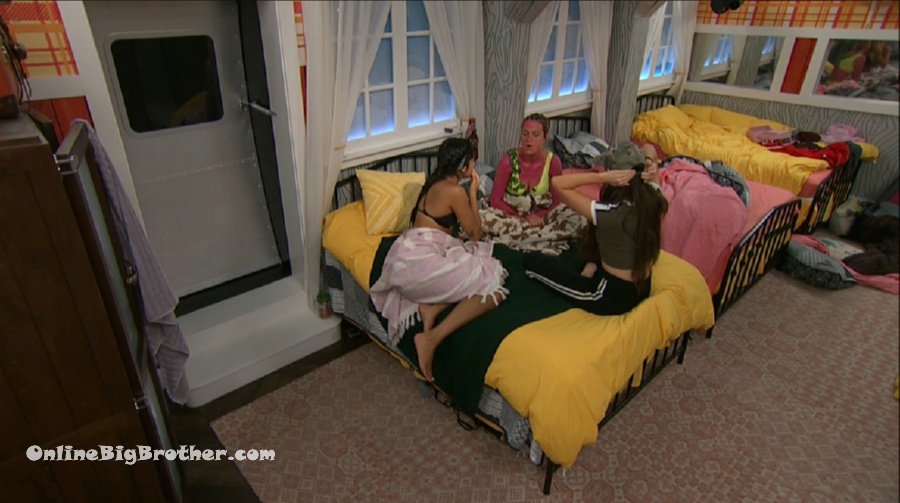 4:47 pm Bashing kat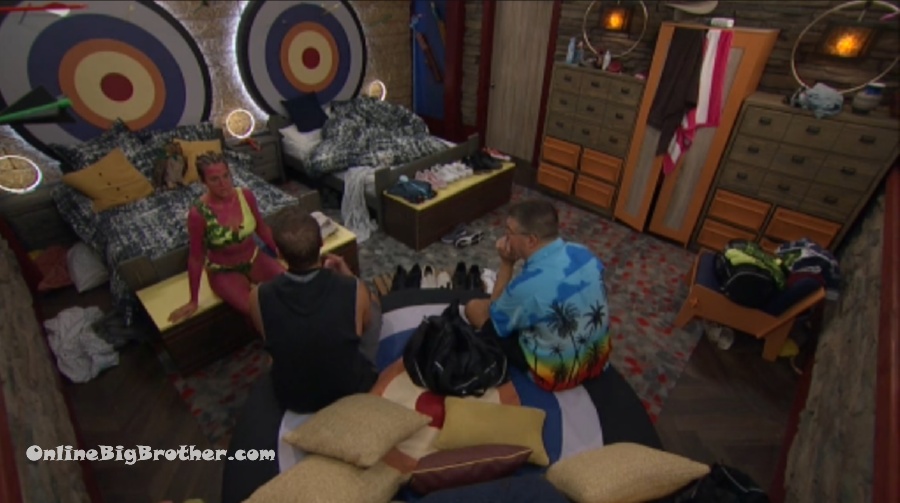 5:12 pm Nick, Cliff and Christie
They sell Sam out telling her his plans for an eviction speech. Christie denies that she ever said that to Sam.
5:46 pm Tommy now knows about sam's plan to blow up Christie's game. Nobody is worried.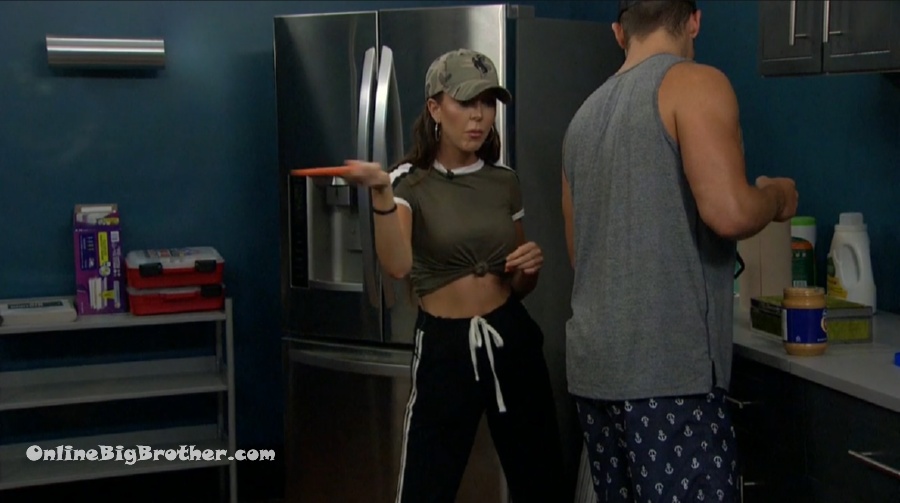 6:00 pm Holly and Jackson
Talking about Sam knowing something that will be "damaging for Christie's game"
Holly says Sam told Sis but she can't remember it or she doesn't know what he was saying "She said it was bad for Christie but I don't know why"
Jackson says he'll find out from Nick or Cliff tonight.
Holly – she's like I got really good information from Sam. I was like Perfect
Holly – He like told her but the girl didn't understand it .. she doesn't know what a verb and noun or an adjective is at all.. zero Idea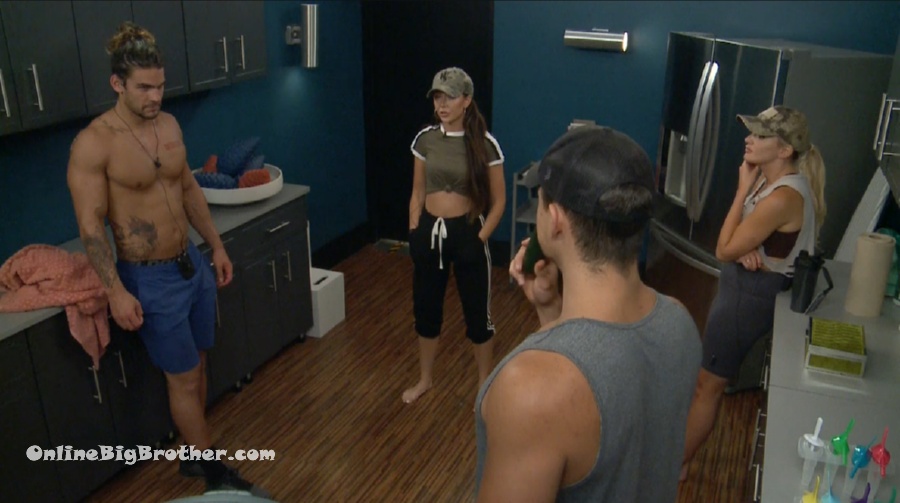 6:12 pm Trying to figure out the contents of Sam's speech.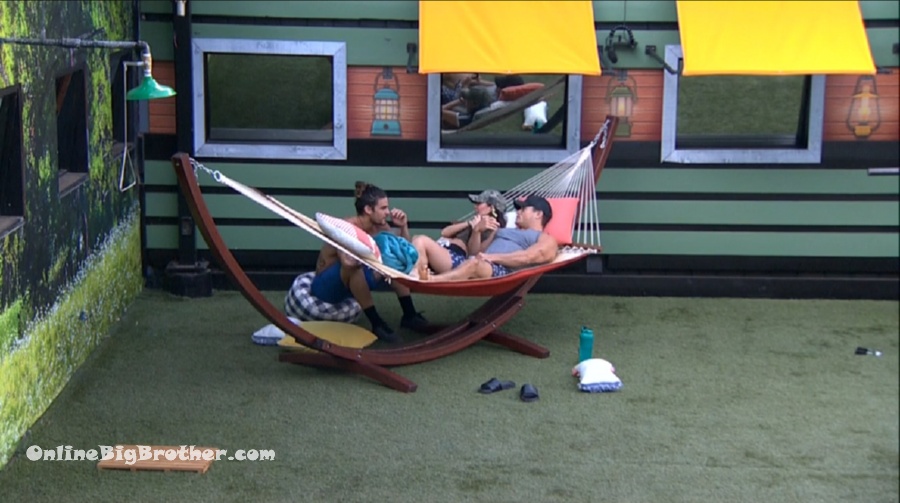 6:17 pm Holly, Jack and Jackson
They talk about Sis being the only girl to have had her period since they've entered the house.
They talk about how awkward it was when Cliff and Nick came to and got Christie to talk to her.
Jackson brings up Nick telling him he wants to regain trust with the SIX but he's been told something from Sam that he really wishes he hadn't heard. He feels like he needs to tell someone.
Cliff joins them "Sam's all pissed he's going home .. he doesn't feel like he has a chance"
Cliff goes on to tell them Sam was just listing things off to blow up people's games.
Cliff doesn't give any details about what Sam told him just generally he was going to Blow up people's game during the vote.
Cliff – he was just venting .. throwing sh1t out there "
Jackson – is it particulars or generalities
Cliff – no no .. everybody is lying in this house. I don't know what happened between Sam and Christie but by my interptiation is Chesitie was the primary target
CLiff – every person in the house is a hypocrite it's just a lot of venting
Cliff doesn't think Nick had to go tell Christie he wanted to just let it blow over and if Sam was still on it then they could talk to Christie.
Jackson – speculation
Cliff – yeah that's all it is .. three easy days a unanimous vote
Cliff wanted to tell Sam: "Man think of your family hold your head up high"
Cliff says he plans on not spending much time with Sam these next couple days so he's not associated with him.
Holly and Jack say they won't do that. Holly doesn't want him to feel exiled his last few days.
6:36 pm JAck, Jackson, Holly
Jack thinks Nick wants to get back with them. Jackson/Holly don't trust him. Why would he?
Jack – strongest alliance in the house
Jackson – only alliance in the house
Jack – kat and Cliff are bought and paid for
Holly – Sam knew about our alliance with Cliff
Jackson – HOW
Jack – f*ing Sis
Jackson – why can't people keep her mouth shut
Jack wants them to hold Kat, Cliff, and Nick to use them.
Jack – Nick will never be able to influence with Nick and Kat and he only has two to play with and they are the weakest players in Big Brother history.
Jack – she's a big-time final fantasy player they are very long-lasting strategy games.. she's very committed to long term stuff.
jack – I don't see him flipping.. he can't flip anywhere we still have 5 players to get rid of here. If we can get him to put up Cliff and Nicole or Cliff and Jess.
6:44 pm
Holly comments that people are talking too much
Jack – I know, Tommy has got wind of .. Tommy and Sis are aware of Christie running her mouth. There's a target their so. we just gotta continue to do our thing keep moving the way we move but as this game progresses I think something is going to happen. I don't know what it is I'm not going to say anything
Jackson – leave it unsaid we all know
Holly – I'm just worried about our game.
Jackson – stay close enough to the fire to stay warm just don't get burned by it
jack – we have plenty of time
They don't about there are 5 people left to get out that will take 4-5 weeks more.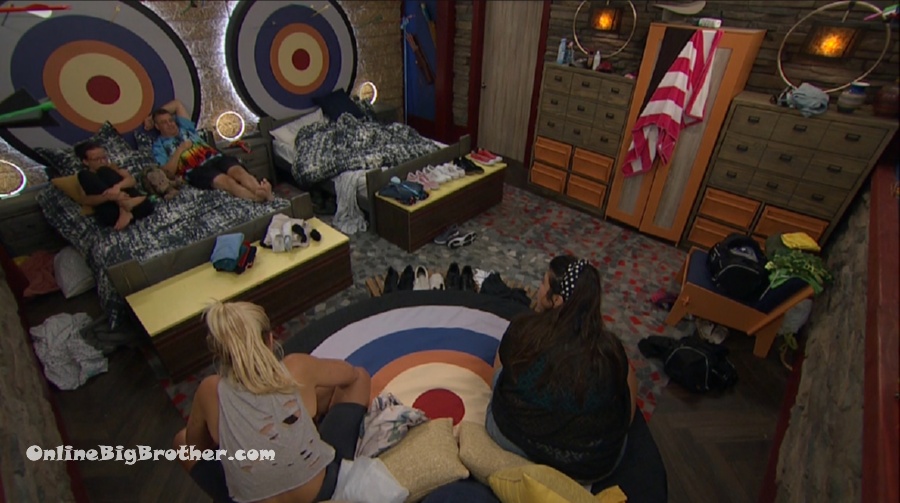 6:55 pm Jessica, Kat, Cliff and Nicole
Cliff – we need to be a block when it comes to voting.
Talking about Kat staying than one of them win HOH, "it would be so great". (AHHAAHAH why so you can put Nick and one of your own as a pawn)
Cliff thinks it will be a crapshoot
Jessica – just to let you know Jordan won nothing except for that last HOH
Cliff – JC didn't win any .. you don't have to win there's a path without it. It'll help the rest of us if you did. (Just like his HOH)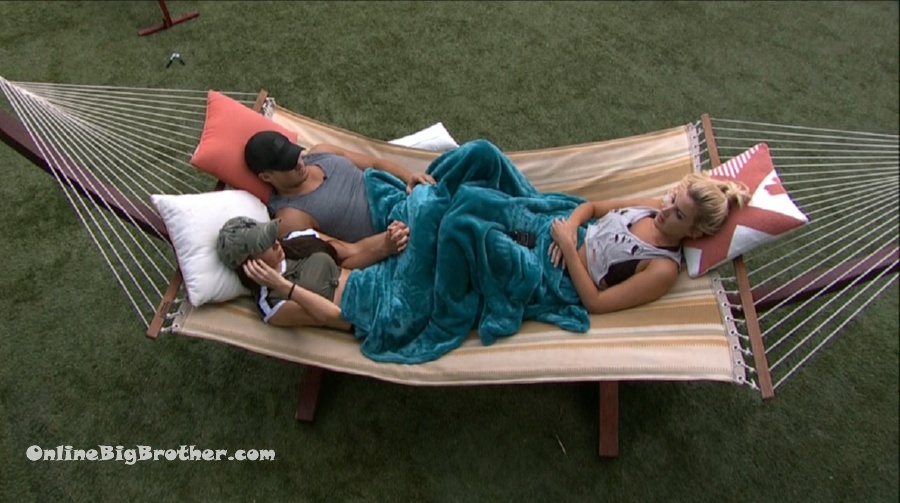 7:17 pm Kat, Holly, Jackson
Kat – everything that SIs is telling Christie sis is then going telling the people it's about but spinning it towards Christie but really it's her egging on.
Kat – I've been present for a lot of those conversations .. I just don't want to be in that
Jackson – Hammock Kat is so much different than House Kat in terms of game, Intellect, and composer. You're just calmly telling all these stories you remember them all.
Jackson – House Kat is all over the Place, Hammock Kat is all game.
Kat wants to talk to Christie and tell her to watch who Sis is saying things to because it all is getting out.
"Hammock Kat is so much different than House Kat in terms of game, Intellect, and composer. House Kat is all over the Place, Hammock Kat is all game" – Jackson #BB21 pic.twitter.com/cr0hI9ZHes

— OnlineBigBrother.com (@bigbspoilers) July 30, 2019
Kat – I'm not telling anyone so how is it getting out
Holly says last night Christie didn't think it was Sis at all
Jackson – Christie, and Tommy think that "we" were under the impression we were told we were working with Nick and sam by you (HUH)
Kat – did you shut it down
Holly – Yes
Holly says she told Christie and Tommy is was Sis.
Holly – I told them that Sis wanted Sam to stay
Kat – sis was so like.. I think Holly and Jackson are trying to work with them
Holly – she was trying to cover her own tracks
Holly – I had told her something that was said and I used a code word and she thought that I meant
Kat – Ohh yeah I heard about that. We can't talk about that anymore
Holly – yeah I know.. She thought I was saying Tommy said it
Feeds flip (Production is trying to hide a lot right now)
When we're back.
Kat says Christie is using Jack "for sure"
Holly doesn't know if he would be that stupid
Kat – she's using him to ride along and now she's trying to .. I dunno.
Holly – she's using him for her coattails
Kat – Christie is someone I need to proceed with Caution I don't want to be on her bad side. It's weird I'm on the block but I'm not worried. I trust you all .. I don't really trust anyone else
Jackson and Holly both say she is the only person they trust.
Jackson mentions proposing to the two of them and getting on one knee. They bring up going to final 3 together and how great that will be.
Holly says she will look like an idiot if Kat leaves.
Kat – I just need to steer clear of any conversations involving Christie and Sis
Holly brings up Sis coming up to the HOH and venting
Holly – she said she hates everyone
Kat – why is she such a raging b1tch
Holly – she (SIS) goes I'm just pissed off at everybody I'm just so so annoyed at everybody
Holy – you're just annoyed because you're always annoyed I was annoyed because I was under a lot of pressure
Kat – I need to steer clear of her she's trying to pin stuff on me
holly – yo and me .. I just need Christie to see it
Kat – CHrisite loves her
Kat – maybe Tommy as a barrier
Holly recommends waiting "you're still on the block"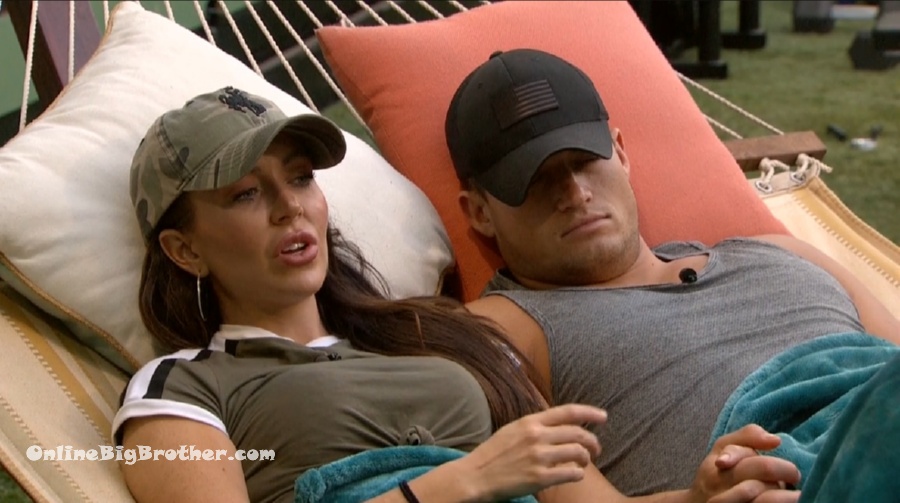 7:39 pm You can hear Jackson snoring
Kat – I can't sleep because I take ADD meds
Holly says Sis has been making DIGs at Jackson "for a while"
Kat – mean girl sh1t
Holly mentions Sis asking her if she thinks Jackson is being genuine