| | | | |
| --- | --- | --- | --- |
| POV: | ? | Next POV: | Aug 11th |
| POV Used | ? | POV Ceremony | Aug 13th |
| HOH: | ? | Next HOH: | Aug 16th |
| Noms: | ?? | Have Nots | |
8pm Lounge room. Angela, Kaycee, JC, Tyler. JC – we need the hacker! Kaycee – already after the competition he (Fes) was like where is everyone.. UUHHh.. in the house! Kaycee – f**k it we can still make it out alive guys. Tyler leaves. Angela – Tyler is f**ked! JC – we need to get the hacker. Angela – We just need to get the Hacker and throw Rockstar up there with Sam. And then Tyler needs to get picked for the veto, win it, keep the noms the same and then one of them goes home. Kaycee – yes! JC – we need to get the hacker and then pick Tyler to play in the veto. Kaycee – we just need to stay calm. Angela – the tension is so negative. JC – I don't understand why she is always in a bad mood. JC – do you guys know that in big brother Canada you can't whisper. (yes they can.) They can't capture your whispers. They're cheap. (lol) Kaycee – damn that would have been so sick if you had won. Angela – JC, last night I told Heleigh that I wasn't mad at her and that I wished she had just told me. She said she was up last night crying. I told her that no matter what she has me. Thank the lord I said that. But what happened last night? Kaycee – they were all in the havenot room. When they were talking it must have just all come out. Angela – I don't get why they always have drama. Kaycee – the good thing is they're always going to be up in that room (HOH). We can have the bedrooms. Angela – true. Kaycee – maybe they won't put Sam up because of how close Rockstar and Sam are. Angela – I have no idea. Kaycee – whatever happens we will just go from there.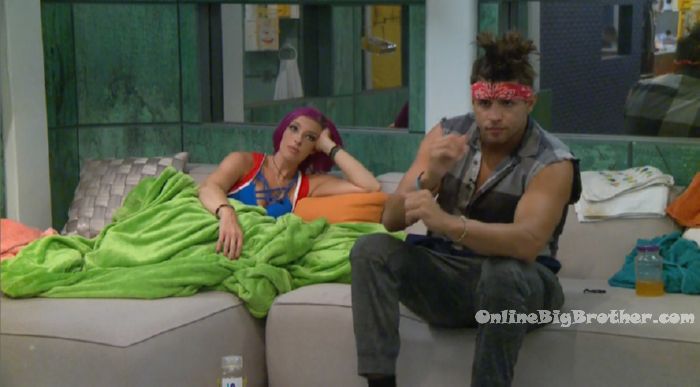 8pm Bathroom. Fes and Rockstar. Rockstar – I can't believe that our girl won HOH. I mean I can believe it. We just need to win the next one. Fes – I guess its good because the next one could be physical. Rockstar – I want to win one of these motherf**kers Fessie! I told you what I would do if I won. Fes – what? Rockstar – I said I would put Angela & Kaycee up. I wasn't going to put Brett up for a third time. He and I are they only people that have been up there twice. Some people are walking around here .. real comfortable! Fes – what about all that with her? Rockstar – are you talking about Sam? Fes – yeah. Rockstar – just let her go. I thought you guys would have voted for her (Bay) to stay. She knew she was going though.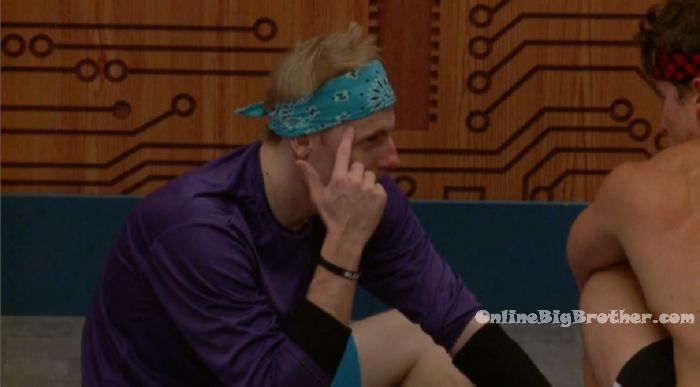 8:09pm Outside the HOH room. Scottie and Brett. Brett – I thought for sure Rockstar or Bay to be funny that they would have put me in their speech. Scottie – you should be good this week. Brett – all I know is Fes is piss that we voted out Bay. I told him that I didn't want to be on the wrong side of the vote. Scottie – I think Fes thinks he is closer to Haleigh than I am .. which isn't true. And you talked to her before about the vote? Brett – I didn't, I thought you were. Scottie -yes, I did. Now that she's (Haleigh) packed up here .. you will see them all crawl out here.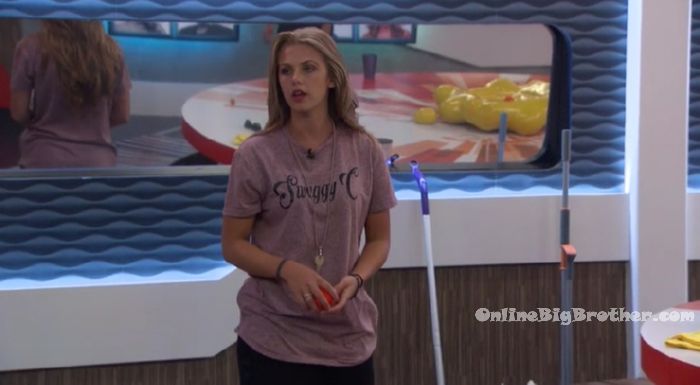 8:23pm Bathroom. Haleigh & Fes. Haleigh – I am sleeping alone tonight. Fes – I'm going to join you. Haleigh – no I want my first night alone. Fes – and we need to talk about this final 3 sh*t. Haleigh, okay.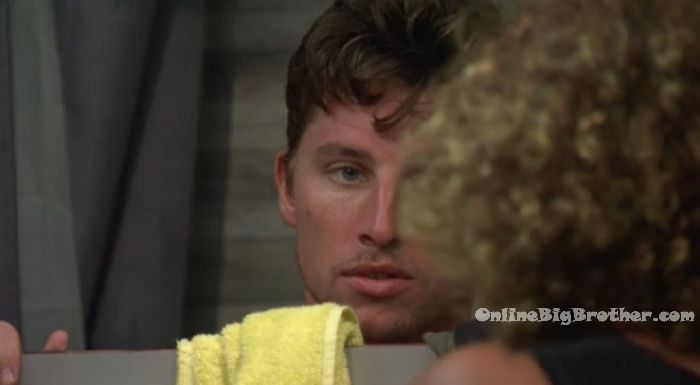 8:48pm Bathroom. Tyler and Brett. Tyler – if you want to pitch to her to not put me up and to backdoor me. I am cool with that. I just think my only chance, to like win the hacker and the veto. I think the only way to save all four of us is if I don't go up before the veto. I swear. You have to trust me on that. If its Sam and one of us, we would still be okay.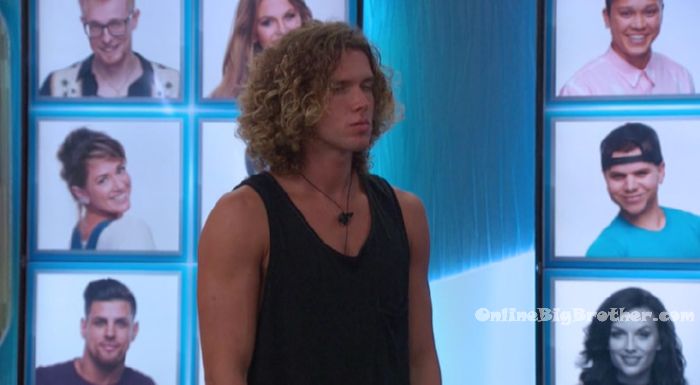 9:10pm Bedroom. Sam, JC, Rockstar. Sam – I volunteer as tribute. Take me out. Get me the f**k out of here! Brian, get me the f**k out of here.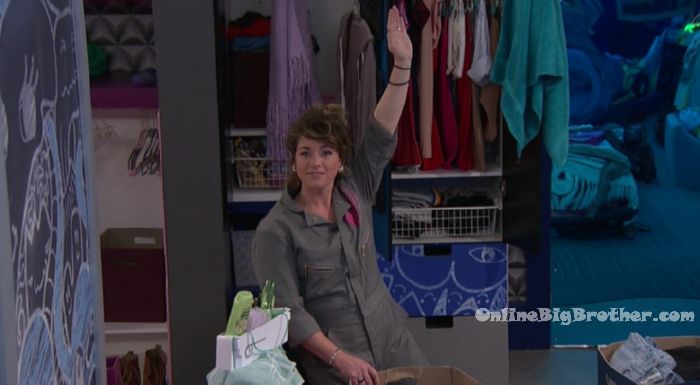 FLASHBACK and watch everything you missed: Live Feed 7 day FREE Trial!

9:05pm Havenot room. Haleigh and Angela. Haleigh – there is so much still to happen. Angela – if I do happen to get the hacker I will come to you and we will figure it out. Haleigh – good, thank you. I appreciate that. Angela – these next few day are going to be long. I am so excited for this hacker bullsh*t to be over. Well if you need moral support or advice I am here. You're going to be woken up at 4am and asked to look decent. Angela – also don't let anyone get you to do their dirty work. I had a few people try to do that with me. Haleigh – I am excited to talk to Tyler and see where his head is at. There's a lot that has to happen tonight. Angela – you have to decide if you're going to make a big move or just try to stay safe. Haleigh – even making a big move doesn't guarantee it to stick. Angela – I am glad that I didn what I did because it worked out in my favour. Haleigh – it did and you got the veto. Yeah the hacker f**ked it up.. I mean I f**Ked it up but you fixed it. Angela – it drives me nuts when someone doesn't want to be here. Haleigh – I don't think she realized what she signed up for. She doesn't like it here. Angela – I think she thinks this is like playing house. Haleigh – she is a character. Angela – I love her to death. Haleigh – me too. Her best friend is Rockstar and she put her up. She is just very strange.
JC to Rockstar – I want you to get all the girls to dress showing their c@mel to*s. Would you feel better about yourself? Why don't we have a c@mel t*e competition? I saw yours in your speech.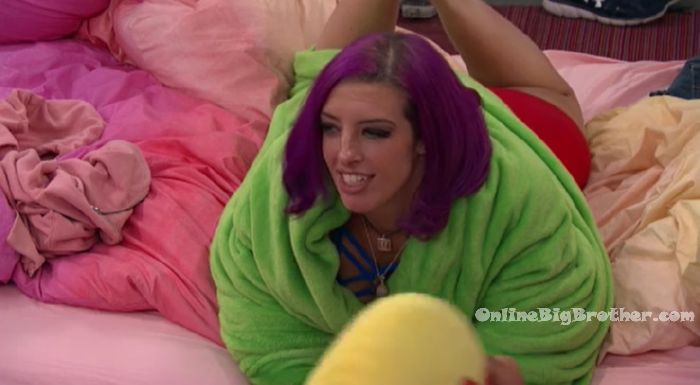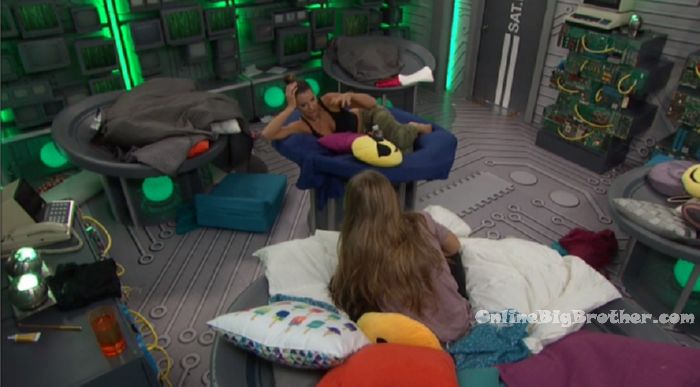 9:20pm Angela and Brett. Angela – I think she will put up Kaycee and Sam and try and backdoor Tyler. Would you be comfortable throwing out names. I said put up one person and a pawn. And then we would reconvene after the hacker. Tyler joins them. Tyler asks if they've talked to Haleigh yet. Angela says I did. I said put up on a pawn and someone you're okay with going home. And then if you have a number one target do it after the veto. Brett – Scottie and Haliegh are really f**king close so he is going to have a lot of influence on that. He is obviously aware of you two but he is also aware of Kaycee. We have to win the veto.. and figure out the hacker. Tyler – the only way we would be good is if its one of us and someone else. Brett – I would leverage your relationship with Scottie as well. We will figure it out. Tyler – I say we still make sure we are close with Sam so that she see's that.
Fes, JC and Haleigh in the havenot room. JC – moves that you can make without blood on your hands. Put Sam up because she put you up and then put up someone who can't win the veto. Whatever we do this week we have to be smart about it. Just make it like have a good week. If you put Sam up and if we get the hacker we get her out (take Sam off the block) and then put whoever you want up. JC – you won the hacker and then you put Tyler up. I didn't even know you wanted him out. Haleigh – do you see that had we all three voted to keep Bayleigh she would be here right now and Haleigh would have the power next week. Fes – we have to win the hacker. JC – she needs to make the less bloody move possible. JC throws out a bunch of scenarios and then leaves.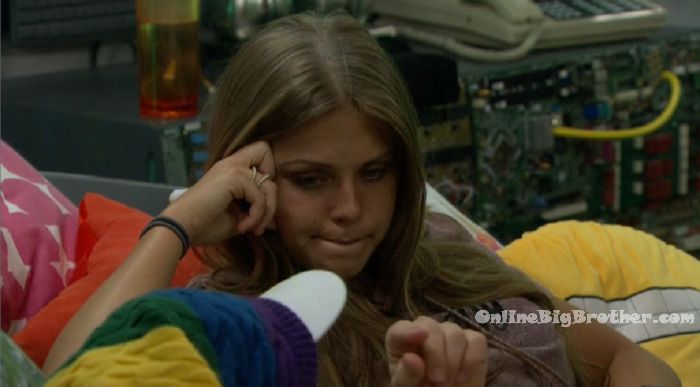 9:33pm Havenot room. Fes and Haleigh Fes – I wish there wasn't hacker. Tomorrow is going to be a really good day or a bad day. If we don't win then I am going up. Haleigh – I know. Fes – who do you want to put up? You could put up Angela and Kaycee and then backdoor Tyler. Haleigh – I was thinking about that. Fes – the thing about Kaycee .. you saw how many sushi dates she went on with Bayleigh and she couldn't even get kaycee's vote over Rockstar. What the f**k is that!? Kaycee just does that to cover her own a$$. kaycee spent all summer with her and couldn't even vote for her. She is just floating, floating. Haleigh – I thought about putting Kaycee next to Sam. I can justify Sam. (Because Sam put her up) Angela is not coming after me. Angela doesn't think I was the hacker. Fes – so if you win veto you would put up Tyler? Haleigh – yes that's the goal this week.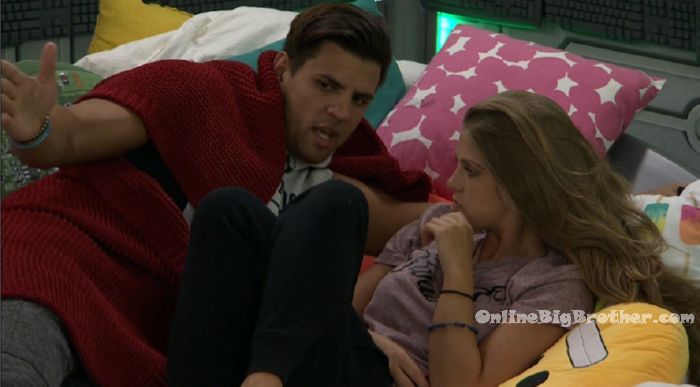 Fes – hopefully I don't get put on the block (by the hacker) and get to play in the veto. If I don't win it, I am f**ked. Because then they would cancel JC's vote or Rockstars vote and then I go home on your HOH. Haleigh – then you would be sitting next to Sam, Angela or Kaycee. Fes – if I go home on your HOH.. Haleigh – why are you talking about this?! Haleigh – I needed safety. Next week will probably be a double eviction and I can't compete. Fes – next week will probably be physical. Haleigh – did you throw it? Fes – I knew you were going to beat all of them. I really like you. Haleigh – thank you. Fes talks about the Rachel vote. I wanted Brett out. Haleigh – so you did not flip? Fes – no, I am glad you're asking because that means you didn't flip. I thought it was you for sure because you hang out with Brett and stuff. Haleigh – Fessie did you flip!? Fes – no! Why would I flip? Haleigh – because Bayleigh told you to. Fes – now you're being paranoid. Haleigh – these were things I was told. Fes – by who? Haleigh – if its not true then it doesn't matter. Fes – yes it does because that means someone is trying to f**k us up. I don't f**king care what happens in this game. I want you, that's all I want out of this game. So it does matter … and I thought I was doing a good job at showing America and you. And now you come up with this theory that me and Bayleigh were the ones doing it. Yeah I've had Bayleigh's back since Swaggy left. Who told you this? Haleigh – no, it doesn't matter. I just need you to look at me and tell me its not true. Fes – its not true. Fes – who told you? Haleigh – Scottie. Fes –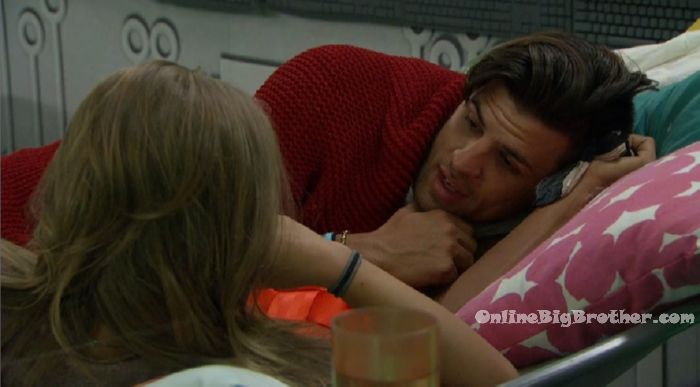 10pm Rockstar and Haleigh. Haleigh – Angela and I had a conversation. I don't trust her obviously. She doesn't think I am the hacker. She literally thinks I took the fall for Bayleigh. Trying to keep Bayleigh here. So regardless, I know she's not on my side. I also know that the nominations will probably change tomorrow. So do I put Sam next to Kaycee? Or Sam next to Angela. Or Angela next to Kaycee. Sam is a liability because in the event that she wins she is putting me up. Rockstar – who do you want to go the most? Haleigh – Tyler but we have to backdoor him. Rockstar – say Tyler got picked and wasn't an option who would you want to leave the most? Me I would want Angela gone. Haleigh – yeah. Rockstar – she is a physical threat. Haleigh – so me and Scottie were talking yesterday and he revealed that he cried over me .. Angela and Tyler told him that I was trying to get him to sit next to Tyler. Which is not totally false. I convinced him that, that did not happen. Once we got over that he stared spilling the f**king tea. And some of the tea really upset me. After Brett stayed when he was next to Rachel. Bay came up to him (Brett) in the hammock and said you're welcome, I told Fes to flip and that's the only reason why you're here. I don't even know if this is true. Do I believe it? Not really .. does it raise questions in Fes? 100%! It upset me last night because we are working with people that are apparently going rogue.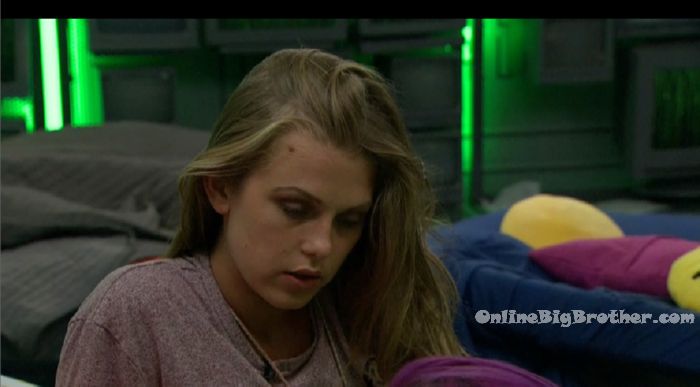 If you like our content please consider a donation
Rank the houseguests!
Easiest way to Rank the house guests use link below