Head of Household Winner – Nick
Nominations – Jessica Nicole and Cliff
Vote Intentions – Nick wants Nicole, 6shooters want Cliff
Power of Veto Players are Nick, Jackson, Jessica (picked Christie), Cliff, Kat
Power of Veto winner – KAT
Power of Veto Ceremony results – Kat uses Veto on Jess. Nicole is the replacement.
Powers in the game
Ovi – Nightmare (Dead unless he comes back?)
During the night, Ovi could secretly wake up the house and call a new Nomination Ceremony, with the Head of Household naming two new nominees. The original nominees would have immunity for the week. The power is able to be used for the first six Nominations.
Jack – Chaos
After chips have been drawn for a Veto player draw, Jack could force a re-draw for the players. This power could only be used once and is able to be used until there are six players left in the game.
Christie – Panic
At any of the next four Power of Veto Ceremonies, Christie can turn the Golden Power of Veto into the Diamond Power of Veto and allow the current veto holder pull someone off the nomination block, but instead of the Head of Household naming the replacement nominee, the veto holder names the replacement.
Grab your live feeds —-> BB21 Live Feeds Subscription Link
Rank your houseguests —-> Big Brother 21 Ranking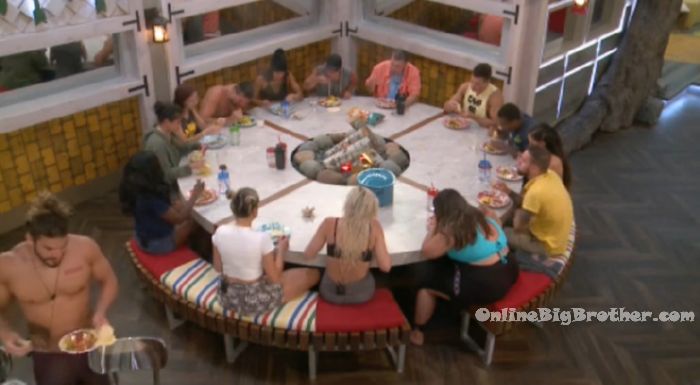 8pm The house Guests are all sitting down to eat a Tacos Tuesday dinner.
Camp Comeback room. Ovi – If you vote me back in I can show you that I can compete in these competitions. I know my days in and stuff like that.. if you want to see a true underdog story.. I know I can get far in this game. I think I can get really far if I can mesh my way back into the game. I can go the distance. So that's my argument as to why you should vote me back into this game honestly. I'm not going to talk about representation because I know y'all care about game play and stuff like that. I don't feel like I am a bad game player. I know how to make connections with people. I know how to make alliances and well two have kind of failed but 3rd times the charm, right?! I am a fighter. Do I look as physical as some of these guys? No but I can hold the distance with these guys. I work out. I feel that my workouts are perfect for these types of competitions. I have the best chance of working my way back into this game more than these other people who are in camp comeback. If you want to see someone come back and really mess things up, I am your best bet. Throw me a few votes my way.. if there is a voting thing to get back into this game. I'm not going to backstab Cliff. I'll ask him before I do it ..that might be my downfall in this game.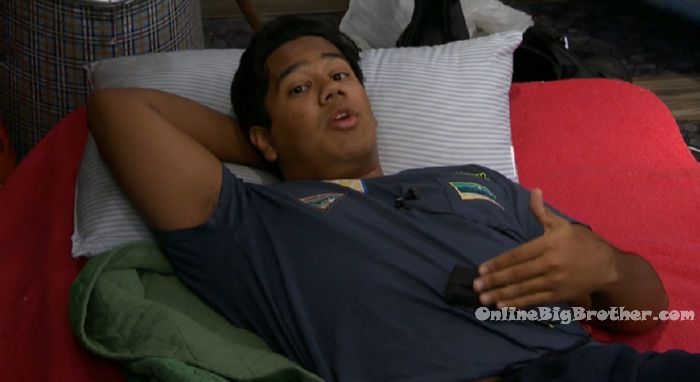 8:40pm Hammock. Sam, Nick and Analyse.
Sam – and I found out that house guests can lie about powers if they say that someone else has the power. You can't say I have the power. I can't say that I have a power and you can't evict me for 8 weeks but if you sit there and say I heard Sam has a power where you can't evict him for 8 weeks.. she (Kemi) made it up for Jess. So Kemi.. I'm not sure is she BS'ing me or does she really trust me? She's like you're my only friend in here besides like Nicole and stuff. She's like I don't know why .. I just so trust you and I'm like yeah I haven't burned you ..YET! Sometimes we're talking and she is like are you going to win this HOH? I'm like I want to.. and she's like so who are you going to put up? I'm like, I'm not telling you! And she's like I tell you stuff all the time. I'm like yeah, that's different. She's like I don't know why its so hard to talk to me. I'm like alright Kemi, here's a scenario .. you come back from camp comeback and survive the first week. Magically you and I are on the block together and now you have ammunition against me because this is a game and its for money. And she's like, that's true. I'm like so you can't keep asking me for stuff. Sam tells Jack about how you can make up someone else having a power but you can't say you have a power.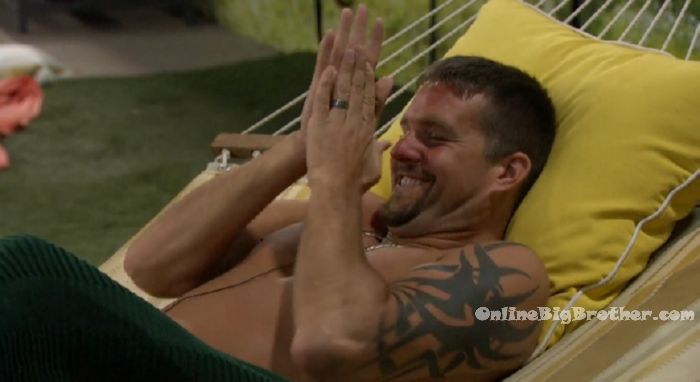 Jack, Sam and Analyse. Sam comments on how Cliff might being coming over. Analyse – if he comes over here I am going to have to leave you. Jack – I just can't handle him. Analyse – I just can't. He just f**king annoys me. Jack – Cliff has been actively saying that he wants to get rid of a lot of undeniable. He needs to go. Cliff joins them.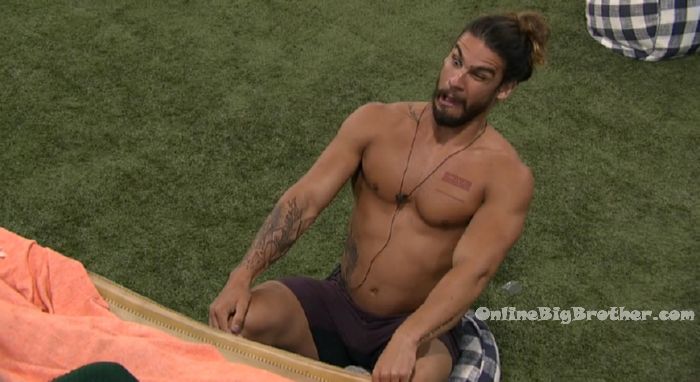 9pm Kitchen. Jackson and Kat. Jackson – talk it out, hash it out and then move on. Kat – that's how I am too. Jackson – how much do you trust Jess? Kat – I don't really tell her anything.. Jackson – no, I'm just asking out of curiosity. Kat – I would say a 9 out of 10 but I still don't tell her what I tell you and Holly. I trust Holly more. Jackson – I just see her running to Nick and Bella a lot. Kat – the way she plays the game I don't think is smart. What I tell you and Holly, I don't tell anyone. You better not f**k me over. Jackson – we won't. Kat – should I be worried that I'm not in an alliance? Jackson – no because you're well taken care of. Kat – I was worried that I could be easily be picked off. Jackson – no, no, I can off the top of my head think of 6 people that would before your name would even come up. Kat – if y'all weren't here I would have nobody. I am really sorry about everything that happened. Jackson – I am sorry too. I shouldn't have reacted the way I did. Kat – I'm just really grateful for you two. Jackson – we're grateful for you too. Jack joins them. Jack – we're due for a classic comp.. wall or goop. Jackson – wall comp ..we're due for one.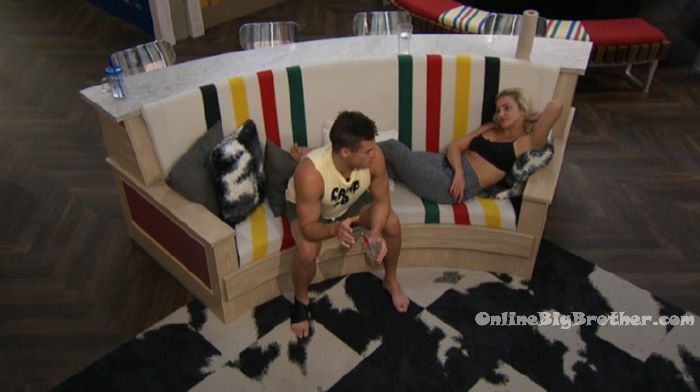 9:26pm Hammock. Christie – Kat came up to me and said that she heard ..I'm assuming Holly… she was asking if she should say something to Nick and I said that's stupid. She said that Holly told her that there was a conversation that she told Kat that Nick said that if she didn't win the veto she would have been put up. So she was upset about it, I guess. You don't need to tell him that, its irrelevant.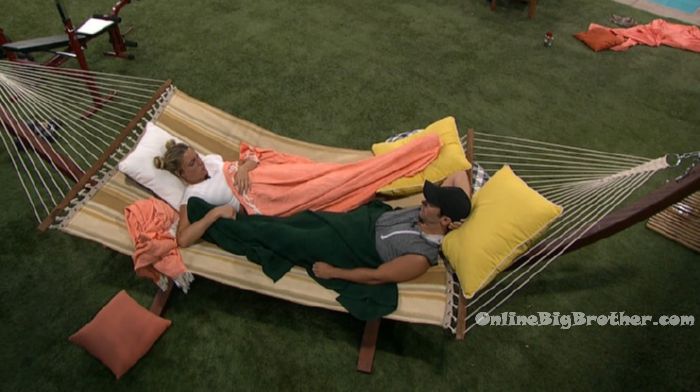 HOH room. Jack and Ovi. Ovi -I'm wondering are to going to be straight targets. Jackson – so who all have you told about your power? Ovi – Just you and Jack and I think Christie knows through Jackson.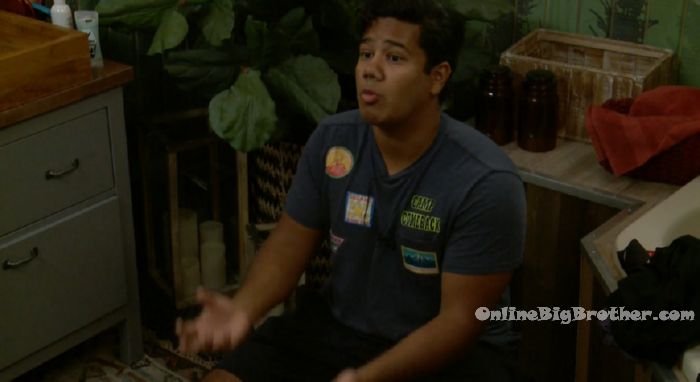 Jack in the wild #BB21 @bigbspoilers pic.twitter.com/MzFf7YgpKm

— Dawg (@DawgsBigBrother) July 17, 2019
10pm Bedroom. Nicole and Kemi.
Kemi – I swear to go if I am put in a position of power I would put him up next to himself. And that's not even me being an emotional player ..he's just EWWW! I feel claustrophobic. Like he is so f**king obnoxious. Now I get why guys say they hate girls who are conceited. He is so self absorbed. I think what it is.. is that I can't get away from it. He walks in and starts talking about nothing. He is so f**king irritating! Its funny because I talk to Ovi about how much of a great guy Jack is.. and how he is playing such a great game and how he such a smart nice person. ..because I know he is going to take it an run to Jack. I almost want to self-evict just to get away from him. I feel like half the house is against me and then he is like obsessed with me.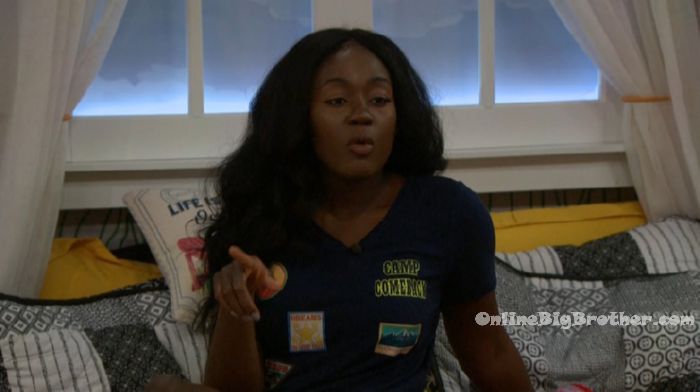 11pm Kitchen. Tommy, Jess and Nicole are making cookies..
11:21pm HOH room. Holly and Kat.
Holly – do you think Jess would vote Cliff out? Kat – I think Jess is a person we would have to blindside too. Blindside in the way of not tell her and she just votes Nicole out or whatever. She just gets really worked up about things that don't matter.
Kat – we have to get a hot guy up in here. Holly – yeah, they're really pitiful this season. Kat – yeah we have like.. Holly – two hot guys. Kat – I'm surprised they have both Cliff and Sam. Like the married older guy. Holly – Sam is my age. Kat – yeah but he is older than a 24 year old .. you know what I mean. Holly – and off the market. Yeah, usually its a lot more single guys.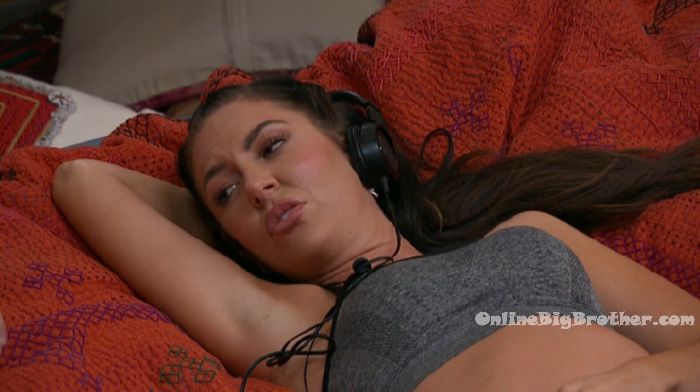 11:45pm Odds Are – Tuna juice, egg, cottage cheese and Thousand Island dressing. Bella – it will just taste like tuna. Jess – I'm down. Big Brother switches the feeds..
12:35am Kitchen. Holly is trying to drum a beat on the kitchen counter. David and Jackson make fun of her beats.
1:12am – 1:40am Cliff and Ovi playing backgammon.They talk about Jackson. Ovi – he can be very intimidating.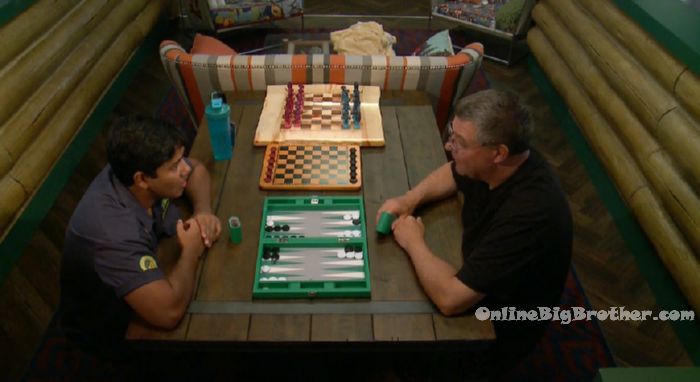 Become an OBB Member:
If you are one of the generous people that donate to help keep the updates coming, we're giving out a bit more this year. Check out this page for more details:
OBB Members