Head of Household Winner – Nick
Nominations – Jessica Nicole and Cliff
Vote Intentions – Nick wants Nicole, 6shooters want Cliff
Power of Veto Players are Nick, Jackson, Jessica (picked Christie), Cliff, Kat
Power of Veto winner – KAT
Power of Veto Ceremony results – Kat uses Veto on Jess. Nicole is the replacement.
Powers in the game
Ovi – Nightmare (Dead unless he comes back?)
During the night, Ovi could secretly wake up the house and call a new Nomination Ceremony, with the Head of Household naming two new nominees. The original nominees would have immunity for the week. The power is able to be used for the first six Nominations.
Jack – Chaos
After chips have been drawn for a Veto player draw, Jack could force a re-draw for the players. This power could only be used once and is able to be used until there are six players left in the game.
Christie – Panic
At any of the next four Power of Veto Ceremonies, Christie can turn the Golden Power of Veto into the Diamond Power of Veto and allow the current veto holder pull someone off the nomination block, but instead of the Head of Household naming the replacement nominee, the veto holder names the replacement.
Grab your live feeds —-> BB21 Live Feeds Subscription Link
Rank your houseguests —-> Big Brother 21 Ranking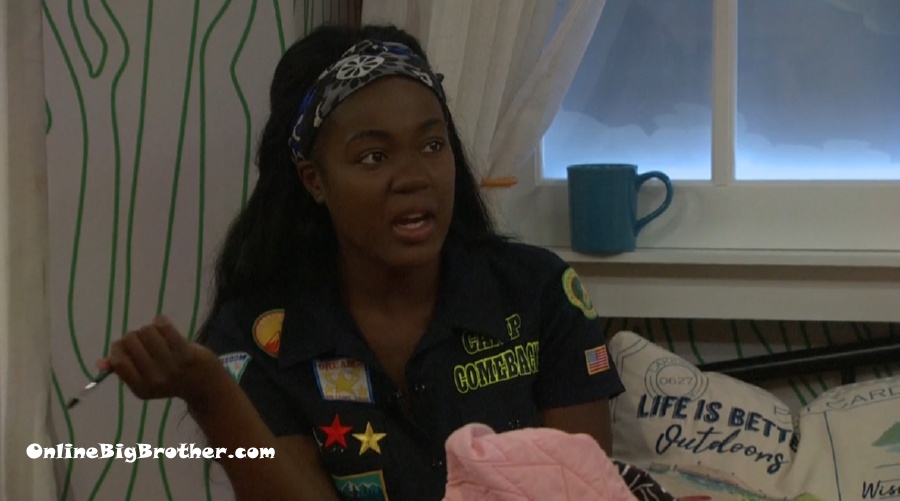 12:36 pm Kemi and Jess
Kemi – let me go out there and be mildy social
Kemi says she wonders about sis and Holly. She really likes Holly
Kemi – I overhear her like if I say something and walk away she'll say like.. like kat wears her emotions on her sleave
Kemi – She says she was evicted she shouldn't even be here
Kemi – ok but like you're cuddling with David every night he was gone on night one.. but like that, I literally heard her say.
Kemi says there's bigger fish to fry "I can't be mad at everyone for everything"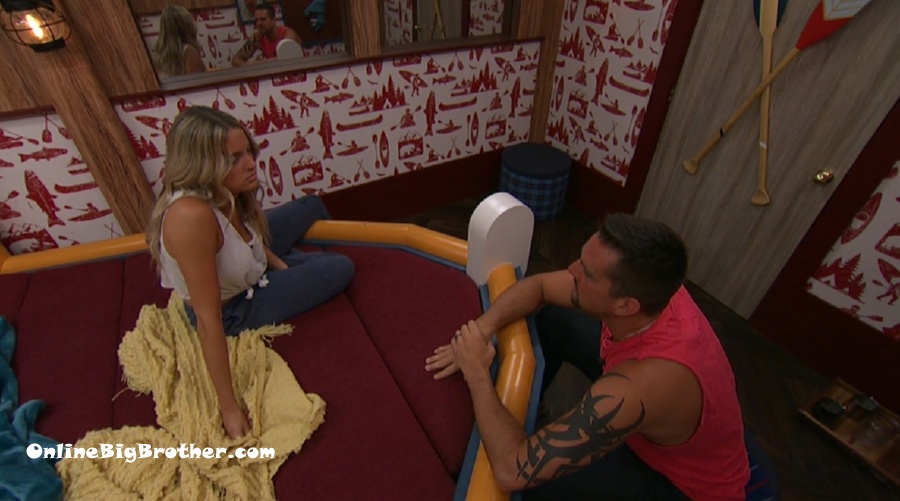 1:20 pm Sam and Christie
Sam asks if she's still down with the flaming five
Christie – when we get there. I would be stupid to think I'm not in the outskirts of these two couples. I do value Jack he can potentially be my greatest ally or my worst enemy
Sam – that's what scares me
Christie – he's smart and he's good at this game so I do run a lot of things by him. Obviously not things that we secretly talk about in terms of the five of us
Sam – right
Christie – I do want him to still trust me and I don't want to be the first shot he takes when it comes down to them four. do I trust him 100%? NO. I want to but I don't and that's why I keep him close to me
Sam says he's at the bottom of Nick, Bella, Sam, and Tommy.
Christie – Nick and Bella won't take a shot at you. You're their greatest weapon Sam
Sam – here we are evicting all the bottom feeders and I think to myself if I'm at the bottom of this majority I lasted the bottom feeders only to get taken out the first week of jury.
Sam – which is great but still that sucks
Christie – that's very valid. I honestly feel the same way about myself.
Christie – I personally want David to come back I really do. I do not Want Ovi here I sent him out, I don't want Kemi because she's a trouble maker whoever goes out this week doesn't matter either are on my side.
1:23 cam 1 Cliff comes by to say high. Sam makes sure Cliff isn't listening in.
Christie – I would want David to take shots I'm too scared to make
Sam – do you think Jack has a power
Christie – I don't know if you swear you don't it's one of them two
Christie – if it's anything as strong as mine I want to know what the f* it is
Sam – I really really trust you a lot if it's my downfall so what I really really trust you
They talk about Jack calling David Rookie and Kid. Sam retells the conversation he had with David yesterday evening where David made it clear he can't stand jack and wants to take Jack and Jackson out (LOL tell the world)
Jack and Bella come in. They start talking about Kemi
Christie – you know how I was b1tching about Kemi this morning I'm over it he pulled her aside this morning
The feeds flip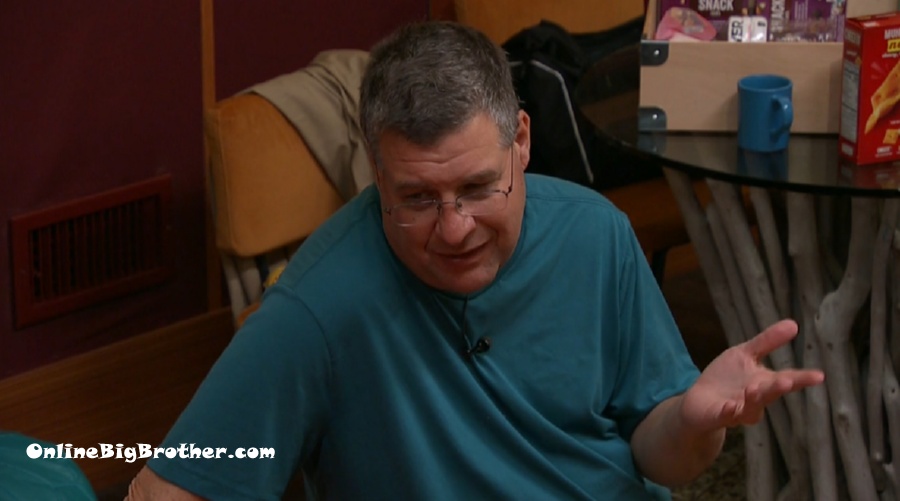 1:33 pm Cliff and Nick
Nick – there shouldn't be any surprises
Nick – everyone I talked to said Nicole is going home there hasn't been any blindsides yet
Nick – why would anyone want to cause a ripple
Cliff doesn't want anyone to be tricky
Cliff – You need 5 then you can break it
Nick – I know Bella, Sam and Kat are definite and Tommy there's four. Jess will vote out Nicol too
Nick – I will be annoyed if it's 6 -4 but as long as it happens
Nick – you are staying there's no way you are going home. If they are all lying to me they are going to draw lines in the sand and I don't think people will want to do that yet
Cliff – ok
Nick – I'll be pretty f*ing pissed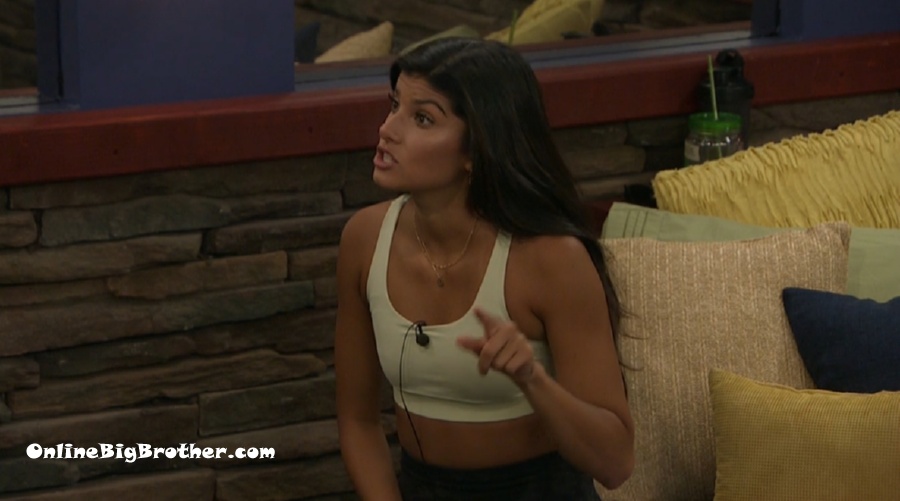 1:38 pm Sis and Tommy
They are talking about letting Kat know about the plan to vote out Cliff.
Sis is nervous about the fallout after tomorrows vote.
Tommy says they can still pull in Nick/Bella if they get Sam out
Sis – my honest thoughts .. I don't want to get out Sam
Sis says if Tommy wins HOH she'll vote out Sam but if she wins HOH she wants out "one of them" (Nick and Bella)
Sis – yo thin Sam is the mastermind behind a lot of this
Tommy – he's their security blanket they would run back to us even if ti put both of them on the block
Tommy – I've always been about the 8 not about the 9
Sis asks if Nick and Bella can rally numbers after this
Tommy says no
Sis – even with same
Tommy – No
Tommy says Nicole, the camp comebacker, Jessica and Kat are on their side.
Sis – I wish we could get rid of Bella and just keep Nick. Nick will work with us
Tommy- we need to get rid of Cliff say it's better for our game.
Tommy just keeps reiterating reasons they want to Cliff gone
Tommy says he doesn't trust Ovi. Sis agrees mentions that she asked him straight up if he had the power and he said no. this was before he was evicted "when we were close"
Sis – oh my god I'm so nervous (about tomorrow)
Tomm y- we need to get Kat involved
Sis – I do too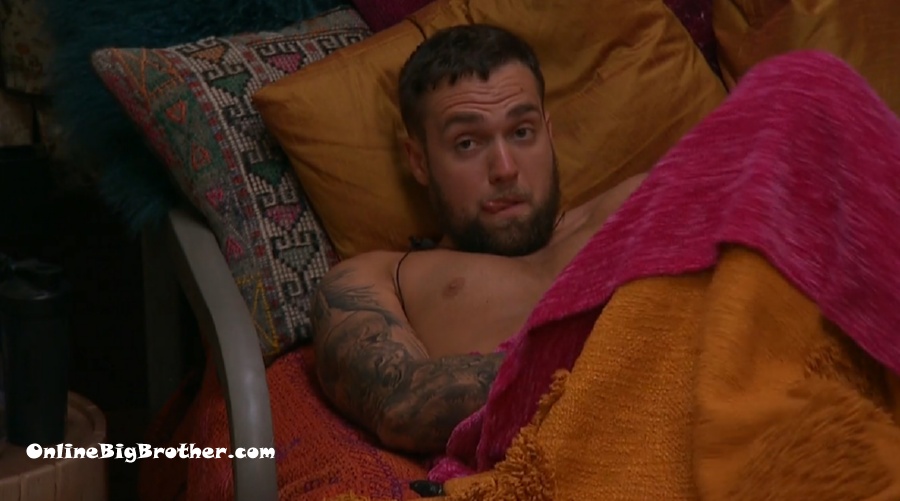 1:39 pm Nick
Nick – I don't want anyone to go in gr*tful or undeniable but when it comes ot my game they have to be thinking the same thing they know when we get to eight it will be 3 vs 5 and I'm on the three
(Nick is talking about HOH's, how many players are playing at when they get to 8 players etc)
Nick – I don't think Christie is going to pick a side it would be dumb for her to win that. It will be 3 on 4 which is why we need one of them to win 10 like sis that way we can win at 9
Nick goes on about wanting David back
Nick says when he made gr8tful he thought the other side would win some and it doesn't look like that will change. Mentions how the last year the foutte had players capable of winning. (but not thinking)
Nick – Cliff, Kat, Jess and whoever comes back from camp comeback. that's not good unless me, Sam and Bella switch sides
Nick – I feel that Tommy, Holly, Christie is a f*ing beast, Jack and Jackson that will be tough.
Nick – I honestly want to work with them too
Nick – I'm not talking to them about the votes they should know Nicole no if's and about it they know who I want out. I don't think they will create waves and if they do I'm not even going to put that energy in the air they are not going to do it. Should be 10 – 0 or 10 – 1 or 8 -2 I don't really care. If it's 7 -3 I'm going to be pissed
Nick – I have Kat, Sam and Bella
Nick – like I said last week you don't blindside your alliance with votes you blindside them by getting them out of the game
Nick – blindside them with votes when they are still in the f*ing game is pretty stupid
1:48 pm Sam and Bella
Sam saying if jack, Michie, Sis or Holly win the HOH he's screwed
Bella – I want someone to put Holly up not one of us Cliff, Jess or Kat
Bella – we don't want the blood
Sam – don't we want Jack or Michie up
Bella – then it's three they still think they're safe
Bella – if KAt wins next week and we convince her to put up like Holly, she can't put up Jess.
Bella – if we can get Holly out it's one less couple and then it's so much more fair game. they are trying to get Christie and Tommy (Jack, Jackson, Sis, Holly)
Bella – Christie, and Tommy are more inclined to stay with us because we're already a solid three
Bella – a lot less blood because Holly really doesn't talk much game out of the four (ZOMG)
Sam – that's great but I know for a fact Jack, Sis, Jackson, Holly still win I'm going up
Sam thinks he can persuade Holly and Sis if Jack or Jackson are gone.
Sam – I really want David to win, I hope we get to watch
Bella says jack never talks game to her "who does he talk game too, he talks to Michie."
Sam – he tells Christie a lot she's playing both sides to see who's going to win
Bella doubts Jacks talks game to Sis.
Sam – Jack's tokens are all in with Christie
2:16 pm Jack, Christie, Tommy and Sis
talking about voting out Cliff this week. They are going to pull kat into the plan by saying they don't want Cliff and Ovi in the game together because they are so powerful. Jack farts Christie – open the f*ing door Jack – whoever smelled it dealt it
Feeds flip to other rooms apparently the fart smell is throughout the entire house. RV room, boat room.
Nicole – sheesh if I farted like that I would feel a lot better
Nicole wonders if it's someone cooking. Kat – there's no one cooking.
2:27 pm Kat tells Nicole she thinks the battle back is after the eviction Nicole should get her mind prepared.
Kat – best case you don't have to do the comp
Kat says don't get wrapped up about the eviction vote.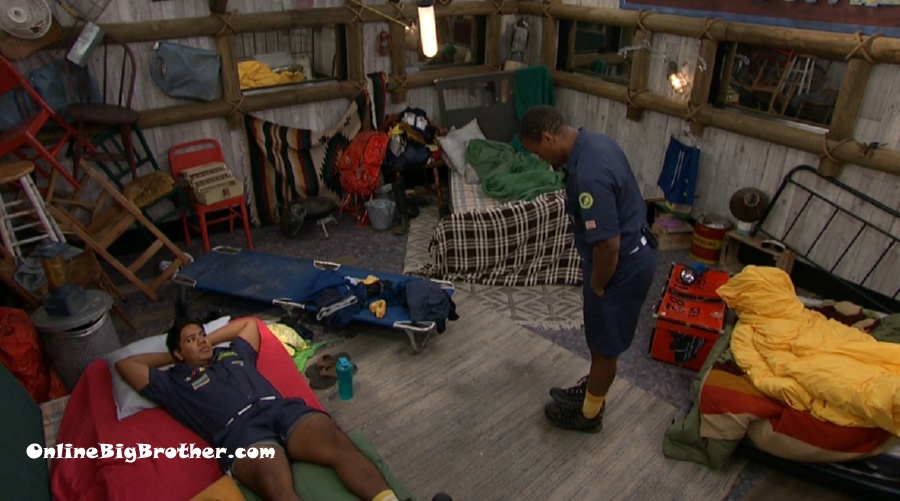 3:00 pm Ovi and David
Ovi – I'm going to miss you bro
David – I'll miss you too, it's a short summer
David points out that Ovi lives closest to him over everyone.
Ovi is wanting them to have an agreement if it's the "ball" competition they work together to get the other players out. (where you drop balls into each other tube, player with a full tube gets out)
David says they are at a disadvantage if they have to wear their camp comeback outfits