POV Holder:
Allison
Next POV
?
POV Used
Yes
POV Ceremony
March 24
HOH Winner:
Racehlle
Next HOH:
March 27
Original Nominations:
Allison & Heather
Current Nominations:
IKA & Heather
Last Evicted Houseguest
Paul, Kyle, Anick
Have Nots
Adel, Sabrina, Heather, Arlie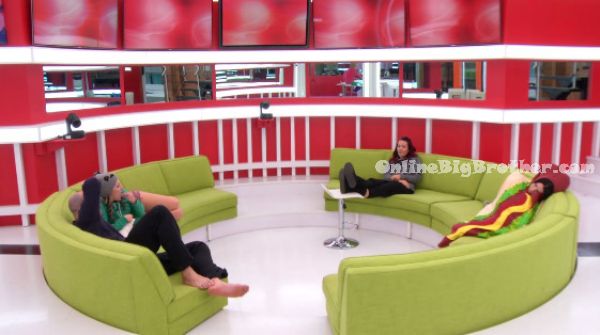 12:50pm Big Brother puts the House guests on a bedroom lock down. All of the house guests think its odd they're on a lock down in just the bedroom on a Tuesday. They speculate on it being for Adel to use his power, something to do with the 2 million they saw on the living room tv screens, for the hammock to be brought back, or that its just nothing at all and just regular maintenance. Big Brother blocks the feeds… When they return – The house guests head out of the bedroom to see if anything has changed. Jon and Neda stay in the bedroom to talk. Jon comments how the diary room
Jon asks Neda if she likes him? Neda says no, like a person! Jon asks you don't love me? Neda says no. Neda says that she doesn't want Big Brother to spin things to make things look like they aren't. Jon comments how he didn't like the whole trying to keep us separated when we were drunk. Jon heads to the bathroom and Sabrina talks to him about how he was acting weird with her. He says he wasn't. Sabrina says that she thinks if Ika stayed and won HOH she would put me up against Andrew. Sabrina comments on how Ika was giving her the looks of death. Sabrina asks if he thinks Canada would vote to save her. Jon says no, she's like a nobody. Jon says I trust Kenny.. last night I had a complete laps but I am back. Jon asks how she feels ..if Andrew still has your back even with Allison in here. Sabrina says yes and no.. I get along with Allison though. Jon says Ika this week and if there's a double eviction then we go from there. Jon says I wouldn't go against Andrew and Kenny right now. If I won HOH I would talk with them and we as a whole would see where we were at. Sabrina asks would they put me up? Jon says no. Jon tells Sabrina that he would never vote her out. Jon tells Sabrina that he thinks she will go far in the game. Heather comes into the bathroom and breaks up the conversation. Sabrina goes up to the HOH room and tells Rachelle "I f**king HATE Ika and Adel! She was giving me dirty looks and rolling her eyes. I am a nice person but not when people are like that to me.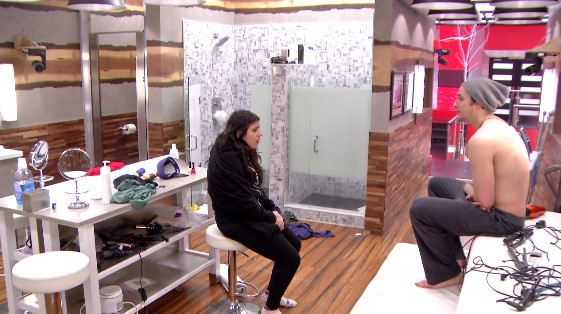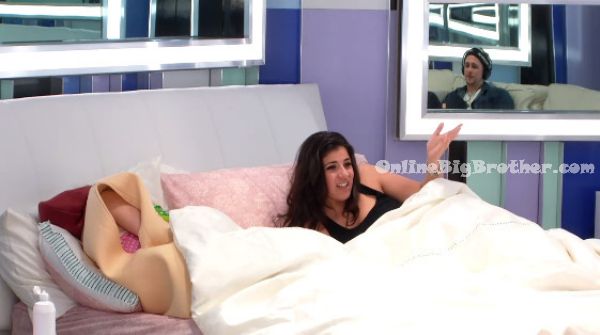 1:45pm – 2pm Kenny tells Sarah that he told Heather he can't guarantee her anything but that he will try to swing the vote in her favor. They talk about keeping Heather on their side just in case.
2:20pm – 2:35pm UP in the HOH room – Allison talks with Rachelle and Sabrina. They talk about how Heather and Adel can't win HOH next. Sabrina talks about how Adel told her a couple weeks ago that he would crush her in the HOH competition and put her up. Allison says that if he had said that to me I would be mad too. Probably madder. Sabrina says as of today I am ignoring him (Adel). You (Rachelle) too and if you don't then I am ignoring you too. Allison talks about Heather talking about Sabrina. Sabrina says What a f**King hooker! I hate her, she said me?! (Heather) Sabrina says head, toilet bowl, head in toilet bowl. Flush it. Allison says at least she will be going home next week. Sabrina says she's not the only one.
Sabrina about Heather "What a FUCKING HOOKER! Head, toilet bowl, head in toilet bowl! Flush it! @bigbspoilers #bbcan2 pic.twitter.com/txNQoMAj0y

— Dawg (@DawgsBigBrother) March 25, 2014
2:40pm At the kitchen table – Ika and Adel are talking. Ika says that even Ray Charles can see what's going on.

3pm All of the house guests are sitting around the living room circle couch talking about random things like sports.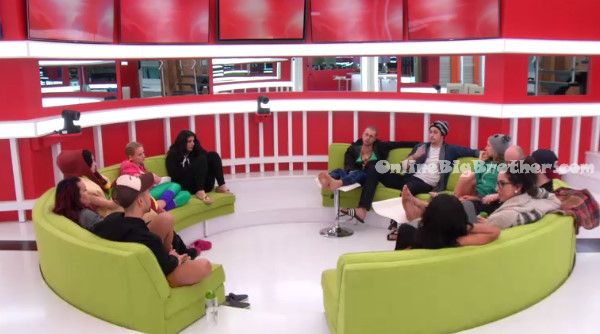 Hot Dog and Sabrina head up to the HOH room. Sabrina comments how Heather said she wants me gone.. I f**king hates Heather. Rachelle says that she could have just been saying that. They wonder why they're locked out of the backyard and if its because of a double eviction. Sabrina says I don't like Adel and I hate that I have to live with him for the next two weeks. Rachelle says just ignore it, its just personal. Sabrina says I hate everyone, you know what I mean. Rachelle says that she likes Allison. She says but I don't know if I trust her. Sabrina says she needs to go! I don't know if I can trust her.
3:15pm – 3:30pm Big Brother tells the house guests to all go to the main bedroom IMMEDIATELY! All the house guests head up to the bedroom. Sabrina was in the HOH shower and complains that she just got in. What the Hell! Rachelle says why does something have to happen while im HOH!
BIG BROTHER THEN BLOCKS THE LIVE FEEDS..
4:35pm The feeds are still blocked..
5:40pm The live feeds are still blocked…
6:25pm – 7:40pm Nothing yet.. not even a live feed leak 🙁
Stay connected and interact with other Big Brother Fans on our Facebook page.
And Follow: @BigBspoilers and @Dawgsbigbrother on Twitter for the most up to date spoilers.