POV Holder:
Allison
Next POV
?
POV Used
Yes
POV Ceremony
March 24
HOH Winner:
Racehlle
Next HOH:
March 27
Original Nominations:
Allison & Heather
Current Nominations:
IKA & Heather
Last Evicted Houseguest
Paul, Kyle, Anick
Have Nots
Adel, Sabrina, Heather, Arlie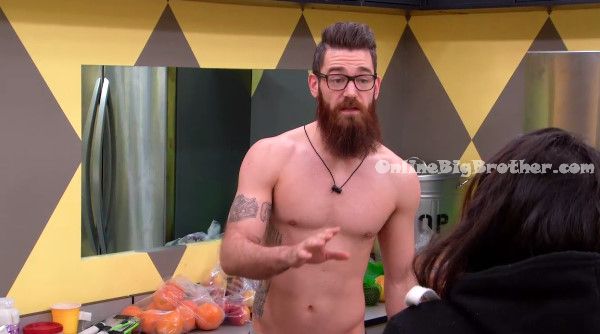 9:15am Big Brother wakes up the house guests.
In the storage room – Sabrina talks to Kenny about how Jon. She says he's so bad, he literally took me into the corner yesterday, outside and He's like why did Ika go up! Why did Ika go up! Why did Ika go up! Why did Ika go up!
Sabrina says I am like what are you talking about? He's like why did Ika go up! I am like because she needed to. And he's like why didn't I know about this! I'm at the bottom of my alliance. I was like what?!
Kenny says yeah Ika says the only reason I went up is because Rachelle made a deal with me that I would be safe for 3 weeks. And he was like why didn't I know about this deal. And I was like because it's not real. So I didn't make that deal.
Sabrina says okay, thank god I said the same thing. Kenny says he said you need to stop listening to f**king IKA! Sabrina says I said relax. She's probably just saying that because she's telling her friend I'm putting you up because of this but it's not really because of that .. it's because she doesn't really know what to tell her friend that she's putting up. So she gave her that excuse that she was safe for a couple of weeks. And why are you listening to IKa, you know that she's the one that has been spreading things about Andrew. And he was like you lied to my face. Kenny says that's bullsh*t, all I said was if you don't go after me, I won't go after you! That's all I said! Sabrina says and she probably just told her 3 weeks so that I did't look bad. Sabrina says he said I should have known about this thing with Ika, everyone knew because of me. I was like no, no Rachelle didn't know what to do. Sabrina says she said I didn't know for sure until this morning. Sabrina says he said I don't know, I just know that there's something f**ked up and I just realized that I am on the outs of my alliance. Sabrina says she said I didn't know, I think you're over analyzing it. Kenny says yeah I know he was freaking out, he was freaking out about it last night.

Kenny talks to Andrew – Kenny tells him that Jon is just being too obvious that he is working with Ika. Andrew says if you and me win, then we put up Jon and Adel. If Sabrina or Sarah wins she puts up Andrew says if we win we put up Allison and Adel. Kenny says yeah. Andrew says I don't want to put up Allison, I will if I have to but..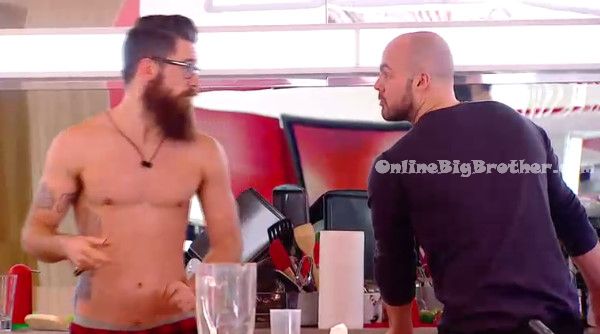 10am Ika campaigns to Kenny – She tells him that she was never after him.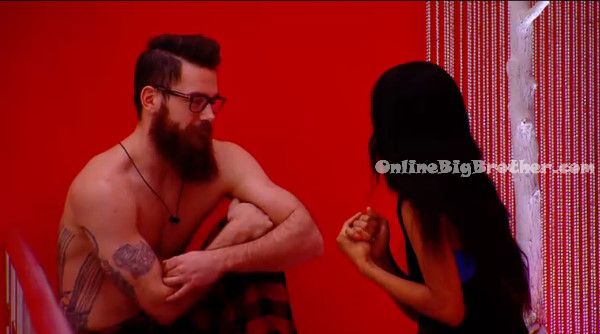 10:30am – 10:40am Kenny talks to Arlie and Andrew in the storage room about his conversation with IKA. He says that he doesn't listen to a word she says. He says it was the first time she was real with me. Kenny talks about how they need to lead Jon on for now so that he doesn't blow up. Kenny is really worried Jon will mess things up. While they have their conversation about Heather is outside the storage room door listening.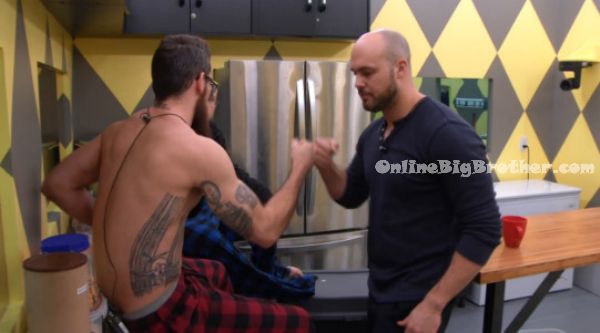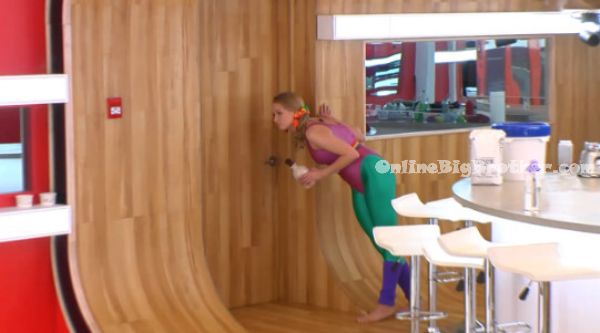 10:50am Out in the backyard by the pool Arlie and Sarah are game talking.. Arlie tells Sarah that his alliance with her is above the first five. He talks about thinking about the long term game and how it would be better to be sitting at the end with Jon, Adel… Instead of Andrew, Kenny or Sabrina.

11:25am Up in the HOH room – Kenny talks to Rachelle and tells her the conversation that he had with Ika. He says that he doesn't believe or listen to a word she says. He says that one thing that I took away from it was that she and Jon are definitely working together. Kenny says that Ika definitely needs to go this week. Rachelle agrees.
11:45am There have been problems with the live feeds freezing and looping along with showing the following screen. You're not alone if yours have been acting up too.
#BBCAN2 LIVE FEEDS showing "Coming SOON March 5th" @bigbspoilers DID SOMEONE HIT THE RESET BUTTON????? pic.twitter.com/6bGN6xxjQv

— Dawg (@DawgsBigBrother) March 25, 2014
11:50am – 12:25am In the bathroom – Neda and Jon are talking. She thinks she is going to go before him. Jon says that he thinks he has some pull with the guys. Neda doesn't think so. Neda wants to wax Jon. Neda asks Jon can I please just wax your n!ps? Jon says no. Jon asks can I wax you? Neda says no I don't have any hair. Jon says how about a brazilian? Neda laughs. She then gets him to lay down and she starts waxing his stomach.

12:25pm Andrew, Allison, Sarah, Kenny, Sabrina, Adel and Heather are hanging out in the hot tub room talking about random things like music, Talla, and about getting out of the house.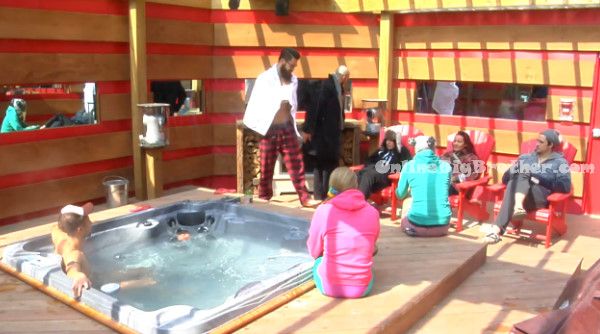 12:30pm – 12:50pm Big Brother blocks the feeds and when they return all of the house guests are inside. They talk about how they were told they have 15 minutes till they're going to be locked down in the bedroom. They comment on how something must be happening since they never get locked down in the bedroom unless something is happening. In the bedroom – Sabrina, Rachelle, and Allison talk about Adel's power. Sabrina says that she wants to look at it. She starts to get up to look at his stuff and then Adel comes in the room. He says that he needs to go grab stuff before the lock down. Andrew, Arlie and Kenny join them. They talk about how maybe the lock down is for Adel to use his power. Andrew says he thinks Adel already lost his opportunity to do that this week. Jon comments on how he just heard them move the couches.
Stay connected and interact with other Big Brother Fans on our Facebook page.
And Follow: @BigBspoilers and @Dawgsbigbrother on Twitter for the most up to date spoilers.