POV Holder:
Jon
Next POV
April 12th
POV Used
Yes
POV Ceremony
April 14th
HOH Winner:
Jon
Next HOH:
April 17th
Original Nominations:
Sabrina & Rachelle
Current Nominations:
ADEL & Arlie
Have Nots
Neda, Arlie, Rachelle and Heather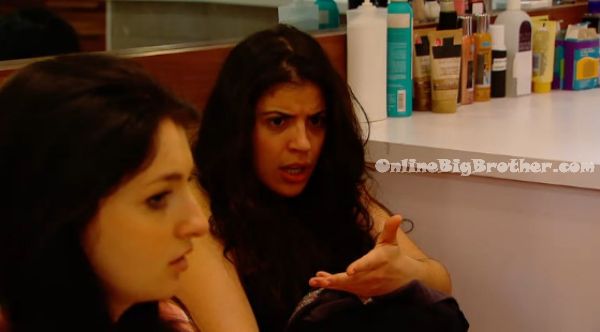 1:10pm – 1:40pm In the bathroom – Allison, Sabrina and Rachelle talk about how Neda just revealed to them that she was the one that dumped out the condiments. Rachelle says she told us because she thinks we will trust her more. Sabrina says it doesn't it makes us hate her. Big Brother puts them on another backyard lock down. Rachelle, Allison, Sabrina and Adel head to the hot tub. They talk about how Jon said Arlie thought Rachelle was Jon's girlfriend. Rachelle says that is not true ..you can come to my house and egg me if its true. I swear its not true. I have a real boyfriend outside the house. Adel heads inside. Allison, Rachelle and Sabrina talk about being called Arlie's Angels. Sabrina says we need to do it just for the name. Sabrina says all I know is if you flip back on Thursday I will drowned you with my own two hands. Allison says stop saying that! If you keep saying that I will. Sabrina asks you are for sure voting out Adel?! Allison says YES! Allison says I've wanted Jon out since they got Andrew out. He lied to my face, I have no problem doing this. Arlie joins them. Arlie talks about how he would love to stay in this game but doesn't think he will stay. He says I would kill to get Jon out of this game! Sabrina asks Arlie who threw the condiments out? Arlie pauses and then tells her it was Neda.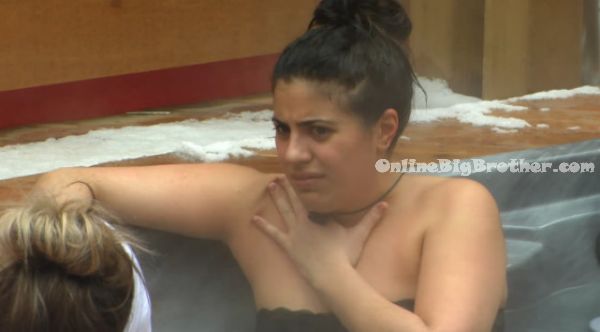 1:50pm – 2:10pm Allison & Arlie talk in the hot tub. He tells her that he would take her to the final 2 and doesn't even care if she wouldn't take him. Allison says its hard to trust you though. Arlie says I would look like an a$$hole though.. to you and to fans! And a lot of this I am doing for the fans. Allison says real talk .. one line in your poem floored me.. Arlie says the blonde girl line. Allison says yes. Arlie says that was if I had a showmance. Arlie tells Allison if she does this I would literally hangout with you guys 24/7 so that you wouldn't have any doubt. Arlie says I don't want Jon or Neda to win. I don't want Sabrina to win. If Adel snuck through to the end I would think it was cool but I wouldn't give him my vote. If you save me I would never f**k you. It is so much more than game to me. Allison questions if Arlie would go with Heather. Arlie says I would never align with Heather she is dumb at this game. I know I need to ride or die to the end and the minute I don't win an HOH I will go home. I need someone strong with me.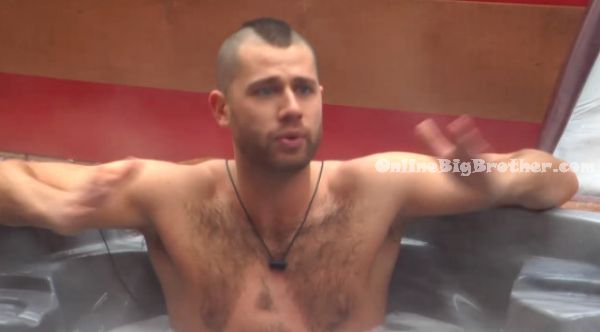 Jon is talking to Sabrina and Rachelle about Arlie. Sabrina says we are just worried because the only person that can help protect us is Neda.. because you can't play. Jon asks what about Allison why don't you think she would? Sabrina says ah .. I am talking about our four. Sabrina asks Jon who else he has a final four with. Jon says just you, Rachelle and Neda. Sabrina asks so you don't have a final four with Heather, Neda and Allison? Jon says no. Sabrina says because people are running their mouths. Jon asks who? Was it Adel? Sabrina says I feel like you have other peoples backs way more than ours.. in a second. Sabrina says I am 90% leaning towards you. Keeping him in the game keeps a bigger target in the house. If he goes I firmly believe we (Gremlins) will be next. Neda joins them and asks what's going on. Sabrina says I've heard you guys have two different final two deals and 3 different final 4 deals. Neda says people are running their mouths because they're scared.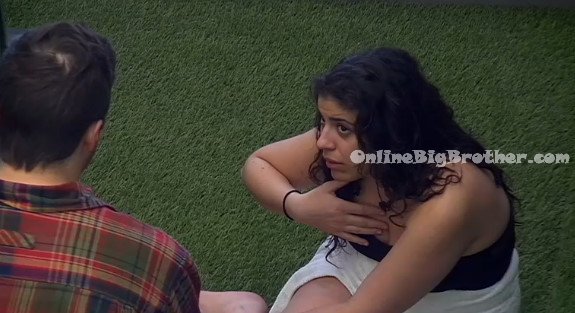 2:10pm – 2:40pm Jon gets called inside to the diary room and BB closes the back door again. The house guests think something is happening. Sabrina tells Neda that her telling them about the condiments hurt her more than helped her. Sabrina says I think we have to go in there and vote! What are we going to do?! Neda says get rid of Arlie of course! Sabrina says but Adel will vote me out. Sabrina asks if you win HOH .. you are not going to put us up, you are not going to put us up as a pawn?! Neda says nope, I don't want to. Sabrina says Adel is going to put me up! Neda says he won't. Sabrina says if he puts me up against you.. who is going home?! It's hard for me to trust you guys .. because of everything I've heard. Sabrina questions Neda again about the 3 final four deals she has. Neda says I think you are just hearing about the sloppy seconds. Sabrina asks so you can swear on your sister ours is your real final four? Neda says yes! They continue to talk and Sabrina says I am going to do whatever Rachelle wants to do.. that's where I'm at, at this point. Neda tells Sabrina I think I have a better chance with you guys.
@bigbspoilers #BBCAN2 Sabrina says I think we have to vote now! What are we going to do?! Neda says get rid of Arlie! pic.twitter.com/G8RqhQRa95

— Dawg (@DawgsBigBrother) April 15, 2014
2:55pm Big Brother comes over the intercom and says House Guests, we need the havenots to go to the main bedroom to get into wardrobe and the haves to go to…. big brother cuts the feeds.
4:20pm The live feeds are still blocked..
[polldaddy poll=7968822]
[polldaddy poll=7964297]
Stay connected and interact with other Big Brother Fans on our Facebook page.
And Follow: @BigBspoilers and @Dawgsbigbrother on Twitter for the most up to date spoilers.