POV Holder:
Jon
Next POV
April 12th
POV Used
Yes
POV Ceremony
April 14th
HOH Winner:
Jon
Next HOH:
April 17th
Original Nominations:
Sabrina & Rachelle
Current Nominations:
ADEL & Arlie
Have Nots
Neda, Arlie, Rachelle and Heather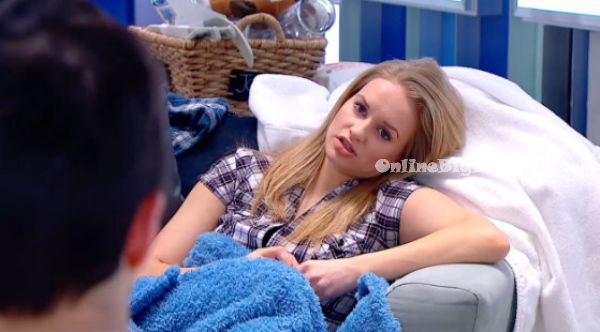 11:25am In the HOH room – Heather tells Jon about her conversation with Sabrina. She says that Sabrina basically told me she didn't believe me and that she has been a nice person and has never been mean to anyone. Heather says it was a lie I am not sorry for anything I've said to her! Jon says she is a master manipulator. Heather says half way through I was pissed off at her and then I was just like whatever. Heather tells Jon she also had a talk with Allison. I lied and told her I would take her to the final 3. I am starting to think that she is more on our side than on the other side because she is a numbers person. If Arlie stayed they would have the numbers but.. Jon says I don't know any reason why someone would want to keep Arlie in here. Jon asks would you guys even make a final 3 with her. Heather says probably just to make her feel better. I don't think she would want to get rid of you any sooner than final four.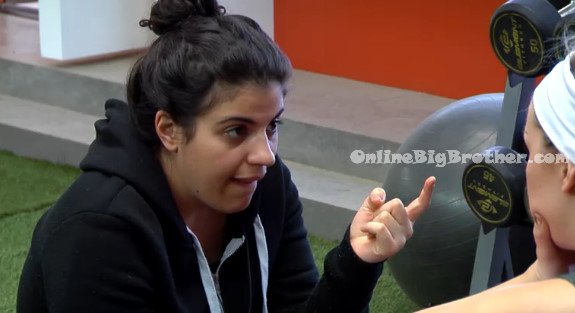 11:50am Out in the backyard – Sabrina & Rachelle talk to Allison about their options. Allison says we need to make sure both Adel and Arlie feel safe that they're staying. Sabrina is scared of Allison saying she will vote one way and then vote the other way leaving them exposed. Allsion says I want it to be huge when it blows up! I would not have set it up this way if I was just going to rip out your heart. If I go with them, then I am still on the bottom. Just trust me! They head inside to eat.
11:50am – 12pm The house guests are sitting around the kitchen table talking about random things. Sabrina says I'm going to have people follow me down the streets in Montreal just to make people think I'm important. Adel says oh my god you're horrible. The conversation turns to talking about how many followers they'll have when they get out. Adel thinks they'll have double what the BBCAN1 house guests have. They talk about whether or not a jury member will come back this season. Jon calls Allison the twisty twisto. Sabrina says Allison had 3 weeks of safety in the beginning. Jon says you were given the veto. Allison says I wasn't given the veto, that's all I can say. Neda asks what you worked for it? Allison says I can't say.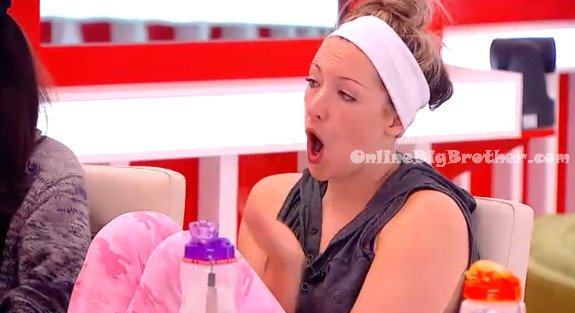 12:15pm Up in the HOH room – Neda asks Jon if she should tell Rachelle and Sabrina about how she dumped out the condiments last week. Neda says I think Arlie is going to tell them. I think if he tells them he would twist it. Jon tells her he thinks its a good idea to tell them and that it was just to get Kenny out. Jon says we should have a talk with Allison. JOn tells Neda about how Sabrina and Heather talked and she said she isn't a mean person. Neda says holy f**k! Sabrina is such a a good manipulator. Jon agrees. Neda says it doesn't even feel like he is leaving. Jon says it feels like more and more that he is leaving. Sabrina joins them. Neda and Sabrina head to the main bedroom. Neda tells Sabrina that she was the one that threw out the condiments. I am telling you because I trust you so much. Sabrina says that is so mean, you have balls. Neda says If I did not trust you, I would not be telling you right now. Sabrina says oh Rachelle is going to be so mad. Neda says well to be fair we were on slop because of her. Rachelle joins them and Neda tells her she threw out the condiments. Rachelle says it was just kind of a mean thing to do. It was just rude. To me its more of a bully.. it was just mean. It's like bullying almost. Sabrina says to me it looks so hypocritical because you guys are telling me I'm mean and then you're doing this. Neda says this was from a game stand point though. Rachelle says it was just annoying it didn't even weaken anyone. Just don't do stupid sh*t like that again. As long as it was for game and not something malicious. Neda says I'm not a malicious person. Neda leaves and Rachelle and Sabrina talk about voting out Adel/Arlie.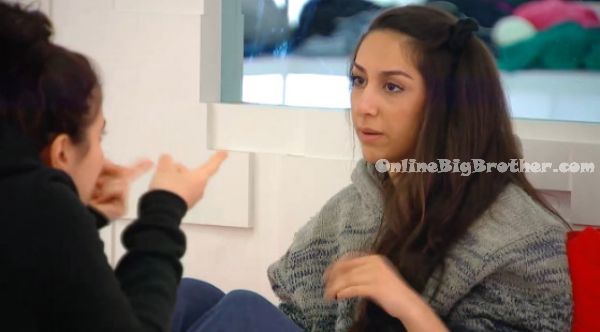 Out in the hot tub – Adel asks Rachelle if she and Sabrina have been aligned since week 1,2 or 3. Rachelle says well she had my back but I didn't know about the first five. Adel says well none of us but Jon knew about the first five. Adel says Arlie is smarter than all of us. I think he f**ked up when he was drunk. Rachelle says he's smart, he played a good game while it lasted. The cameras switch to Heather telling Allison about her conversation with Sabrina earlier today. Heather says I think the four of us will get really far. Jon says I think we'll clean house!
[polldaddy poll=7968822]
[polldaddy poll=7964297]
Stay connected and interact with other Big Brother Fans on our Facebook page.
And Follow: @BigBspoilers and @Dawgsbigbrother on Twitter for the most up to date spoilers.