POV Holder:
Jon
Next POV
April 12th
POV Used
Yes
POV Ceremony
April 14th
HOH Winner:
Jon
Next HOH:
April 17th
Original Nominations:
Sabrina & Rachelle
Current Nominations:
ADEL & Arlie
Have Nots
Neda, Arlie, Rachelle and Heather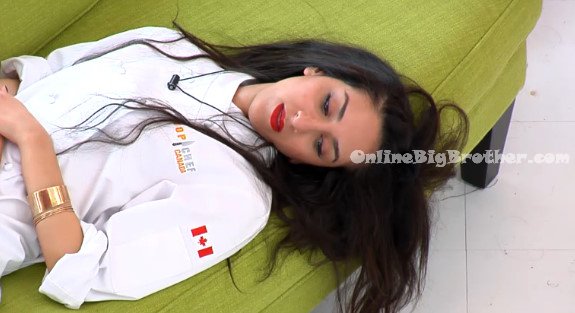 TOP CHEF Canada / Big Brother Canada Reality Challenge.
The House Guests had two teams the Haves & the Havenots where they had a Top Chef Canada challenge. The haves were the judges for the cooking challenge and havenots were split up into two teams – Heather & Neda Versus Arlie & Rachelle. Their mission was to disguise slop using the ingredients they were given. The Haves then judged the two dishes prepared by the two havenot teams and determined which team better disguised the slop. The winners of the challenge get a dinner cooked by two of the current Top Chef Canada contestants Terry Salmond & Vittorio Colacitti. The HaveNots that won the challenge were: Neda and Heather!
2:55pm – 5:05pm Big Brother comes over the intercom and says House Guests, we need the HaveNots to go to the main bedroom to get into wardrobe and the Haves to go to…. Big Brother then blocks the live feeds. When the live feeds return.. Allison, Sarbina and Rachelle are in the main bedroom talking. Sabrina says if the goal was to show case a sloppy burger you would have won. Rachelle says I thought we had to use slop. Jon joins them and breaks up their conversation. Sabrina says right now we're on Top Chef and they're on Big Brother!! I'm so excited!! Sarbina says I barfed so many times. Arlie joins them and says that we lost the challenge because we put too much slop into the dish and they put in less. It would have been better to put in none and gotten points on taste. Arlie commens on how the Top Chef Canada chefs will be coming in to the Big Brother house to cook in our kitchen.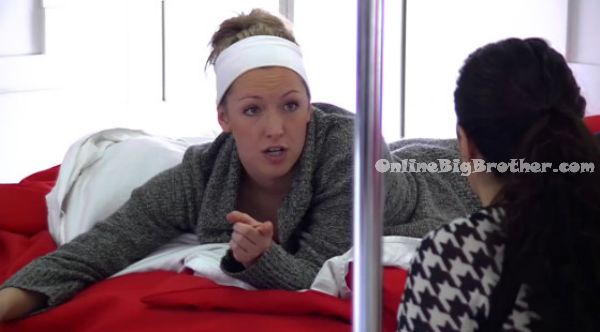 5:15pm – 5:45pm In the bathroom – Sabrina tells Jon I love you and Neda but I can not keep Adel. Heather comes into the bathroom and Sabrina / Jon head into the HOH room. Sabrina tells Jon again I cannot keep Adel. I trust you and Neda and our four but I can't live in the house with Adel for another week. You have no idea what its like to be treated like he is treating me. He did it again today. Sabrina tells Jon I cant keep Adel in the house .. if he or Heather win HOH next week Rachelle and I are in danger. Whereas you and Neda's bases are covered! Jon tells Sabrina he is on board with their final four 100%! Jon says if I or Neda win HOH we are putting up Adel! Sabrina asks if if that would really happen. Jon says 1 hundo hundos! Sabrina says that she is with Neda and Jon .. when I give my word, I give my word! This I swear on the holy bible! I said I was not going to swear any more but this I swear! Sabrina says emotional game point I would rather trust you and Neda than anyone else. JOn says we are on board. Sabrina says I am on board 100% now .. before I wasn't .. but you need to convince Rachelle. Sarbina says but Adel has to go next week! Promise. Jon promises that Adel will go next week.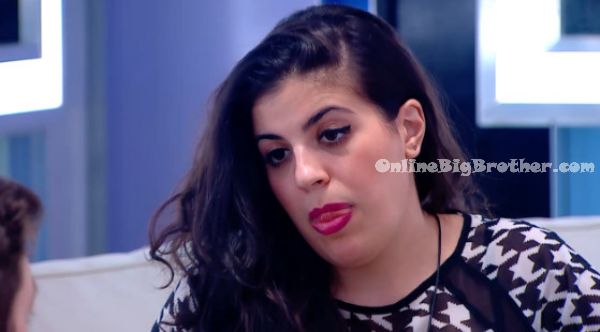 5:45pm – 6pm In the bedroom – Rachelle, Sarbrina and Allison are talking. Allison is annoyed. Rachelle says I thought the plan was to get out Arlie. Allison and Sabrina tell her that it was until about an hour ago. Sabrina says after talking with Neda in the backyard where she swears she will protect us. Sabrina says what it comes down to is I trust Jon more than I trust Arlie for everything that I have been through with Arlie. Allison says this why I didn't want to 100% give my word to Arlie. Allison says they are going to think I am going to put you up but I won't. Sabrina asks you are not going to go join Heather are you? Allison says no. Rachelle asks if we go up .. then we're going home. Sabrina says Jon just said if he won the veto he would use it on us.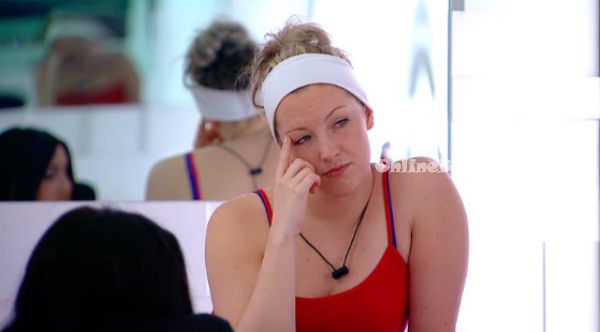 6:10pm Meanwhile – Jon and Neda talk with Arlie about random things and about past events of the house. Neda says that Kenny is nothing now after everything that's happened. Unless he was doing things that none of us knew about..

6:20pm Jon gives Neda a piggyback ride from the HOH room door down the steps and to the living room. In the kitchen the house guests are finishing up cleaning up for the Top Chef Canada chefs to come and cook for the havenots who won the challenge. The haves (losers) wonder if they will be able to watch or if they'll have to stay up in the HOH room. Big Brother blocks the live feeds again..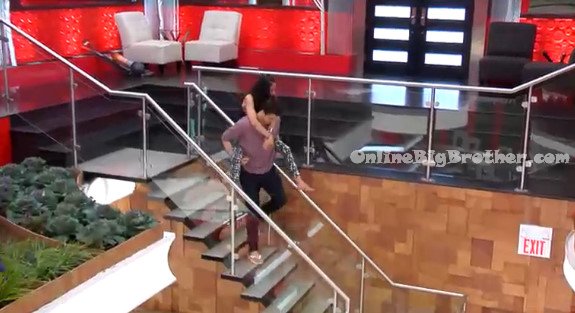 8:46pm Feeds still out
[polldaddy poll=7968822]
[polldaddy poll=7964297]
Stay connected and interact with other Big Brother Fans on our Facebook page.
And Follow: @BigBspoilers and @Dawgsbigbrother on Twitter for the most up to date spoilers.