POV Holder:
Jon
Next POV
?
POV Used
NO
POV Ceremony
March 31
HOH Winner:
Canada
Next HOH:
Apr 3
Original Nominations:
Andrew and Sabrina
Current Nominations:
?
Have Nots
Jon and Adel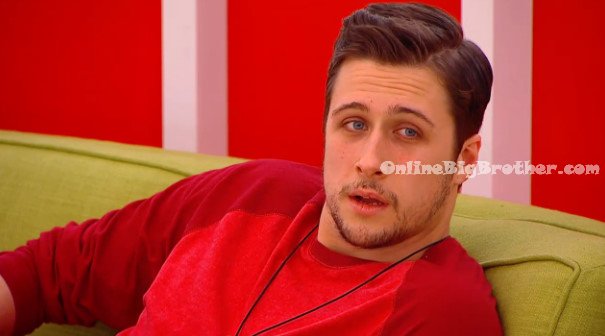 4:25pm In the living room – Jon, Heather and Arlie are talking about the boost the meter numbers they had seen on the tv screens this morning. Heather says so the HOH was from the 2 million. She asks what's bigger than HOH? Jon says that Canada probably got different scenarios to vote on. Arlie says he isn't even convinced that two are related. Jon says well they did say in the diary room that it was a twistos twist. Jon asks they said that to you? Jon says yeah they slipped it out to me when they weren't supposed to. Jon asks is that what Ned's was saying or did they say that to her too? Jon says they did it to her too. Arlie says yeah right, they accidently let it slip twice. Jon says I don't care anyways. Arlie says it doesn't even matter its not like we could guess it anyways. Andrew says that's exactly how I feel too! Sarah asks 6 million! Its amazing we could get 6 million anything! Arlie says 6 million fake votes? Sarah says ARLIE!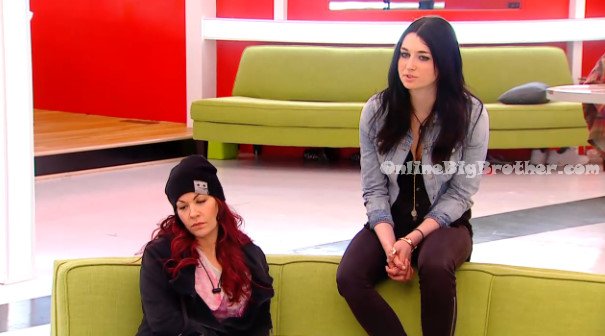 4:40pm Andrew, Allison, Neda, Jon, Heather, Sabrina, Kenny and Rachelle are in the kitchen eating. Sabrina says this is my first pulled pork!. Arlie says you're losing your pulled pork v!rgin!ty.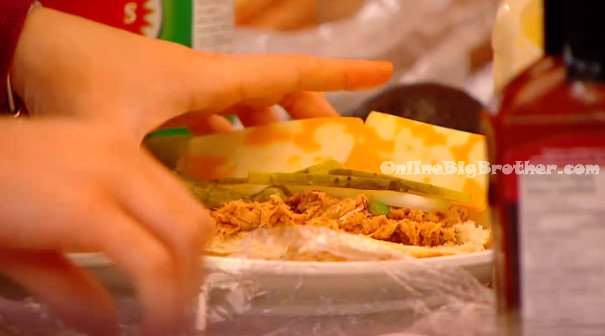 4:50pm Kenny and Sarah head out to the hot tub room. Kenny says 6 mil eh!? That's pretty wild! Sarah says yeah. Kenny says I am assuming votes. Sarah says I wonder if its Canada voting on a power to give to one of us. I hope its you. Kenny says that's very nice but I highly doubt there would be 6 million votes for me. Kenny says they were talking about it earlier and thought it could be voting for a double eviction. He says if it is, I am going to try for the first one but it would also suck to get it .. because then you don't get a letter from your family. Kenny says god I hope I win this game! Sarah says that she really hopes Sabrina doesn't bug her about being final two. Kenny says she probably has a final 2 with Rachelle too. Sarah says she probably has a final 2 with everyone. Sarah talks about the things Sabrina does that really annoy her. Sarah says I f**king hate her. Sarah says someone on our side has to win HOH. You would have to back door Jon. Sarah says I even told the diary room that I am spending the week trying not to kill Sabrina. Everything is like walking on egg shells with her. Sabrina and Neda join them and the conversation ends.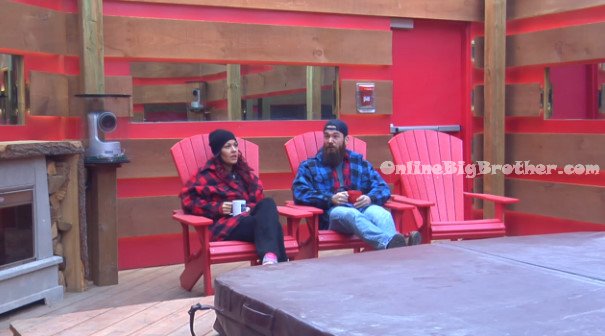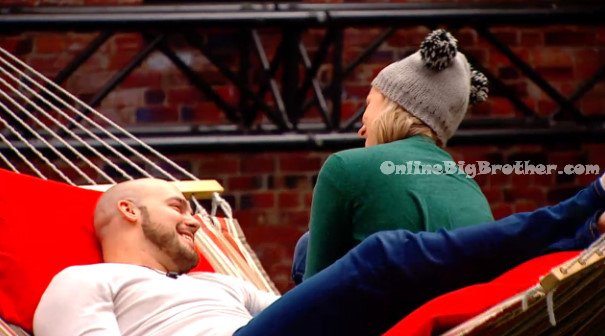 5pm- 5:30pm Andrew and Allison are laying in the hammock. He says that he thinks he could get Arlie to swing to vote for him. He says it would be kind of sh*tty. Allison asks if he could get Kenny to swing. Andrew says he thinks he could. Allison says that she doesn't want him to give up. Andrew says he doesn't want to be looked at as giving up either. I don't look at it as giving up .. its surrendering. Andrew says my goodbye speech is good.. do you want to hear it? Allison says no, I don't want to cry. I need to try and hold myself together. Andrew jokes that he'll say f**k you, F**k you, F**k you, You're cool! Allison says you're not going to say that are you? Andrew says no it live tv. Allison says this kind of hope is killing me because if I do go with it and it doesn't work it would ruin my game. Andrew says if I was going to try this it would only work if I did it tomorrow. I'll think about it tonight and than see if Arlie can give me his word. Andrew says when he gets out they're going to say Pick your nose boy is back out in Canada! Andrew says I've made conscious efforts to reduce the nose picking. Is it really that gross is it really that bad? Allison says no!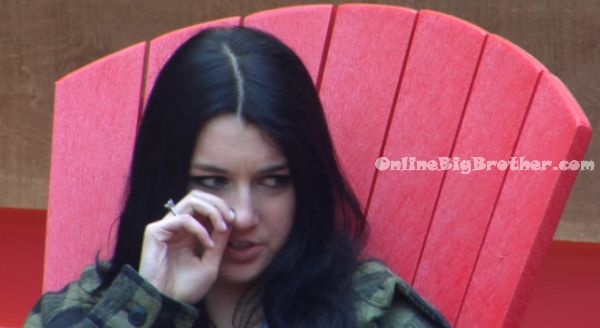 Meanwhile out in the hot tub room – Sabrina says now that Andrew is leaving – you are my final two for sure. If he was still here it would be a difficult decision you know what I mean because I started this with him.
Most of the house guests are in the living room talking about random things..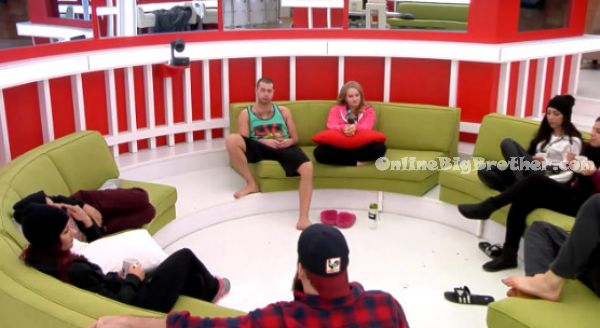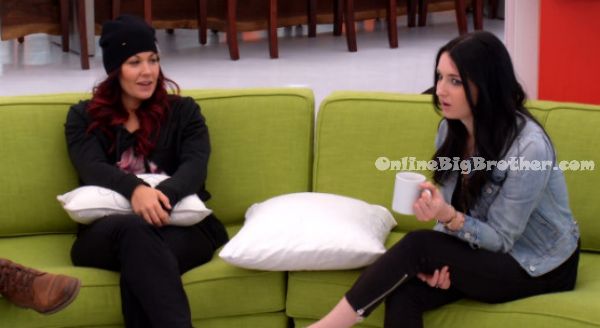 6pm – 6:30pm In the living room – Rachelle comments that she really hopes she gets some time of work when she gets out. Sabrina tells her that she'll get some P*RN / MAXIM shoot when she gets out! Sabrina, Rachelle and Arlie head out to the hot tub room. Sabrina continues to talk about how she thinks Rachelle will get a modeling contract when she gets out. Sabrina says I don't think Canada hates me because I am a b***h to people because I only protected people who were a part of my original plan. Sabrina talks about how their popularity will be high until casting in Sept/Oct.. then it will go down and come back up again before the next season.. and then it'll done. Sabrina then practices her eviction speech. Arlie says that was gold! That was perfect. Rachelle says yeah. Sabrina says you don't know how hard it is to be up on the block with your best friend. My boy best friend. And I honestly believe if I was up on the block with Allison …he would keep me over her. Sabrina continues to talk about the flight attendant job she used to have. Rachelle heads inside and Adel joins them. Sabrina asks Adel lots of questions about his job and his life. Adel heads back inside and Sabrina comments on how much Adel has lied to her.
6:50pm – 7:15pm Sabrina starts talking game with Arlie. She tells him that she has been 100% loyal to them. She tells Arlie that after she had a couple late night conversations with him she feels way more comfortable with him. Sabrina talks about how during the comic relief montage she wasn't laughing .. she was paying attention to who was with who and what they were saying. Arlie says you're really smart at this game. Sabrina continues to spill her game out to Arlie:
Stay connected and interact with other Big Brother Fans on our Facebook page.
And Follow: @BigBspoilers and @Dawgsbigbrother on Twitter for the most up to date spoilers.