POV Holder:
Jon
Next POV
?
POV Used
NO
POV Ceremony
March 31
HOH Winner:
Canada
Next HOH:
Apr 3
Original Nominations:
Andrew and Sabrina
Current Nominations:
Andrew and Sabrina
Have Nots
Jon and Adel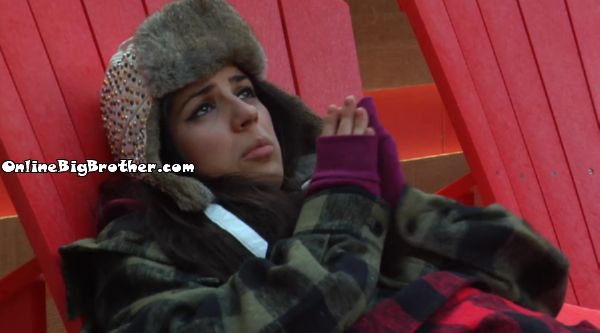 7:15pm Sabrina and Arlie
Sabrina – "The only time Kenny is nice to me is when his stomach is full"
Sabrina says that Kenny pushes her to the side all the time and when she comes to him with information he acts like he already knows it, "He acts so confident.. I'm not stupid I'm catching on"
Sabrina says that Sarah must have talked to Kenny and told him Sabrina is drifting away. Sabrina add that She tells things to Sarah on purpose to see if they come back to Kenny. Sabrina is certain Kenny and Sarah are as close as you can get.
There is a serious thing happening here our strongest player is leaving. Sabrina says it should be a major concern for them that Kenny and Sarah do not talk game to the 1st4 anymore. Sabrina points out that last night she wanted to talk game but everyone told her they should just enjoy the slumber party.
Arlie leaves.. Sabrina talks to god tells God she will fight to stay in this game all her life all she wanted was to play this game "I have to win HOH I f*** have to"
Sabrina says all the people are talking game but just not with her.. She Loves Rachelle and Rachelle loves her she will never put Rachelle up or vote her out.
Sabrina – "Canada I love you I love this game a lot I'm a fighter i'm staying in the house and going to win it.. I'm taking it as a compliment that you put me up.. "
Sabrina – "Sucks that you got my best friend out that is my ally.. what doesn't kill you makes you stronger. . I lost the love of my life my real life and i'm still stronger.. I'll survive"
Sabrina tries to rally her Montreal and Italian fans.. "cmon Montreal support me.. first Montreal player.. I need to F** win this HO I need the eye of the tiger"
Sabrina hopes that Allison is telling her the truth that she's her girl. Sabrina thinks it's the person that she least expect that will be there for her.. "F**** Arlie"
Sabrina talks to the Camera and it turns away "Are you turning away from mer.. ARGH i'm insulted"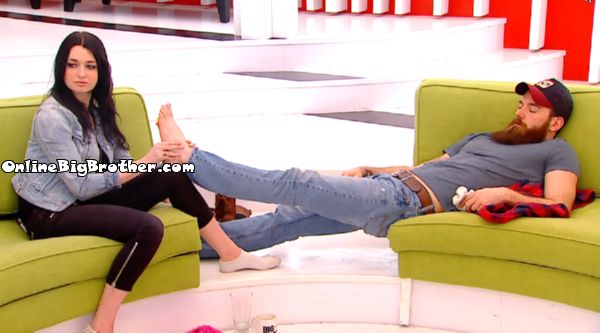 7:30pm Chit chat living room
Rachelle rubbing Kenny's feet..
Andrew says he if leaves he's not going to watch the show he will watch the finale though. He jokes about leaving the country and moving to Thailand. Andrew laughs says they will tell him at the airport "You big man you pick your nose"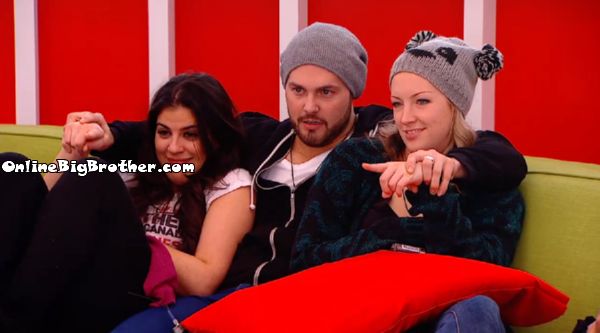 8:03pm Living room very boring on the feeds Allison and Sabrain sucked onto Andrew. He continues to do his beat boxing and accents.
They start talking about p**nis sizes. Sarah says "It doesn't matter if you can hit the bottom as long as you bash the sh!t out of the sides"
Sabrina – "Let be a voyager and bash the sides"
Sadel – Lets eat ice cream and bash the sides.. like a voyager I learn so many things in Vancouver bash my sides"
They start talking about "weed" Andrew claims that weed in Canada is federally decriminalized. (I believe marijuana is fully illegal in Canada. Laws have gotten much stricter in Canada under the Conservative Government. There's mandatory sentences now, you have 6 plants you do minimum 6 months in jail.)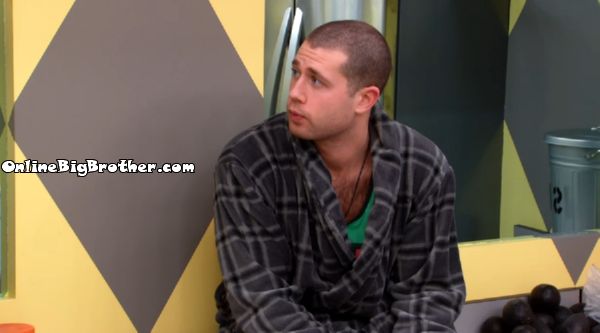 8:16pm Andrew and Arlie Storage room
Arlie asks him if he's thrown in the towel.
Andrew says no.
Arlie says he was going to vote for Sabrina because it looked like Andrew had given up.
Andrew isn't going to throw Sabrain name through the mud, "I'm not going to campaign against her I love her.. I still want to stay here we're a team"
Andrew says Allison and Kenny will vote to keep him he really hopes the vote comes out to be 6-3.
Arlie says he will vote for Andrew he doesn't have a problem with that at all, "I have no idea what the house is doing"
Andrew says he's been trying to stay positive but he doesn't want to try and go home anyways.. plus he doesn't want to hurt Sabrian.
Andrew – "Nobody has been placed in the same spot being put up by their whole Country
Andrew says going up against any of the 1st5 is like him going up against his brother he will never fight against his brother.
Andrew tells him allison is a awesome girl she will vote with them moving forward 'everything will go well regardless if i'm here or not"
Arlie tells him he's not opposed to Andrew making a real push and making a miracle happen.
Andrew says there is a wildcard situation, Counts allison, Arlie and Kenny as votes after that he could try for Neda and jon, 'Who knows what Adel will do"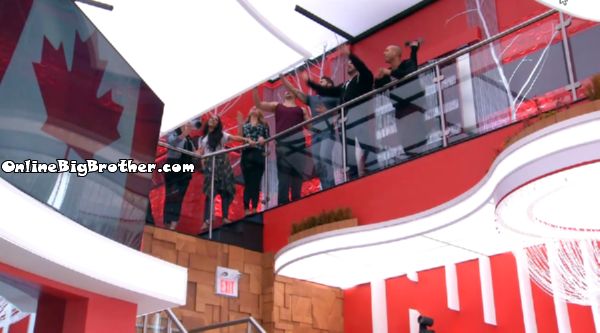 8:30pm O CANADA
They are made to sing the national anthem 3 times. ONce they are done they run up to the HOH but nothing was there.