POV Holder:
IKA
Next POV
?
POV Used
?
POV Ceremony
March 17
HOH Winner:
IKA
Next HOH:
March 20
Original Nominations:
Paul & Heather
Current Nominations:
?
Last Evicted Houseguest
Kyle, Anick
Have Nots
Jon, Allison, Paul
8:35pm Heather painfully going up the stairs with crutches Can her BB experience get any worse?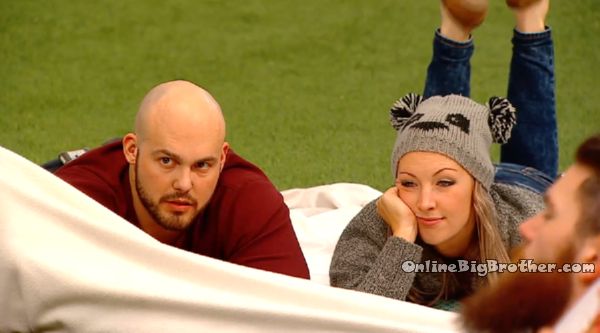 9:00pm HAmmock Most the rest of the house Chit chatting..
At one point Sabrina says she wants to be on Pauls HAve nots team so she can lose 10lbs next week. Heather heard and whispered to SAbrina that if she wins HOH she will not put Sabrina up.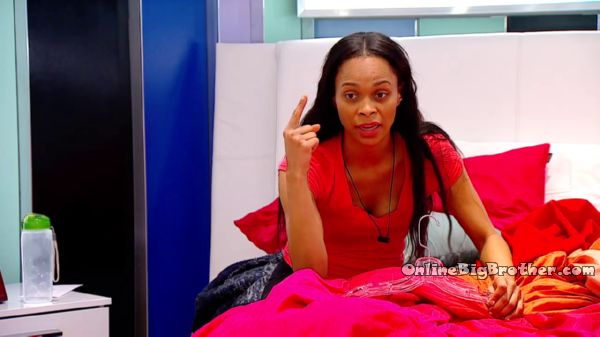 9:00pm HOH Paul and IKA Chit chatting about IKA"s life out side of the house.
IKA starts pointing out the flaws in Allison game. saying that she's only gone to the two new power players, Kenny and Andrew.
Paul says it would be smart for a new player to come into the game and get to know people, "She doesn't know a thing about me, doesn't know a thing about Adel"
IKA thinks that Allison is going by what Andrew has told her about Paul.
IKA says that her face is very cold and she thinks that is why Allison has been apprehensive about getting to know her.
Paul gets up to leave, IKA says on Wednesday she wants to have a game conversation with him.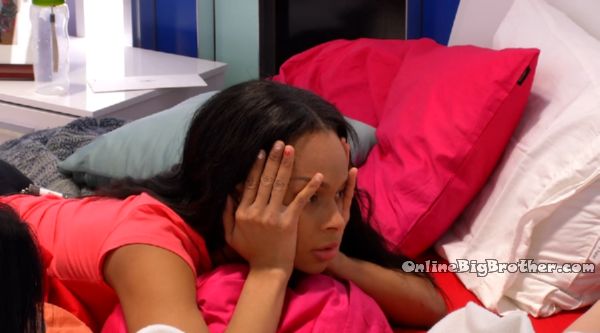 9:08pm HOH Sabrina, IKA and RAcehlle
Sabrina – "So New girls is all up in Andrew's grill right now"
IKA says that someone told her they heard Allison in the bathroom saying she doesn't know why IKA doesn't like her.
Sabrina – "If that's f*** Heather I'm going to kill her"
IKA says it was Adel or Paul told her
Sabrina says it's 100% a lie if it's coming from them , they are trying too hard.
IKA mentions how Andrew walks around saying that Allison will do whatever he says.
IKA " Who died and Made Andrew the King oif F***** Big Brother.. who are you "
Sabrina is annoyed at Andrew right now. Sabrina adds they were on the bed and Andrew said 'Things you don't say.. hashtag I'm your big brother, hashtag why did you say that to me, Hashtag I didn't understand you, hashtag you still have a chance, hashtag blah blah blah.. "
Sabrina – "She (Allison) comes outside and said.. late nights chats on the hammock"
IKA – Ewww"
Sabrina – "Go F*** yourself you loser"
IKA thinks that Andrew is trying to bug her with how he's acting with New girl. IKA says she thinks Andrew likes her.
Sabrina- "Well I don't ever want to talk to him again"
Sabinra adds that Andrew has been asking her in spanish to dance like a sexy lady..
Sarah comes in to use the washroom.
IKA – "Oh did you hear Kenny saying Paul going home isn't good for 'my' game"
IKA – "Who are you wildebeest Kenny.. who are you"
They start talking about Heather in a negative way. Sabrina says that Heather will put up Allison.
Sabrian – In thre days Andrew and new girl are like this.. in 3 weeks where will they be married impregnated.
Sarah – he might annoy her before that..
IKA – He's friggin annoying as shit.. he pissed me off last night.. he talks like he rnus the house
Arlie joins them…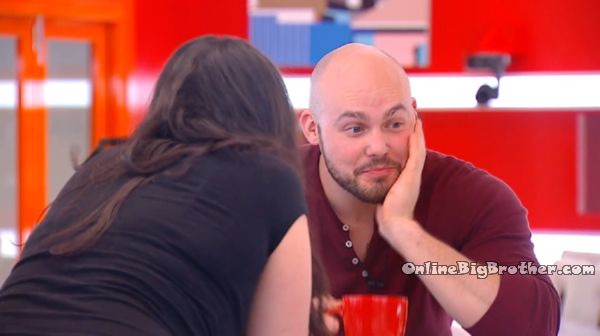 9:30pm Sabrina and Andrew KItchen Sabrina says they are not close anymore ever since the new girl came into the game, "It's scary to think you can change so much in 3 days I hope this doesn't get in the way of the plan"
Andrew – "I told you it doesn't"
Sabrina says she misses how things were with them cuddling, "It's not the same anymore it sucks.. "
Andrew says nothing has changed, if Sabrina thinks things are different he'll change.
Sabrina says tomorrow everything will be different she's over him, "I don't want to like you.. at first I liked Kenny..I liked you I was stupid"
Andrew – So liking me is stupid
Sabrina – Stupid is three days you run to the new girl and day one she asks to sleep in your bed.
Sabrina – As of tomorrow morning I don't like you anymore we are back to being friends.
Andrew says he's been an a$$hole if he's been ignoring her for the last three days. He never thought it would affect her because they were friends.
Sabrina says he was massaging her in front of sabrina so that show her he doesn't give a sh!t about her.
Allison joins them.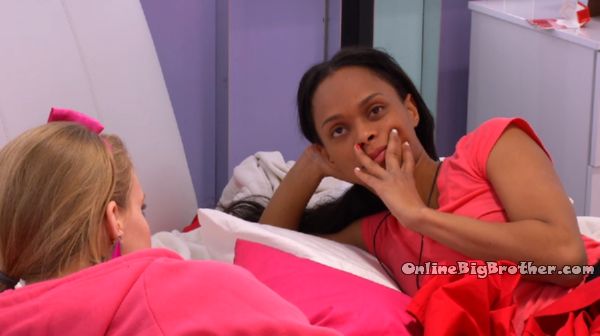 9:46pm Heather and IKA HOH Game Talk
IKA – It would be nice to put up Kenny and get him out of here.. but it really only give them a reason to put me up because I put their friend up.
Heather – Jon and Arlie are logical players. She points out that Jon has a hurt shoulder it will make him weaker in comps.
IKA – When I won HOH JOn was like.. It's your HOH what are you thinking. IKA suspects JON really likes Kenny.
IKA – If I take out Kenny I only have Andrew after me.
Heather – People will vote out Andrew before they vote out Kenny
IKA – If I kick Kenny out and that new girl or Andrew win HOH they put me up.
Heather – she's a smart girl she just likes hanging out with guys more.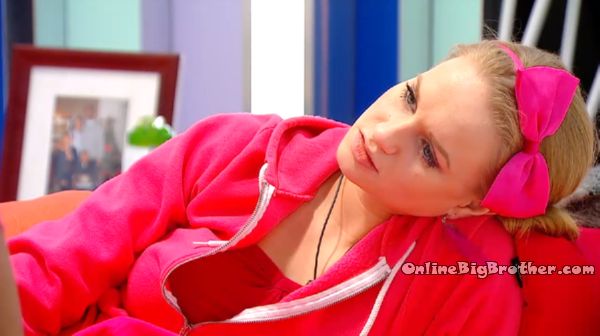 9:53pm HOH Heather and IKA
IKA says if you came off and Paul stayed.. we cannot trust Paul. Kenny has to go..
Heather – "If you got Kenny out I would fight for you to stay in this house"
IKA – But you can't compete"
Heather – some of the girls would see it as a smart move because you are getting out a strong player.. but there are too many girls playing on their emotions.. Sarah would be gunning for you to.. do you play a good hard game or do you play a soft game."
IKA says Adel, Sabrina, Rachelle and her would be the target if Kenny wins HOH. They agree that Kenny has a real good chance to win it.
Ika thinks if KEnny leaves, New girl, Jon and Andrew will team up, "Jon's a physical player but he's injured"
Heather – "I can get close to the new girl and I'm close to Andrew and Neda is close to Jon"
IKA – I don't think this is the right HOH to do this
heather – If you choose to take Kenny out you will have my back
If she nominates Kenny she will tell Kenny that he is a social threat and a physical threat, "Don't tell anyone.. it's just a thought I'm just thinking.. "
IKa – If I take Kenny out the girls will see me as a strong player and take me out.
10:11pm HOH
IKA says her final 6 are Heather, Adel, jon.
IKA – "I would say NEDA but she is really close to Jon"
Heather – "I feel bad for Jon's girlfriends because I know how they are being portrayed.. if she is watching live feeds she'll get it"
Heather – "Neda is a uncover strong player.. she threw me under the bus for Rachelle."
IKA – If I leave the nominations the same they are not coming after me next week.
IKA – "MAybe I should evict Kenny.. if Kenny left the game would be a lot easier"
10:18pm Storage room IKA and Sabrina
IKa – "I want to send f*** kenny out of here"
Of course Sabrina is against this.
Sabrina and IKA call Heather "Chucky's bride" and continue to bash her..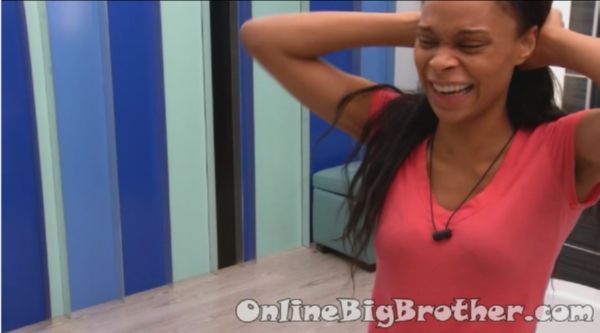 10:43pm HOH Sabrina and IKA Trashing Allison…
IKA says Paul told her that the new girl doesn't like her.. "She looks at me funny with her ugly eyebrows"
Sabrina – "It bothers me so much IKA:
IAK – "I know that"
IKA – it sucks because She (Allison) IS nice.. almost too nice..
Sabrina says that it's upsetting her waht is going on with Andrew and Allison. IKA has noticed that Allison will not leave Andrew alone.
Heather joins them.. Sabrina says she's not jealous, Andrew was her friend now she doesn't feel that anymore.
NEda joins them girl chit chat ensues
11:00PM Production tells them the Hashtag Challenge is over. the winner will be revealed tomorrow.
11:20pm Allison and Andrew HAmmock Allison comments on how low the hammock is getting. (It's starting to wear out)
Allison says she's not wearing any makeup. Andrew says she looks very nice. Allison doesn't like her Big Brother Picture on the back yard wall. Andrew says it looks nothing like her.
11:28pm IKA, Heather and Sabrina
This video has SAbrina and IKA being mean to Heather with some NEDA joining in half way through.
Neda asks if the new girl has a vote. SAbrina say yes she asked.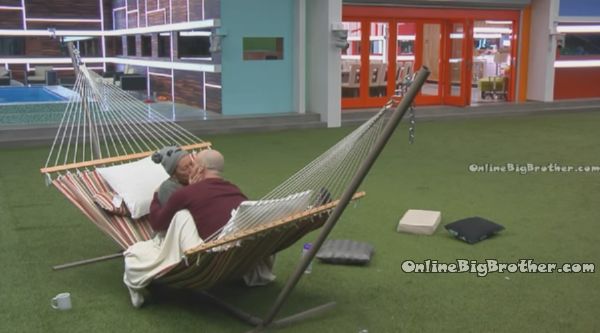 11:44pm +1:00 Allison and ANdrew Hammock
Allison says she would like to go in the bed and cuddle.
Andrew wants to give Allison a oil massage. She tells him not in the Big Brother House.
She brings up someone she was seeing before the season started.
Andrew – "If I can't smoke and I can't swear i'm f***" Andrew explains this is a joke from trailer park boys
Allison asks what Kenny thinks with thee two of them hanging out. Andrew – "He doesn';t ah.. he doesn't think it's a bad idea.. or.. I spoke to him about it today.. he thinks .. he said If you like her go for it.. He gave me the advice Be careful"
Andrew – "I'm still trying to gauge you"
Allison – "people say I'm hard to read"
Andrew – "I'm trying to read if you are interested in hanging out fully.. or whatever it is"
Allison – "Are you…"
Andrew – "I am"
Allison tells him she'll tell him if she's feeling in a awkward situation.
Andrew says he'll go sleep in her bed but she'll have to sleep on top of him (Because theres no room)

(Video coming)
11:55pm IKA, Neda and SAbrina
She's telling them about her idea of nominating Kenny. Sys it's just a thought.
Jon joins them.
Sabrina says Allison has a boyfriend and now she's cuddling with Andrew she's a horrible person for doing that.
Sabrina calls Allison this seasons "Jillian" Jon adds that Allison will be a physical competitor.
Sabrina – "DAy one she asked to sleep in Andrew's bed.. did you know that"
Sabrina – "She was sent in here to distract Andrew because Canada wants Andrew out."
NEDA- Thats a stretch I think..
IKA – I don't think she's the saboteur
Sabrina – I don't like her anymore… it's not that I liked Andrew.. I was with Andrew (Points to Jon and NEda) "Like you two"
Jon comments about how much fluid is around Heather's knee.
IKA says she wants Allison out before Paul, NEda doesn't think thats the best idea. Neda is worried that Paul is going to be dragged along until Jury then nobody will vote him out because he's useless.
Jon thinks it's very strange
Sabrina says Allison is the saboteur and she is stealing the cigarettes, "She's Weird, she's in the Diary room more in three sayd than I have in 18, She's stays up till the crack of dawn"
12:32AM BAthroom Sabrina, Jon ANd NEda Sabrina pleads to Jon to not tell Kenny anything about Ika talking about nominating him.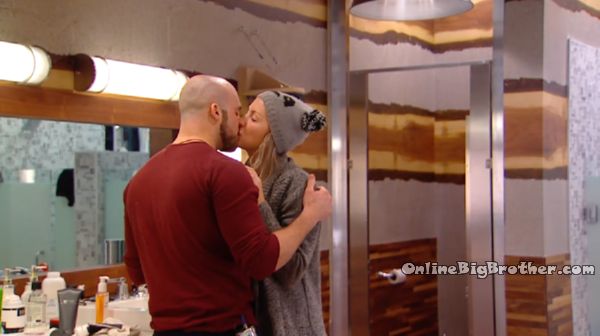 1:20am More late night kissing from Andrew and Allison
Here is a video of Paul scratching his butt for 40 seconds https://youtu.be/Sm93AkRefK4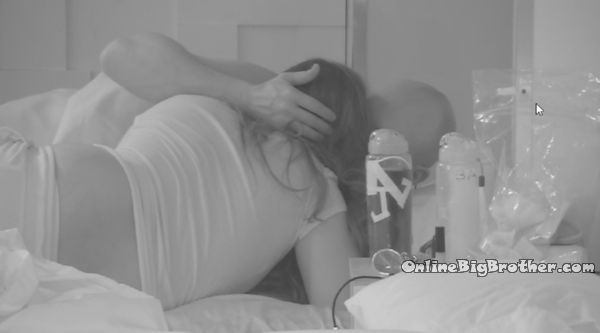 1:33AM Andrew and Sabrina Bed Sabrina tells Andrew that Allison has a boyfriend (Allison already told him about this)
Sabrina tells him she is Canada's player and was brought into this game to mess with Andrew's game. She says it's obvious how Allison is not spending any time with people because her job is to disrupt Andrew.
Sabrina says Sarah does nothing with the other girls it's been her busting her butt the entire time. Sabrina – "All Sarrah does is hang out with Jon and Kenny"
(Sabrina essentially tells Andrew all her crazy theories about allison in the game. Andrew leads her on more saying that he likes her and thinks she is an amazing person. Theres 44 minutes of talking here I picked out some choice comments but there plenty more in there)
Andrew – "I think you are gorgeous Sabrina"
SAbrina – "Thank you that is very kind of you..
Andrew – I think you are very beautiful
Andrew "I Swear on my family that this final 5 is all I have in this game"
Want to watch the Big Brother Canada 2 live feeds? Bypass the geoblocking with HideMyAss VPN and be Canadian Anywhere:

(It's tough to watch Big Brother Canada from the US. Circumvent the Geo Blocking and watch the Show and the Live feeds straight off Slice's website. Using a pay VPN is very easy and free of malware, I do not recommend using a free service as these are notoriously trouble. $11.00 A month Sign up here