POV Holder:
Jon
Next POV
?
POV Used
NO
POV Ceremony
March 31
HOH Winner:
Canada
Next HOH:
Apr 3
Original Nominations:
Andrew and Sabrina
Current Nominations:
Andrew and Sabrina
Have Nots
Jon and Adel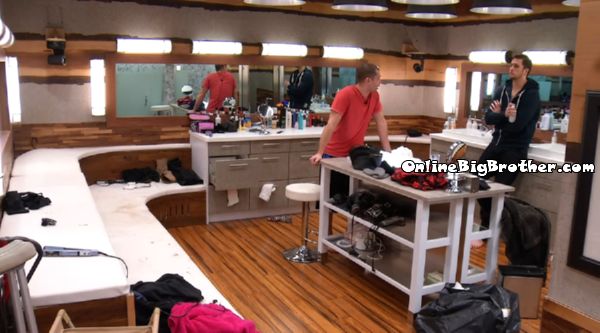 8:48pm Bathroom Jon and Arlie
Jon is pointing out how obvious it is that Kenny is coming after him next week. Arlie thinks after Andrew goes they can calm Kenny down.
Arlie brings up how the HOH competition they are going to have is perfectly suited for Kenny. Jon thinks Heather has a good chance to win it. Arlie – "Kenny is the best.. he has the best memory in the house"
Arlie mentions how Deli is deadset on not backdooring Kenny which Arlie thinks they should. jon agree they should backdoor him.
Arlie says even if Kenny wins the POV they have Deli's power and can put up Allison aor Rachelle and get them out.
Arlie – Either way we'll get out Rachelle or Alison if KEnyan wins (using the power that Adel is saying he has but he only has a veto card)
Arlie tells him Momzi is really trying get Kenny to stop coming after Jon.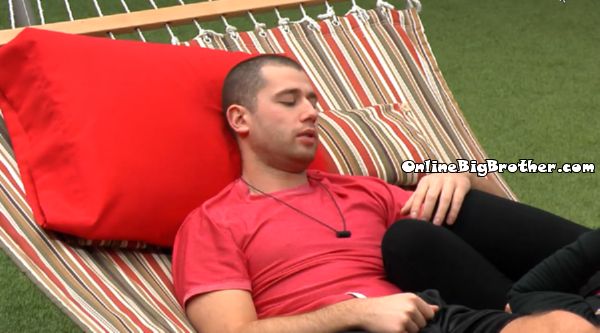 9:00pm Hammock Momzi and Arlie
Arlie – how is everything with you and kenny
Sarah – fine and I calmed him down after the jon thing.. he's still unsure about jon
Arlie – A I can feel it, you and I are sitting pretty still
Sarah thinks tomorrow is going to be a crazy day and night.
Arlie and Sarah agree they both want to get a good sleep tonight to be ready for tomorrow.
Arlie – Jon just gets too worked up
Sarah – I know
They both agree that Jon is overreacting they were in a great spot this morning and he kinda messed up talking to Kenny.
Sarah – "F*** sabs the thing that scares me is she has such an ability to make you feel safe."
Sarah- " She told me she told you I was worried about Kenny"
Arlie – She's playing so many angles
Arlie says Sabrina is trusting him now more than anyone else beside Rachelle they can use that, hopefully she will tell him stuff about Sarah.
Arlie – "I love it that she thinks she's playing me.. but i'm playing her.. it's makes me hard to think about it"
Arlie – I can't wait to crush her soul in this game.. the first five needs to stick together for another couple weeks.
Sarah wonders if they should get rid of Sabrian so early
Aralie mentions that Allison and Rachelle are controlled by Sabrina.
Arlie thinks the eviction order should maybe be Sabrina, Rachelle and Allison
Sarah would feel more comfortable getting rid of Heather first then starting to pick off their side.
Arlie – Thats not bad idea.. it's a option i'm not ruling that out
Sarah says today she was ready to toss her out the window.
Arlie and Sarah agree that Sabrina has that initial loyalty with them where they don't have it with
Arlie points out he's not at the top of his side Jon is at the top
>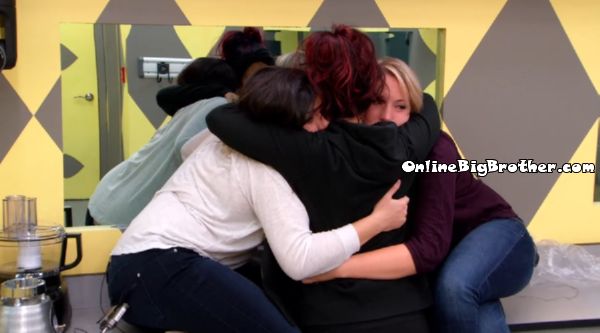 9:10pm Storage room Tears
(Didn't listen to it can't handle it)
Sabrina tells Allison whatever she needs to know she'll tell her.
Sabrina says it's them three against the house now.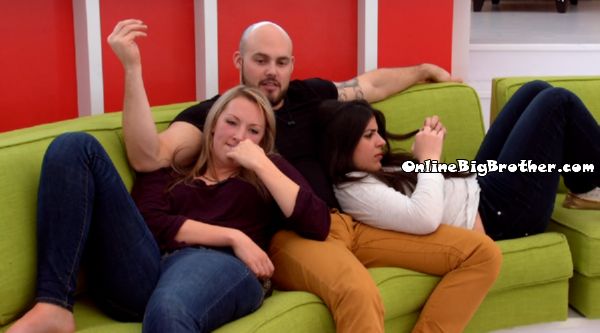 9:30pm Living room Andrew with his girls.. Sarah, racehlle and Kenny are on the other side of teh couch.. chit chat.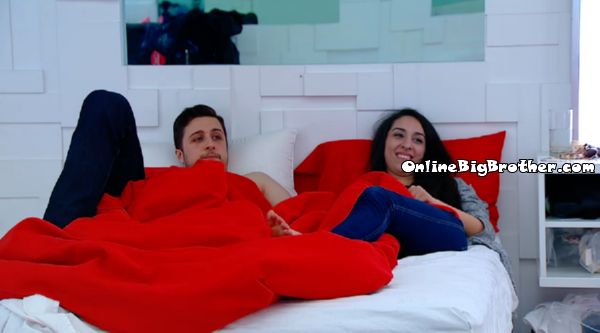 9:15pm Adel, Jon, Neda and Heather bedroom
They start laying out their plans for next week. Adel thinks Sabrina is running the girls side.
Talking about how ALlison is threatening everyone if they don't vote to keep Andrew they will go hom.
Jon – "They think they are still running sh!t"
They bring up how the other side keeps saying that Andrew is going home because he's such a strong competitor they think he's going home because he's a douche bag.
Heather says Andrew treats her like sh1t
Jon – "I can't believe he called you a f*** dumb b1tch"
Heather – "straight to my face"
Neda- "and he wonders why he's on the block"
They talk about their fear of Sabrain going in Jury and spreading all her lies. Heather brings up if SAbrina was able to cause so much damage in the house with her lies and gossip just think of what she'll do in the jury house especially if someone she knows is in the final two.
The boys leave Heather and Neda.
Neda says it would be so nice if they can keep Sabrina, Andrew and Kenny out of the jury.
Heather – "kenny is going to be so bitter"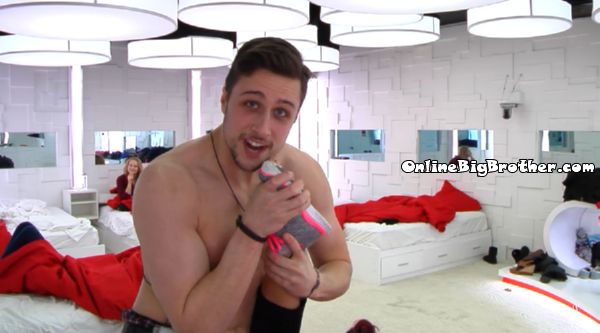 9:40pm Jon and Sarah wrestling around
Jon grabs her foot "Hello its me Jon and welcome to foot fetish wednesday"
Sarah – "Get off of me in that position.. you're like thrusting over me.. "
Jon – "You know what we call that in newfoundland.. "
Sarah – "Start with an R and ends with an APE"
They laugh..
After Jon is done with Sarah he grabs Neda and they wrestle.
[polldaddy poll=7935497]