| | | | |
| --- | --- | --- | --- |
| POV: | ? | Next POV: | July 21st |
| POV Used | ? | POV Ceremony | July 23rd |
| HOH: | SAM | Next HOH: | July 26th |
| Noms: | ? & ? | Have Nots | ? |
Big Brother Spoilers: Sam's + 1 life Power App will automatically get used this week.
8pm Sam wins the Endurance HOH competition. She jumps down and everyone runs over to congratulate her.
8pm – 8:15pm Big Brother then blocks the feeds.
Sam – I'm not eating until we do Taco night. Tyler – no, you earned it. Sam – no we made a promise. Tyler – you earned this. Sam – No, I'll wait. We made a promise. Tyler – but not if you win HOH.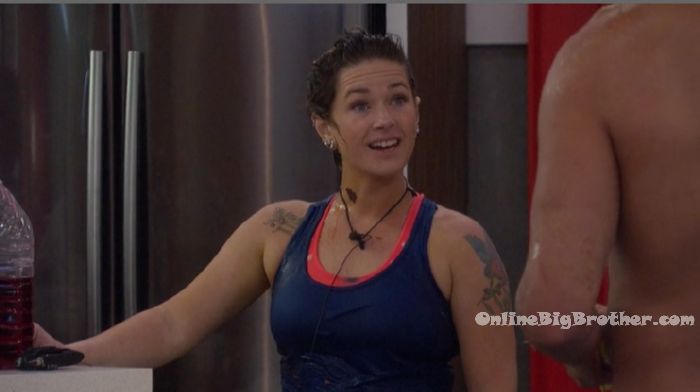 8:20pm Rockstar and Bayleigh. Rockstar – he (Brett) needs to stay the f**k away from me! That rich, privileged motherf**ker! Bay – don't let him bother you. You make him feel uncomfortable. Period! I really can't believe that was it. People really don't try to win in this game. Rockstar – I really wanted to win that for (her daughter). What have I done to this motherf**ker!! Bay – switch it around and don't let him be right. I need to pull my sh*t together!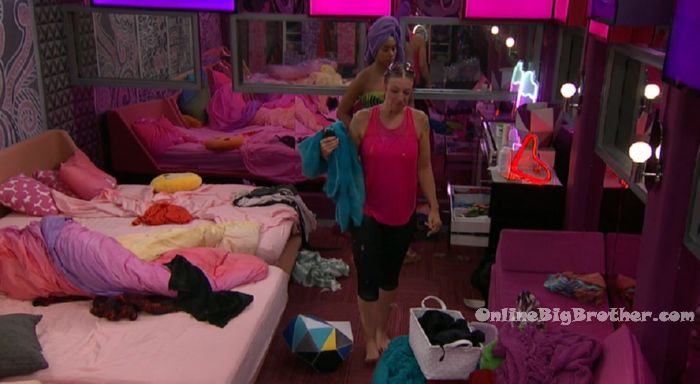 FLASHBACK and watch everything you missed: Live Feed 7 day FREE Trial!

Kitchen. Rockstar and Sam. Rockstar – So mean for no reason. Sam – its just for TV. Its a game show. Rockstar – Brett has like $500,000. He didn't even try out for the f**King show. Sam – I didn't either. Rockstar – but you're awesome. Haleigh – I didn't try out either. Rockstar – but you're awesome too. Broken down by some a$$hole bully. Sam – NA! Brett was a baby too. He has a momma too. Rockstar – I bet she's proud. Sam – I'm sure she loves her baby too. Rockstar – My babies better never talk to nobody like that. Sam – alright, fair enough. Rockstar – dishonest like some bullsh*t a$$. Sam – its just a game. Rockstar – I really am happy for you. Me being upset has nothing to do with you winning. That was bada$$.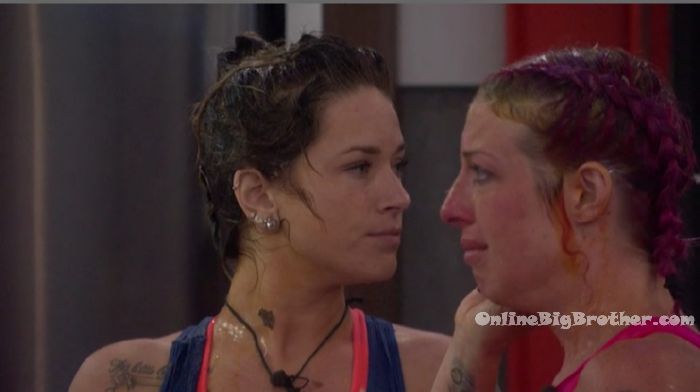 Bay and Fes. Bay – I am sick and f**king tired of all this sh*t and all these lies. All this stuff, I'm going to do this… I'm tired of it!! You and Swaggy! I'm f**king sick of this sh*t! Fes – obviously one of them lied to us. I don't know which one it is. What do you want to do? Do you want to put two of them… Bay talks about the votes. Fes – it was off by two. JC voted to keep Brett. Fes – did you see Sam with Tyler? Bay – Sam has a final two with Tyler. Fes – so why not use it (Bay's power) and throw Tyler up this week. Bay – No! And waste it and then me not be safe. We will wait until after the veto. I know she isn't putting me up.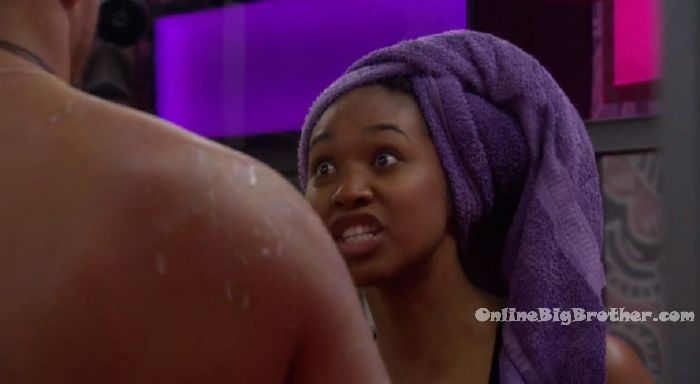 8:30pm Fes – I just don't know what the f**k is going on. Kaitlyn to JC – you don't still think it was me do you? JC – ah like I said.. on the tree I tell you what I saw.. I thought it was you … like no lie. But right now with all perspective and talking to me in the shower.. Kaitlyn – on my f**king career, on kait coaching, on Joe, on my mom, on my dad, my brother, on everythink I believe in .. so help me god .. which is to tell the truth. JC – we'll sit down .. not right now when we're hot headed. We think about who benefit are this. Katilyn – I think Brett is telling the truth. When I was in the shower when Rockstar was freaking out she never said I can't believe you would do this to me on (her daughters) birthday. She never said no. Fes – that was two flips. Kaitlyn – I know! I don't think it was Tyler, he looked at me and he swore on his fathers grave.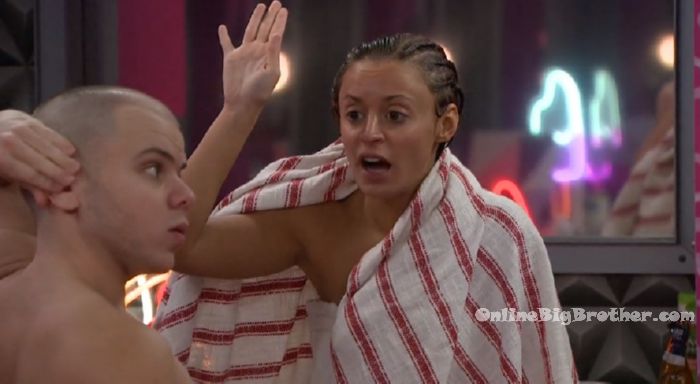 8:35pm Havenot room. Brett and Kaitlyn. Brett – Rockstar swearing on her kids. Don't bring that sh*t in here. And saying its her daughters birthday. I didn't know it was your daughters birthday. I am genuinely sorry its on your daughters birthday but don't blame it on that. She is screaming at me out there.. haleigh joins them. Haleigh – did she talk to you? Brett – it was a quick convo.. who is the least likely person to work with? Me. It was the same information that she was given to her. Or the same information that you gave me in our convo. Listen, there's a five / five split. Obviously I was under the impression that you guys had the six to vote me out. Kaitlyn – yeah we did. She (Rockstar) came to me and said that she would be the sixth vote and blame it on Kaitlyn on the way out. And that's why I didn't just some to you I was going to say it in front of you. I have no clue who voted me out. Haleigh – the intensity of her reaction right now. If Brett said that to me, I would just say f**k you. Kaitlyn – I can't work with her moving forwars. I don't trust her. Its scary. She approached him before the vote. Brett – she said and to do this on my daughters bitthday! I'm sorry I didn't know it was your daughters birthday. Tyler – I would never swear on anything or anyone. Don't ever ask anyone to do that ever again. Brett- it doesn't validate anything. Kaitlyn – okay. Just because it means something to me, it doesn't mean it means anything to you. Bay – I wish Swaggy was here. He would have won that comp.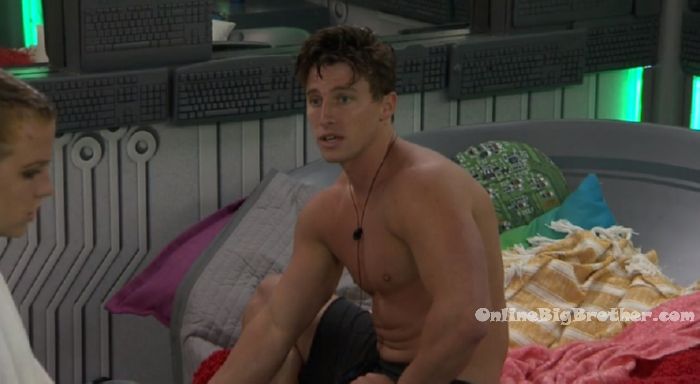 9:20pm – 9:30pm Lounge room. Bay and Haleigh. Bay – she was like it had to be Bay and Kaitlyn. Bay – do you want to go punch her in her face? Haleigh – no. Bay – because I am pissed of with people not …Lie I am never in the loop. People never tell me anything. Haleigh – we don't even need to have this conversation. We are on the same page. Bay – I just want to know where we're voting!! Haleigh – it either had to be her (Rockstar), Tyler or JC? Bay – Kaitlyn said he did. Haleigh – she asked me if I flipped in front of Brett. Don't ask me if I voted to evict the person that is right beside me. Bay – at this point Brett isn't mad at you. Kaitlyn – the fact that Rockstar went up Tyler and said she was going to flip that vote and then blame it on Kaitlyn. kailyn – how am I supposed to trust any of theses girls.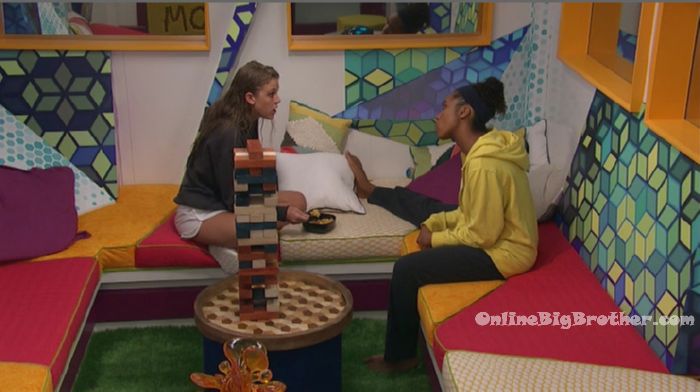 9:40pm Lounge room. Bay and Tyler – I have been in the dark 3 times. Tyler – you and I need to stay out of this sh*t. Bay – I am just going to chill.
For all you folks that need a VPN I use this one
Rank the houseguests!
Easiest way to Rank the house guests use link below