POV Holder:
Johnny
Next POV
April 10
POV Used
Yes
POV Ceremony
April 12
HOH Winner
Brittnee
Next HOH
April 8th
Nominations:
Kevin Bobby and Graig
Have Nots
Ashleigh, Bobby, Zach, and Kevin
POV Players
?
If you are outside Canada and want to watch the FREE Big Brother Canada Live feeds sign up for a VPN service here https://www.hidemyass.com/vpn/r16399/. It's safe to use, easy to set up, and cheap. Need to know more check out this post explaining how to set it up.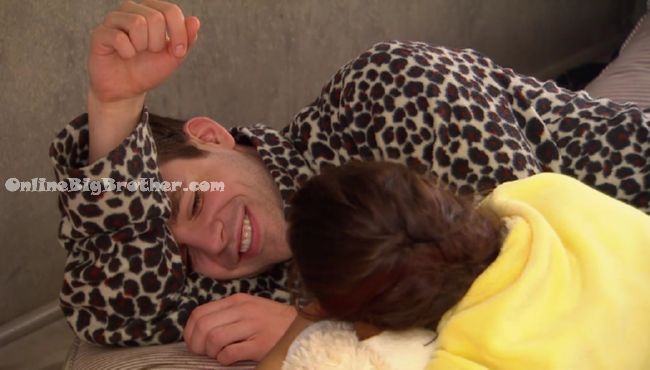 8:01pm Kevin and Pilar
Kevin asks her if she's in an alliance. Pilar says the only thing she's involved in is that thing with Ashleigh.
Kevin says he doesn't have an alliance with anyone.
Pilar is surprised.
Kevin says he trusts PIlar the most, followed by AShleigh and Willow ("100%")
Pilar – same here
Kevin says if anyone is going to target their showmance they are going to take him out She's safe.
PIlar asks if people would actually go after them to break up their showmance because they are different people in the game.
Kevin doesn't think so mentions that it was Graig being paranoid who brought it up.
They start kissing.
Kevin – I really like Ashleigh… JP and Zach are cool
They both agree after the show they will be great friends with Graig or at least give it a honest attempt. In the show however Graig is a idiot, They laugh at him.
They laugh about asking Graig if he broke a camera and telling him his energy has been down lately.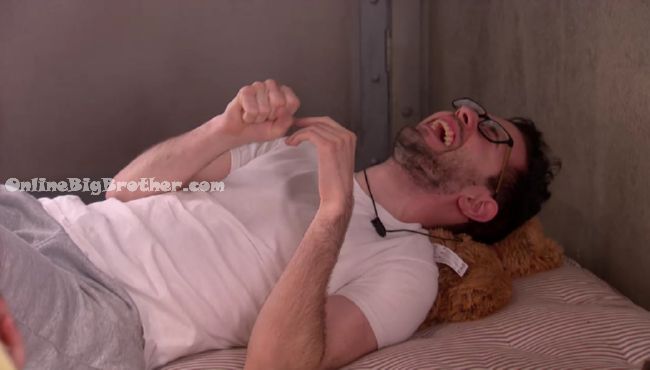 Jordan comes in They start sharing stories about Graig..
Jordan mentions how Graig came up to him saying they have to let Kevin go and keep Bobby, this was right before the veto ceremony.
Jordan adds Graig telling Brittnee that he was a floater, "He's insane.. he's nuts"
Jordan – He's always 604 we're together
Adds Craig is going around claiming he's not in any alliances, "He's obviously with those guys"
Kevin mentions Graig thinks he's going to stay.
Pilar – He's going to be shocked
Jordan – 13 people are left
Pilar – it'll be 10 nothing
Jordan says Godfrey and Bruno are campaigning hard to keep Graig.
Jordan laughs saying that Godfrey came up to him "I don't know man we don't have the votes man"
Kevin mentions Graig going around last night telling people that the season won't be as good without him. He said to Kevin "Take a step back look at our season Production wants me here.. the show is better with me in this house"
Jordan – he's so full of himself.
Kevin He's like it'll still be a good season but it'll be better with him
Pilar says Tuesday night will be crazy.
Kevin shows Pilar and Jordan about the two trick tiles that activate the alarm in the Have nots room.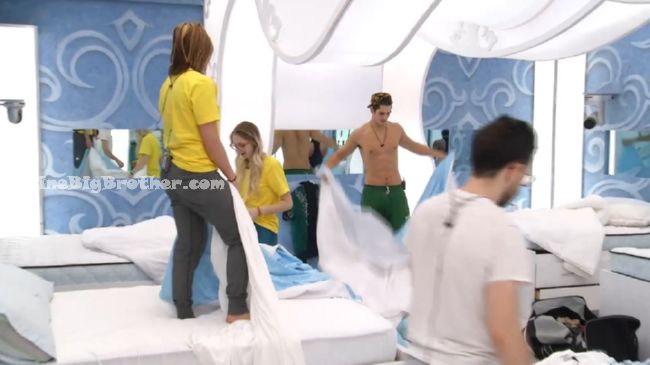 6:38pm just Chit chat going on.. Zach tells them football has the most swearing in it of all the sports.
6:52pm Bedroom Sarah, johnny, Kevin, Zach, Willow
Sarah can tell Graig is fighting to keep silent around her. Johnny mention how Graig was glaring at her.
JOrdan lets them know bruno and Godfrey are fighting for him to stay they think he'll stay.
Willow thinks they should tell Graig a hour before the show to let him know he's going home. Sarah and johnny don't want to they want it to be a blindside. Zach thinks the way you leave in this game shows your character they should let it be a surprise. Johnny thinks people will boo him when he
Johnny about Graig outside the game – I have no beef about him
Jordan says Graig isn't a bad guy
They all agree
Zach – Things in this house are amplified…They are put on a high pedestal.. if you are angry in real life your're explosively angry here.
Zach – He's real, passionate, Forward, emotional maybe a little bit of a temper.. that gets all magnified and worked up here.
They agree Graig will have the lovers and haters outside.
Jordan climbs on a laundry hamper and it breaks.
They start impersonating Graig. Jordan goes through when Graig came clean about being a former professional baseball player, "I met Derek Jeter. I was an all star man"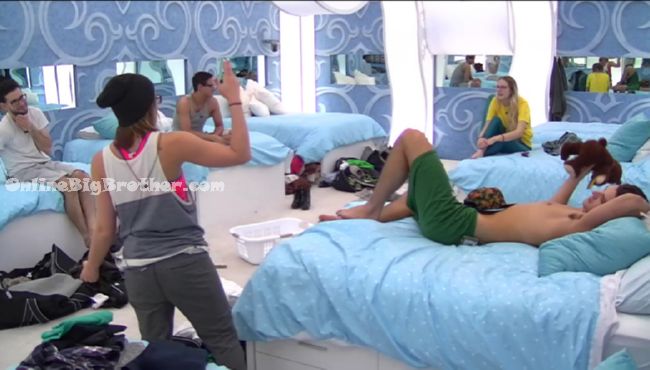 7:12pm Bedroom bunch
Lots of Graig bashing/impersonating. Conversation move to Risha.
Willow tells them a time when Pilar left a pile of toe nails and Risha started on a tirade about how gross it was.
Willow mentions Risha said "I could puke all over you "
Jordan – She's a very lonely person and not use to people being around
Willow – she jumped on me as soon as she thought I was a lesbian "She was like so you're into girls.. she cornered me in the bathroom"
Zach brings up that Risha told him "Watch out for Willow I think She's a lesbian" Zach goes on to say she told him "Watch out for Willow I think She's into girls"
Willow – Watch out for her.. what does that mean
Willow – She's into girls
Johnny – she said the same thing to me ans I was like Willow's not
feeds cut