Feed subscription lets you go back and re-watch everything we post here CBS All Access Live Feeds with a FREE 7 DAY trial.

8pm Bathroom – Jessica & Elena. Jessica is doing Elena's makeup. In the backyard. Mark and Paul are playing pool.
8:35pm Hammock – Raven and Matt.
Matt – I think the agenda is pretty much the same as last week. We just don't want Jess or Ramses to win it. Its the exact same. Raven – yeah, because if its down to us 3, I don't care who wins. If it comes down to Paul, you or me I don't care who wins. Raven – I like when people underestimate me. Matt – yeah you want that. I want people to think I'm special needs. Raven – they do. Matt – I know, its perfect. Raven – Jessica thinks she's so smart. I'll throw your a$$ up. Alright black widow! Matt – you want people to underestimate you. Raven – Alex doesn't. Matt – yeah but Alex is smart. Raven – Paul is doing a great job at talking to everybody. He knows where everyone's head is at. Matt – yeah, he always does. Matt – oh I didn't tell you this. Apparently Mark was talking to Kevin the other day .. and Kevin brought up we only have 1 more week till jury so if we just get out Ramses, Josh, Jess the it will all be good. Kevin brought that up. Raven – No.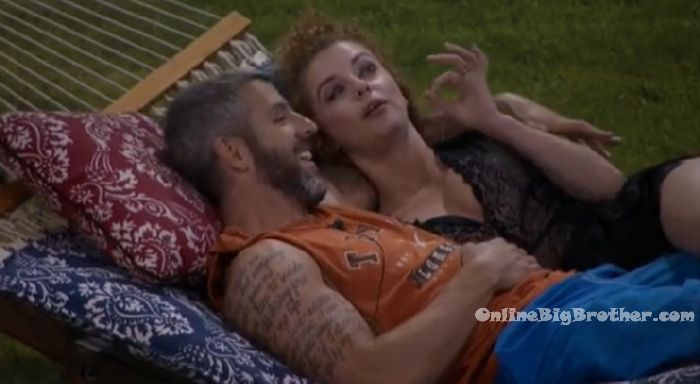 8:45pm HOH room – Jason & Josh.
Josh – If I don't win HOH this week I know it will be me who goes next. Jason – that all depends on who gets it. You know what I mean but they're worried equally about you. I'm sure if Mark got it BOOM he would throw your a$$ up in a f**king second. If you get, you throw his a$$ up. I mean that's perfectly fair. Its too early to think about next weeks evictions, we haven't even gotten through this weeks evictions. I know they are but I'm not. Josh – to be honest with you to shake up the whole Mark thing is kind of hard. I know I f**ked up when I had the whole house in front of me. Jason – you could also slap Jess up …you have a lot of options. But I liked your original plan too. Josh – yeah, I'm going with that. I can go personal and I can go strategic and I think at this point we need to go strategic because personal doesn't work. Once we get HOH we'll figure all that out. If I don't get HOH, they're going to clip me next week. Jason – just stay low. Josh – what should I do with Mark. Jason – just keep talking to everyone. He's not a guy to hold grudges. Josh – I'm not a person to hold grudges. Jason – let him be the one. Dead to rights. When he did that people were thinking what the f**k but then you took it… You don't want to exile him. Jason and Josh head downstairs.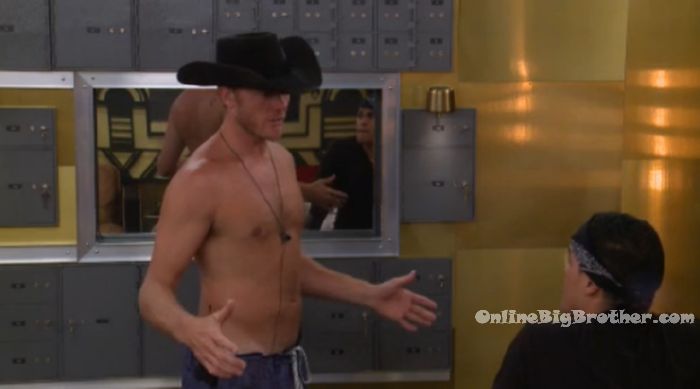 8:50pm Ramses heads into the storage room. He talks to the camera – Its funny because I know my game sucks! I look at myself and am like Ramses you have literally as a superfan I have been f**king up ever since the beginning but I know I can bounce back. I know what I need to do to bounce back and thats to find people that I can trust but right now I don't feel like there is anyone I can truly, fully trust. But if I can't I guess I am going to have to Gary from BB Canada 1 it and I'm going to have to Janelle it from BBUS and win these comps and get to the end. I can do this. I truly think I can do this.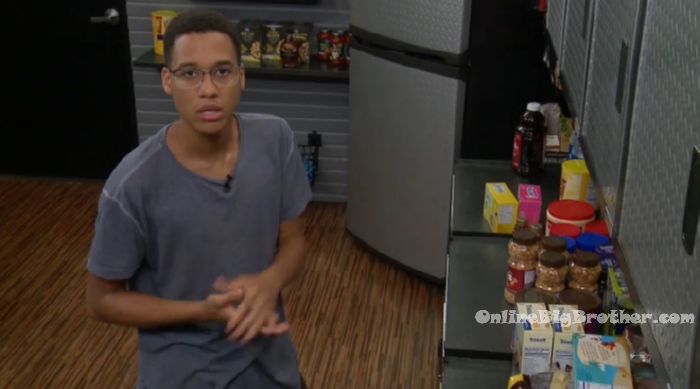 9pm Backyard – the house guests are sitting around chatting about random things.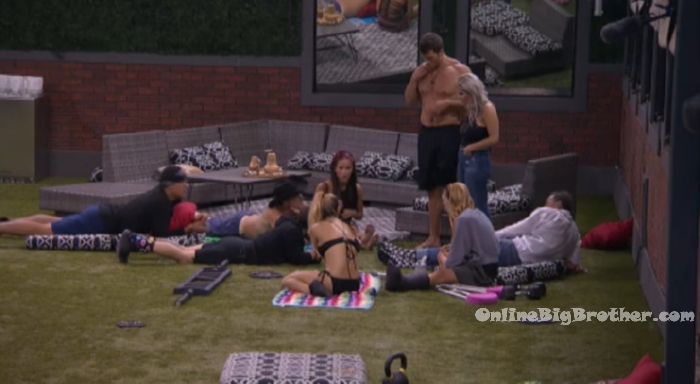 9pm Lounge room – Bible time with Dom.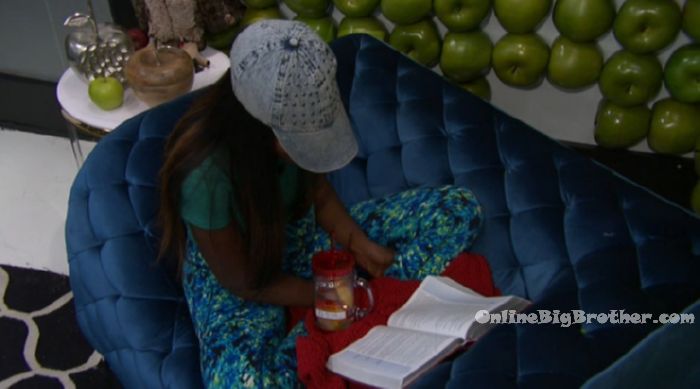 9:30pm Christmas asks Jessica to fill her in on what was going on in the house while she was gone in the hospital.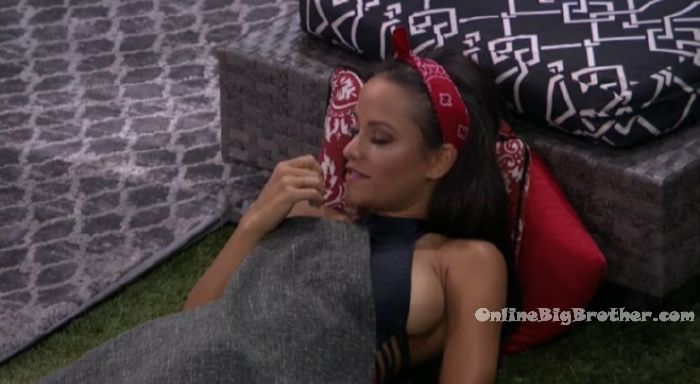 9:40pm Alex, Jason & Raven
Raven – all I have is my word. I could die next year. Like literally, I struggle every day. All I have is my word. Even ask Elena and Christmas.
9:45pm – 9:50pm Christmas and Paul.
Christmas – Jessica is making the rounds by the way. Paul – has she mentioned my name? Christmas – no. She is trying to find out where the votes lie. Paul – She isn't even going to ask me. Christmas – She asked me how I was voting. I said right now I'm voting for Dom to leave but she still has the opportunity until Thursday. I took some time to ask about CO.. Paul – did she tell you anything? Christmas – no. Paul – whatever he's out of the house now. He said he didn't like me because of my last season and before he went out he said he liked me. I'm like what do you want to make out?! Bye BYE BYE! I'm going to try and win (HOH) but if I don't I'm curious to see who does what.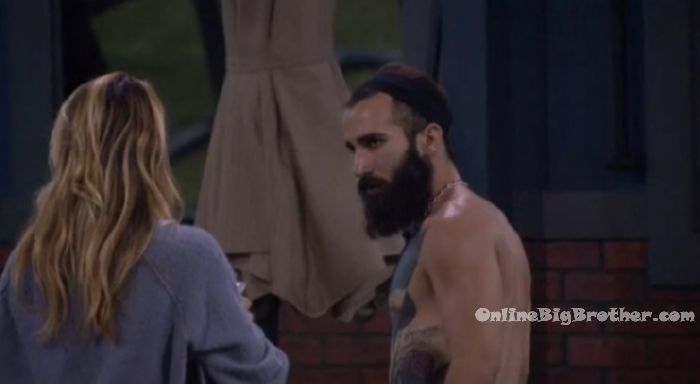 10:15 Hammock. Elena and Mark.
Elena – Josh asked to talk to me. I don't have enough emotional availability to talk to him. I just don't care. Mark – I just dont care. Elena – if you win HOH who would you put up? Him (Josh) and ? Mark – Ramses. Ramses doesn't like me. Elena – no, he wants to have s#x with you.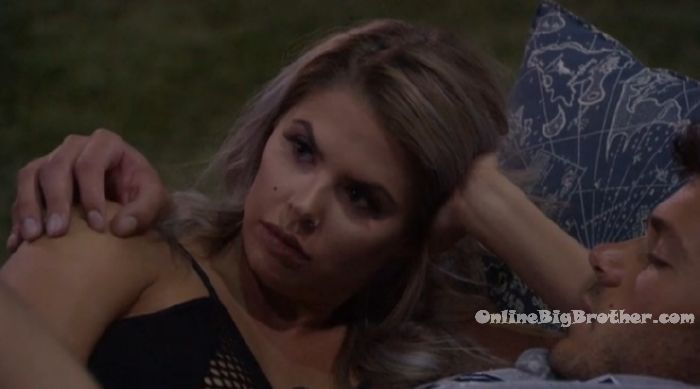 10:50pm Pool games continue…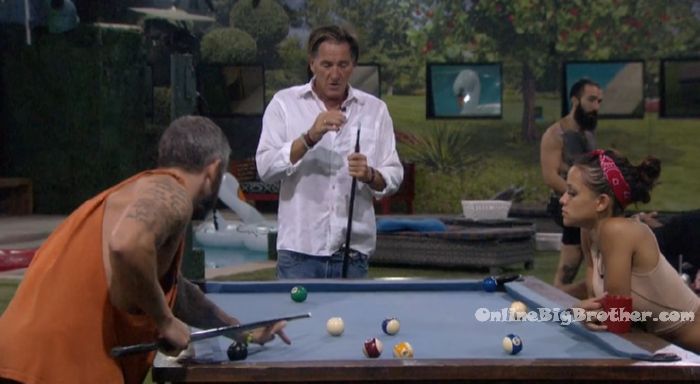 Bathroom. Elena – You've already m@sturbated? Ramses – yes, in bed. In all three rooms. (gross)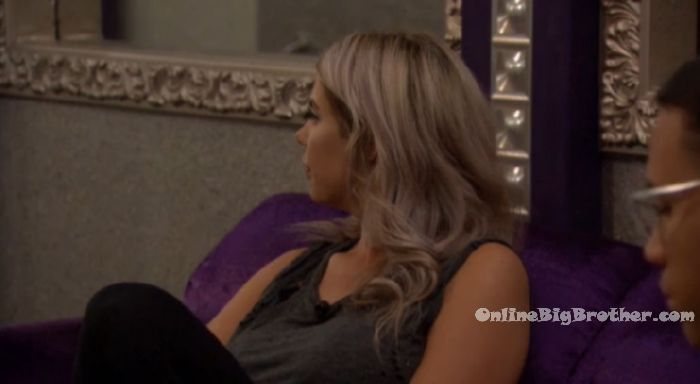 11:10pm – 11:35pm HOH room. Jason and Alex.
Alex – She (Christmas) still has animosity towards you. Jason – if we were to make it to the final she would never vote for me. She would probably say I'm not voting at all. She would probably vote for you. If I win HOH, I'm booting her a$$. I think what i'll do is put up Jessica and Christmas. No I'm not doing that I'll put up Christmas and Raven. Alex – what is your reasoning behind that. Jason – I don't think anyone is going to vote off Raven. Alex – I think Kevin is stirring the pot, he is going to vote for her for sure. Jason – it's okay if we have 1 vote but I feel like if I put up Matt or anyone else, then Christmas wouldn't go home. Alex – if I play in the veto, I'll do whatever you want me to do with it. You know use it, don't use it. Jason – Christmas just she is voting out Dom but that anything could happen before Thursday. Alex – she is trying to panic you. She just lied to our face. Do you believe her or Raven? Jason – I believe Raven. if I get it, I'm putting Christmas up and somebody. I hate seeing her hop around. I feel directly responsible. It was an accident but she just always feels like she can just say can you get me a milk? But I do feel like I should help her because I F**king maimed her. Alex – what did I say dont taker on your back because you're going to fall. Jason – I'm going to get a lot of blow back if I put her up. Alex – tell her shes the pawn. Alex – I really want Jessica to go home.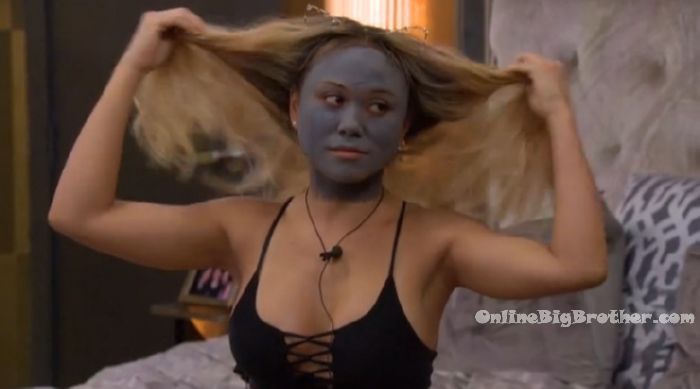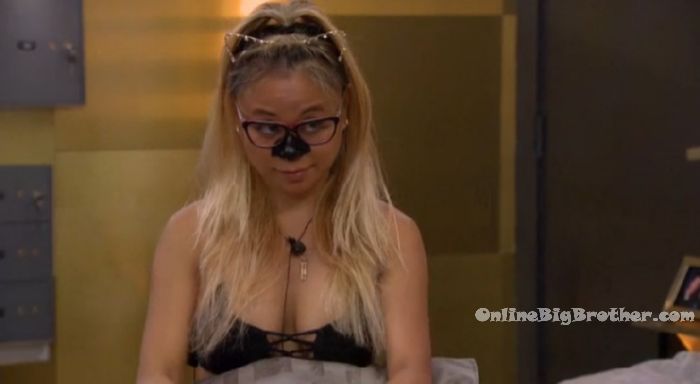 12am HOH room. Alex, Jason, Josh.
Josh – I trust Paul and I trust Kevin but I trust you two with my life. I will never, ever … unless its top 3… going to put you up, going to back stab you, do anything against you guys. Alex – yup.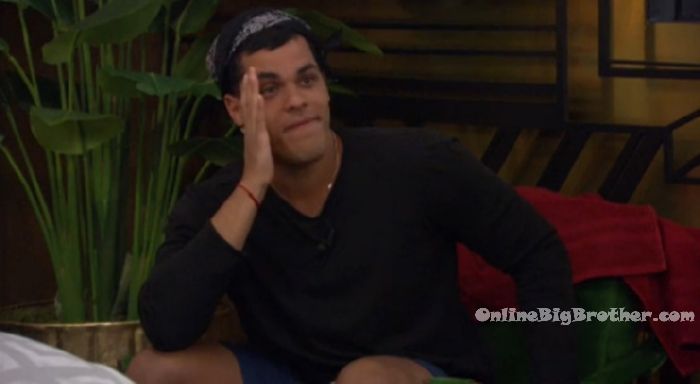 12:10am Lounge room – this is happening…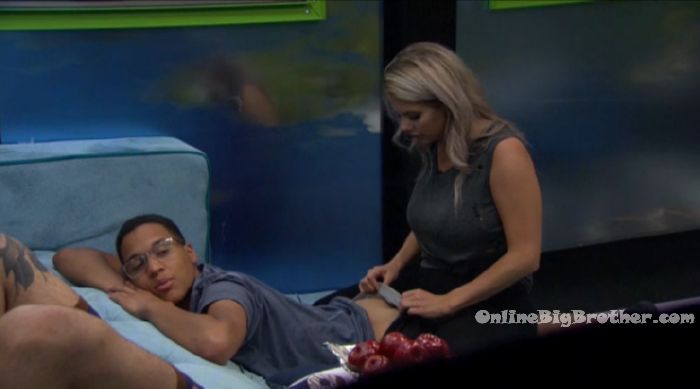 12:20am Backyard. Matt & Raven.
Raven – it pisses me the f**k off. We take out Dom for Elena. Paul called it, the longer she stays the longer she gets traction. Matt – she's a good player. Good social game. Big Brother blocks the feeds. When they come back – Raven – well plan to get her out this week might be in effect. Matt – well we have to win HOH. Raven – I wish I didn't promise anything to Alex. Matt – oh, you want to do it now? Raven – I've thought about it multiple times. Matt – have you talked to Paul about it? Raven – no, I wouldn't want to do that to Alex. Matt – if you're thinking about it. You don't want it to get out. Matt – if Alex and Jason are down to get Jess out I would guess that probably Paul or Jason will win HOH… which are both good for you. Raven – It just makes me trust them less. Matt – Who? Elena and Mark? Raven nods her head. Matt – well we know we can trust them to here (he sticks out his arms). Raven – don't give them a trust fall because they might not catch you.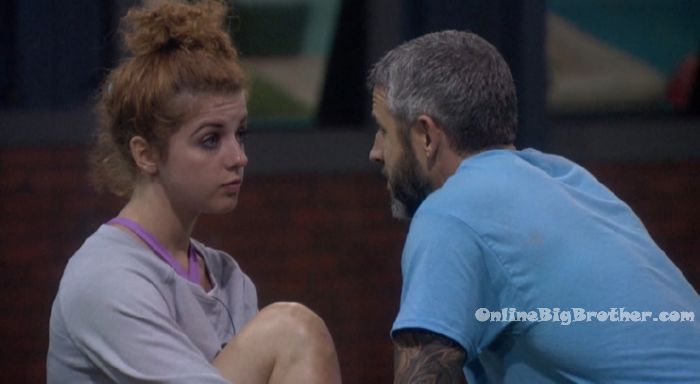 Meanwhile in the lounge room..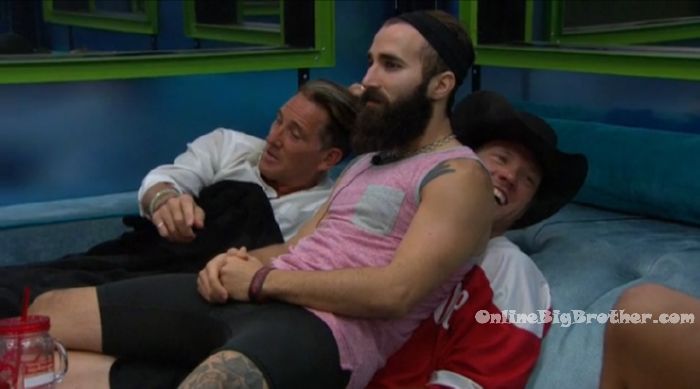 12:30am Hammock. Elena & Mark.
Elena – who were you annoyed with in the bathroom? Mark – oh just people I don't want to actively be around. Elena – Christmas? Mark – And. Elena – Ramses. Mark – And. Elena – Kevin. Mark – I love Kevin. Elena – I need to be on slop, I'm getting fat. Mark – if I win HOH do you want me to put you on slop.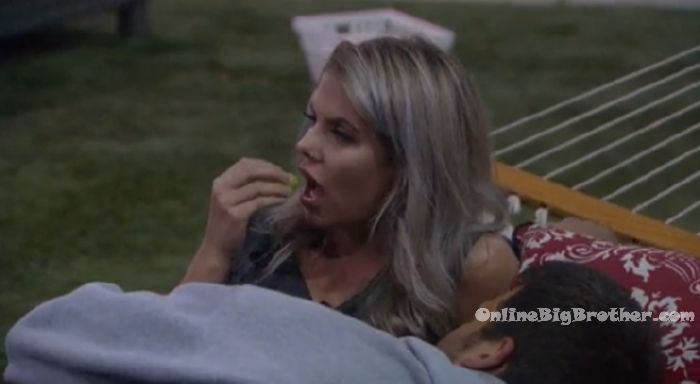 1:05am HOH room – Alex, Raven and Matt.
Raven – Jason and you are so solid in our book. ALex – okay, good because you are in mine. The rest of the house is pretty jumbled. Everyone wants to take shots at each other. I know for sure people want to take shots at Josh. Raven – Josh is a big target but he can be taken out later. He'll maybe take himself out. Matt – once a week he does that. Raven – you can let Jason know that Jason is freaking amazing in my books. Alex – he doesn't like Christmas. She is a loose cannon. She doesn't like me. But we'll discuss it when it happens because the Dom situation came out of no where. Jason joins them. Matt – this is a game where actions speak louder than words. And you guys have done what you've said you were going to do. Matt – do you guys have any influence over Josh? Alex – yes. Matt – because that is the one reason why we don't trust him. He goes with whoever is in his ear last. Matt – this should be a 10 – 0 vote. It should be but it won't be. Alex – if there is a battle back and he (Cody) comes back it is going to be a sh*t storm. That's why we need to get her (Jess) out. Matt – I like him (Ramses) as a person but not in the game. He clearly didn't throw that comp.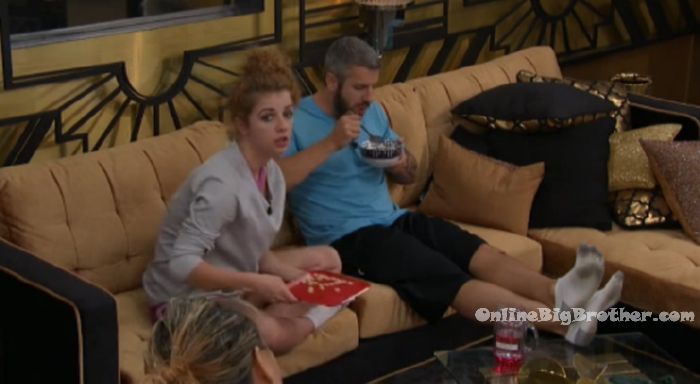 1:40am Lounge room. Paul – You better f**King win tomorrow. Josh – I only trust you. Paul – Win HOH so you can make a big move. Josh – what do you think it will be? Paul – if its me and you, I will throw it to you. Josh – make it seem like you want me out. Like tell everyone that you want me out. I know you trust Mark and Matt… and just know that will me you won't have to do any convincing. I've got your back. Paul – I know that. Paul leaves.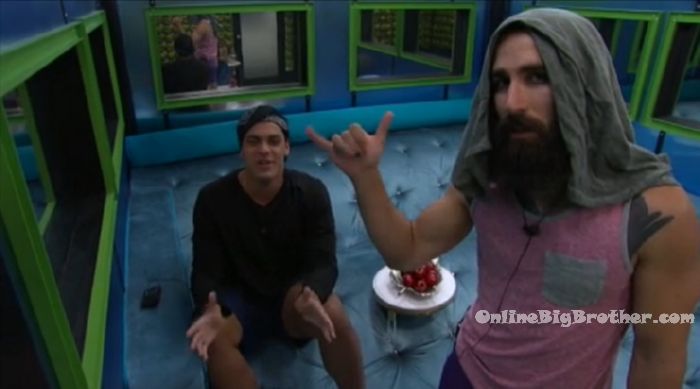 2:35am Kevin getting in shape..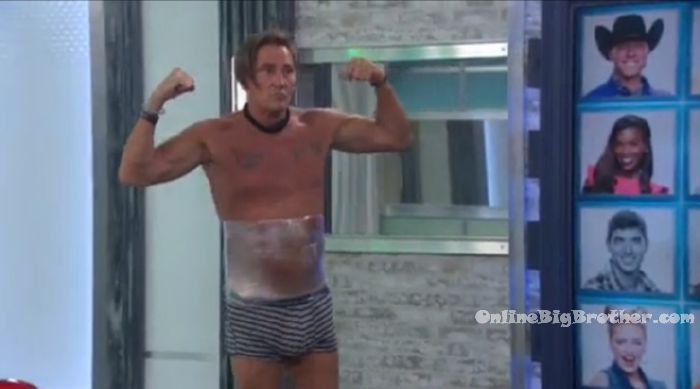 Wednesday @ 12:58pm Very little happened in the morning. Feeds have been down showing dogs for a couple hours. Not sure what is going on..
Links to the ranking system
Rank your house guests here
For those of you that like Statistics here are some expanded reports.