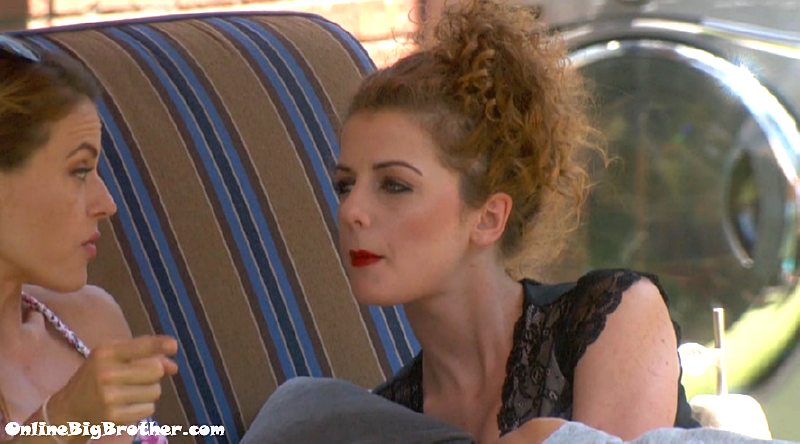 2:37pm Christmas telling them that the doctor said her foot is healing great. Her new cast feels much more comfortable.
Christmas acting like she didn't vote Ramses last week. Says she thinks it was Dominique.
Raven – if you won HOH who would you put up
Xmas – obviously Jessica
Raven says Jessica is blaming her for hiding Alex's cat ears.
Xmas says yesterday when Josh was doing his thing Jessica gave her stink eye, "B1tch things aren't better between us"
Xmas says she'll put a pawn up against Jessica. She'll lean on the house for input.
Raven – that's what I'm thinking too
Xmas says if it's best for the house to get someone else first she might..
Raven says She's thinking of putting up Jessica and a Pawn as well.
Raven – Matt is like, I'm not here for the MOney, I'm just here to have fun.. He's like I want you to win it"
Raven – I'm like Ohh BAbe no..
Raven – no one wants to go to final 2 with me I know that
Xmas – because you'll win, there's no way the majority of the house will vote against you.
Xmas says she's not thinking about the money.
Xmas says some of the people are here and all they see is the Dollar amount they're like "I'm going to play a ruthless game"
Raven – I'm not here to do that
Xmas – I think a lot of us have forgotten that this has given us an amazing platform.. And it's only yours to f* up
Feed subscription lets you go back and re-watch everything we post here CBS All Access Live Feeds with a FREE 7 DAY trial.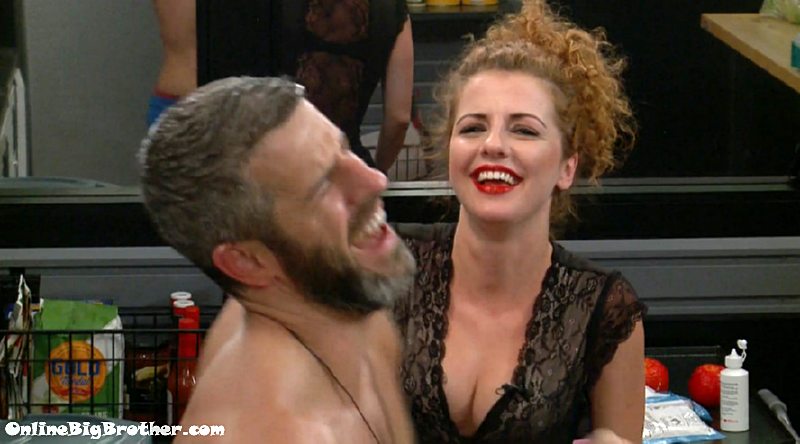 2:53pm Matt and Raven
Raven says Christmas wants to get rid of Jessica.
Matt – I don't even think I needs to talk to Alex and Jason to let them know if he wins HOH they are good. He'll do if after he wins the HOH.
Raven says if she wins the temptation she might turn it down, "I don't want to curse anybody"
Matt – if you get a chance chat with Alex, I know Alex wants Jessica out of here
Raven says if Jason wins HOH he won't go after Jessica he'll go after Josh, (ZOMG)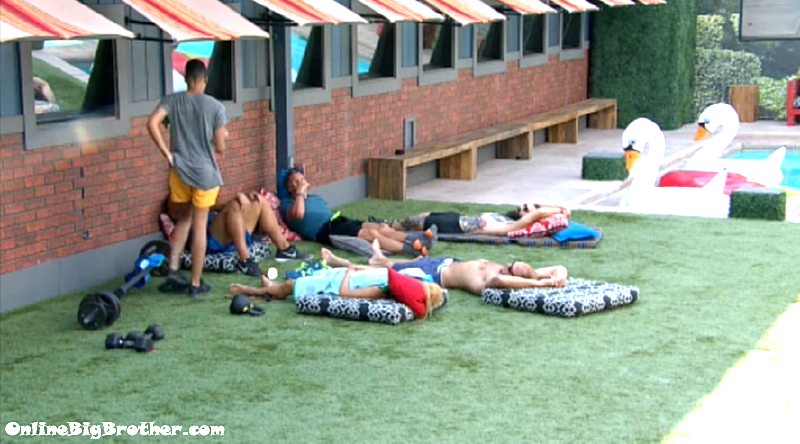 3:43pm Chilling..
Some are sleeping, you can hear snoring. You can hear them snoring. Big Brother tells Elena to wake up. She doesn't Big brother doesn't do anything about it. (Why bother having that rule?)
Josh says he has 1300 Instagram followers. (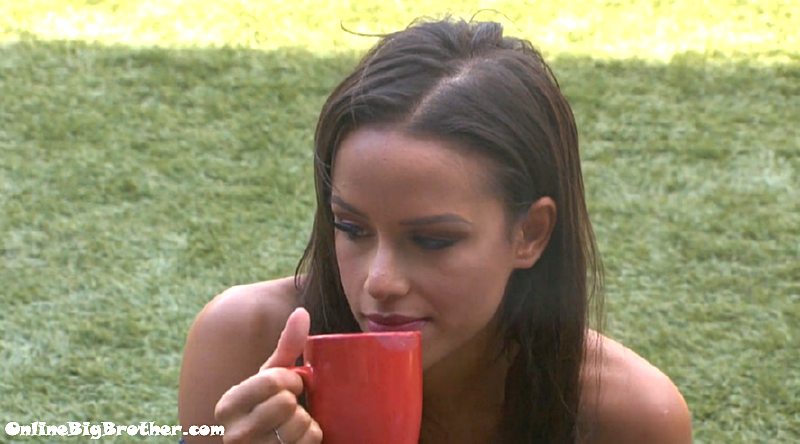 3:58pm Paul and Alex sleeping, Kevin and Jessica chatting
Jessica is eating a burger.
Kevin says it's the nicest evening had since they've been here.
Kevin asks her how she likes her burgers
Jess – medium rare.. I like them bloody
Kevin – Bloody
Jessica – do you go to south street diner
Kevin – what are you talking about the one near south station.. ahh c'mon I meet guys down there every Friday night at 2 in the morning.
Jessica – I use to love taking my dad there
Kevin – the blue dinner..
Jess – south street
Kevin – Yeah .. it's the blue diner on south street near the south station
Kevin – I use to model down there 30 years ago
Kevin – I meet people there every Friday night to pay them and they pay me
Jess – what are they paying you for
Kevin – just advice
Kevin – they know me there as the guy with all the kids, Cause I pull up in my Escalade, 6 hot dog, 5 wraps, 3 lattes, the kids never get out I don't want any problems.
Kevin – Now I go up win the BMW
Kevin – Guys come in hand me a envelope and leave..
Jessica – that's one of the places I went with my dad the south street dinner
Kevin – Really
Kevin – Well guess what I'll take yo there.. IN Boston this is what I want yo to do.. I want you to go clubbing and dance your sparrow a$$ off adn you text me 1:30 in the morning I'll get in the beamer.. I stay up anyways, it ain't like you're going to be bothering me and I'll meet you at the south street diner
Kevin – I was one south street for Jay Ewing I was one of the main models for a year.. until I f* that up..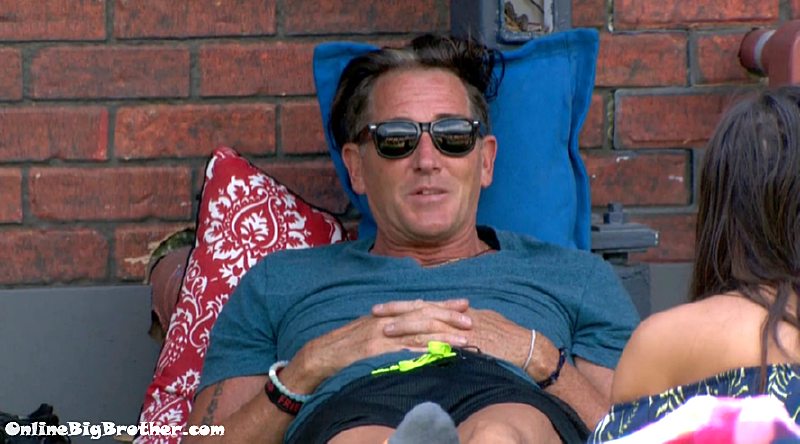 Kevin – did you hang out with cool guys while in College, what's a cool guy.
Kevin starts quoting lyrics from the Song "Groovin" by the Rascals. (Big brother continues to tell him to stop. )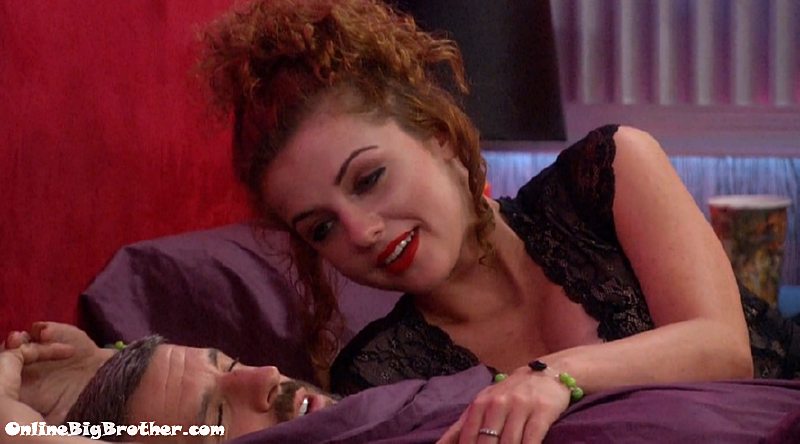 4:41pm Paul, Matt and Raven
Raven – I talked to Christmas she wants Jessica out.
Paul says he does to Jessica was talking to Dom and god knows what Dom was telling her.
Paul – If I win HOH Jessica and Ramses are going up no questions asked
Matt's good with that plan.
Raven again assuming she's going to win the temptation.
Raven – I don't know what it's going to be yet but say I turn it down.. I didn't want to curse anybody.
4:44pm Jessica is still eating her burger..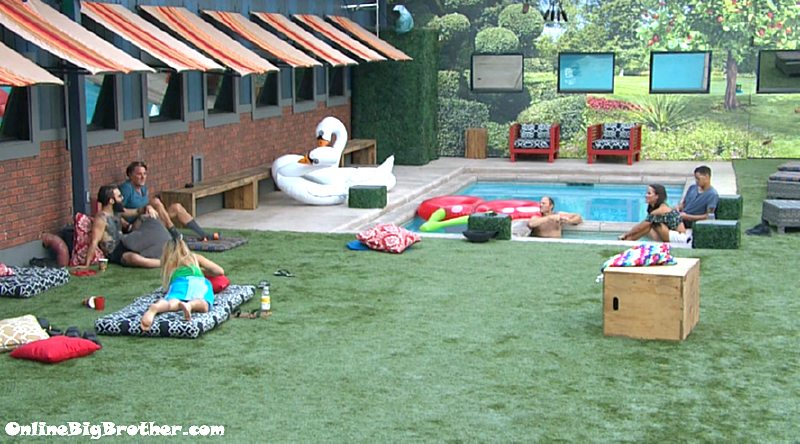 5:11pm Talking about nobody going to Dom's show.
Kevin – she's going to do it herself
Paul – lets do our own chat.. friendship chats..
No Idea why they haven't done the Dem of temptation yet.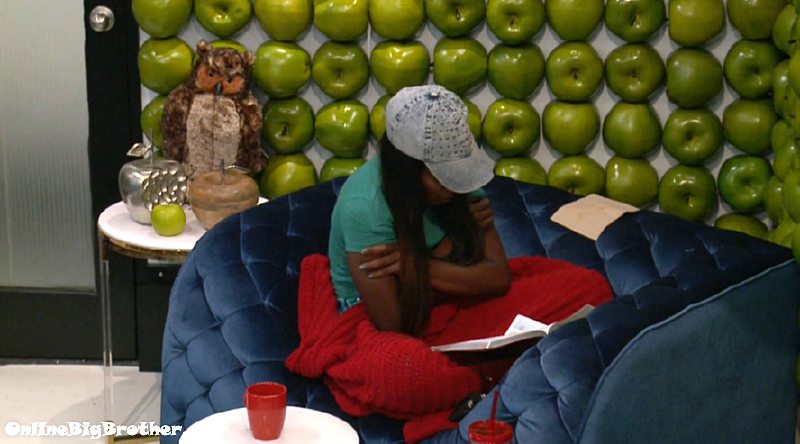 5:20pm It's slow…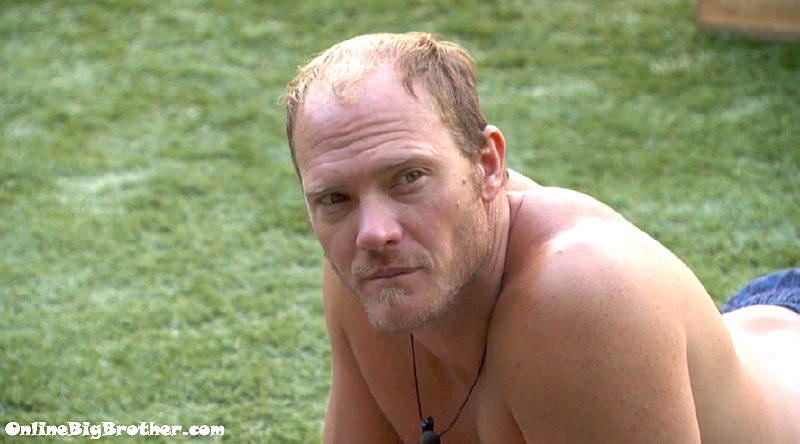 5:58pm Something is bothering Jason's eye they tell him it's eye herpes from hanging out in the hot tub so much.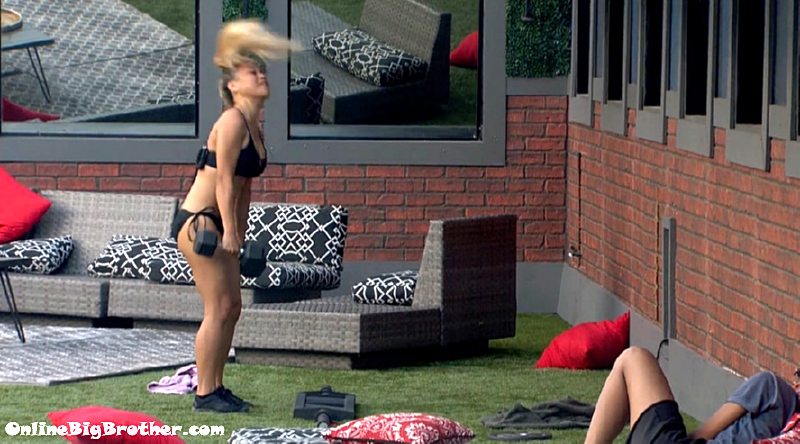 6:16pm
Alex – I wish I could get my hair blonder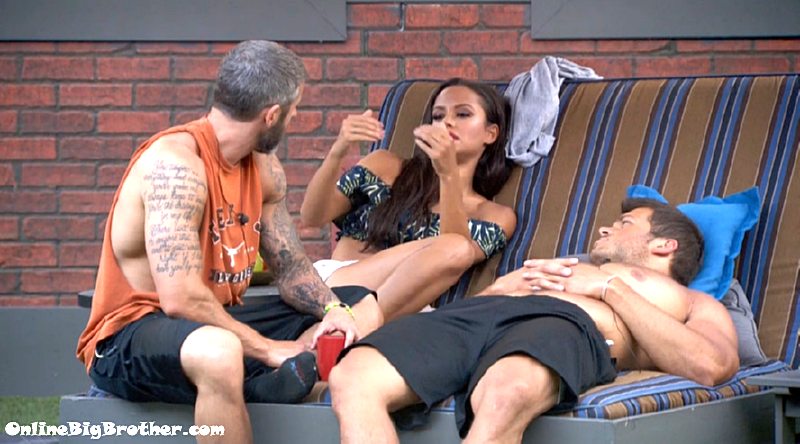 6:21pm Re-integrating..
Alex Vs. Jason #BB19 @DawgsBigBrother pic.twitter.com/jBBnI3lUw8

— OnlineBigBrother.com (@bigbspoilers) July 19, 2017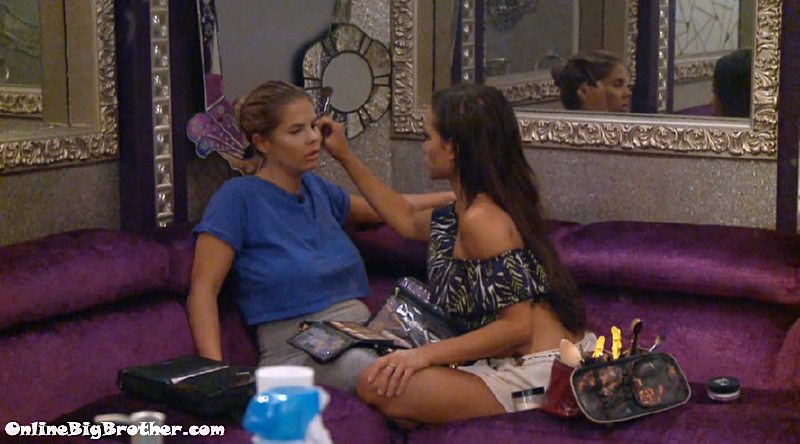 7:22pm Doing makeup talking about boys…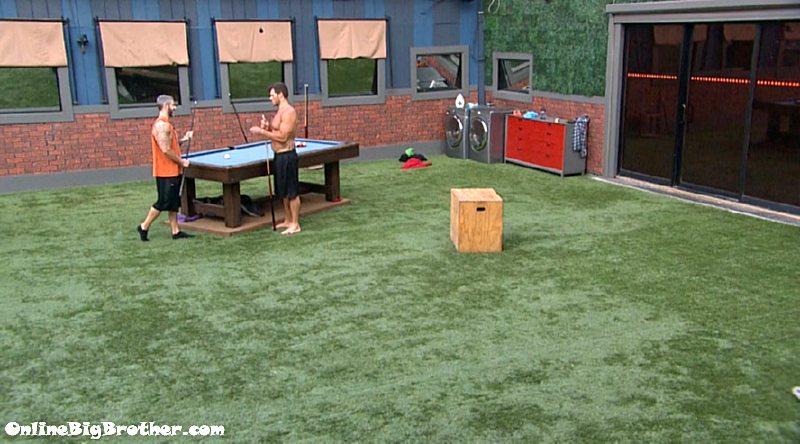 7:26pm Matt and mark
mark says Josh and Ramses are his targets.
Matt – he tried to completely blow you up yesterday that's not cool
mark – I know Paul wants Ramses
Matt – I'm fine with any of those
Matt – once we get to Jury I don't care… I really don't
Matt – there's no difference between going home 9th or 3rd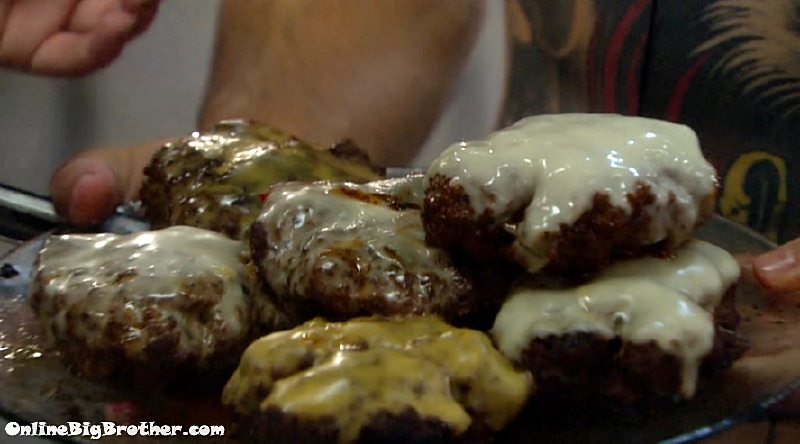 7:45pm
Nothing going on.. We find out Josh has 1 more shot of Pickle juice from the bet last week.
If you plan on buying anything from Amazon. Use this link Amazon home
Doesn't cost you anything and we get a small cut.
Links to the ranking system
Rank your house guests here
For those of you that like Statistics here are some expanded reports.