Brendon Villegas and Rachel Reilly from Big Brother 12, Big Broher 13 and The Amazing Race 20 attended "The Bold and the Beautiful" 25th Silver Anniversary Party in Los Angeles, March 10, 2012. Both Brendon and Rachel have been on the day time soap many times. Rachel was on last month for her recurring roll as a cafe waitresses. There is definitely a Rachel and Brendon overload when it comes to past Big Brother Cast members. What do all you think is this too much Brenchel?
The party was to celebrate The Bold and the Beautiful's 25 years of "entertainment", its worldwide acclaim (35 million viewers daily in 100 countries) winning over 40 Daytime Emmy Awards and it being the only daytime drama to simulcast in Spanish. Many past and present actors were in attendance, including: Ashley Jones, Scott Bailey, Alley Millsn, astrid Bryan, Scott Elrod, and Jacquelin MacInnes. There is a special The Bold and the Beautiful episode airing Monday, March 26, on the CBS Television Network.
Bradley Bell, Executive Producer and Head Writer said
"Twenty-five years is a tremendous milestone,".. "It's been an extraordinary experience. The future looks bright as we venture into the next generation of family drama mixed with laughter, tears and socially relevant stories. My gratitude to CBS for their invaluable support for the past 25 years and to our incredible fans for their dedication and loyalty."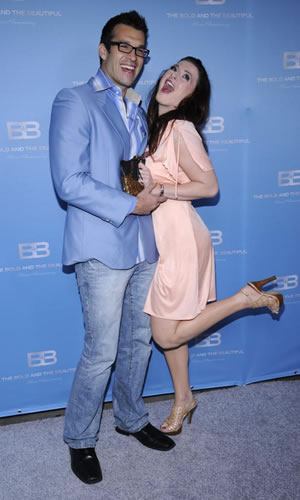 Photo Source UPI/Phil McCarten
Share it YO!!
Tweet