POV Holder:
?
Next POV
April 12th
POV Used
?
POV Ceremony
April 14th
HOH Winner:
Jon
Next HOH:
April 17th
Original Nominations:
Sabrina & Rachelle
Current Nominations:
?
Have Nots
Neda, Arlie, Rachelle and Heather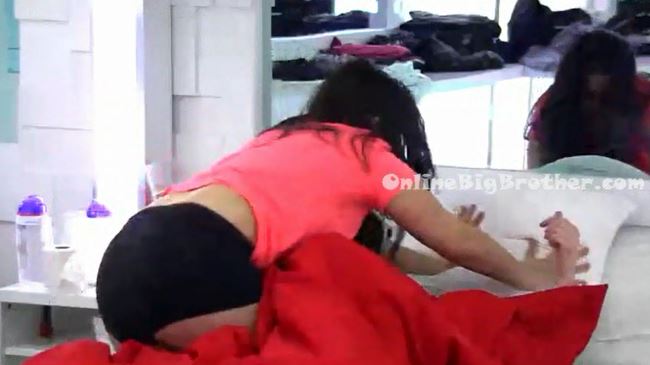 2:55pm – 4:30pm Big Brother blocks the live feeds for the house guests to pick players for the Power of Veto Competition that will be happening later today. When the live feeds return – we learn that Jon, Sabrina, Rachelle, Neda, Adel and Arlie are playing in the veto competition.
Power Of Veto players: Jon, Sabrina, Rachelle, Neda, Adel, Arlie
POV HOST: Heather

Rachelle says that her best friend definitely hates Heather because we hate people like that. I hate squeeky voices. I could never be friends with someone like that. Never! Sabrina says her or Neda. Rachelle says she can't believe Heather has a boyfriend. Sabrina says the only thing he uses her for is ..(She motions with her hands that all her boyfriend uses her for is s*x). Big Brother says stop that. Sabrina continues and Big Brother says stop that again. Sabrina says I was just going to ride her. Sabrina then says that Heather's boyfriend has to put a pillow over her face like this.. Big Brother blocks the feeds. WHen they come back Sabrina says that she has a wart on her finger. Rachelle asks her if she's gotten it zapped. Sabrina says no. Rachelle says that it's going to spread to her v@gin@. Sabrina says it's not herp*s.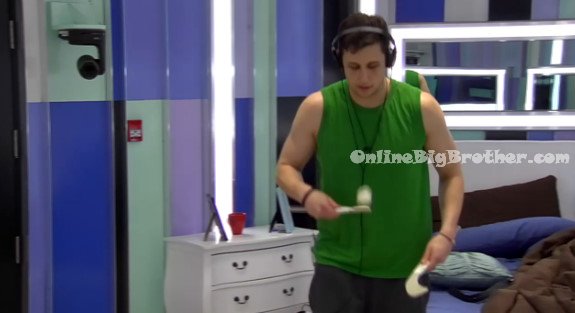 4:30pm – 5pm Up in the HOH room – Jon is bouncing his ball back and forth on the hockey sticks. Jon leaves and Allison talks to Neda. Allison is pissed that Adel used his veto ticket to take Allison out of playing in the veto competition to put himself in the competition. Allison says that Adel said that he couldn't pick Sabrina or Rachelle. Allison says good to know I'm the low man on the totem pole. Allison says Sabrina or Rachelle are going home this week no matter what. He didn't need to use it. He should have saved it for next week. Jon returns. Allison says we all know Deli isn't a word-smith .. so we know what he meant. Jon tells her not to read to much into it. Allison says easy for you to say sir. Jon says it caught me completely off guard.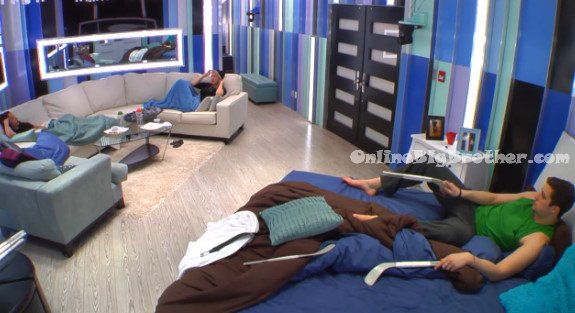 5:05pm – 5:35pm Allison questions Adel on why he used his veto ticket on her. Adel says that there was no reason why he picked her, he just had to pick someone. Allison says I am rattled. Allison says I really wanted to play and the only time I got to play was when I had to win it. Adel says it's not even like its guaranteed to be prizes or anything but the more people talked about it really made me want to use it. Adel says that Neda and Arlie were already on slop and I just wanted them to have a good week. And you got the frat party. Allison leaves the HOH room. Adel tells the others that Allison is the next one to go. I am going to screw over the five of you.

Meanwhile in the bedroom – Sabrina asks Arlie if he can tell her if they are voting her out. Arlie says that he can't say right now. He says that they said they would discuss it after the veto because at this point there are benefits to keeping both.
5:45pm In the bedroom – Sabrina talks to Allison and tells her that she should have stayed on our side. I liked you. Allison says yeah key word liked. They talk about how how Heather told Sabrina to shut up when they were picking veto players. Allison brings up how Sabrina has made cookie dough and squeaky voice comments. Sabrina says you've talked about how annoying Heather is too. Allison says I never said I was holier than thou. Sabrina starts asking which one of them is going. Allison says its been back and forth between the both of them. Sabrina keeps digging and Allison says you're smart you can figure it out. They want Rachelle out because she is an endurance threat and they want you out because of your ability to persuade people. Sabrina asks who am I going to persuade. Sabrina says that she's using the veto on Rachelle any ways.
6pm – 6:15pm Sabrina says that her parents are going to be so proud of her for not going off on Heather for her talking to her like that. Sabrina says because outside of this house I would have been self-evicted. I have never been in a physical altercation because I can rip you a new a$$hole with my words. Allison tells them – I don't want you guys to think that just because you're the target.. that in my heart I'm not rooting for you. Sabrina tells Allison that if I win HOH you have nothing to worry about because I have never had so much fire in my a$$. Sabrina tells Allison please do not go tell them any of this because I will go and get self-evicted. Sabrina asks Allsion to tell her who said she was being persuasive. Sabrina says that Jon swore on his family that he would never put me up and look what he did today. Sabrina tells Allison I swear on my whole entire life, my dogs, my whole entire life should I drop dead… I cant cross my a$$ or my v@gin@!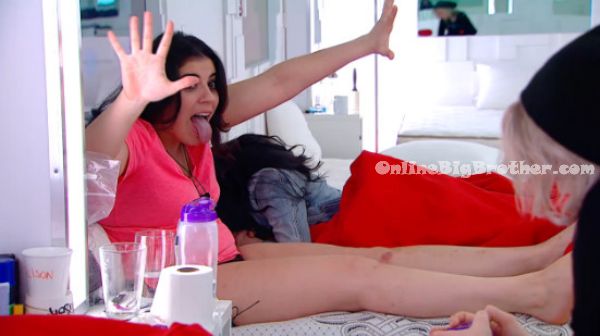 Stay connected and interact with other Big Brother Fans on our Facebook page.
And Follow: @BigBspoilers and @Dawgsbigbrother on Twitter for the most up to date spoilers.