POV Holder:
?
Next POV
April 12th
POV Used
?
POV Ceremony
April 14th
HOH Winner:
Jon
Next HOH:
April 17th
Original Nominations:
Sabrina & Rachelle
Current Nominations:
?
Have Nots
Neda, Arlie, Rachelle and Heather
12:35pm Jon, Neda and Heather are talking in the HOH room. Neda thinks Canada will be able to influence this POV. She says she thinks who ever wins it and if someone comes off, someone else goes up .. then Canada will be able to take someone off.. Jon says that would be crazy. Heather says at least one of the Gremlins would still be up there and we decide who goes. Jon says I don't think anyone would f**k over the 6. Heather and Neda both say they wouldn't. Jon leaves. Neda and Heather talk game. Neda says that she think doesn't think Jon would f**k us over. Heather says I think the finals should be me, you, Jon and Adel. Neda says I like Allison but I feel the entire game she has been way more loyal to boys. She is really close to Arlie too. I think she owes a lot of her staying to him too, you know what I mean. Neda says that she doesn't know if they are more likely to take someone they can win against or someone that's really strong to be like look who I beat. Neda says the reason why I want to keep Rachelle is because she isn't coming after us .. she would go after Arlie or Adel. Plus if she is still here she is a bigger target. We need to win HOH's back to back. We're at the point when any move could really f**k us. Neda says when I think of Arlie and Allison I think of them as a unit. They talk about how if Jon made it to the end he would win, everyone would vote for him. Neda says even Allison .. she would win too, she came in late and overcame. Neda says it doesn't even matter if people are pairs you know because I am taking you to the end no matter what. They talk about people having to go up as a pawn if Rachelle/Sabrina won veto. Heather says there is no way I would be a pawn twice .. I would go kicking and screaming. You have been a pawn before too. Heather says I would be like f**k that! If Racehlle won veto, and one of us like Arlie went up as a pawn then we would need to show our loyalty by sending Sabrina home. Neda asks if people are thinking of going against the 6. Heather says no. Neda says good. Sabrina comes in and breaks up their conversation.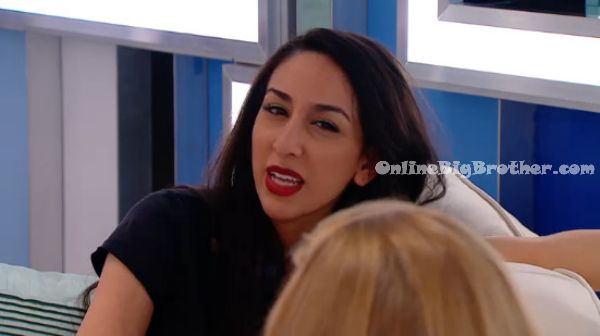 1:40pm Adel tells Arlie that he doesn't have any side deal with Jon. I would swear on the holy Quran I don't have a side deal with Jon. Adel says if it comes down to it I will use my veto and expose my self. Adel leaves the bedroom and Arlie says to himself I have side deals with EVERYONE! In the bathroom – Arlie tells Adel that he swears on his family he is only wants to go to the final two with him. Arlie and Adel head into the bedroom. Arlie tells Adel about his fake deal with Jon just in case Adel hears anything but says that it was never real for me. I know he would never take me. You are the only person I want to go to the final two with. Adel says he feels the same way.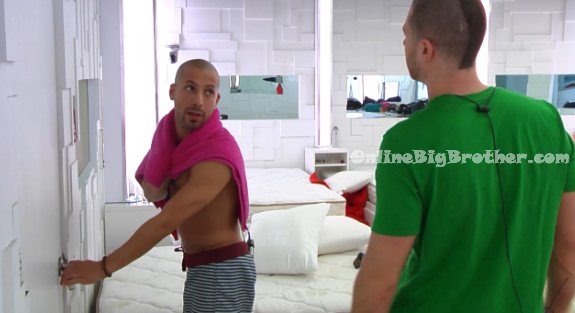 1:50pm – 2pm In the main bedroom – Rachelle asks Sabrina what they were talking about in the HOH. That JOn, Head and Neda are going to be friends forever. Sabrina says that Jon said he was going to call them before going out when they're home because they're the hottest girls. Rahcelle asks he said they're the hottest girls? Sabrina says I don't take offence to that because I know I am a lot hotter than a lot of people. I am not insecure but I have insecure moments. Rachelle and Sabrina start picking at in-grown hairs on Sabrina's legs. Rachelle's head is down near her cr*tch and Sabrina farts.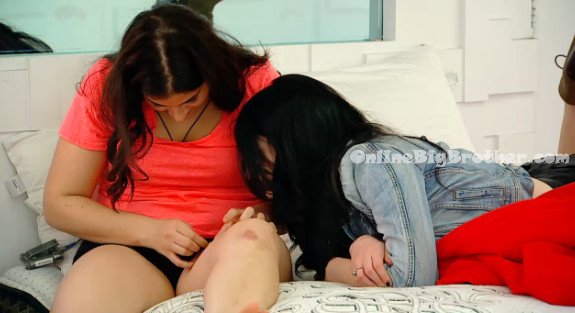 1:50pm – 2:20pm Meanwhile in the havenot room – Neda talks to JOn about keeping Rachelle over Sabrina. Neda tells him she will throw the POV to Rachelle if she can. She asks Jon if he will do it too. Jon says he will. They continue to talk game. Neda thinks Jon isn't telling her everything like she is with him.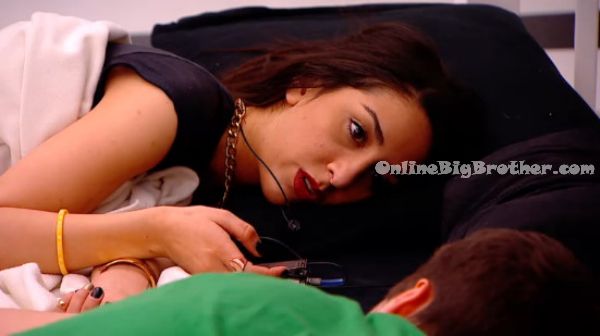 2:50pm Up in the HOH room – Allison, Adel, and Jon are hanging out. Meanwhile in the kitchen Heather, Sabrina and Neda are in the kitchen chatting. Heather and Neda head up to the main bedroom. Neda asks do you notice how the guys won't leave us alone to talk. And each of them has one of us. Heather says I haven't noticed that but now I do. Neda says that she's been picking up on things that the guys say and do. She says we need to be really careful about what we say around them. Heather comments on how they are all paired off now.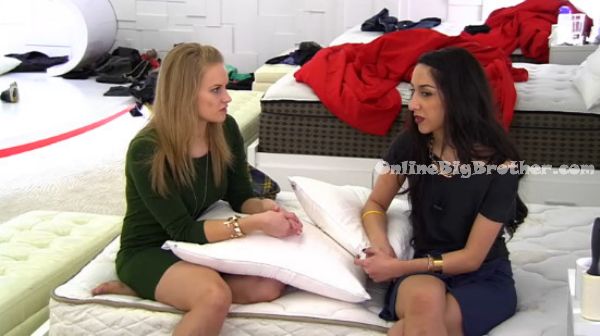 2:55pm Big Brother blocks the live feeds…
3:40pm Still blocked .. the house guests are likely picking POV players now..
[polldaddy poll=7958558]
Stay connected and interact with other Big Brother Fans on our Facebook page.
And Follow: @BigBspoilers and @Dawgsbigbrother on Twitter for the most up to date spoilers.