POV Holder:
Allison
Next POV
?
POV Used
Yes
POV Ceremony
March 24
HOH Winner:
Racehlle
Next HOH:
March 27
Original Nominations:
Allison & Heather
Current Nominations:
IKA & Heather
Last Evicted Houseguest
Paul, Kyle, Anick
Have Nots
Adel, Sabrina, Heather, Arlie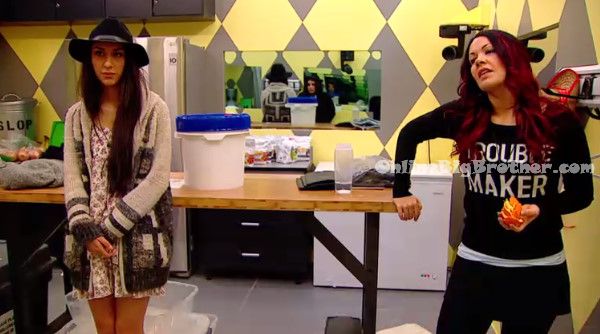 10am – 12:10pm Big Brother blocked the live feeds for the Power of Veto Ceremony to take place. When the live feeds return we learn that as expected Allison used the veto on herself and removed herself from the block. As Head of HouseHold Rachelle nominated Ika as the replacement nominee.
Adel and Ika are in the bedroom talking. Ika says you can't hate the player, hate the game. They head to the bathroom. Adel tells be good. Ika says that she gave her a hug after. It's okay. They head down stairs. Ika laughs that she's going to give Kenny death stares all week. Kenny laughs. They ask Ika if she is okay. Ika says yeah I knew it was happening. Ika, Rachelle and Adel head out to the hot tub. Adel talks about his power. He says that its scripted what he has to say. WHen I pull out my card they'll tell me to go to the diary room to get a card. Everything's scripted you know. Ika and Rachelle head inside. Adel talks to Heather offering to work with her if she wants to going forward in the game. Heather is open to it. Heather says Del your the bomb Meanwhile in the storage room – Sarah and Neda are talking. Heather joins them and talks about how her step counter reset when she laid down on the bed. She says she was at 500 for the day and now has to start over to reach the 10000 daily minimum she needs to get. Heather leaves. Sabrina joins them. Sabrina says that she feels really guilty about what's happened with Ika. I do really like her and I would never do that to a friend on the outside. Sarah says I know this sucks, I wasn't even sure if I could do this. Neda says I don't know how anyone can make it to the end and feel good about themselves. Sabrina says high five to that.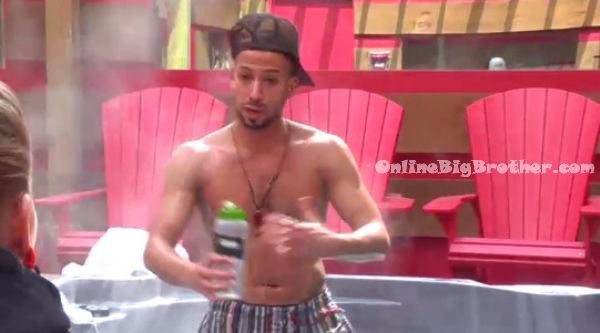 12:45pm Out by the pool – Sabrina, Sarah and Andrew talk about getting rid of Allison. They talk about they believe Allison and Jon have a secret alliance. Andrew questions whether or not Allison is loyal / honest with him. Sabrina says that Rachelle never would have done what she did if it wasn't for me. This wasn't good for her game getting rid of one of her alliance members. Andrew tells her not to feel bad about it, this is a game. Andrew asks for more info about how they know Jon and Allison are working together. He says I want to know for when I am in the diary room to know what to say. I just need to know how much of what Allison is telling me is a lie. Andrew says I don't want to take advantage of a girl that wasn't taking advantage of me. I've done that at home and I would feel horrible about it. Sarah says that based on what I know I do believe that she's playing you. They talk about the difference between how Arlie lied for his task and how well Allison lied. Sarah says Arlie used his true feelings and from that we can use it to pull him in closer to us. Sarah tells Andrew that Allison used the veto knowing that you could have gone up. She didn't know Ika was going up for sure.
12:55pm – 1:15pm Sarah and Sabrina talk to Kenny about Andrew. Kenny reassures them that Andrew knows that Allison is playing him and that he's playing her. Kenny leaves. Sabrina talks about how Kenny is mean to her. Sarah says that she doesn't see it, yes he's grumpy some times but I don't see it. Sabrina starts crying about he ex-boyfriend. Sabrina says I know I sound like a f**king loser. Sabrina says I gave up one love of my life for another love of my life.
1:20pm – 1:30pm Andrew and Kenny are working out and talking about Allison. Andrew says that regardless I will do what's best for the first five. Andrew says I just don't want to be looked at like a complete a$$hole you know what I mean. Andrew says the things that I say, the things that I do will be the things that define me when I get out, you know?! Andrew says that she (Allison) swears up and down that she's being honest with me. Kenny says that's what people do on Big Brother .. they swear up and down but are lying. The cams switch to Jon and Allison in the HOH room talking about Adel's power. Allison says that she thinks its really for 3 weeks so that we think its over and then he still has it to save himself after that.
1:30pm Andrew and Kenny continue to talk while working out. They talk about what Arlie had said to them during his task yesterday. They agree that Arlie is a good actor and that it reveals some of Arlie's true feeling about them. Andrew says if one of us wins HOH .. maybe we should put up Heather and Adel. They discuss the possibility of getting out Jon or Neda. Kenny says that Neda is useless. He says we should take the opportunity to take out a pair. Andrew says once we get to jury, we have the game under wraps.
1:45pm – 1:55pm Big Brother blocks the live feeds. When the feeds come back Sarah says that she thinks today is her man Jason's birthday. She heads into the diary room and says she wants them to all go in there later with her to wish him a happy birthday. In the diary room – Rachelle asks Andrew if he is happy how things worked out today. Andrew says yes, very happy. Until it gets down to you and me when we can battle it out. They leave the storage room. Arlie and Kenny are in the storage room. Arlie tells Kenny that he really appreciates how he handled what he told him the other day while doing the Marsha the Moose task.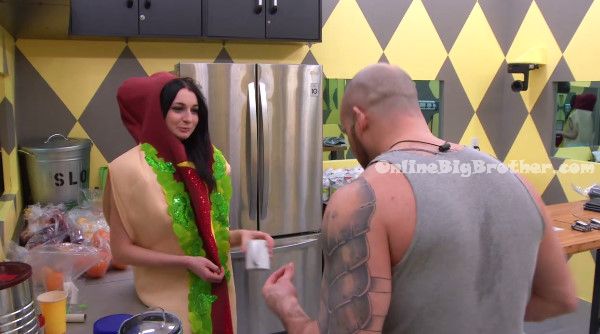 2pm In the bathroom – Allison tells Heather that she is almost 100% sure that she is safe and not going home. Heather says thank you. Heather tells Allison that if she wasn't on the block and had won the veto she would have used it on her. Allison says likewise. Meanwhile under the stairs – Sarah, Neda and Sabrina are talking. Sarah has been working on a mug of wine for a while now and is starting to get a little tipsy. Sarah thinks its her boyfriends birthday today but its actually tomorrow the 25th. (They're confused about what day it is in the house.)
2:10pm Out in the backyard by the pool. Adel and Ika are talking. Adel is worried about being put up on the block next week. Ika tells him that she was told that he might be put up to flush out his power. Ika says they're going to know you're lying when you don't use your power. Adel says I don't care if I go out next week. I don't care! Adel says Arlie has by back, we've been together since day 1. Adel says my only real alliance is myself. The only people I can trust are Jon, Arlie, Neda and Heather.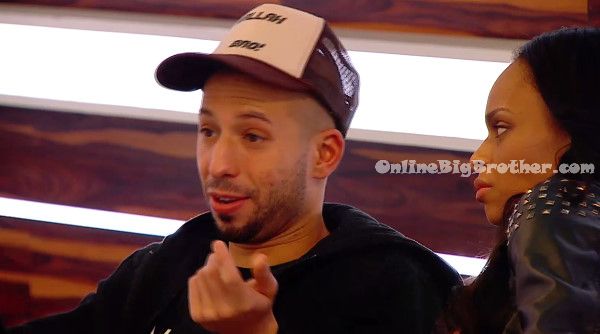 2:15pm – 2:35pm In the bathroom Sabrina comes in and tells Allison and Heather that she's getting a cold sore. She says that she got it from "sun poisoning". She says ever since then I get them when I'm stressed or drink from dirty glasses. Allison questions her getting from sun poisoning. Meanwhile under the stairs Sarah and Rachelle tell Neda and Jon how they kept them separated when they were drunk to make sure they didn't sleep in the same bed. Neda and Jon don't understand why. Neda says that she thinks of JOn as her brother. I say that all the time. Sarah says you know how your inhibitions go out the window when you're drunk. Sarah says you don't want to sleep with your brother!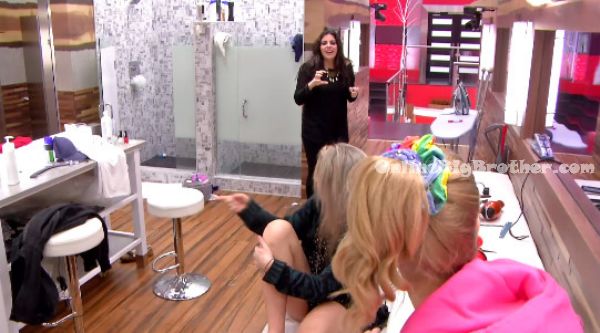 Stay connected and interact with other Big Brother Fans on our Facebook page.
And Follow: @BigBspoilers and @Dawgsbigbrother on Twitter for the most up to date spoilers.