POV Holder:
Allison
Next POV
?
POV Used
Yes
POV Ceremony
March 24
HOH Winner:
Racehlle
Next HOH:
March 27
Original Nominations:
Allison & Heather
Current Nominations:
IKA & Heather
Last Evicted Houseguest
Paul, Kyle, Anick
Have Nots
Adel, Sabrina, Heather, Arlie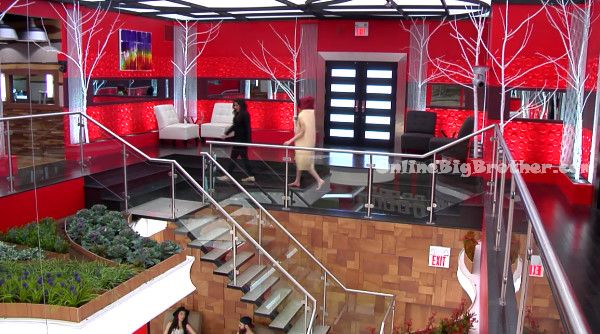 2:35pm Up in the HOH – Sabrina and Rachelle are talking about next week. Sabrina then starts to head downstairs and tells Rachelle "Ok follow me!" They both head downstairs to the kitchen. In the kitchen Andrew and Sabrina share their experience with cold sores in front of his make out buddy Allison. Allison heads into the storage room and Sabrina follows her. Sabrina asks her are you okay with me? Allison says yes. Allison says that the comment she said about being a showmance in the house kind of bothered her. Sabrina says that she is kind of scared that she will put her up if she wins HOH. Allison says that she wouldn't put her up. Rachelle joins them. Allison says nothing happened for something to be weird. Sabrina and Allison head out of the storage room and Sabrina says come ROW-ROW! In the kitchen Sabrina and Allison talk about Andrew and how he's been different since she came into the house. Sabrina says I am just sad because I miss my friend. I feel like I'm a friend to him but he's not one to me. You know what I mean. Heather joins Rachelle at the kitchen bar. Rachelle asks her if she feels better after what happened (Ika being put up beside her on the block.) Heather says that she feels as good as she can given the circumstances. Heather asks Rachelle if putting Ika up on the block was her intention. Rachelle says yes.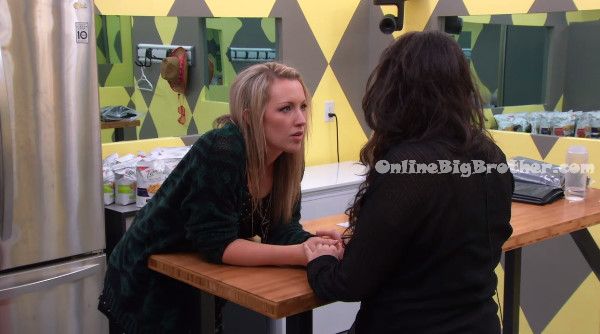 2:45pm – 3:15pm In the bedroom – Ika and Adel are talking. Ika calls Sarah JUDAS. Adel says if I win HOH then my lie stays hidden. Adel and Ika talk about life outside the house and about his girlfriend.
3:20pm In the kitchen – Sarah is a little drunk from the wine she was drinking earlier. She's making the cake for he man Jason.
ALLISON licking the beater like a CHAMP @bigbspoilers #bbcan2 pic.twitter.com/mHLtTDWIcQ

— Dawg (@DawgsBigBrother) March 24, 2014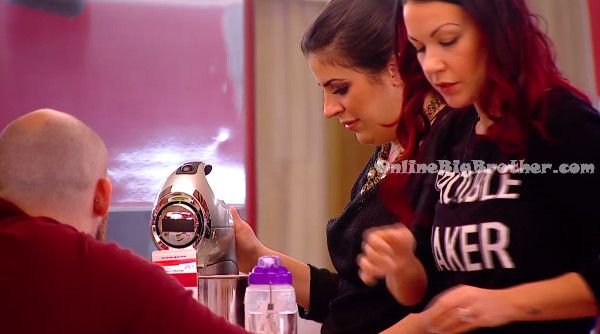 In the main bedroom – IKA is crying to Adel about how she is 29 years old and hasn't met her dad. Big Brother switches the cams back to the kitchen cooking show with Sarah and Sabrina.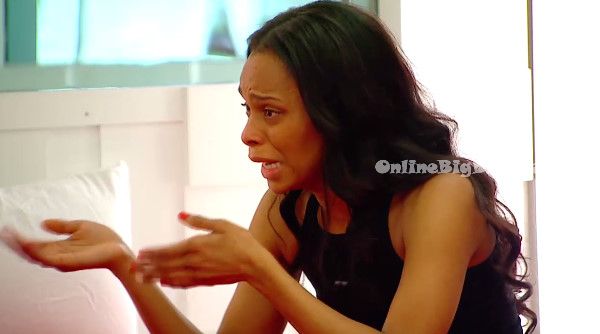 #bbcan2 IS IT JUST ME OR DOES KENNY LOOK NAKED????? @bigbspoilers pic.twitter.com/dzmAJjOki0

— Dawg (@DawgsBigBrother) March 24, 2014
3:50pm UP in the HOH room – Kenny is game talking with Rachelle. Kenny is just in his underwear but it looks like he's n@ked. Jon and Sabrina join them and the conversation ends. They start talking about music and drinking. Sabrina tells Kenny that she really thinks that Adel needs to leave before jury because Canada loves him and he would get voted back in if someone came back. Kenny says that he agrees and says Adel needs to go just not next week. There are bigger targets than him. Sabrina tells him that we only have 2 more chances because jury starts in two weeks. They discuss how the next evictions should be Jon, Adel, Heather. They agree that even if they put up JOn and Adel next week and Adel uses his power and puts up Andrew then we still have the votes to vote out Jon.
4:20pm – 4:35pm IN the bathroom – Ika and Sarah are talking. Jon starts to come into the bathroom but they want to talk alone. Jon leaves. A little while later he comes back and says he has a great idea – The bedroom is free .. why don't you go talk in there so I can take a shower because I stink! Sarah and Ika head into the bedroom to continue talking.

4:45pm – 5:10pmIN the kitchen – Heather asks Kenny where he stands with her. Kenny says I am not 100% sure yet. I am still weighing my options but I can let you know when I know. Heather says okay I'd love that! Meanwhile in the bedroom – Sabrina starts crying to Ika about how bad she feels for turning her back on Ika. Sabrina says that she doesn't treat her friends outside the house like this. Ika says it's okay, I understand it was a game move.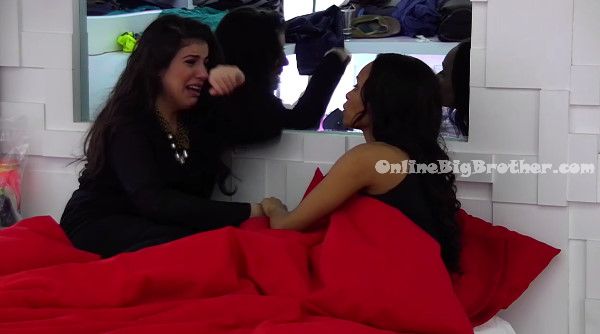 Stay connected and interact with other Big Brother Fans on our Facebook page.
And Follow: @BigBspoilers and @Dawgsbigbrother on Twitter for the most up to date spoilers.