POV Holder:
Jon
Next POV
April 12th
POV Used
Yes
POV Ceremony
April 14th
HOH Winner:
Jon
Next HOH:
April 17th
Original Nominations:
Sabrina & Rachelle
Current Nominations:
ADEL & Arlie
Have Nots
Neda, Arlie, Rachelle and Heather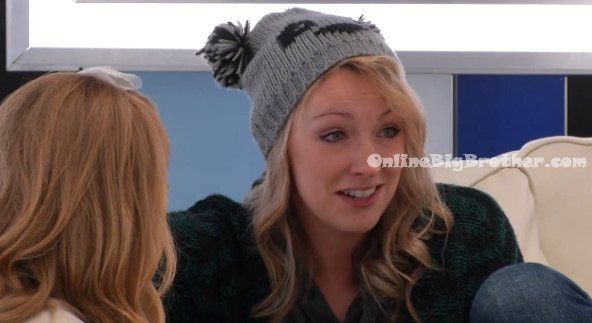 10:15am – 12:30pm Big Brother blocks the live feeds for the Power Of Veto ceremony to take place. When the live feeds return – we learn that as the power of veto holder Jon used it on Rachelle to take her off of the block. As Jon is the head of household he then enacted the back door plan and nominated Arlie as the replacement. Arlie and Jon have had an alliance called the "Goof Troop" for awhile now but this morning it died when Jon back doored him. All of the house guests were on board with back dooring Arlie because they realized what a strong competitor he was, how none of them would win against him in the end and how he had made final two deals with everyone. Allison then pulled out her SECRET Veto and used it on Sabrina. Jon then nominated Adel. (Adel volunteered to go up as the pawn)
12:30pm Out in the hot tub room Rachelle and Sabrina are talking about how Jon must be freaking right now. Meanwhile in the HOH room – Allison is talking to Heather, Neda and Jon about how she used her SECRET VETO to take Sabrina off the block. Allison tells then that it doesn't change anything between them. She says that she had to use it. There was no way I wasn't going to use it. Adel joins them and asks where the hell she got that from!? Adel asks what are we going to say to Arlie right now .. that he offered too many two's and three deals with everyone!? They other say yeah. Jon says if you play too safe like that it is eventually going to f**k you! Adel asks if any of us win ..are we going after the Gremlins?! Jon says 1 HUNDO! Neda says we have already let them get too far! Jon says she had a veto up her a$$! Allison said it was poking me the whole time!! She says if I didn't use it people would feel it when they hugged me..
Meanwhile in the main bedroom – Arlie is silently thinking about how he just got back doored…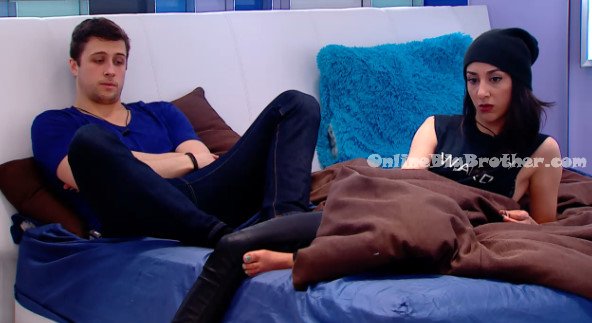 12:50pm – 1pm In the storage room – Adel makes Jon promise on his dog on his family that if he ever gets the veto he will use it each other and not the girls. They both promise each other that they'll use it on each other over the girls. Adel leaves. Allsion joins Jon and promises him that she couldn't tell him about it. Jon tells her that he has her back. Meanwhile in the HOH bathroom – Neda talks to Heather about how they don't understand how Allison got the secret veto. She thinks that Canada voted her to get the secret veto. Neda says I don't get it, she must be Canada's player. Maybe they forced her to be with Andrew?!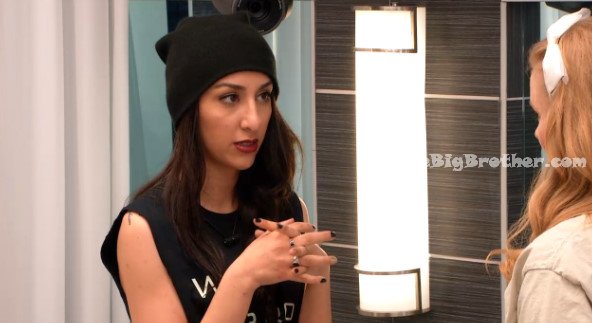 1:15pm In the HOH room – Neda talks to JOn. She says that she doesn't trust anyone in this game. I trust you more than anyone. I trust you 98%. They talk about how they think Allison is Canada's Player / a mole. Neda says that she thought when Allison pulled out the veto she though she was going to use it on Arlie. Jon says he thought so too. Neda says doesn't she get that it ruins trust with her by taking off a Gremlin?! Jon says she loves Sabs. Jon asks Neda did Heather tell you that she had a final three with him (Arlie) and Allison? Neda says yes she told me. Neda questions why Allison was crying like that last night. Neda says that move you made was the biggest move of the season. Heather joins them. They talk about Allison getting and using the secret veto. Neda doesn't understand why Allison was crying last night that she was going home when she knew she was safe. Heather tells Jon that he is taking out the biggest player of the season. Jon says unless I swing and I miss! He then says no one would vote to keep him! Heather says bye bye first 5! JOn leaves and Adel joins them. He says that he doesn't understand how she got the secret veto.. we've been in the game way longer. Heather and I have been the underdogs and come back. Jon joins them again. Adel says if they (Allison & the Gremlins) have a plan with Arlie then they have the votes to keep him. Adel and Jon tell Neda & Heather to keep telling her Final 3 with her.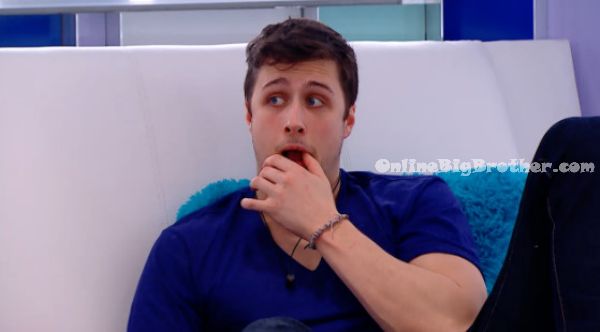 1:35pm – 1:55pm Sabrina and Rachelle join Arlie out in the hot tub room. (Right before going out there Sabrina asked where's Arlie – I don't want to be around him.) They sit down beside him and complain that it's raining and head inside. Sorry Arl's. Arlie says it's okay. They head to the pool to talk. Sabrina says okay they liked to treat us like sh*t the last week. We are going to get them to swear on their family members on a final 5. Sabrina says Sabrina says if not then you, me, Allison vote out Adel and we go with Arlie against them. If Adel is going to continue to bother me then we vote him out. If Neda, Jon or Allison win the veto they have to replace us and the opposite one goes home. Sabrina says because what they just did to Arlie is what I have been crucified for the last couple weeks… TALK ABOUT F**KING hypocrites! It's top 5 or NO DEAL! They head inside to eat at the table. All the house guests but Arlie are eating. Arlie comes through and Heather asks him if he wants to join them. Arlie says maybe later I'm going to shower I was in the rain..
[polldaddy poll=7964297]
Stay connected and interact with other Big Brother Fans on our Facebook page.
And Follow: @BigBspoilers and @Dawgsbigbrother on Twitter for the most up to date spoilers.
Share it YO!!
Tweet