POV Holder:
Jon
Next POV
April 12th
POV Used
Yes
POV Ceremony
April 14th
HOH Winner:
Jon
Next HOH:
April 17th
Original Nominations:
Sabrina & Rachelle
Current Nominations:
ADEL & Arlie
Have Nots
Neda, Arlie, Rachelle and Heather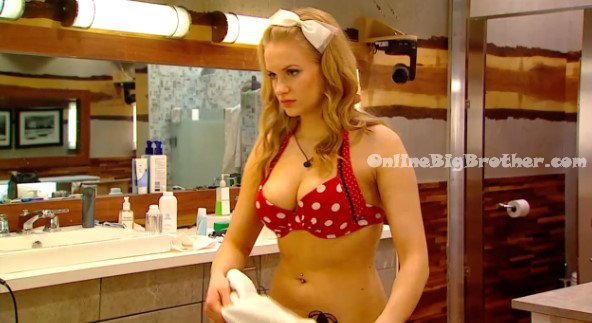 2pm Jon and Heather head out to the hot tub room to sit in the rain. They head back inside to get other and sandals. Jon tells the others at the table that its raining outside. Adel says who wants to go in the hot tub! The conversation turns to talking about how drunk they were last night. Jon asks what happened to me for me to take off my shoes and drop my pants?! Jon tells Neda that her butt looked really good. Neda thinks Jon is changing the subject. Neda comments that Arlie is going to mope around all sad for a couple days and then he is going to start game talking.. he's a superfan .. a genius he is not going to go out like that. If anyone falls for that they are an idiot. Allison says I know I'm expendable. Adel says everyone is. Neda tells Allsion I told you last night you aren't. Adel ask Neda if Jon showed her his dizzel last night? Neda says no. Adel says well why were you saying 7 and a half inches when I came around the corner? Neda says because he was just talking about it.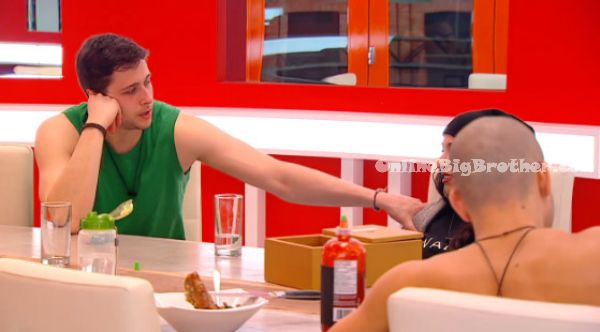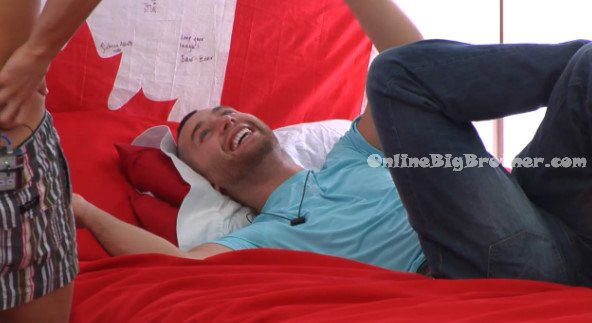 2:20pm – 2:40pm In the bedroom – Adel tells Arlie not to give up, I hope you try. Arlie says I will. Adel asks him to whisper what he does for a living before he goes. Arlie says he will .. its interesting.. Im good at it. Adel comments on how he knew Arlie was a superfan because you liked every other reality show and you said you wanted to be just like your dad and he's a huge fan of the show. Adel tells Arlie if he was him .. I would talk to the Gremlins because they're a pack of two and then the next person you get is Allison. Arlie says that's a good idea. Adel says I can't wait to go back and watch you try that when I get out of here. Adel leaves the room. Arlie comes down and joins the others in the living room and says he pretty much knows whats going on .. well I don't really know but I am not going to sit around in the corner like a Paul. I am going to hang out with you guys.. this is just a game! The others are happy he's joining them. Adel says I want to know how you (Allison) got your veto! Allison says I want to be able to tell you where, when and how I got it but I can't. Sabrina asks who pee'd in the hot tub? Adel says Sabrina knows who pee'd in the hot tub. Sabrina says it wasn't me. Rachelle says she pee'd in the hot tub. She says it was a long time ago .. its gone by now.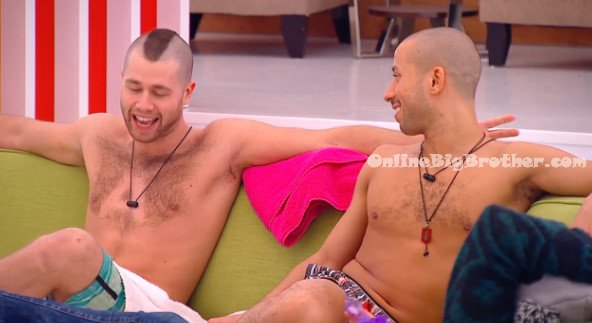 2:45pm – 3pmNeda and Sabrina head into the main bedroom and Sabrina tells her about what has to happen for her and Rachelle to go through with this plan. Neda informs Sabrina that Sarah and Kenny were the biggest supporter of getting you out over Andrew. Sabrina says I am so hurt by Sarah. Neda says they just spewed so many lies. Sabrina says they're awful! The worst ones in the game. I was treated like sh*t the last few weeks and they were really the worse ones! Sabrina says at the end of the day they did what they did and they are out of this game because of it .. that's karma. I am the last of the first 5 to be standing.. that's karmatic! Sabrina says Arlie is going to try and flip me and its not going to happen. I swear on that. I am so happy that I get to vote him out. Neda heads down stairs. Sabrina talks to Rachelle – I love how the power can change. It has to me me, you, Neda or Allison that wins HOH. Rachelle says we're so lucky. Sabrina says we can't get too co*ky because look what happened to him, one minute you're on the top and the next you're on the bottom.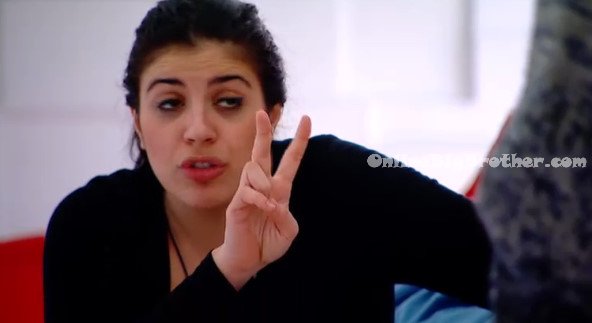 Neda, Heather, Adel, Jon, Rachelle, and Sabrina head out to the hot tub. Sabrina complains that her v@g!n@ is all hairy. They worry about getting a yeast infection from the hot tub. Adel says that they (production) said you can't get one from the hot tub. They talk about how Arlie is the best player of the season.. way better than Kenny.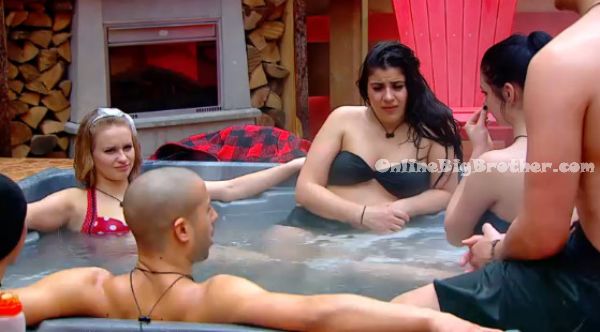 3:30pm Meanwhile in the living room – Arlie talks to Allison about how surprised he is that this happened. Arlie says the only thing I can think as to why Jon would do this and take out a big target and leave himself as the next biggest target in the house is that he has had an alliance for a long time that he really trusts in. Arlie asks I have to be in jury right?! They wouldn't do a five person jury would they?! Allison says yeah you would be. Arlie says I hope to god Kenny isn't in jury. Allison says he would be if there's a nine person jury. Arlie asks so were you allowed to tell people you had the veto? Allison says no .. it was a secret veto. Arlie says wow! That changes a few theories.. so this was always the plan .. to get me out. Arlie starts questioning why the HOH tv doesn't work. Arlie heads out to join the others in the hot tub.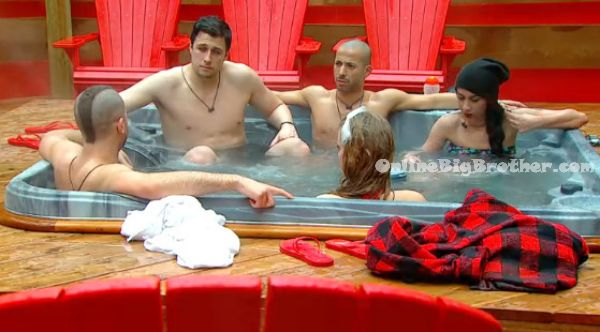 3:30pm Arlie tells the other in the hot tub that his job is online poker. I am really not amazing at it and I don't make a lot of money at it. Neda asks are you really in debt? Arlie says yeah I owe $18G's from school debt. Neda asks what his biggest win was. Arlie says $2400 off a $22 buy in. Neda bust Jon for staring at Heather's breasts. Arlie talks about how he's watched all the seasons of BB and most of them twice. He says the thing annoyed him the most was listening to Sabrina talk about seasons and getting things wrong like how she said Dr.Will wasn't in all-stars. Arlie wonders how his game is being looked at. Adel tells Arlie that we all came to the agreement that you're a way better player than Kenny. Arlie talks about the competitions he threw in the beginning of the game. Adel asks Arlie if he knew he was going to be back doored. Arlie says he had a bad feeling and that he knew when Rachelle came off the block I knew 100% I was going up. Adel tells Arlie that he thought it was real the deal they had. Arlie says I knew you believed it but other people I didn't think believed it. Arlie says I wanted to go really far with Jon. I didn't think he would ever back door me because I believed he and I were the biggest competition. I would have gotten rid of Jon 4th or 5th. I didn't want to go final 2 with him. Arlie says that he played the game for the fans so that he could come back as an all-star… Neda asks who when you came in the game did you think was going to win.. and you can't say yourself. Arlie says I knew I wasn't going to win .. I knew I was going to go deep. First impressions I thought Kenny was going to win but not after I turned on him. Arlie says Jon and Adel were two he thought might make it to the end. Neda says she thought first weekend that Arlie was going to win it.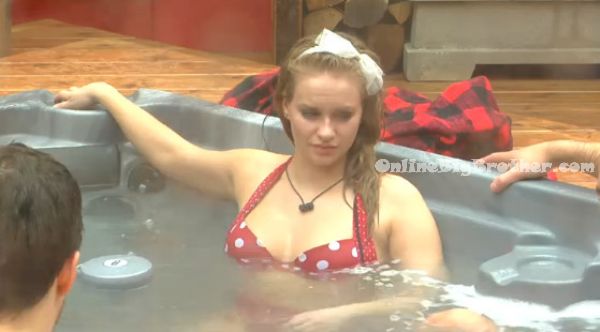 4pm – 4:20pm Meanwhile in the bathroom – Sabrina, Rachelle and Allison talk ..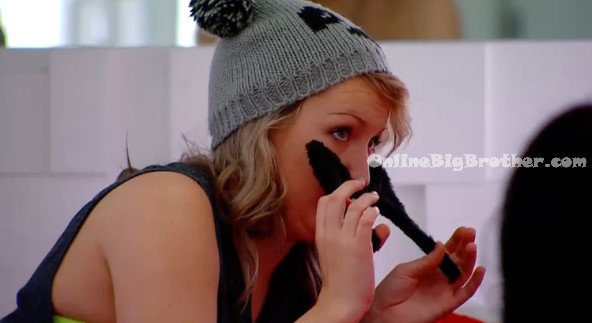 [polldaddy poll=7964297]
Stay connected and interact with other Big Brother Fans on our Facebook page.
And Follow: @BigBspoilers and @Dawgsbigbrother on Twitter for the most up to date spoilers.