POV Holder:
Jon
Next POV
April 12th
POV Used
?
POV Ceremony
April 14th
HOH Winner:
Jon
Next HOH:
April 17th
Original Nominations:
Sabrina & Rachelle
Current Nominations:
?
Have Nots
Neda, Arlie, Rachelle and Heather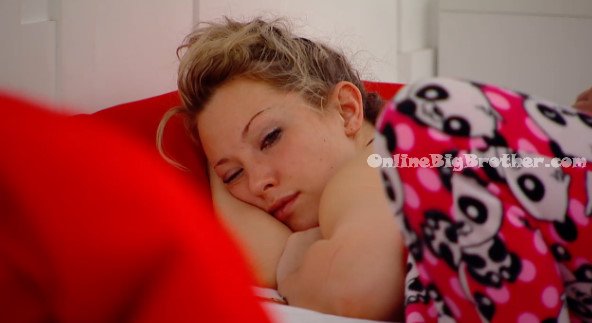 8am – 8:40am Big Brother wakes up the house guests and the game talking starts right away. Heather tells Allison that she, Jon, Neda and Rachelle are going to take out Arlie and they want her on their side to help them do it. Heather tells her we need you to do this with us. This going to save you. In the HOH room – Jon and Neda are talking. Neda tells Jon to run it through what you'll say when you put him up. Jon says that he is a big physical threat that no one can beat him. Allison joins them and talks about how drunk she was last night. Neda tells Allison that there were people pushing to back door you this week but that's not good for us. What you me, Heather and Jon came up with last night was to back door Arlie. Are you on board with that? Allison says well I was going home. I'm down. Neda tells Allison that Arlie has final two deals with everyone. We literally last night were like no. Heather says it was so big of you to trust us last night with that stuff. They talk about how Adel and Arlie are going to freak out. They head inside. Neda tells Jon in the main bedroom that you need to tell Adel first because he is going to freak out and we need him on our side. They grab Adel and head out to the hot tub room. They tell him that how Arlie has a final two deal with all of us! Adel says okay I'm on board. Jon says I was in a goof troop alliance with him. Adel asks are you going to come after me next? Are you keeping the Gremlins? They tell him no, the Gremlins are next. Adel says okay I'm in! They grab Allison to confirm with him that she isn't coming after him and that she's on board too. Heather tells Adel we want you to be with us in a final 4.
Meanwhile up in the HOH room – Arlie is freaking out about how he thinks the girls are up to something. He says that they've walked away three times this morning. Arlie is freaking out and knows they're scheming. Jon joins him and Arlie talks to him about how the girls have been walking away from him all morning. Jon asks what would they be scheming about Allison is going up. Arlie says I don't know, maybe about next week. Adel joins them and talks about how last night Jon showed his dizzel to Heather, Neda and Rachelle last night. You showed them and said I wasn't lying 7 and a half inches. Adel says you gave them a show. Adel says that Rachelle then said it was the same as her boyfriends.
In the bathroom – JOn ask the Gremlins if he takes a swing at Arlie .. Are you on board? Rachelle says yes. Jon says okay good!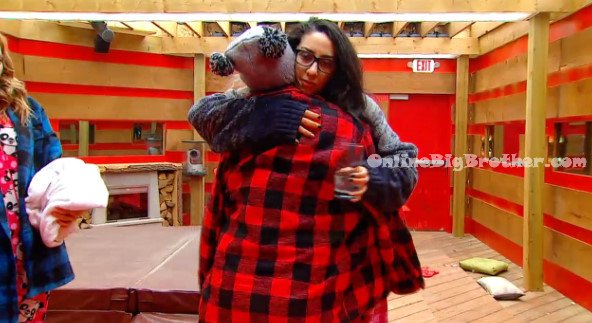 Arlie continues to scramble and Adel and Jon lie pretending they don't know what the girls are up to.


9am – 9:30am In the storage room – Jon and Adel are talking about the plan to back door Arlie. Adel is really worried that if they take out Arlie now .. the girls will team up and take us out. Adel says he would feel way better about him, Jon and Arlie teaming up. Adel says oh my god we going to lose this game. Jon leaves the storage room and Adel says to the camera – We just lost the f**king game!! Meanwhile Sabrina and Rachelle are talking out in the hot tub room. Rachelle is annoyed that Jon is taking Sabrina off the block and keeping her on it. Sabrina says that she is just tired of being on the block. They talk about how Arlie has no idea what is happening. They laugh about how happy they are that they're staying. Jon joins them and asks them to swear on everything holy that you won't come after me. Sabrina & Rachelle agree they won't. Sabrina asks what she can tell him. Jon says you can tell him whatever you want. Sabrina asks aren't you afraid of him being mad at you. Jon says its a game! It's a game! Jon says someone once told me when you come in here you have to leave your heart at the door. After Jon leaves. Sabrina says we're so stupid we didn't ask for us to not be put up! Rachelle says oh!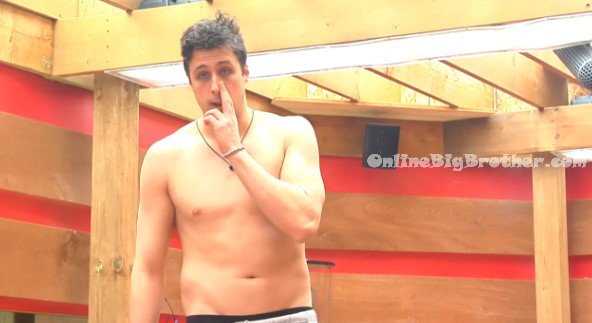 In the storage room – Neda talks to Adel about how Arlie is the only one in the house that doesn't know he is going up. Neda talks about how she knows Arlie is a huge superfan of the show and of reality tv. Neda says I've wanted Arlie out for a really long time. Adel says we can't let the Gremlins get the upper hand because if the win this we will be the laughing stock. Neda agrees. Neda talks about all the deals Arlie has made. Adel says he just pulled a Paul.
IN the main bedroom the house guests talk about what happened last night. Adel tells the others what they were doing because he was the only one that wasn't drinking.

10:15am Big Brother blocks the live feeds.. The POV Ceremony is likely happening now..
11:30am The live feeds are still blocked…
[polldaddy poll=7964297]
Stay connected and interact with other Big Brother Fans on our Facebook page.
And Follow: @BigBspoilers and @Dawgsbigbrother on Twitter for the most up to date spoilers.