Head of Household Winner – Cody
Have nots – Ian, Kevin, Memphis, NicoleA
Nominations -Keesha and Kevin
Power of Veto Players are – Cody, Kevin, Keesha, Enzo, Kaysar, Ian
Power of Veto holder -Enzo
Power of Veto Ceremony – ENZO YO!
Safety Suite – Kaysar & Janelle
Live feeds —-> Grab your Live feeds here. Try it free.
Rank the houseguests —-> Big Brother 22 Ranking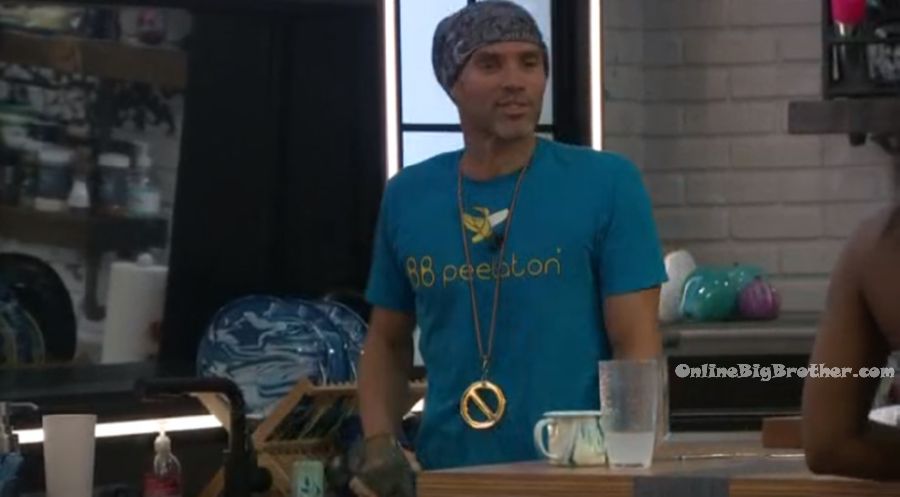 7:25pm – 9:50pm Big Brother blocks the feeds for the Power of Veto competition.
VETO PLAYERS: Cody, Kevin, Keesha, Enzo, Kaysar, Ian
Host: DaVonne
Power Of Veto Winner: ENZO YO!
** The competition was called "BB Peeloton" where the house guests had to stack fruits / veggies with a count down timer that would reset their stacks if they didn't reset the timer. **
The house guests are in the kitchen when the live feeds return. Enzo had the veto around his neck. DaVonne – you coming in here trying to be the man! Enzo – That's it! I'm done!

In the bedroom. Daniele comments to Cody how he did really bad. Cody – shut up. I couldn't figure it out to save my life! Thank god I wasn't on the block! Daniele – I can't believe Enzo got it. Cody – he is the only one that got it and rang in. Cody – Oh my god I was f**king dying! Daniele – Ian almost got it too. Cody – he said he talked to Kevin and he asked him if he would use it and he said maybe .. I'll talk to everyone and see what they want.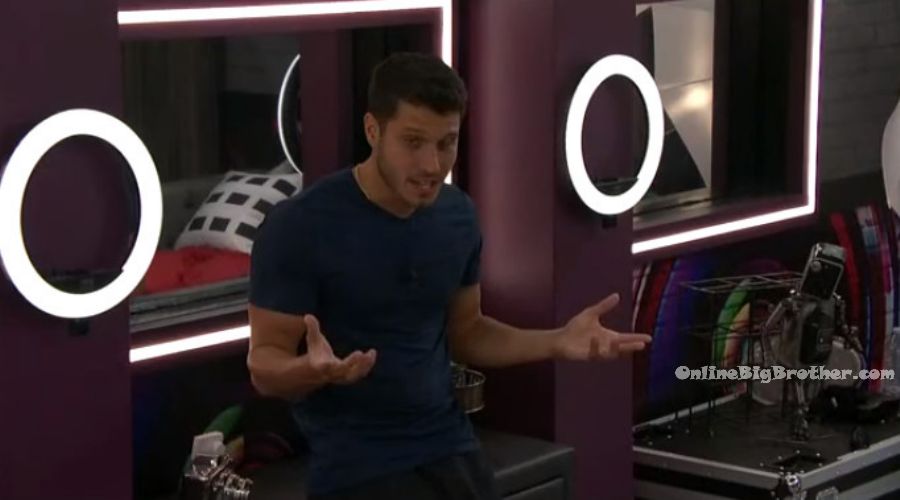 10:06pm – 10:25pm Bedroom. Cody, Christmas, Ian, Bay, DaV,Cody – Ian I've never heard you curse so much dude! Ian – I know. If you watch my season back there was one veto I cursed so much. Cody – it kinda looked like you threw it! Cody and Bay start laughing. Cody – I am totally joking. They continue to talk about what happened during the comp and what their strategy was. Christmas – I was surprised they gave you guys so many tips. Big Brother cuts the feeds.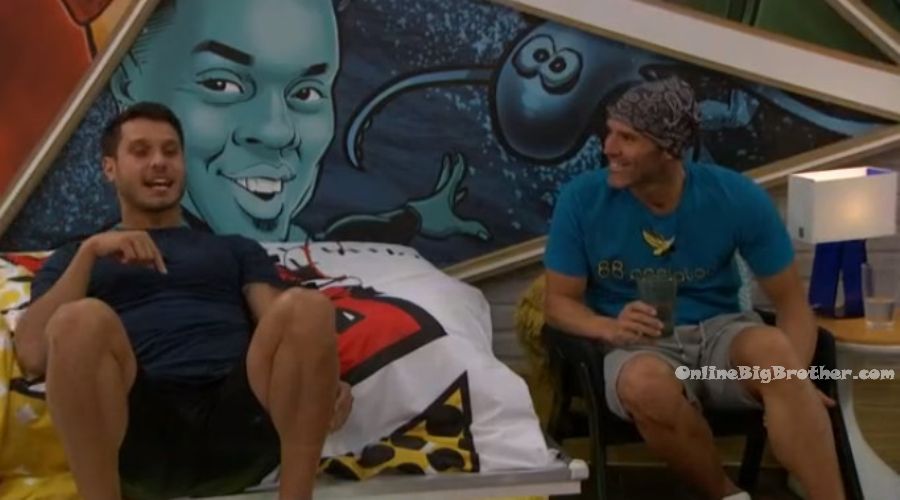 In the kitchen. Nicole, David, Daniele, Cody.
Nicole standing up on the chair looking at Cody and says – you knew Zach was going to call me a Froot loop dingus didn't you! Cody – you've been holding that one in for a long time haven't you. Everyone laughs. Cody – he was practicing that one for long time… yeah I knew.
10:28pm Bedroom. Enzo and Tyler.
Tyler – Hey Hey Hey Nice Work Bro! Enzo – Just keep the same ..then noms alright! That's it! Or should we make a move? I don't even know yo! I'll ask Cody and see what he says. If he says keep them the same ..then keep them the same. Tyler – yeah. Good sh*t though. Enzo – it was fun just to be out!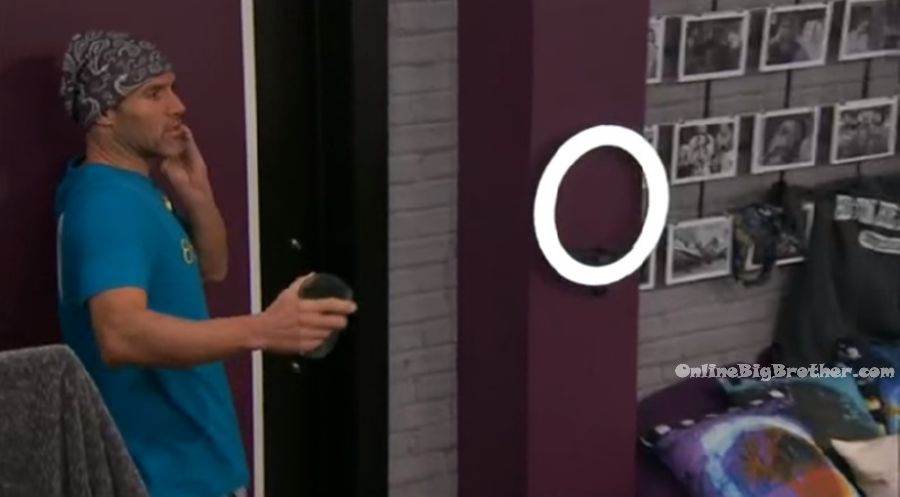 Bedroom. Janelle and Kaysar.
Kaysar – I got a little too excited. Janelle – is NicoleA okay or did you freak her out? Kaysar – yeah. Okay I got a little carried away. I have to take my foot off the gas. Janelle – its okay.. we're safe. Just don't talk game with anyone. Try to fade into the walls if you can. I know its hard. Kaysar – there is literally nothing else we can do at this point. Janelle – and we have to "go with the house". Kaysar – I had a moment. Janelle – yeah you did! You were trying to lead these people to some .. I don't even know what the goal was. I was like please stop! Kaysar – I lost it okay. I don't know what the goal was either. Janelle – you were trying to make NicoleA decide that she didn't want to work with us because you're too intense. Kaysar – yeah I'm pretty intense. I was having tunnel vision. I was thinking we could work with Memphis and Keesha .. assuming they were a pair .. so it would be good for them to stay. Janelle – and it would be good for our game because there would be another pair ..but you don't want to show your cards. Kaysar – I know it was too intense. Hypothetical .. suppose we don't get HOH. Janelle – then we're f**ked! Kaysar – I didn't tell anyone this but had you not went and I just played by myself (safety suit).. I would have won it .. like even if I timed out. Janelle – no! Kaysar – no I asked them .. I asked if we both time out what would happen ..they said there would be a tie breaker and then we just keep playing. But don't tell anyone .. we want everyone to waste their time. Don't say anything. Janelle – I did so average on that comp. Kaysar – what happened, I thought you were good at comps. Janelle – not music though. Kaysar – it was a memory comp.. is your memory no good anymore?! Janelle – I don't know. They laugh. Janelle – I want Keesha to stay. Kaysar – well if its true that Keesha is in an all girls alliance.. Janelle – its not. Kaysar – even if its not ..they'll vote to keep her.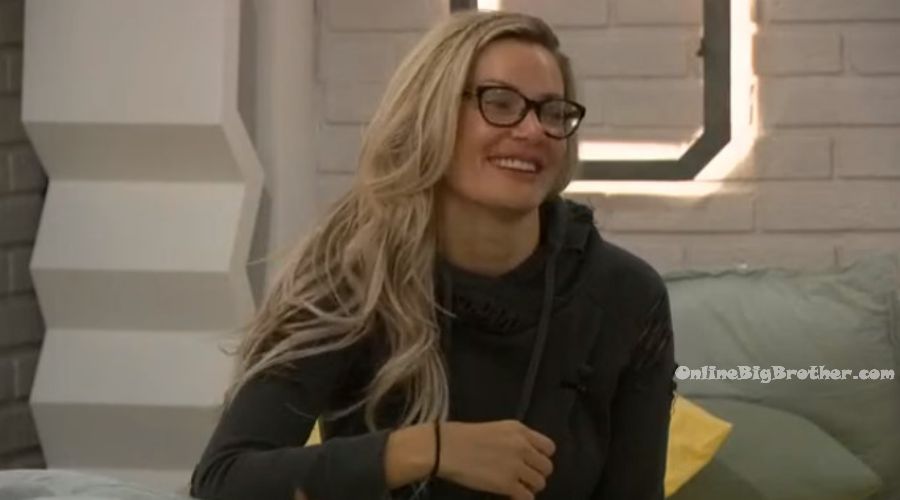 12am NicoleA is putting on her mask.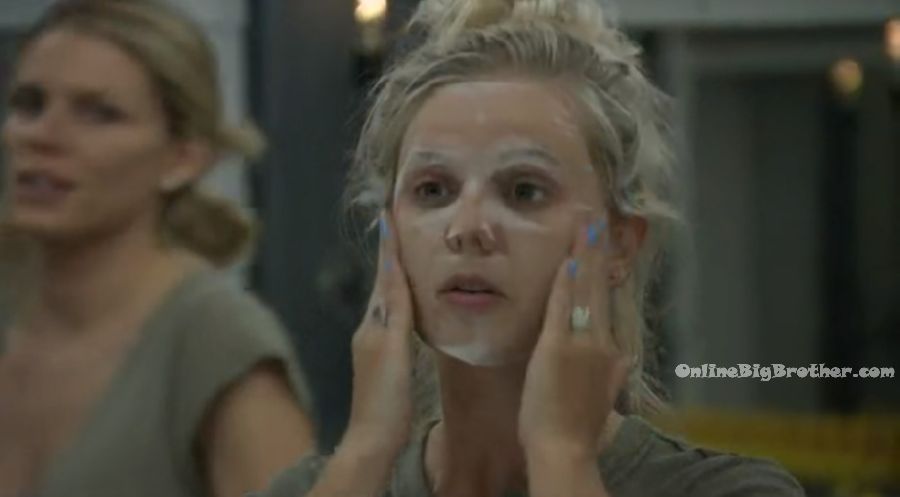 12:13am Bedroom. Bay and Janelle.
Janelle and Bay talk about Ian being a threat. Janelle – you have to remember he beat Dan. Bay – and they tried to take him out and he saved himself. Janelle – he is very smart. I don't think he is a threat right now. Bay – no, no, no ..nothing like that. Bay – Even Cody .. Cody is a beast too. Janelle – very much so. Bay – let it flow. Janelle – once the first blood is drawn ..let it flow. Bay – do you feel like you want to lean towards the old school or? Janelle – I want to work with people that want to do sh*t.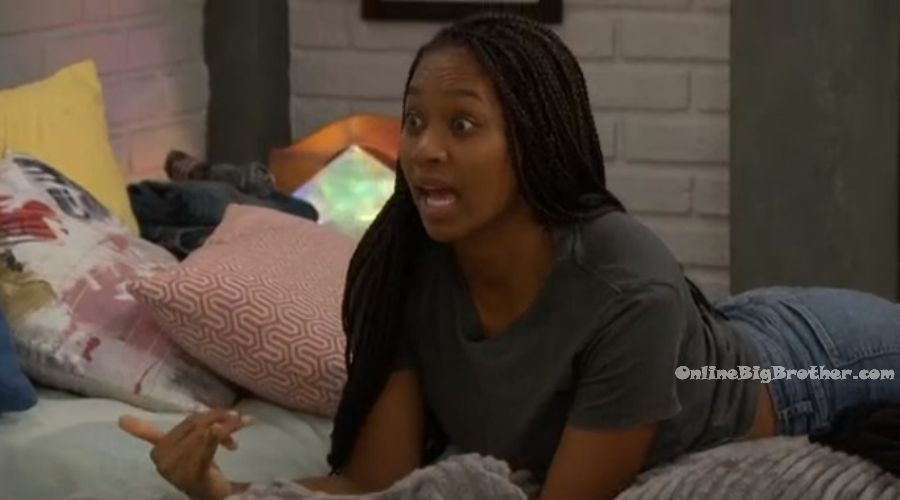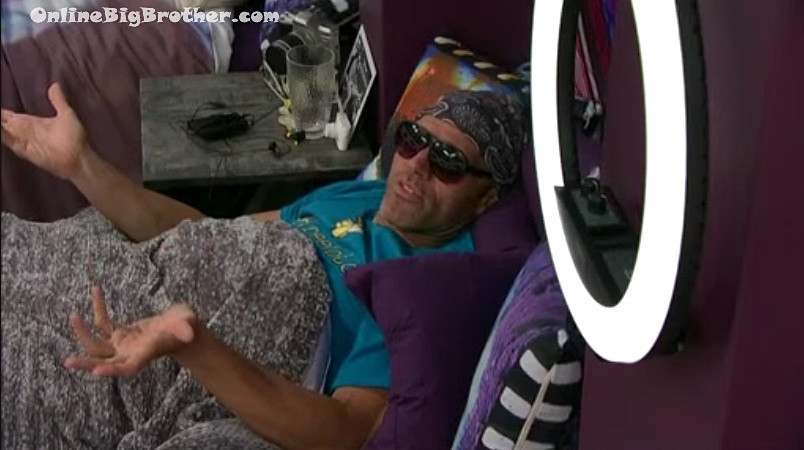 12:20am Bedroom. Cody, Daniele and Enzo.
Enzo jokes to Cody that he will ask him in the Veto Ceremony if he wants him to use the veto or not. Cody laughs and says do it! That would be great TV!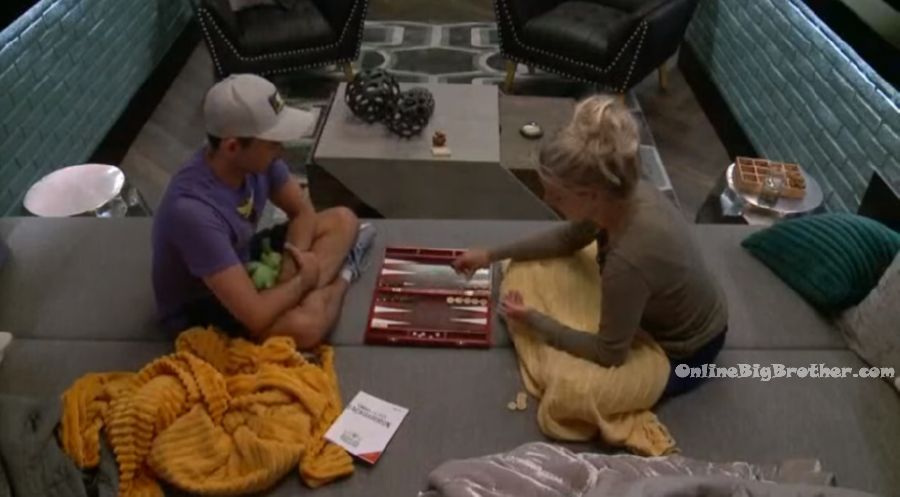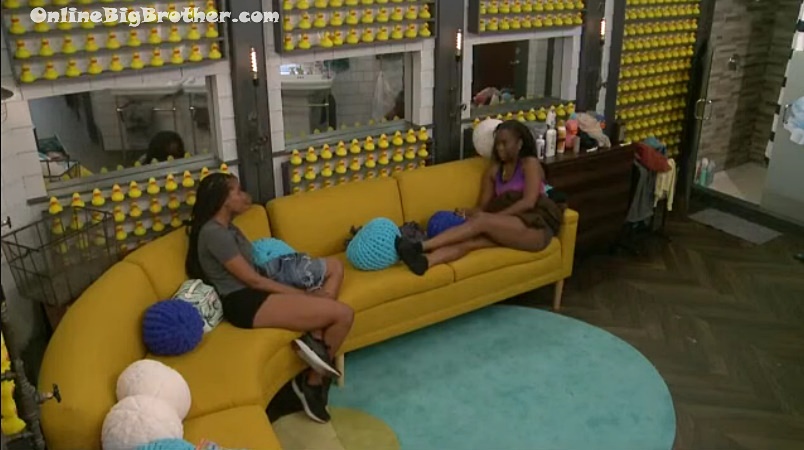 1:08 am Da'Vonne and Bayleigh
They talk about how the nominations will be kept the same. Enzo isn't using the veto even though Kevin picked him to use the veto.
They're talking about leaning to keep Kevin. Da says she likes Kaysar on a personal level but he doesn't talk game with her.
David joins them. da tells them it's important for them to be nice to the evicted houseguets in case they come back.
Bayleigh – how are you feeling about this week who would you like to keep?
David – Kevin ..
Bay – whats your reasoning
David – he just seems nice .. he's been two times to talk. Keesha is kind to . They're both Kind.
Da says "He's warming op to you"
Bayleigh – yeah.
Da'Vonne – Cody and Enzo are right we need the numbers.
Da'Vonne talks about being the core with Cody, Enzo, and Bayleigh.
They talk about Dani and how she tried to be loyal to her group on her last season but they turned on her because she got involved with DOM who was on the other side of the house.
Bayleigh says the only person that intimidates her in the house is Ian. She calls him Shifty.
Da'Vonn – GIrl.. that will be the one that just …
Bayleigh – he doesn't complain about anything..
DA – that's the game.
Da'Vonne sounds convinced that her four-person alliance with Enzo, Cody, and Bayleigh is a real thing. Adds that when they get to final 4 with those guys they will split and them two will go after COdy/Enzo.
Da'Vonne – they are going to take each other. Enzo isn't taking me Cody isn't taking me
Da'Vonne about Cody and Eznao "They're cool people"
Bayleigh warns her about people that attach themselves.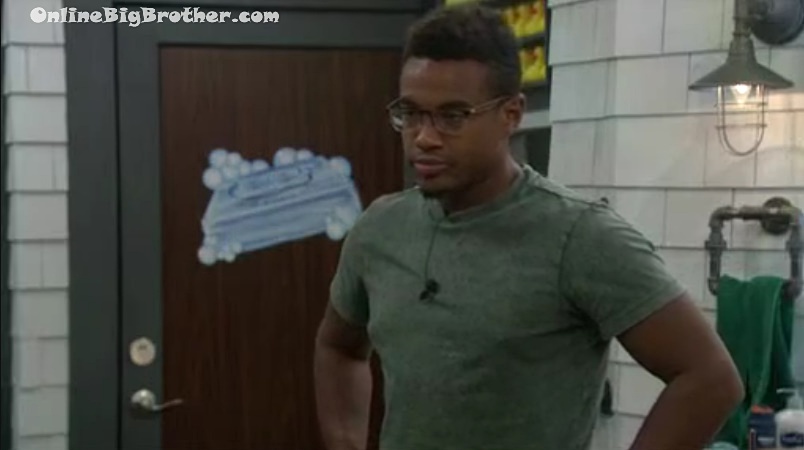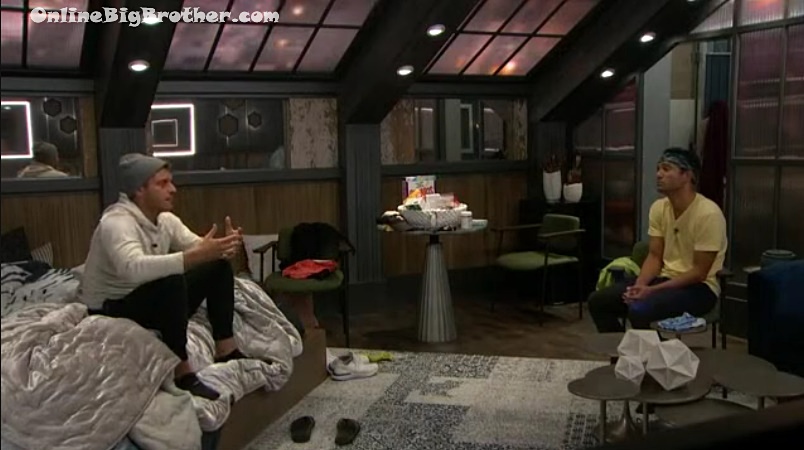 2:02 am Cody and Kevin
Cody tells Kevin he doesn't want the veto used and wants to work with Kevin.
Cody claims he struggles to fit in all the time. Says he and Kevn are the same. "I can't be Enzo ever. I just laugh that is my defense mechanism"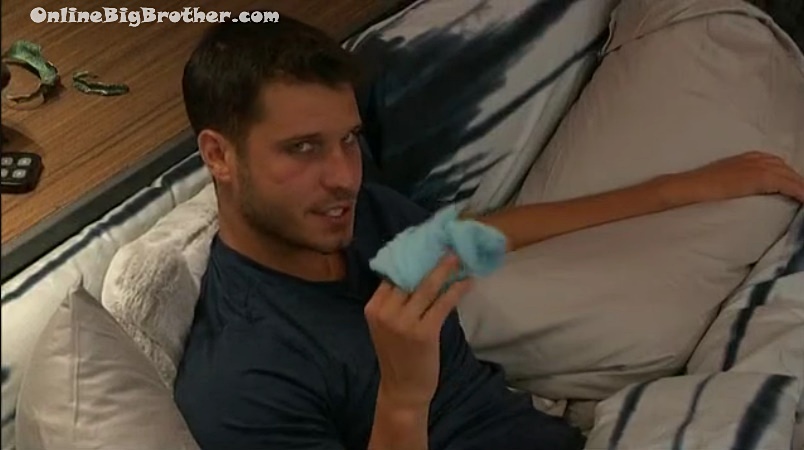 2:32 am Cody talking to us on the camera.
He says he sucked at the veto competition today.
Cody – I'm saying it right now Ian backgammon specialized I'm going to wax him he doesn't know it yet. I'm already in his head because he got smoked by me in backgammon.
Cody says Ian is saying he's won a lot of money playing backgammon "I'm going to take it all his winnings from season 14 I'm going to take for BB22"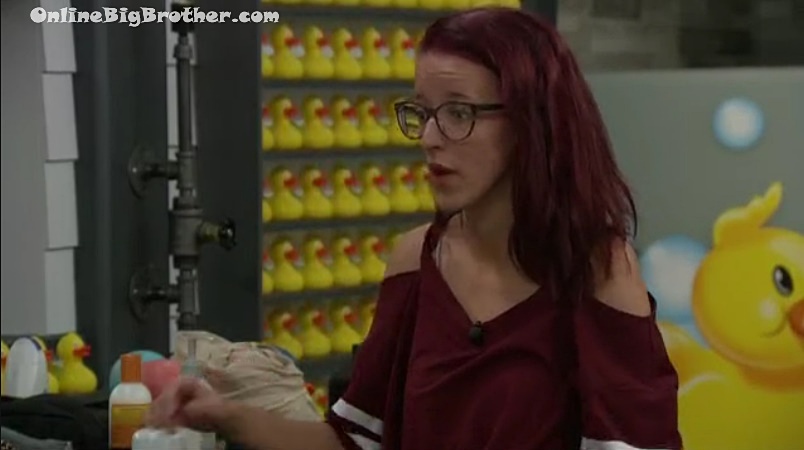 2:08 am NicoleA and Keesha
NicoleA says she hasn't heard anything at first people were saying they'll wait until veto. She's not making any moves this week that goes against the house. She doesn't want to be a Outlier
NicoleA – I'm a very straight shooter.
Keesha – I'm a straight shooter too. I'll probably just go to Cody to see where his heads at.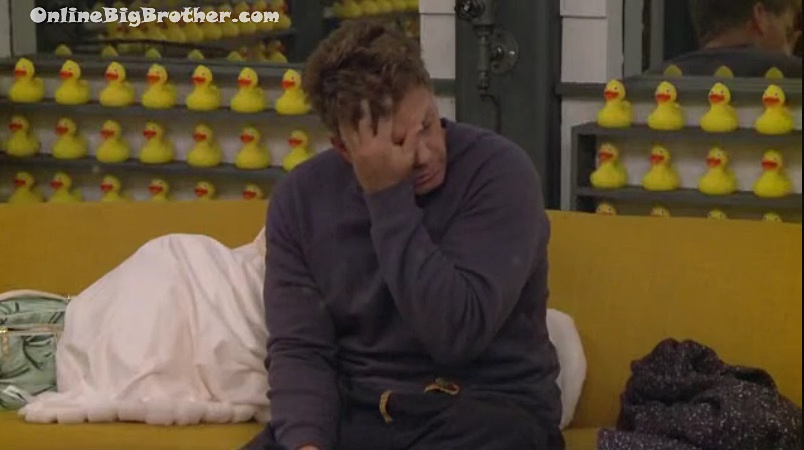 6:09 am Memphis briefly goes to the bathroom. (It's listed in his pregame schedule made by Derrick. Pee at 6:10 every night)