Head of Household Winner – Cody
Have nots – Ian, Kevin, Memphis, NicoleA
Nominations -Keesha and Kevin
Power of Veto Players are – Cody, Kevin, Keesha, Enzo, Kaysar, Ian
Power of Veto holder -?
Power of Veto Ceremony -?
Safety Suite – Kaysar & Janelle
Live feeds —-> Grab your Live feeds here. Try it free.
Rank the houseguests —-> Big Brother 22 Ranking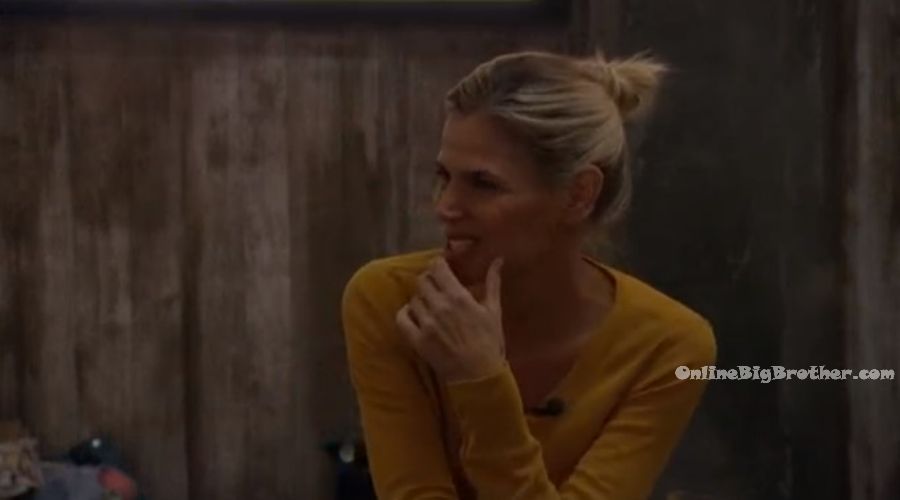 12pm Havenot room. Keesha and NicoleA.
Keesha – As we start adjusting we get more into ourselves .. we get more comfortable.. and that is when you'll see more of our personalities come out. And that is the thing ..man I wouldn't want to leave now. Just now starting to get to know everyone.. which is nice. Its a nice group. It takes me a few days to warm up.. then you'll see my personality start to come on more. I am just more of an observer first. I sit back and watch. At some point we're going to be playing this game. (lol umm.. its already started!) I don't know what everyone is thinking. I think everyone is just waiting for today. Nicole agrees. Keesha – I just hope that if I am the one to leave I know before so that I can be prepared for it. I don't think Kevin would be the target .. he is just like so chill. Nicole – we need someone flipping out. Its easier when someone is the public enemy. Keesha – why do you think they would be scared of me? Nicole – I don't know because you're and OG. And Kaysar and Janelle got safety. Keesha – I would definitely be more of a target.

Bedroom. Janelle and Daniele. Daniele – I could see David working with the guys. Janelle – I could too. I don't want him winning. Who do you think Bay and DaVonne would go after? Daniele – I don't know. I asked DaVonne and she didn't know either. I don't know who she would nominate. David joins them. Janelle leaves. Daniele – I said to Dom coming in here that I want to have fun. The last time it was not fun for me. It was the first few weeks and then it got so intense and so mean and everything and it was not fun at all. These experiences are so rare .. to have it and not have fun is sad. Like I want to have fun. David – when you say that it makes me think of the concrete memories from last season and not a lot of it was positive.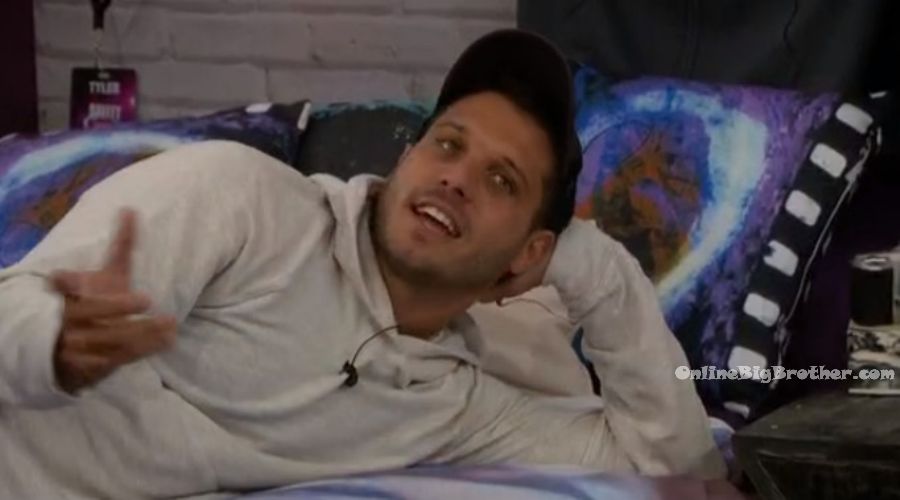 Daniele and Cody.
Daniele – if you were HOH next week who would you nominate? Cody – I don't know… actually I do know. Kaysar rubs me the wrong way. Daniele – he has that thing with guys. Cody – its not even like .. David, I like David but he is lower on the pecking order. Daniele – but also he is a wild card, I don't know what he would do. Cody – but that's the thing I went up to him in the storage room and asked do you want me to pick you? Because he said he wanted to be involved and he goes I don't know. And I was like I thought you wanted to play? And he was like yeah don't pick me. Daniele laughs. Cody – but honestly I am just going to pick Christmas because she is going to try and win. I want to pick someone that is going to win so that I don't have to put anyone else on the block. Daniele – who would you put up do you think? Cody – that's the thing .. NicoleA? Daniele – I spoke to her for the first time yesterday. How do you feel about Christmas? Cody – she is going to be a strong personality that is going to clash with somebody and as long as its not me I would rather keep her here to have that clash happen. Daniele – as long as its not us. Cody – I don't think it would be. I really like Janelle but it is hard for me to break down the barrier with her. Daniele – I asked her but she said you told her its okay if she plays (for safety) and she felt like it was telling her she had to. Cody – if I wanted her on the block why would I tell her to play?! Daniele – what should we do about DaVonne? Cody – she wants to work with me. She said I think me, you and Bay would be good. Daniele – what if you, me DaVonne and Bay had some .. like I really like DaVonne. She keeps telling me that she likes me and Bay. What if we did an us four thing and that would save our butts. I don't know how she feels about Nicole either .. I don't think she particularly likes her. Cody – when I was talking to her yesterday I told her she needs to just relax. I like her but she is another one that you can't control and she will blow up like Christmas. Daniele – how do you feel about Bay? Cody – she is nice, I like her. Tyler joins them and the conversation ends.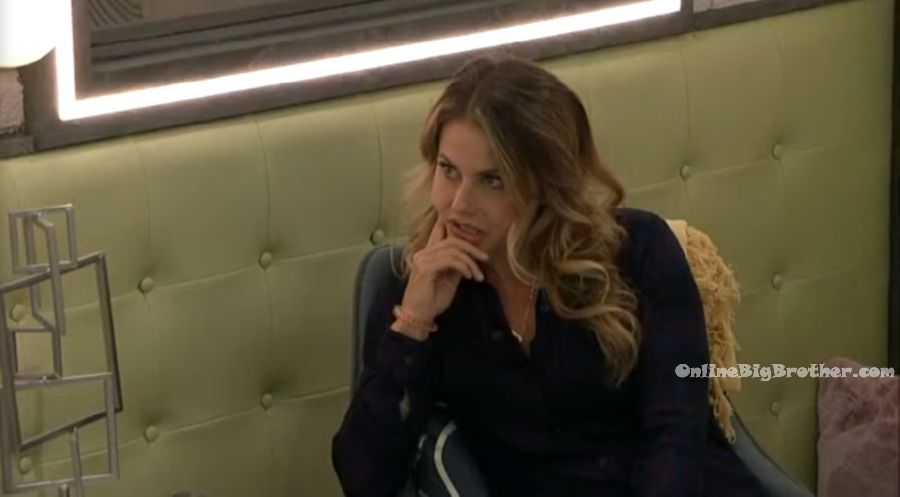 12:50pm Bedroom. Christmas and Kaysar.
Christmas – Are you excited about the veto? Kaysar – I'm excited about being able to play. I would like to play from a competition stand point and for selfish reasons .. because its fun. From a game stand point I don't want to play because I don't want to be put in a position where someone wants me to use it. Christmas – me too, I really want to play but I don't want to win and I don't want to throw it. Kaysar – and I am not trying to draw any attention to myself. I talked to Cody and said just so you know I am doing whatever you want. I am not trying to be a hero day 4. This is not my battle and I'm not trying to be a dick. I have no loyalties to anyone. I've learned from the past. I am just trying to stay alive and stay out of trouble. Christmas – I am just trying to have fun. Kaysar – me too.
1:05pm Outside the HOH room. NicoleA and Enzo. Enzo – I feel like I can trust you. I like you. Whatever I can do to protect you I will do it. If I get HOH .. you're straight! Nicole – you too. I definitely know you're good. I haven't heard your name come up. Enzo – you too, I haven't heard anything about you. But definitely stay under the radar. Let people kill each other.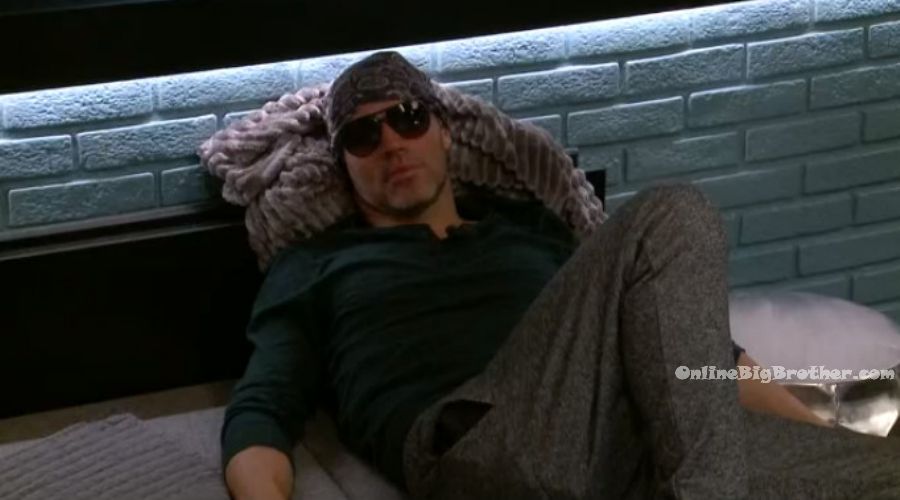 1:25pm DaVonne, Cody, Memphis and David are chatting in the kitchen.

1:45pm Janelle and DaVonne.
DaVonne – I was like well no one is talking game to me. And when no one is talking game to you ..you naturally get that paranoia and think well sh*t am I in danger? Janelle – yeah.. DaVonne – but then you don't want to go around and say hey do you wanna talk game? Janelle – I've asked people and they've said we haven't talked game yet. Like I've asked several people and they've said no we haven't yet. DaVonne – but then you have to think are you lying?! Janelle – I've been thinking that but I have to take peoples word for it.. its day 4. DaVonne – but its all star season .. when it comes to alliances ..I want them but I have PTSD!!! Janelle – SAME!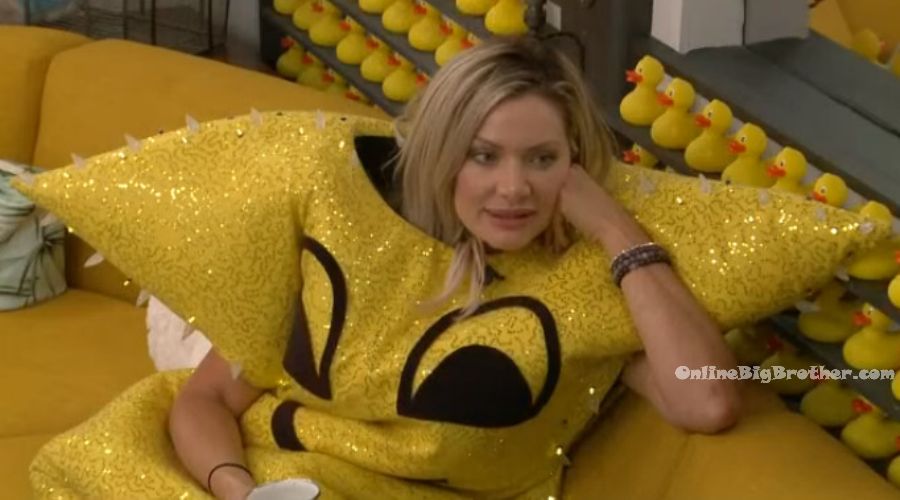 Daniele and NicoleF.
Daniele – People think that Cody and Tyler are working together. Nicole – who thinks that me and Cody are working together? Daniele – everyone.. literally everyone in the house. Nicole – weird! Daniele – because you were on the same season and you worked with his brother.. and Derick is his best friend.
1:55pm – 2:10pm HOH room. Cody and Enzo.
Cody – Everyone is already getting skidish. I was talking with Memphis and Kaysar is getting super .. he was saying that he thinks I was going to target him this week. Which is great that he said it to Memphis. And I've had so many conversations with him and for him to say that makes me be like ..something is up! Enzo – I was talking to Janelle yesterday and she asked do you think Cody would have put me up if I didn't do that (get safety). And I told her no, Cody likes you. I told her she was good. But she told DaV that she thought I was telling her she should play for safety because she needed to. Enzo – right now I don't trust Kaysar. Cody – you should figure out what we're going to call ourselves. Enzo – The Roots! Cody – that's good .. we're the roots! I like that! So who is your target? Kevin or Keesha? Cody – honestly it doesn't matter. Enzo – I think Kevin should stay. Cody – I mulled it over with the both of them. They can be shoveling sh*t to me. Enzo – you don't think they're shoveling sh*t to me because they know we're close. Cody – I am thinking our tightest group is us with Tyler and then let Dani, DaVonne, Bay, Nicole.. I think is going to get more warmer.. The only thing I am worried about is the mention of a guy group because its not really happening.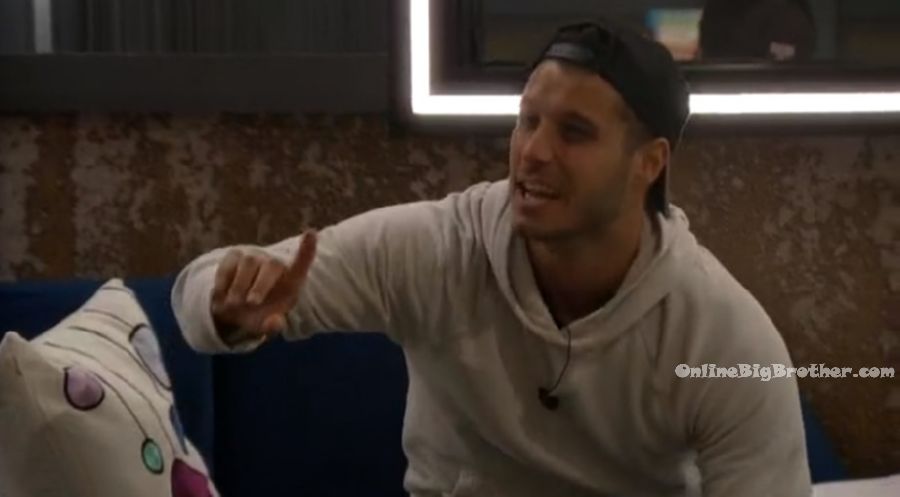 2:32pm Big Brother blocks the feeds. Its likely finally time to pick the veto players..
VETO PLAYERS: Cody, Kevin, Keesha, Enzo, Kaysar, Ian
Host: DaVonne
2:56pm Outside the HOH room. Enzo, Cody and Bay.
Enzo – I wanted to talk to you because I already talked to DaVonne. I love you and you know I love you too. I love him too. You know I got your back. Lets keep it us till the end. I don't care what you do on the side. DO what you got to do. Just deflect and protect us. We protect you.Bay – okay! Enzo – I like you a lot and I love DaVonne. I can't believe he (Kevin) picked me to play and sh*t. Bay – I didn't want him to pick me because I am not changing it. Bay – I like the four. Cody – I think we'll need to grow it a little more than four but right now I feel solid with that. Bay – its exciting .. we need a name.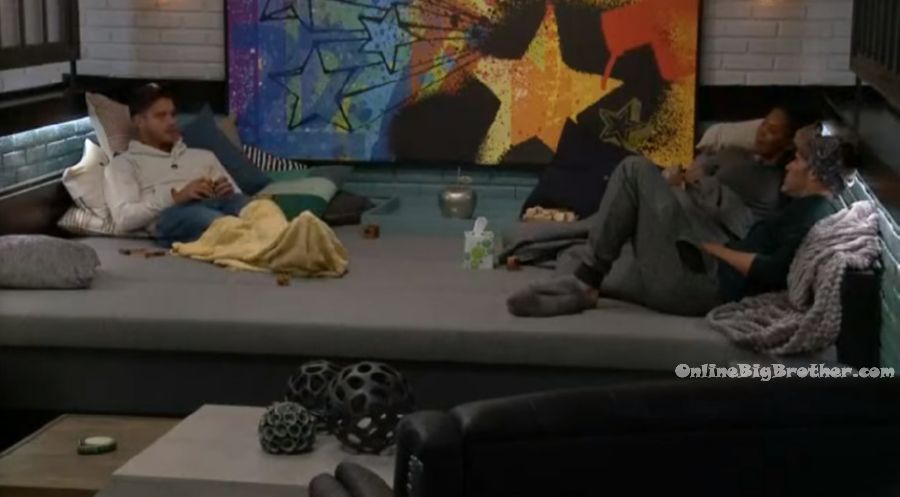 3:45pm Storage room. Ian and NicoleF.
Nicole – Don't kill yourself in this comp. If you can't handle it .. I think I can talk Cody into not putting us up on the block. Ian – okay, you're sure? Nicole – Yeah. I don't want you to pass out or something. I think he really likes you too. Ian – I thought I was really being annoying. Nicole – oh not at all. Don't push yourself. Ian – what do you think its going to be? Nicole – spelling comp. Ian – I have an edge if it is.. I can keep track of what letters I have. I am good with scrabble dictionary. I think it is really similar to that. Nicole – and you know a lot of words that I don't know.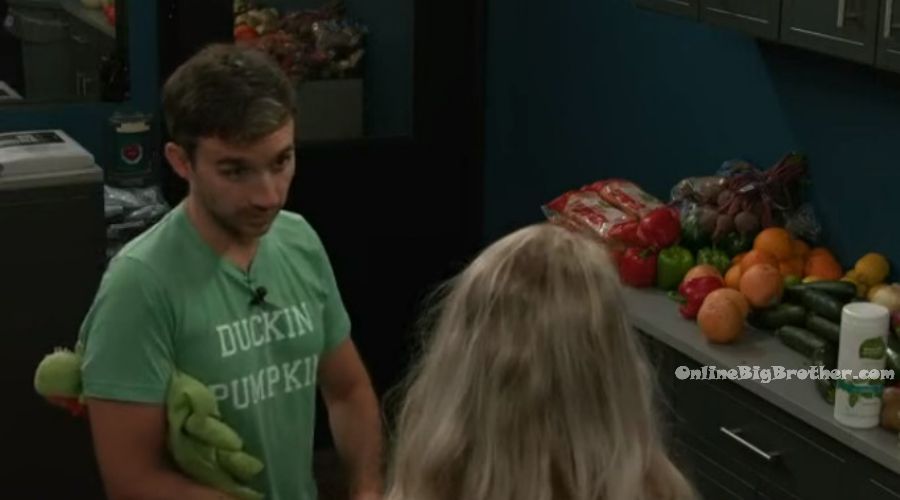 4pm DaVonne and David talking in the bathroom about Black Lives Matter.
Keesha and Janelle.
Keesha – I told Kevin why would anyone go after you. Janelle – because he doesn't have anyone. Keesha – I am curious what they want to do. Janelle – I don't think they really care. Janelle – if nominations stay the same just keep a low profile.
Janelle isn't buying Cody & Nicole aren't working together.. @bigbspoilers #bb22 #BB22allstars @JanellePierzina @Cody_Calafiore @nicole_franzel pic.twitter.com/Atl15A3S7L

— Dawg (@DawgsBigBrother) August 8, 2020
4:35pm Janelle shows Keesha her eviction show louis vuitton heels that she bought for 40% because of a covid sale. They talk about their love for shoes and bags. Janelle – I love my money right where I can see it .. in my closet!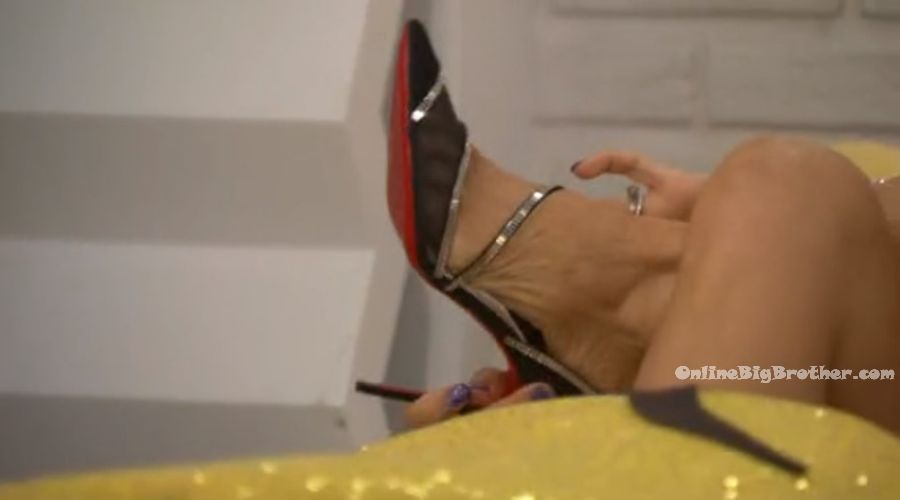 4:40pm Bathroom. DaVonne and David. DaVonne – do you think there is a big alliance in the house? David – if there is, I'm not in it. At this point me, you, NicoleA and Bay .. I like and feel like I can trust. I do feel good about that. And Enzo is an entertainer. I don't know how the house feels about me ..I'm the new guy that doesn't know a lot about the history of the game. DaVonne – it would be good if you had your cake on the side. I had my cake. And Bay to have her cake on the side because then if you hear anything you can bring it back. David – I think I can work something with Cody.
5pm Bedroom. Kaysar, Keesha, Janelle, and Memphis are talking about how sick Ian has been all day because of the slop. Kaysar – he's been in the bathroom all day throwing up ..its coming out of both ends.
6:28pm – 6:40pm Bathroom. Ian and David.
Ian – if I had to guess I would say that Keesha seems to be vibing a bit better. What would you think? David agrees. Ian – if I win, I am not using it. I don't want to make waves and I want to respect the HOH's nominations. I am going to gun for it and just do it. Do you think Tyler is the same? David – I can't imagine anyone changing it. Ian – very unlikely I would use it. And I only say unlikely because I feel bad. I just get a real good vibe from you. I liked that chess and I am happy you came back. I feel like you earned that spot. David – I do want to win an HOH ..I just don't want the decision that comes along with it. If Kevin wins veto, does he pick? Ian – no, Cody picks. David – Oh okay.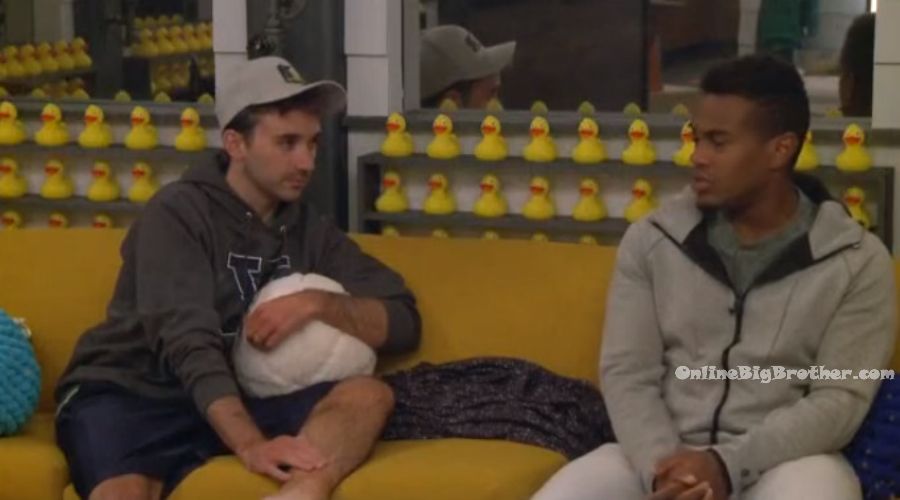 7:06pm Storage room. Enzo and Kevin.
Enzo – do you know what Cody wants to do or have you talked to him if he is even thinking about? Kevin – MMMmhhhhmmM. Enzo – I mean I am going to play. I am not throwing it or anything like that. If I win, maybe you go up to Cody and see if he wants something to happen. Maybe he wants to make a move.. or maybe not. Kevin – do you think he would want to? .. He probably isn't even entertaining it until after the veto. Enzo – that is what I am saying. I think Ian is going to win it ..if not you are. Enzo leaves. Kevin to himself – that's a no.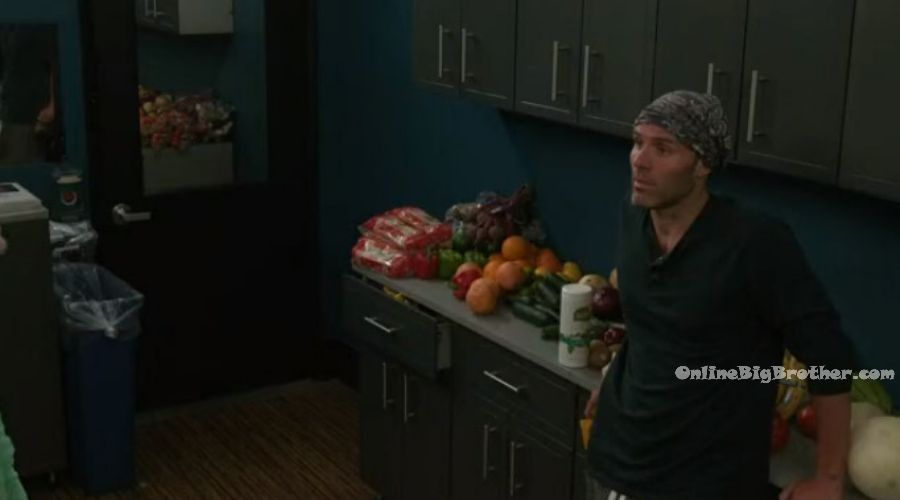 7:25pm The live feeds switch to the kitty cams.. The veto is likely starting NOW!!