Head of Household Winner – Tyler
Have nots – Bay, Janelle and Enzo
Nominations – Janelle & Kaysar
Power of Veto Players are -Janelle, Tyler, Kaysar, Cody, Bayleigh, Memphis
POV Host: Christmas
Power of Veto holder –
Power of Veto Ceremony – Cody
Safety Suite – Enzo wins Christmas is his plus one.
Live feeds —-> Grab your Live feeds here. Try it free.
Rank the houseguests —-> Big Brother 22 Ranking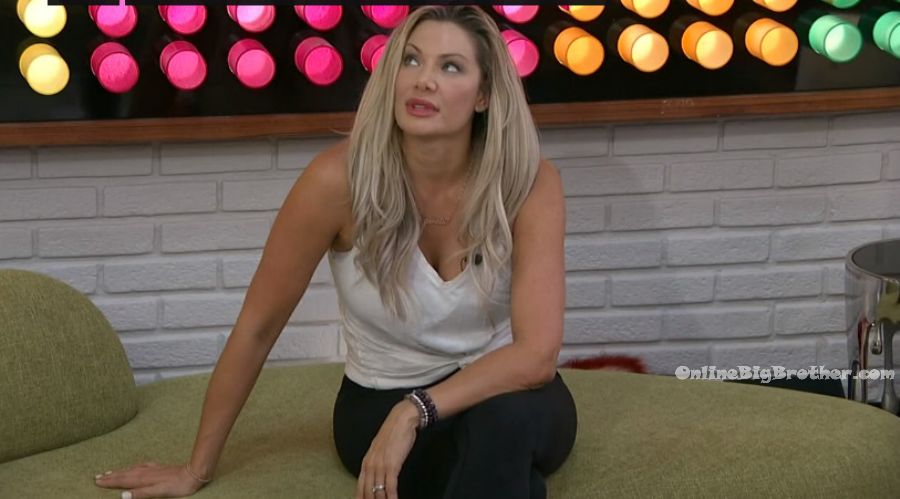 1:02pm – 3:16pm Big Brother switches the live feeds to the pound for the Power of Veto Competition to take place.
POWER OF VETO WINNER: CODY!
Power of Veto Players: Janelle, Tyler, Kaysar, Cody, Bayleigh, Memphis
POV Host: Christmas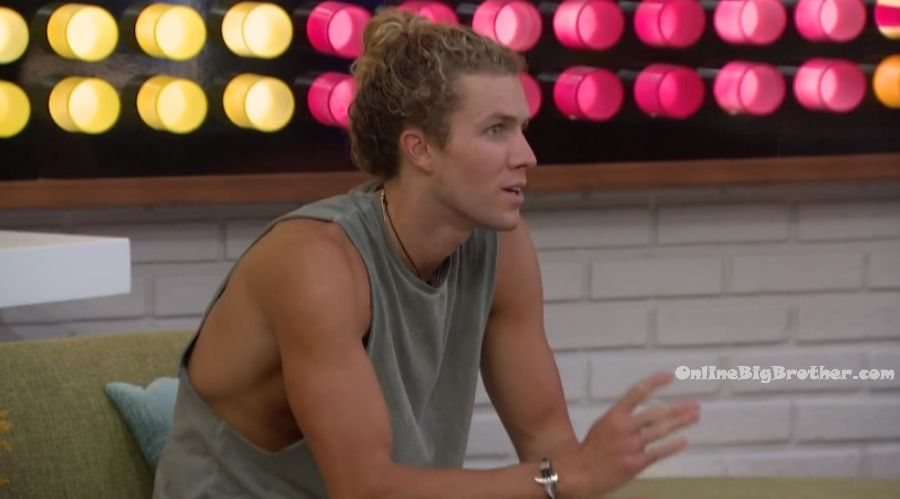 Living room. Enzo, Christmas and Kaysar.
Enzo congratulates Christmas on how well she did in the Veto comp. Kaysar – it was a good comp.. it just reminded me how much I suck. Enzo – na bro! That sh*t was confusing. Kaysar – na it wasn't confusing .. I just made a critical mistake. Christmas – he didn't look down. Enzo – 39 seconds.. that sh*t is crazy. Kaysar – I lost.. that's it. Tyler comments that he keeps coming in second in the vetos.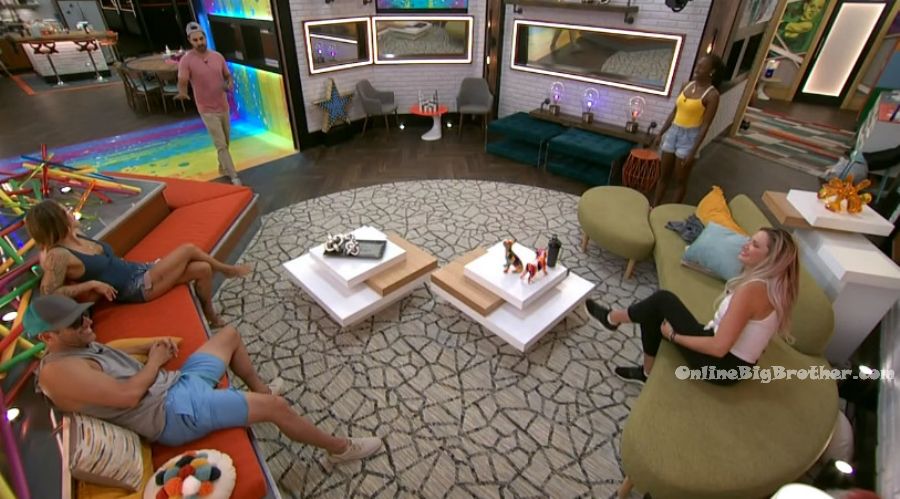 Bedroom. Dani and Kevin.
Dani – we had this conversation.. like we we're both OG.. I would have been fine with it. Kevin – I would have been fine with it too. Dani – like it blows my mind. I would have been happy to work with her. Kevin – I know why I was rejected. Dani – never when I saw her did I think we would not be working together. Kevin – you must have said something or retweeted something. You like to tweet and did something shaddy. Dani – the role that she is playing this season doesn't make sense to me. Kevin – other than being a super villain. The older you get the less adaptable you are. Dani – But Ian said that she is doing the same thing as season 14. Kevin – But Dani, I am worried what is going to happen after the obvious goes. So I am saying me and you are locked. Dani – yes. Kevin – I will never even, never nothing. Dani – I have no idea. There are still a lot of people that I am like I have no idea where their heads are at. After she goes this week there is going to be Kaysar and a pawn. As long as he doesn't get HOH or the veto and stays on the block. Kevin – or that he doesn't get a power. Or that there is a battle back. Dani – anything could happen. Kevin – why do you think Enzo choose Christmas. Dani – I don't know. I don't see them talking. Maybe he just choose someone random. I think Ian and Christmas are close. They talk a lot. Kevin – oh they do? Dani – I don't think they (Enzo & Christmas) talk a lot. Kevin – maybe someone told him to (pick her). Dani – I can't believe it was that comp though .. that was so ironic. Kevin – she (Janelle) must be so mad. Dani – They took 4 minutes, Tyler took 39 seconds! Kevin – I've never even see that one challenge before. Dani – Nicole said they did it on her season. Cory won that one. Kevin – who the f**k is Cory? Dani – Cory.. the one she (NicoleF) showmanced for a minute .. the big white dude.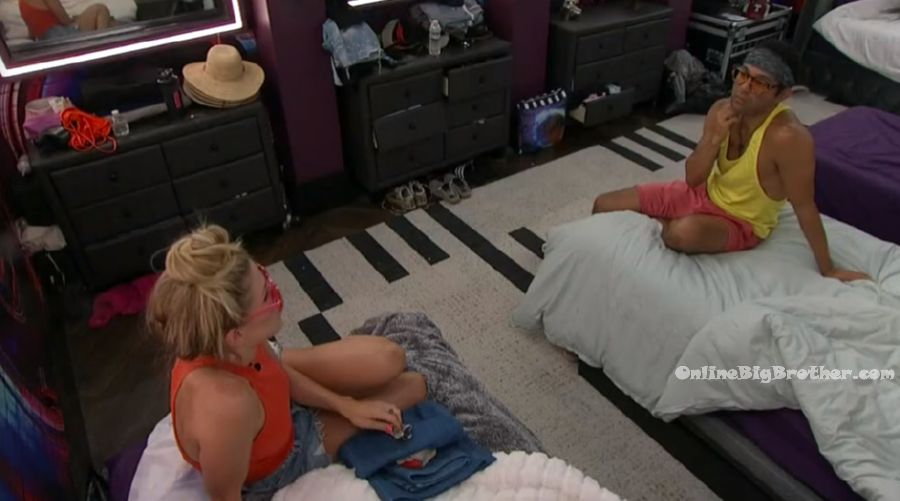 3:50pm Kitchen table. Nicole, Cody, Dani, Memphis.
Cody – I wouldn't hate it if every veto was like this. Dani – says the guy who won the veto.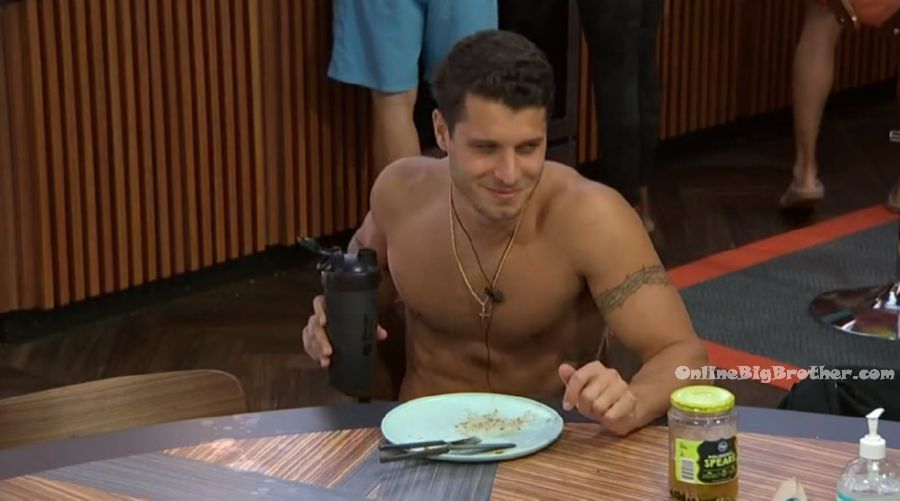 4pm Storage room. Dani, Christmas and Nicole.
Dani – how freaking obvious was Memphis? Can we just talk about it? Nicole – do you think he was throwing it? Dani – stop it! That was the worst acting I've ever seen in my life. He had like one more to go and then he was like whooo oohh ohhh.. Nicole – he didn't want to win. Dani – he wanted Janelle to win to keep her here. Christmas – I don't think he wanted to be responsible for kicking her out. Dani – come on he wanted to let her win. Christmas – but he didn't. Dani – he 100% threw it! Christmas – she (Janelle) is going to wait until the veto meeting until she starts blowing sh*t up. Dani – you (Nicole) should brace for it coming. Nicole – what would she say about me? Christmas – whatever tactics she can but from what I understand she was waiting to make a fuss. Dani – who told you that? Christmas – I don't want to reveal that. Nicole – what is she going to make up likes about me. She is only going to try and ruin me .. but as long as you don't believe it. Christmas – Apparently Kaysar is trying to set himself up to go so that he can go home to be with his kids. Nicole – well he isn't going so it doesn't matter. Dani – I was wondering that too but it doesn't matter, she is gone. Nicole – I just want her out. Christmas – if you defend it .. it validates it. If she thinks she is getting to you she will just keep at it. Dani leaves. Memphis joins them. Memphis – I talked to Tyler this morning .. and if she (Janelle) stays there is a better chance of her getting people and getting her claws in people like Day, Ian and just anyone. Once she is out Kaysar is going to be a dead fish in the water. Nicole and Christmas agree.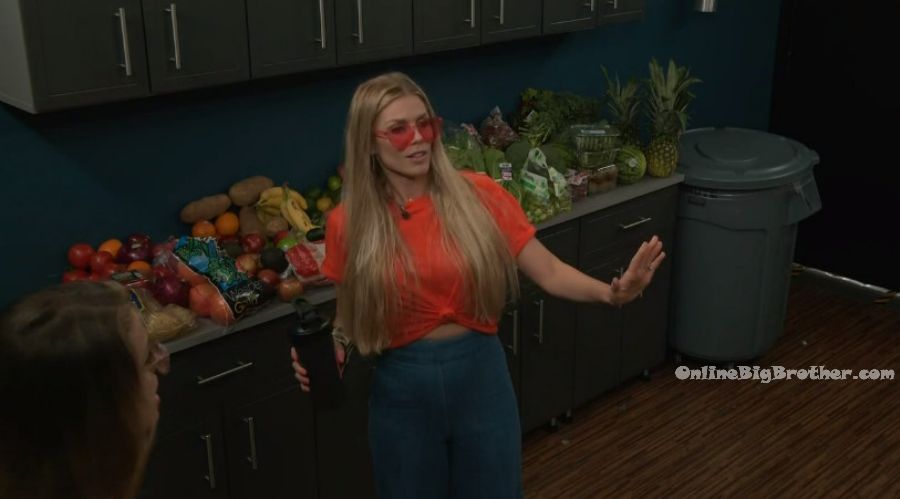 4:12pm Bedroom. Dani, Nicole and Christmas.
Nicole – what should I do if she comes at me? What if she says you suck at this game? Dani – Yell you're going HOME!!! Nicole – I can't take your advice anymore. Christmas – say that you don't appreciate that tone. Nicole – there is no way in hell I would say that. I'll just say there is no sense in arguing with you. Christmas – say that you're speaking to me in a hostile way and I don't want to engage in that. Nicole – and hostile means? Christmas – like aggressive. Nicole – I use that word but want to make sure I use it in the right way. Its going to be a LONG week!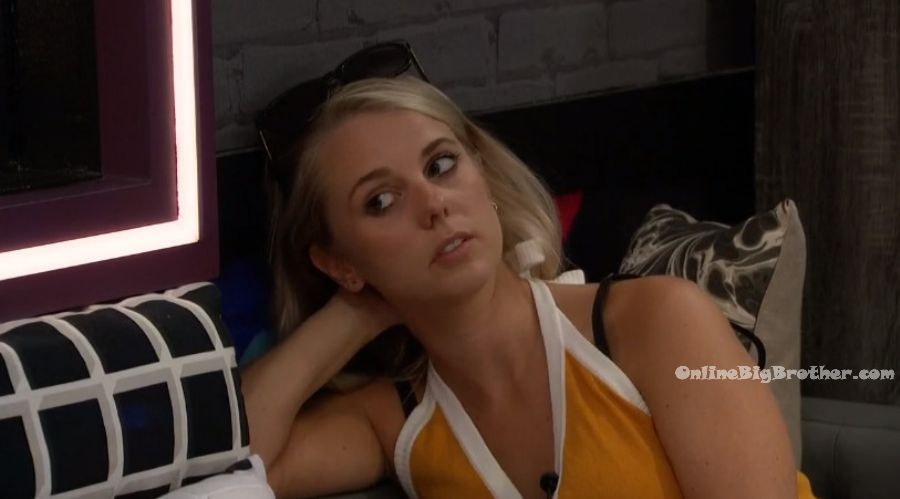 4:20pm Bedroom. Nicole, Cody and Christmas.
Cody – I wanted to go against them so bad! Nicole – I owe you one! Cody – why? Nicole – because you did so good that is why. I appreciate it. Cody – I think I might use it. Nicole – Shut up! I don't believe it for a second. I would bet a million dollars. Cody – I mean.. Nicole – I don't mean bet you.. Ohhh.. Memphis came up to us and said that it needs to be a group decision and that he talked to Tyler about how Janelle should be the one to go. I'm like ohhh .. now you want to work together. She is probably going to try and go crazy after the veto. Cody – I don't think she will… she is a professional now. I think she will just chill. Christmas – she might not do it if we remind her she is a legend. You can walk out either building on your reputation or destroying it.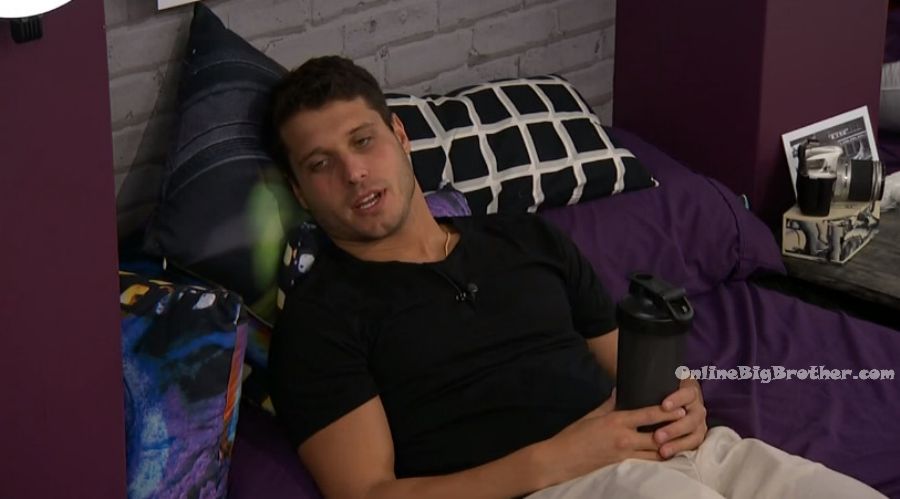 4:32pm Outside the HOH room. Kaysar and Janelle.
Janelle – I am sorry .. I lost. Kaysar – maybe we should try and cut a deal with Tyler. By telling him that this would be a good opportunity to back door anyone else that is a threat to his game. We create a truce and stay as a huge threat in the house. And we promise we will go after the floaters. As long as we don't throw out any names. Janelle – but he is not going to want to make himself a target .. the entire house told him to put us up. I really don't think he will go for it. I will not ask him to back door Memphis. Kaysar – I would just say that he can take down a target of his choice. Its a long shot. Janelle – it literally is .. I just don't see it happening. I think the target is me. I think its better for your game if I leave. I think you will do more damage than good. Kaysar – what if I try to convince them to send me out. Janelle – I don't know .. that would backfire because they'll think that you don't want to be here. Kaysar – You don't think you can get further in this game than I can? Janelle – I am a massive target… Maybe I make it another 2 weeks. Kaysar – I can't win a comp to save my life. I don't want to get stuck in jury. Janelle – I don't want to go to jury either. Kaysar- I just want to have a team. Janelle – its not possible. Kaysar – I'll go rogue and burn the house down. I like them .. that's the problem. Janelle – I would never hang out with Kevin again.. I don't like him. He is a .. a floater. Kaysar – Memphis keeps giving me the side eye. I don't think he trusts me. He just won't let his guard down. So you think you're going to go? Janelle – yes. Plus Ian would rather work with you. Kaysar – Nicole wants you out obviously. What about Dani? Janelle – probably. Kaysar – I am a little bitter about this. Janelle – look at the bright side .. we both have great lives outside of here and we've already played before. I didn't think I really had a chance anyway.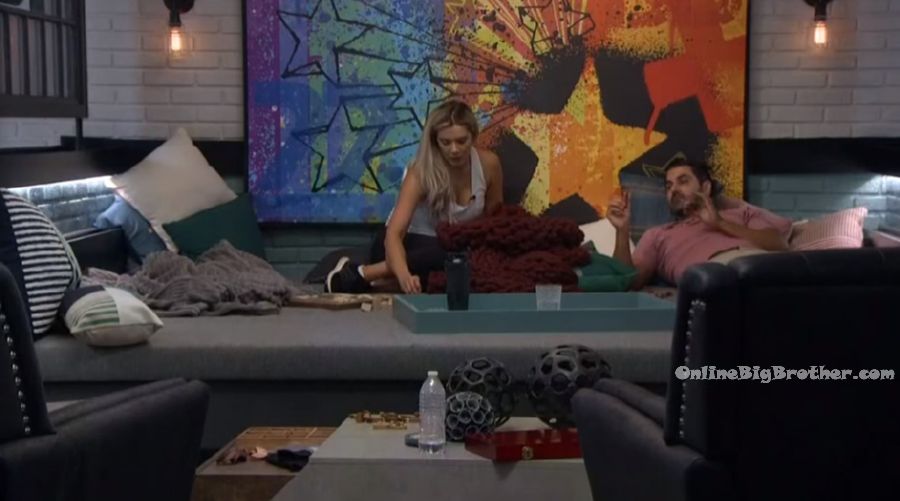 4:51pm Big Brother blocks the feeds.. Christmas might be getting her Safety Suite – plus one punishment.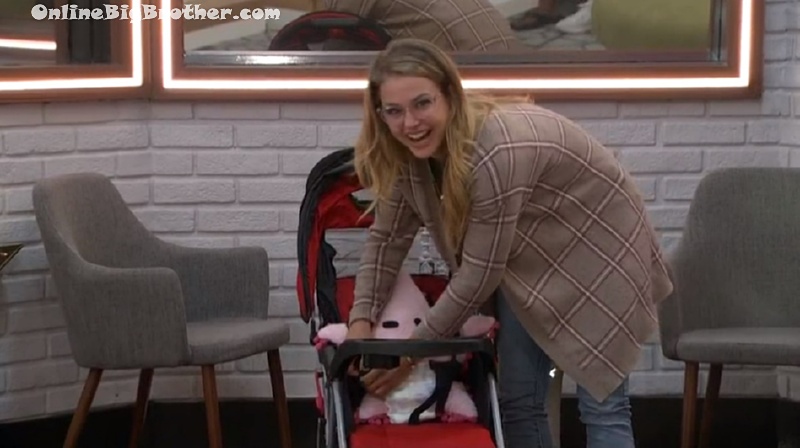 5:19 pm Shitmas' costume is shit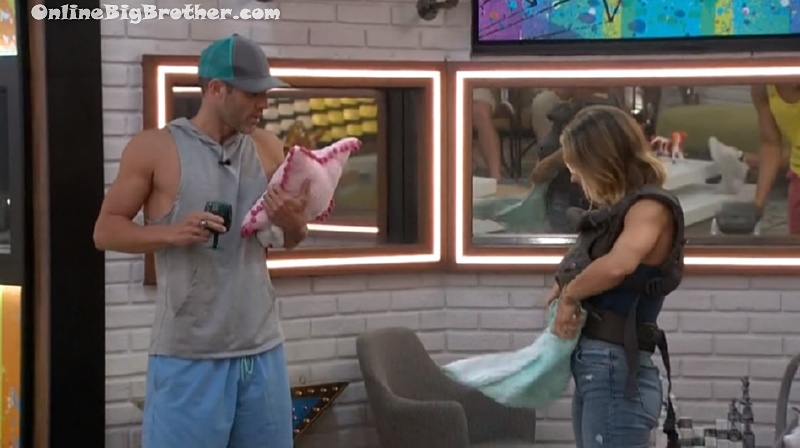 look how cute enzo's the baby daddy
#BB22 who would have thought this was going to be our allstar season. pic.twitter.com/hpgymehF7f

— OnlineBigBrother.com (@bigbspoilers) August 23, 2020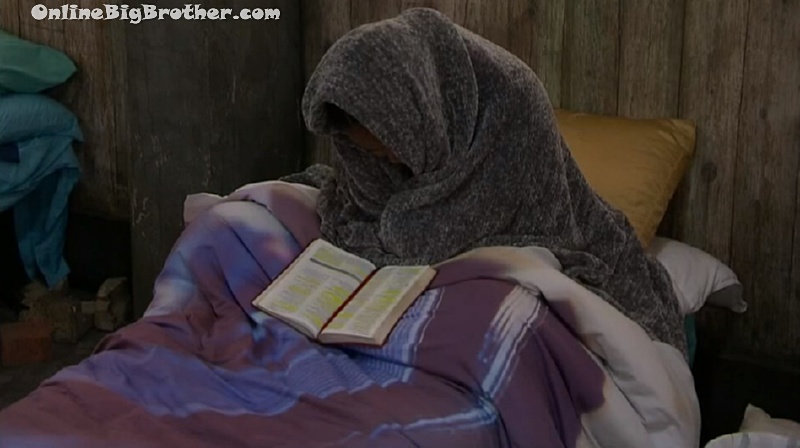 Bayleigh hides from the stupidness this season has become.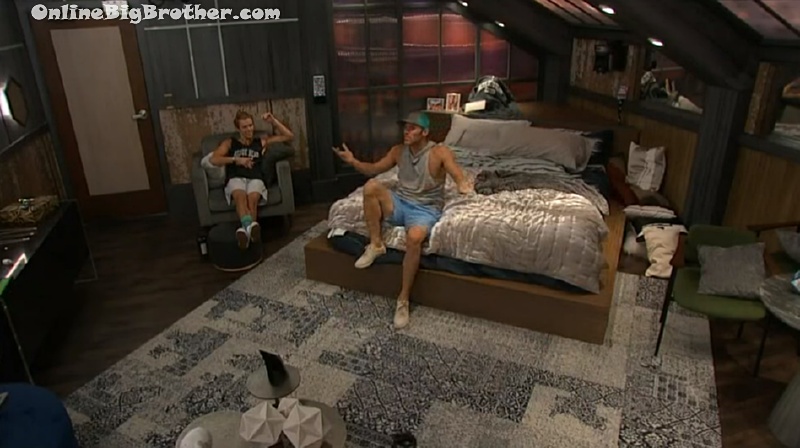 5:40 pm Enzo, Tyler and Cody
Enzo – we're running shit yo… the girls want a meeting tonight slick six..
Enzo wants Janelle gone but Cody is saying if it's Jnalele the house girls will start freaking that it's another girl out .
Tyler says they should let the girls decide
Cody and Enzo says all the girls want Janelle out.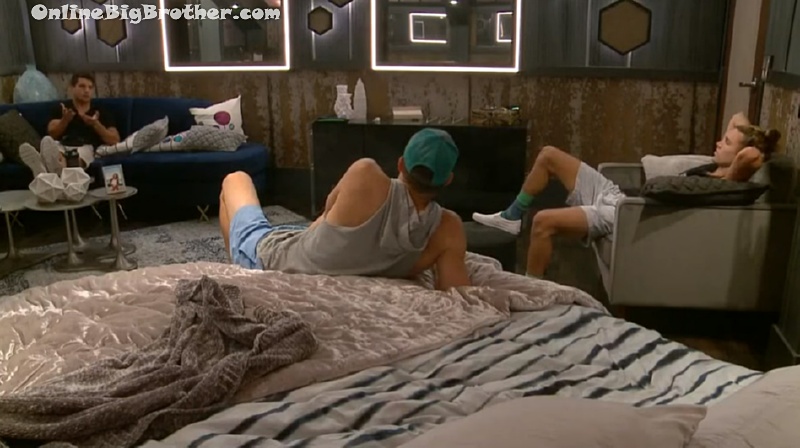 Enzo brings up Da'Vonne being paranoid, not able to keep it straight. tyler agrees.
Enzo says he likes Bayleigh. They talk about David having a crush on Da'Vonne.
Cody – Da'Vonne said to me yesterday it was like YO are people saying stuff about me and David I said something when we were in the room and she was back there. I was like no I didn't hear anyone say it I just thought it was funny he seemed like a little puppy following you around earlier she goes well if people are saying that we'll have to send him home
Cody – I was like YO…
Enzo – ohh my god what's going on yo… yo
They talk about Memphis trying to throw the veto to Janelle.
Enzo – Janelle was not doing good.. she just wasn't doing good.
They agree regardless J/K was never beating Cody and Tyler's Time.
Enzo points out at how bad Kaysar did
Enzo brings up if they keep Janelle all the girls in the house will be "Kissin her a$$"
Cody – the girls are going to try and get her to come after the guys with Kaysar you might be able to strike a deal with him
Enzo says Kaysar has nobody maybe Memphis. (Good work Memphis)
Cody says to be careful with Kaysar "He might try to f***Ing stab you in the back" (Goddamn I hate Cody)
Enzo says if Janelle stays in the house she'll get a power.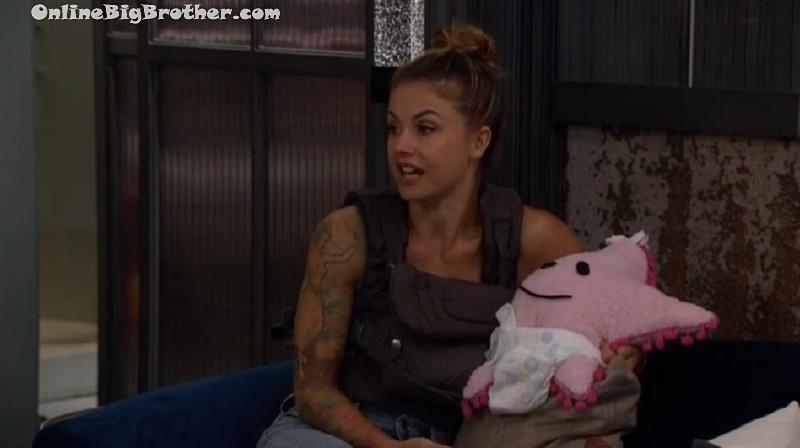 6:00 pm Sh1tmas in the HOH room saying that Kaysar is paranoid and pushed everyone away. where as Janelle is cooler and can reconnect with people
Show your support by making a donation.
If you're enjoying our live feed updates this season, please consider donating.
Any amount is greatly appreciated! Your donations go directly to paying the fees required to run this site.