Head of Household Winner – Tyler
Have nots – Bay, Janelle and Enzo
Nominations – Janelle & Kaysar
Power of Veto Players are -Janelle, Tyler, Kaysar, Cody, Bayleigh, Memphis
POV Host: Christmas
Power of Veto holder –
Power of Veto Ceremony –
Safety Suite – Enzo wins Christmas is his plus one.
Live feeds —-> Grab your Live feeds here. Try it free.
Rank the houseguests —-> Big Brother 22 Ranking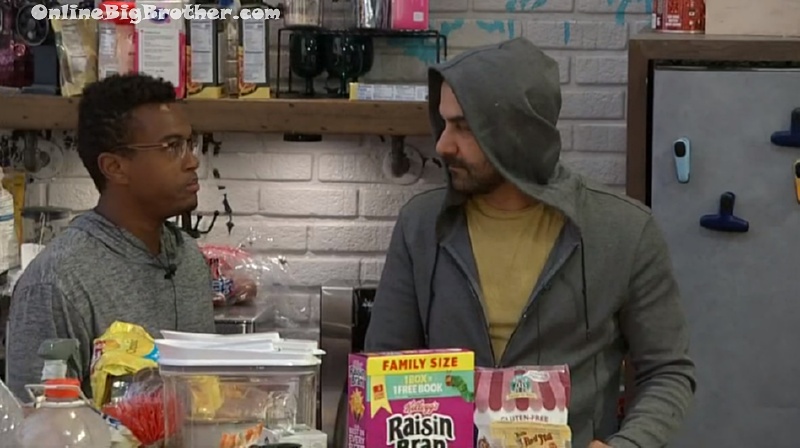 8:08 am Kasyar and David
David – you want to stay
Kaysar – yeah
David – that's cool.. do something
Kaysar – I'll see what happens today.. If can't win I don't deserve to stay
David – Make that happen… try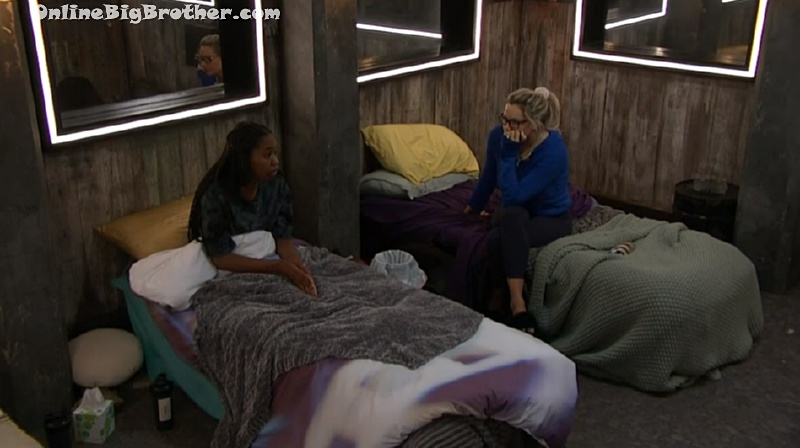 8:14 am Janelle and Bayleigh
They're talking about getting 'FRANZELLED"
Bayleigh – she's been acting so weird towards me
Janelle – she's guilty.. snake
Bayleigh – whats you're deal
Janelle – I know you can't tell me but she's the one that said that
Bayleigh – No I can confirm
Janelle – she was the one.. oh my god she is the worst.. the worst
Bayleigh – mmmmhhhmmmm
Bayleigh says she's going to have to win the next HOH because if Nicole does she's going up.
Janelle – If I leave regardless they are coming after us. there's no place to hide
Bayleigh – I don't want to hide
Janelle – I know you don't
Janelle – They're coming for us it's only a matter of time. YOu may not be next
Bayleigh – I'm on the list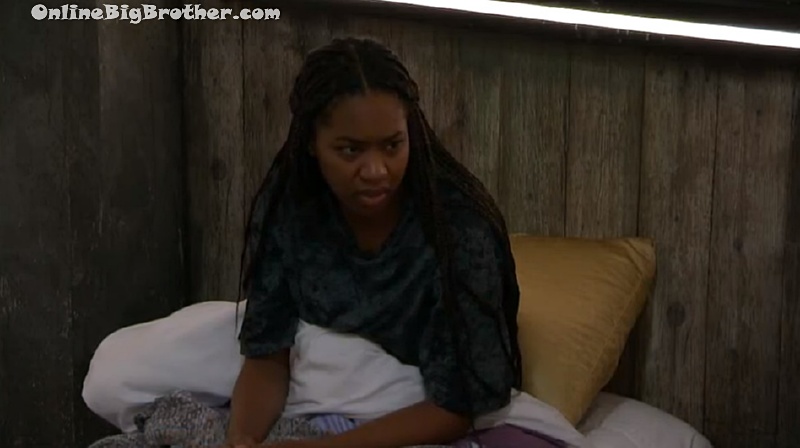 Janelle – there could be powers next we we could do something
Bayleigh – if you stay 100% getting a power next week
Janelle – here's the thing if I'm on the block with Kaysar they're voting me out for that reason and they got the votes.
Bayleigh – yeah, that's why you have to win. This is your time you've had some warm up rounds.
Janelle – I know
Bayleigh – Kaysar is so sad
Janelle – I feel bad for him.. I'm like dude it's finer I couldn't reign it in
Bayleigh – As soon as you two (j/k) left the room NicoleA was like I don't trust them if I stay I'm coming after them
Janelle – NicoleA said that?
Bayleigh – yeah.. she was like but I need your votes to stay sop everyone was like WHAT
Janelle – WHAAAAT.. she was seriously like that
Bayleigh – she was pissed Janelle .. she was pissed
J – WHAAAAT
Bayleigh explains she told Kaysar this and said the room he was trying to form an alliance with was not the right room.
J – I don't understand where all this anger comes from .. She's blaming me.
Bayleigh – she (nicA) told Memphis she was going to take a leap of faith and not play (Safety suite) Memphis was like OKAY but you should play
Bayleigh – she never told us that until the night before.. that's a choice
J – that's her choice
Janelle says they all thought they were good with Memphis.
J – she was like you guys weren't nominated.. 12 other people weren't nominated Nicole..
Janelle says the whole thing is really weird. "if she said that after I left the room.. that's it I'll never trust her again"
Bayleigh says that is why she kept saying "I don't think if she stays she's with us "
Janelle mentions how hard she fought with Memphis to keep her off the block
j – I never lied to her I told you the truth.
bayleigh – you have a lot of intel and so far it's hasn't been all that off, you kow what I'm saying.. people are saying she's goign around spreading stuff adn I'm like It might be true.
Bayleigh – NicoleF does not like talking to me .. when I go into a room she's quiet
Janelle – Look Bay she is what she is
Bayleigh – screw her ..
Janelle – she's a huge threat in this game
Bayleigh – everyone knows she's won
Bayleigh – this is my only issue. I don't care it is what it is. But if you attack her you have to attack Ian with her
Janelle – he would be pissed
Bayleigh – if he get POV he's taking her off
Janelle- yeah..
8:40 am Feeds down for POV player picks.
Veto players: Janelle, Tyler, Kaysar, Cody, Bayleigh, Memphis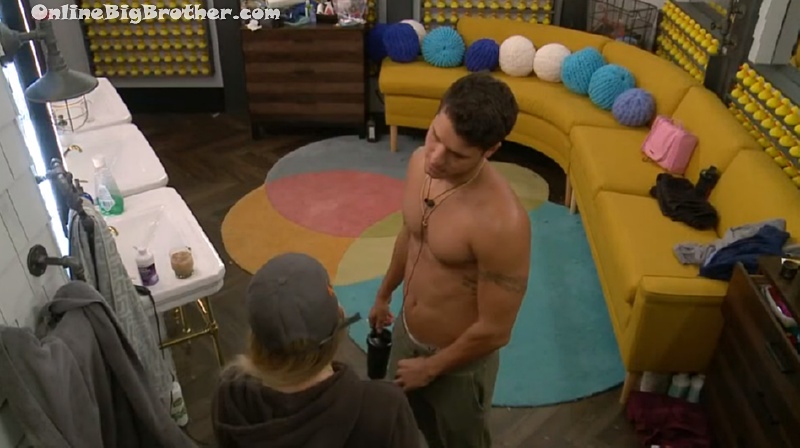 9:10 am Dani and Cody
Dani – Memphis better not throw it though.. you or Tyler would have to win..
Dani – tell Memphis he has to win it pump him up.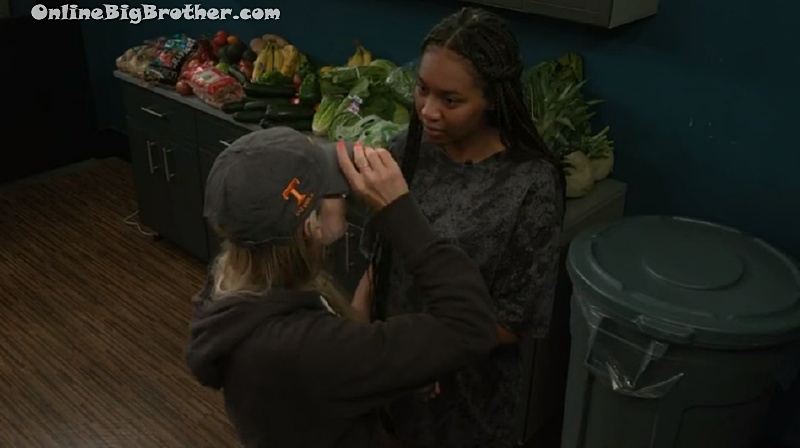 9:12 pm Dani and Bayleigh
Dani asks if she'll use the veto.
Bayleigh says she'll keep the nominations the same Janelle asked her this morning and she told her that.
Dani – you have to try and win
Dani mentions how next week there will be a twist and they'll all be screwd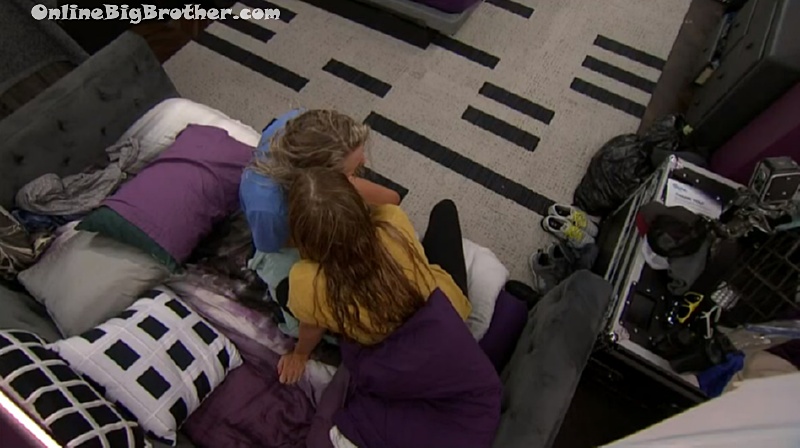 9:52 pm Dani and Nicole
Dani whispering about her conversation with Bayleigh where they talked about the last night's beef with Nicole and Bay. (I'm trying to piece this together but David let it slop that he has a crush on Da'Vonne.. ZOMG is right. )

10:07 pm Everyone milling around
Memphis says at home he drinks 3 a day where he's drinking 12. He's still able to fall asleep at ten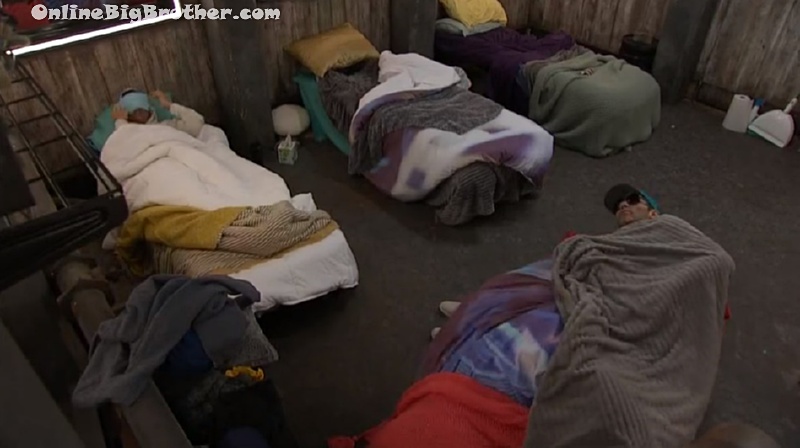 Bros sleeping before Veto..
Tyler joins them they talk about Tyler picking Cody's name for veto.
Tyler says Bayleigh and Memphis are tossing the veto it's down to Tyler/Cody VS J/K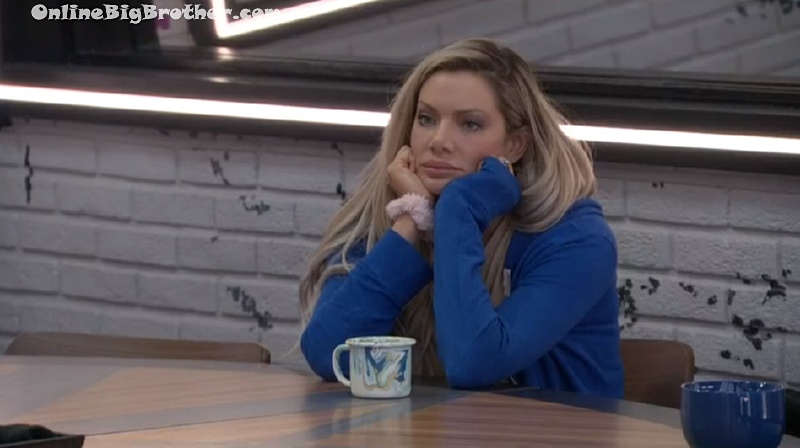 11:00 am waiting for veto ..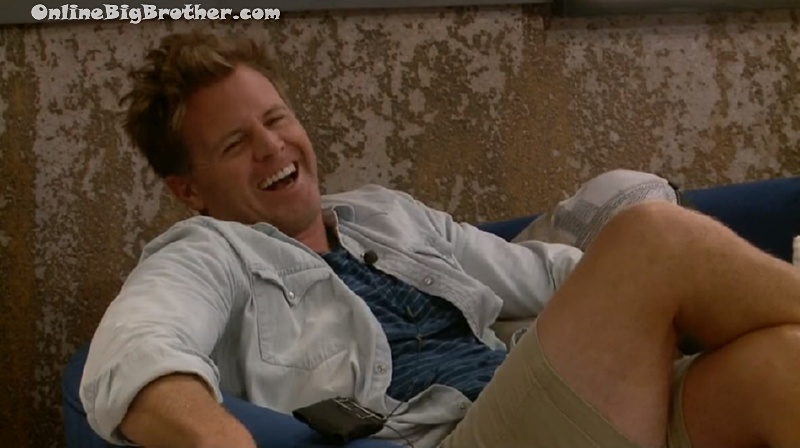 11:11 am Memphis and Tyler
Tyler saying he thinks the veto will be a "one at a time thing"
Tyler – those take all-day
Memphis s- that's not that fun. it's annoying
Memphis wonders why they were woken up at 7 then.
Tyler – are you pumped to be playing.. I swear I got ninja skills.. I felt your name coming up when Janelle was picking
Bayleigh in the bathroom comes out and leaves..
Memphis – that's why I don't le people use the bathroom
Tyler laughs brings up Enzo coming in spewing sh1t
Memphis says he wants to win the veto and keep the nominations the same.
They agree Nobody is using it other than the nominees.
Memphis laughs says Janelle asked him if he played in the veto and won would he save her. HE told her "No"
they laugh .. "she was like alright"
They talk about who should go J or K. Memphis wants Janelle out first.
Memphis says Kaysar has already "Ruined his reputation with the sh1t that's come out of his mouth" (I hate this season)
Tyler agrees says Janelle is more likely to get power next week
Tyler – Dani's smart.. she makes everyone seem like she's super tight with them she's going to fly through this pretty easily. I think we'll see the block before they do the girls. Unless their personalities clash
Memphis says next week he would have no problem putting up Kaysar and Da'Vonne
Tyler – do it.
Memphis – just to throw a wrench in there. Ian is someone I definitely up on the block you know.
Tyler – he's skating by
Memphis – the committee is committed to what we have going on but I don't trust.. I trust that Nicole is looking out for what is best in the committee but I don't trust in teh long haul that she's not.. she's too obvious about it. at this point, you care too much
Tyler agrees points out that Ian and Nicole are both winners and they're close for that reason.
Tyler says there might be the scenario where Ian is on teh block with one of them.
Tyler – Nicole will show her cards
Tyler says outside of Enzo he doesn't see too many people putting Ian on the block
Memphis – I can't either which is a problem.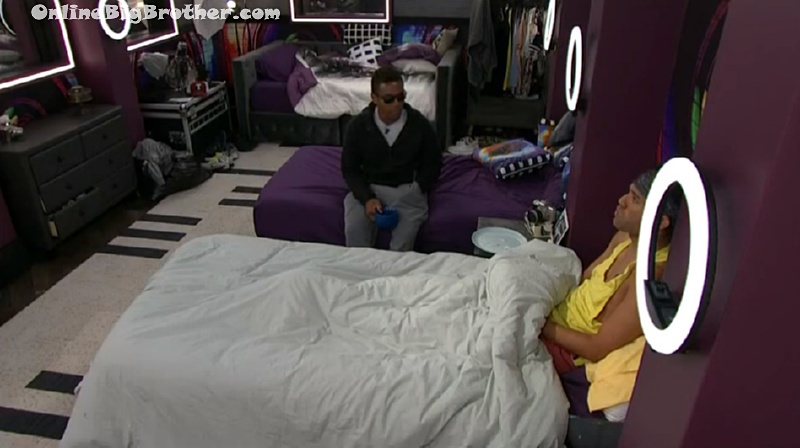 11:33 am Kevin and David
Kevin – there are people that exist in life that have such a privileged experience that they loo kat certain people as disposable pieces of garbage that are just there to serve them for when they need them or.. They can literally be invisible and none existent and I get that vibe from her (Janelle)
Kevin – she looks at me like I'm a nail lady doing her nails like some human that's ere when I need..
Feeds cut..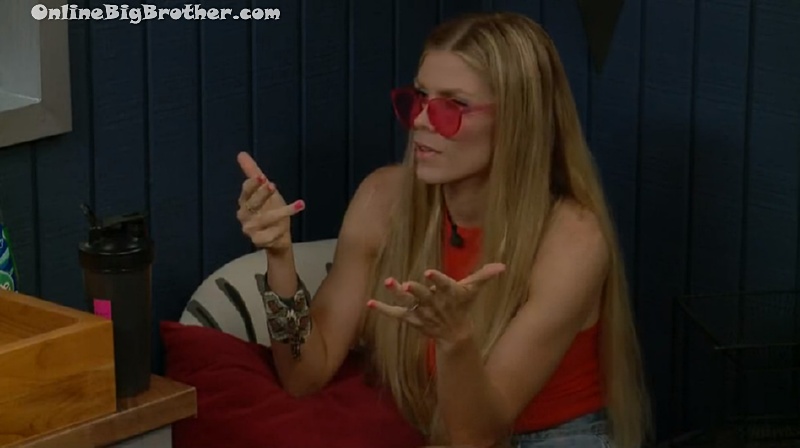 11:38 am Dani and Tyler
Dani says the POV will be Tyler/Cody against J/K.
Bayleigh "won't win it"
Tyler says Memphis told him he will work to get the veto.
They talk about Da'Vonne not trusting their "Alliance"
Tyler says wasn't Da'Vonne playing to the field last week to get David out
Dani – yes hardcore.
Tyle r- I don't get it
Dani – she tried to flip it.. you told David right? I don't think he believes it
Tyle r- he doesn't
Dani – I think he likes her
Tyler – they're tight she's playing him
Dani warns they have to be so careful around Day'Vonne.
Dani – now she's getting close to Nicol
Tyle r- and Nicole is going to pick her
Tyler says Nicole will put people up in the committee before she puts up Ian.
They talk about how annoying it is to be in an alliance where you don't trust 1/3 of the people.
Tyler says you don't make alliances just to make an alliance and be safe
They agree Da, Bay, Kaysar and Janelle had an alliance before the slick six.
Tyler says in the beginning Da, Bay, Kevin, and NicoleA were in an alliance.
Dani says Kevin is Da'Vonne's number 1.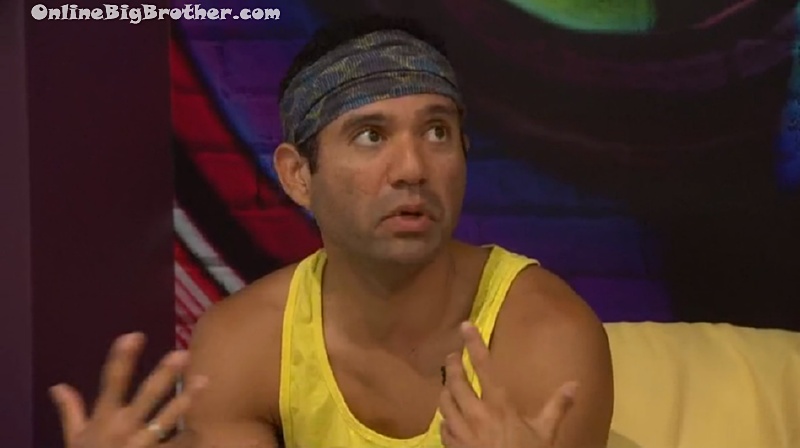 11:58 am Kevin, Bayleigh and David
Kevin saying that Janelle is mean to him (I assume because he's a pathetic rat )
12:01 pm Janelle and Kaysar
talking about Kevin being a "Loser" getting mad at them for not "trusting him"
Kaysar – of course, we don't trust him .. first chance he gets
Janelle -throws us under the bus
Kaysar thinks Kevin went to the other side and told them about their attempts to for an alliance with the remaining people.
Janelle – he's literally a parasite
Kaysar – he is
They talk about Bayleigh letting them know on the truth of what NicoleA was doing last week
Janelle – that' sad
Kaysar – she just thought we were disgusting I guess
Janelle – I give up .. one of us is going to stay one of us is going to go. If I'm here I'm not working with Kevin I'm not working with Da
They agree on the only person they will work with when they stay is Bayleigh
Kaysar – is Da'vonne double crossing too?
janelle – YES YES
Kaysar – I'm getting that feeling.. why is she like that
Janelle – she doesn't have still in this game..
Kaysar – this is so sad. .
They agree that it's been Da'Vonen that has been spreading everything throughout the house
Janelle – one of us stays can't work with anyone
Kaysar – this happens every year the remaining people can never get the numbers..
janelle – we allied ourselfes with f***ing flsaters
Kaysar – we allied with the only people we had left.
Janelle – I feel sorry for Bayleigh man. Kevin .. he disgusts me
Kaysar – I don't like his gameplay at all
Janelle – we know week one what his gameplay ways
Janelle – our game is screwing up Bayleigh too that's not what I wanted.
Kaysar – I'm mostly disappointed by Da'Vonne she didn't have to play that game. Kevin .. he's playing exactly the way we expect him..
They talk about how da'vonne has been selling them out all last week. they never got that from Bayleigh.
Janelle says bayleigh is a much better player than Da'Vonne
Kaysar mentions Bayleigh told him da'vonne is separating herself from her.
they laugh that the other side would really think that the Da'Vonne and Bayleigh weren't working together because they were distant for a few days.
Kaysar – I don't think people see what the hell is going on.. they have the advantage because the information is flowing that way.. those people are not good at this.. what saves them is they have power and they win comps.. if you take those two things away they would have no clue what is going on in the house.
Kaysar says Derrick had great intuition because that was his job.
Kaysar – we're just old parents trying to survive
Kaysar says Memphis, NicoleA, Da'vonne none of them saw the type of game Kevin is playing, "He lies backstabs and floats.. I told Da'Vonne he is going to earn his kee[ by transferring information"
They agree they can't work with Da'conne as a player.
Kaysar says his only option is Bayleigh and maybe Ian.. Christmas he doesn't think he can trust.
Janelle says Ian is in a tough spot with Nicole.
Kaysar – do you think she really likes him
Feeds cut..
When we're back Janelle tells Kaysar if one of them wins Veto Kevin will go up.
Kaysar – at least he's good for something.
Kasya r- what if I win the veto and use it on you
Janelle – then you would go home..
Janelle tells him the best thing is for the game is the other to leave.
Kaysar tries to strategize if it's better for him to be up against Memphis. Janelle doesn't think Memphis will go up as the replacement.
Janelle – Kevin's a b1tch.. he is.. I can understand why Jeff hated him.. Because Kevin's a b1tch. He's not trustworthy
Kaysar – Memphis wants to bro out with these guys so badly.. he loves it
Janelle – I know
1:02 pm Feeds go to pound kitties for the POV ..