Head of Household Winner – Tyler
Have nots – Bay, Janelle and Enzo
Nominations – Janelle & Kaysar
Power of Veto Players are -Janelle, Tyler, Kaysar, Cody, Bayleigh, Memphis
POV Host: Christmas
Power of Veto holder –
Power of Veto Ceremony – Cody
Safety Suite – Enzo wins Christmas is his plus one.
Live feeds —-> Grab your Live feeds here. Try it free.
Rank the houseguests —-> Big Brother 22 Ranking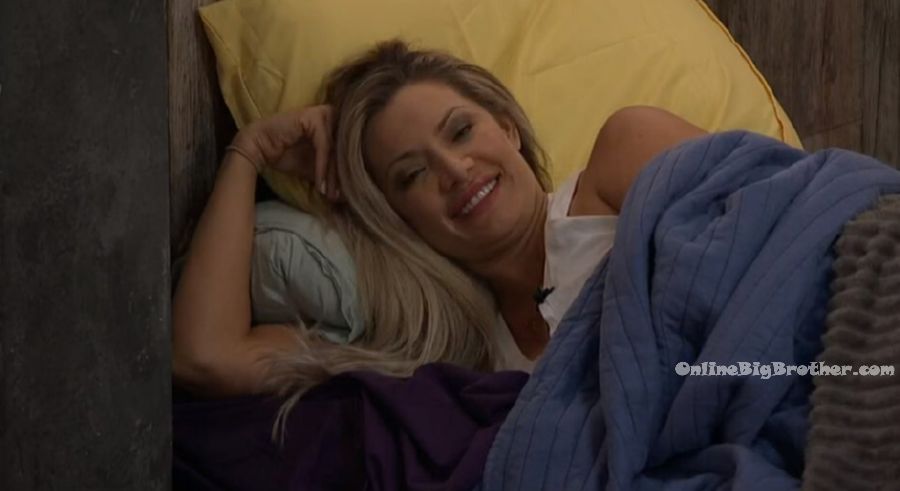 Havenot room. Janelle, Kaysar and Bay.
Bay says that she doesn't think there will be a battle back given the time line of the season. Kaysar – that sucks, that means one of us is not coming back. Janelle – I am being realistic. I am probably going home this week. Kaysar to Bay – Which way do you think this is going to go? Bay – honestly they've talked about you both equally. They think you're the confrontation but he is the brains. So which one are you more scared of. Kaysar – I'm flattered. Janelle – if I leave and I am offered a power .. who should I help? Kaysar – has that happened before? Janelle – sure, it could. Bay – give it to me.. no offense but I am going further than you (Kaysar) are. I've been doing my best. Kaysar – yeah I've been doing the opposite. Do you think Day is playing this right? Bay – with us? Kaysar – yeah. Bay – Yeah but I think she is playing her own game. Kaysar – is the stuff we tell her going back to the other side? Bay – I don't think so.
6:10pm HOH room. Tyler, Chrsitmas and Cody.
Tyler – Day and Bay only come in here when I'm not here .. as soon as I come in they leave. Everyone is terrified to come up here. To be seen up here. That's what it is .. no one wants to be seen up here .. people have put it in their heads that we're the next Janelle and Kaysar.. Cody. Enzo joins them. They talk about an endurance comp coming soon. Christmas – I'll beat David, Day, Bay.. Enzo – you'll be Nicole. Tyler – Nicole won an endurance before. Christmas talks about the endurance she was in and did well with even the "boot" on. I'm confident I'll do well and then I can negotiate. I don't care if everyone hears. I just need certain people to be down first. Cody – I am not even going to try it.. if I am up there with you I am going to act like it is brutal. Janelle – Memphis would put up Kevin and David again. Janelle talks about how NicoleA didn't understand why Janelle wasn't on the block. I said I don't freakin know .. but there are also other people in the house that are also not on the block. Why is it so directed at me and Kaysar?! Kaysar – because she thought we were masterminds. Janelle – if I was such a mastermind why would I be nice to this nice girl.. spend time with her and then she thinks I'm going to go up stairs and be like Memphis I think you should nominate my friend in the house. Like how does that make sense for me? Kaysar – because she thought we were physiologically messed up. Janelle – what?! We're freakin parents .. I'm not here to do some diabolical damage to someone's brain! Bay – no. Kaysar – week two lets go after NicoleA..
6:23pm Christmas's punishment – she has to change her baby star.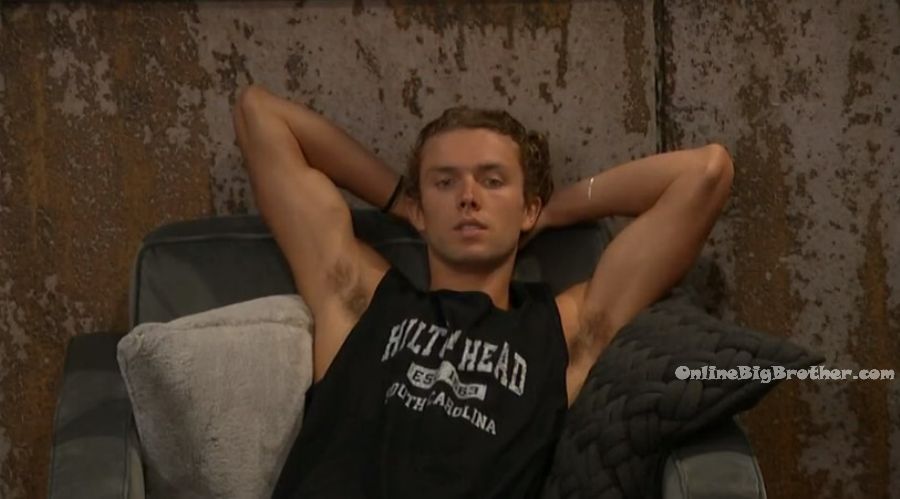 6:15pm Enzo and Tyler.
Tyler – watch them side eye'ing Christmas now. Enzo – now they're hanging out with Janelle.. and we don't know nothing. And then you see in that HOH competition.. the one you won .. they were going crazy for Janelle. Crazy Yo! At least hide that sh*t! Tyler – I just keep catching them hanging out with Janelle / Kaysar 1000 times more than us. You know what I mean? Enzo – yup! And then they're like yo we need to have a slick six meeting. Tyler – and then they come and don't say a peep. Enzo – they don't say sh*t! Tyler – they wait for us to say it. Enzo – that's what I'm saying! Yo, they're burying their own graves yo! That's it! Tyler – that's what they did on their own seasons. Enzo – just stop running your mouth that's it. You know who the targets are. That's it! Tyler – its simple! Enzo – Don't overplay nothing. Tyler – I think people are getting really hyped because its an all stars season and they think everyone else is doing too much so they need to be doing stuff. Enzo – just play it! That's it! Its a numbers game. Tyler – we're going to end up making it further. Enzo – YO These girls better win stuff too! They better earn their keep! Tyler – they're not going to. Enzo – they're going to ride our coat tails .. that's what's happening. Tyler – that's why we have to keep winning and force them to stay with us… and cut them before they get the chance. Enzo – or use a Christmas and say yo I think you should put up this one and that one. One of the girls (Bay or Day) from our alliance and whoever the f**k she wants to. Tyler – and you've already got that trust with Christmas. All you have to say is these two have your name in their mouth .. looking at you sideways. Enzo – David is scared to play the game. We're in team freeze .. why are you scared to play the game!? David you have to pick at team yo! You're not going to win it by yourself. Like you're going to get picked off bro! Tyler – I think no one wants to be seen up here because we're seen as the next Janelle and Kaysar. Enzo – I'll be seen up here all f**king week! I don't care. Get the f**k out of here! Yo come at me! If you've got something to say..come at me! And that is why I trust you because you did that on the HOH. I want to win sh*t and come at people! That's it! I want a group with me and lets go. We get near the end and we battle it out.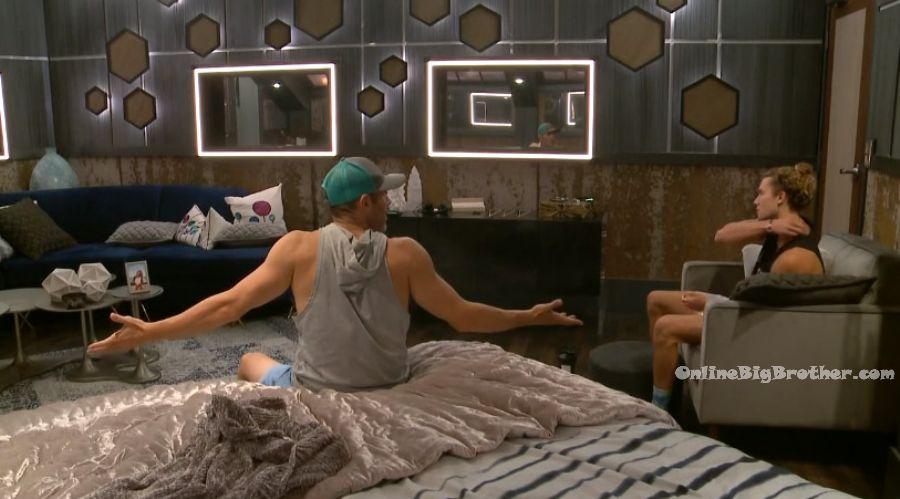 Enzo, Tyler and Cody.
Enzo – there are a lot of people that was to sit back and let the big people clash. That's a lot of people in this house yo! IF you ain't winning sh*t .. you're going on the block! That's it yo! Its all star season! Kevin you better win some sh*t. Yo that's it. You ain't going to be the floater! That's it. Tyler – Memphis is useless. He is trying to let everyone kill each other and be friends with everyone. Cody – if its an endurance and Dani doesn't win it.. something is up because she crushed the endurance on her season. And you might be like oh that was 9 years ago but she's fit .. she's been working out. Enzo – in that laser sh*t she got 6 minutes. Dani is a competitor. I think she will be loyal to us. Cody – well she comes back and tells us sh*t. I just get skeptical about when those convos come.
Enzo – I'm the shun dance kid and I'm the meow meow! Cody – what is that!? Enzo – When you're on the block and in a costume… you go home. I beat it. I'm the Shun Dance Kid. You know that move the sun dance kid. That's what happens when you put a dude like me with young kids. I beat the curse. The penguin. I became the shun .. the shunning. I've been shunded. I unshun the shun. Cody – what the f**k are you talking about!?
7:15pm Havenot room. Kaysar and Janelle.
Kaysar – if I ever get to pick slop again.. Janelle – will you please pick NicoleF if I leave? .. For me! .. Thank you! Kaysar – why don't you ask her (Bay)? Janelle – because she's nice. Kaysar – I'm nice. Bay – your game is ruined. Kaysar – I love how that's the answer to everything. Janelle – so make sure you stand up .. look directly at her and say .. this is from Janelle. I choose to pick you for a havenot NicoleF! .. Don't cry! Kaysar – you told me to blend in after you leave. Janelle – ..then you can blend in after that. No … here's what you can do .. throw a box of tissues at her and say don't start crying yet but I want to make you a havenot… here are your f**King tissues. Bay – this girl is out of control. I'm going to be good because I'm in the big brother house but if I was in the real world this girl would be getting me in some trouble!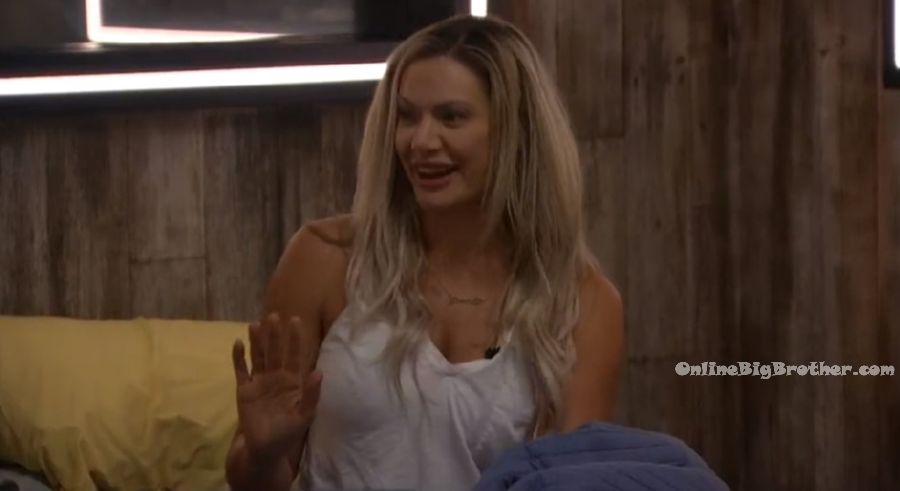 7:55pm
Kaysar – there is something going on because he is so adamant about his position. I am telling you he messed up that girl (NicoleA). Janelle – what could he have said to her that would have made her believe I was targeting her and betraying her. Kaysar – she was very vulnerable and she was emotionally messed up. You saw how mad she got when she said I am really mad that you didn't have Kevin in this group. Janelle – everything that I told her about Kevin .. she told him. That he was a floater .. not to be trusted. Kaysar – I said the same thing. I am sure he's a nice person outside this house .. I just don't like his gameplay.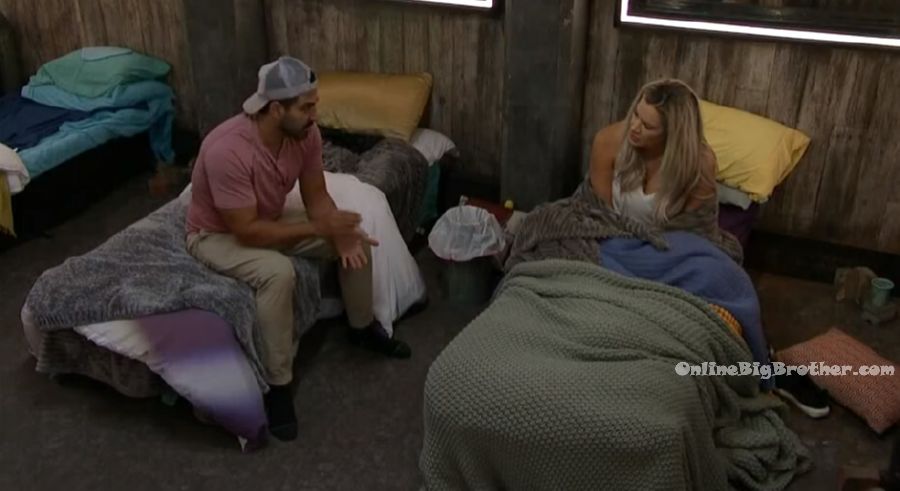 8:18pm -8:35pm Outside the HOH room. Enzo and Day.
Enzo – we win HOH again next week and we control everything. Day – keep the ball rolling. Enzo – Yo Janelle and Kaysar ..that's two weeks. Yo I am going with who talks game with me. Ian talks no game with me. Memphis is nice to me but he doesn't tell me anything. He doesn't say sh*t to me. NicoleF .. she is just nice to me. But I think NicoleF and Ian are tight. Kevin is just a floater. Dave, I like Dave but he is just terrified to play but I think he likes you though. Day – yeah but if that becomes a problem then he has to go. Enzo – that's it. Yo this HOH is going to be set up for a girl. The last three were set up for guys ..this one has to be for a girl. It has to be YO! Day – yeah. Enzo – Christmas scares me the most. I am telling you endurance comps she is going to be strong Yo! That's why I got on her good side Yo! F**k that yo! She doesn't talk game to me but she is nice to me. I don't think anyone in the house is in a straight up alliance. Pairs .. I think so but not a straight up alliance. Day – Mmmhhmmm. Enzo – do you think Memphis tried throwing that sh*t to Janelle or no? Day – I don't know. Enzo – no right. I am like a telescope in this motherf**ker. You have to be tho yo! Enzo talks about wanting to have a slick 6 meeting. But we have to be quick and get out. Day leaves. Bay joins Enzo. Enzo – I think we should get rid of Janelle.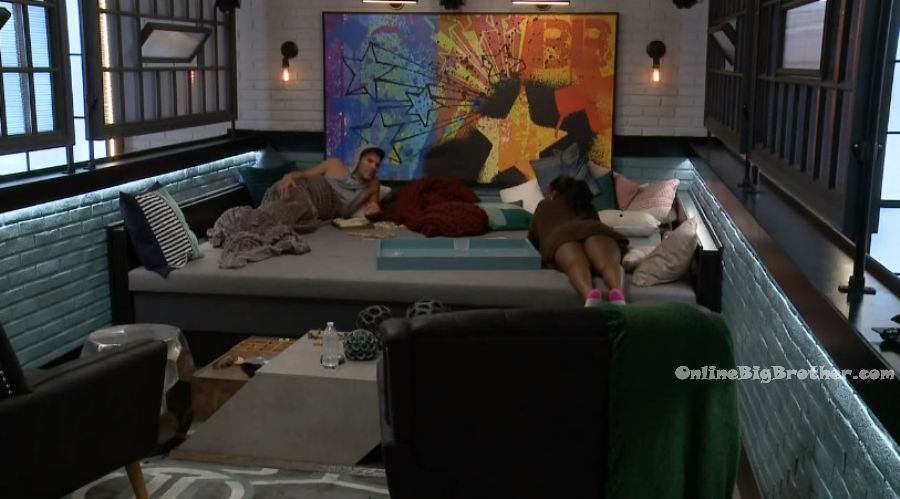 8:55pm Bedroom. Janelle and Kaysar.
Kaysar – the last few nights have been really hard on me. Janelle – what do you mean? Kaysar – it just feels like the walls are closing in on me. Janelle – Geeezee Kaysar?! Are you alright? Kaysar – I'm fine during the day .. its just at night. Janelle – do you want to know why? You over think things. Kaysar – Maybe .. but I don't know how to stop thinking. Janelle – think happy thoughts and don't over think everything. Kaysar – just anxiety of being in this house and if everyone is okay outside the house. If my son is wondering why I am not putting him to bed. I also worry if people are saying bad things about me. Janelle – why would they say bad things about you? Kaysar – I am not trying to be elitist or anything but I start to think what the hell am I doing here. I feel like were in an insane asylum at sometimes. Kaysar starts to cry. Kaysar – It gets to a point where its not funny or interesting anymore. He says that it really gets to him how broken down NicoleA was before she left.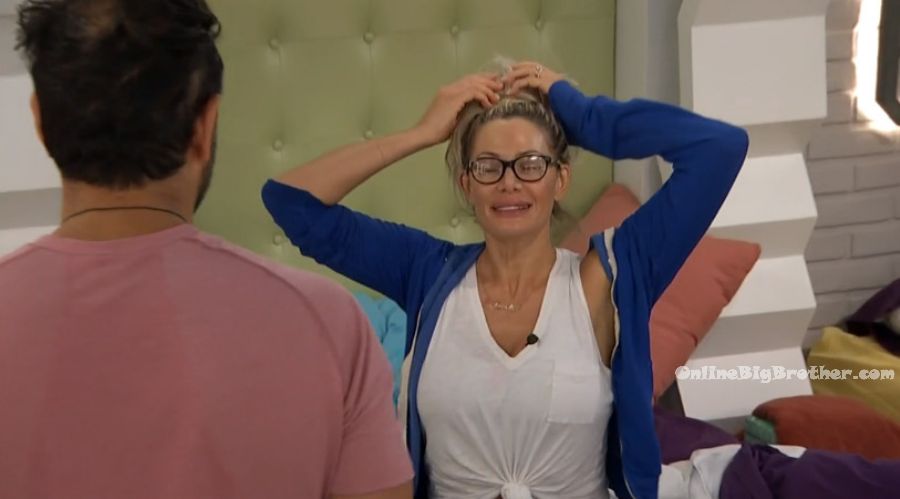 8:55pm – 9:10pm Big Brother opens up the backyard.
Christmas has to do 50 laps around the backyard with her baby star. Nicole goes to get the stroller. She's then told to do funny faces while she runs.
9:30pm Backyard couches. Memphis and Dani.
Dani – I've never had beef with her (Janelle). I've met her once. We're cool. Why would she flip like that day two when I said I would love to (work with her). I truly don't understand it. Memphis – it really makes no sense why you would play so aggressive right out of the gate. Dani – it makes no sense to me. Like why would you come back to do that?! I truly can't comprehend it and I keep trying to get it and I don't get it. I would have loved to play with her. Did I trust her in the beginning.. hell freakin no! But I would have liked to earn that trust and work with her .. so I don't understand why she would just turn and start spitting my name out after she came to ME!! Like it blows my mind. Memphis – I think they just spun out of control or something. I don't know. I think in their mind they thought they were the number one targets. Dani – they were easily the pair that people couple up. She is playing the exact same way as BB14. Why would you play the exact same way. Memphis – Kaysar too. Dani – well he's never played good.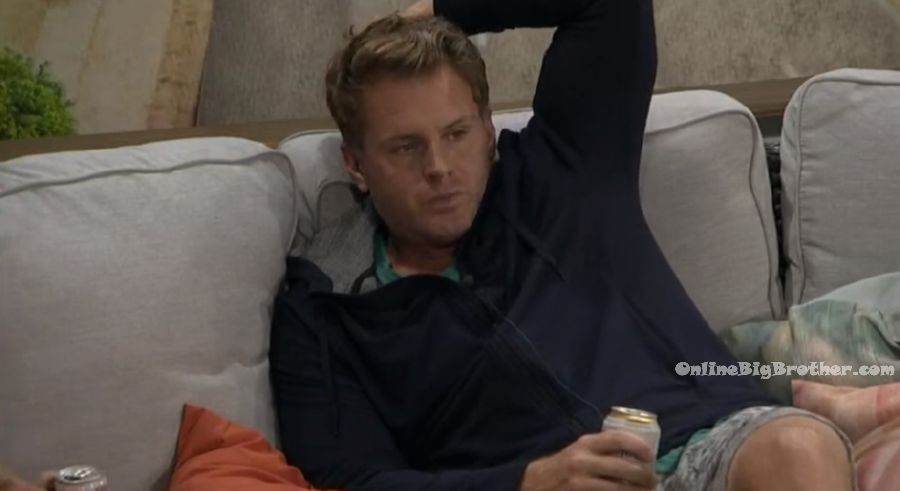 9:50pm The house guests are hanging out in the backyard chatting on the couch and playing pool.
Dani, Janelle and Cody are chatting about Big Brother 12. Dani – Enzo was my least favorite of the Brigade. Cody – no way!? Dani – absolutely. Why tell me your order? Cody – I liked Hayden, Enzo and then Lane was just there. Dani – no Lane was funny. Janelle – Enzo was least. Dani – but I enjoy him some much.. like he is a pleasant surprise. Dani – Haden was my favorite. Then Lane. Janelle – I was saying to Britney .. I was hoping they (Britney & Lane) were going to hook up. Dani – I think everyone was hoping that. Even Lane was hoping that. Cody – but she had a boyfriend? Janelle – she had a finance. Not to the same guy? Janelle – no that didn't work out. She is going to get pissed.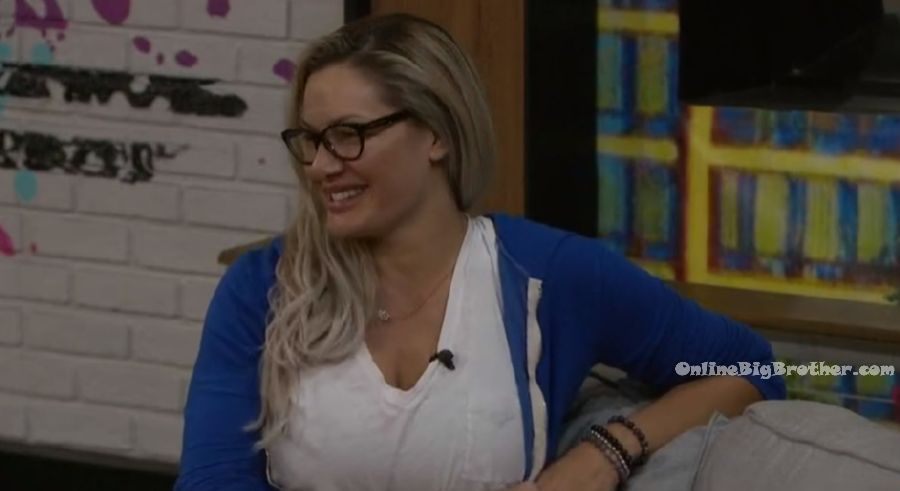 10pm Backyard. Nicole tells Christmas about how she was teasing Day and David about liking each other. She said that Bay thought I was trying to sabotage Day's game with a showmance. Bay then told Nicole that it took her a couple tries and a couple guys (Cory then Victor). I feel like its awkward. Dani said that she apologized and said that I should too. But I don't think I need to.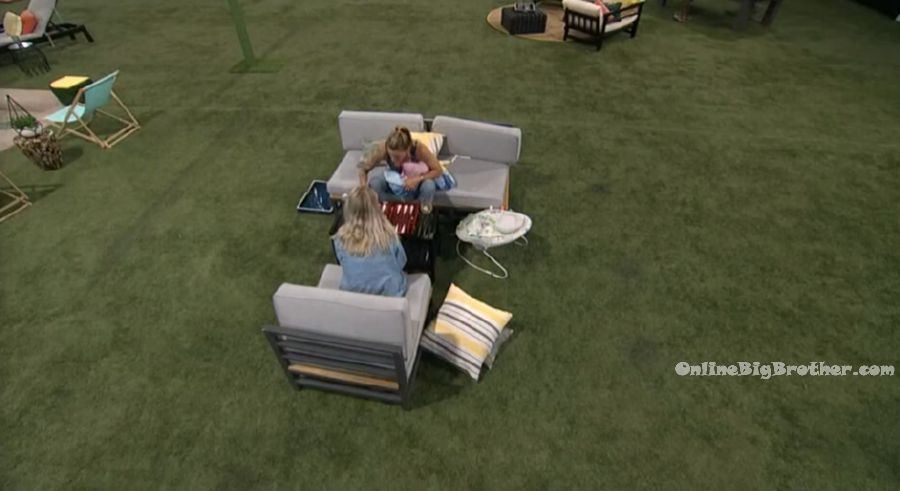 11:20pm Janelle and Kaysar talk about the veto competition. Kaysar – it was dumb .. I just had a momentary lapse of judgement. It was so embarrassing. I feel like I would have done decently. I could have done that easily. And I had the height advantage.. but who knows if I would have beaten 38 seconds. He didn't screw up. Janelle – I got it at the same time as Memphis. I would have liked to have at least beat Memphis. It sucks. Kaysar – I just refuse to believe I suck this bad. People are going to watch and say oh he is screwing up because he's old. That's not true.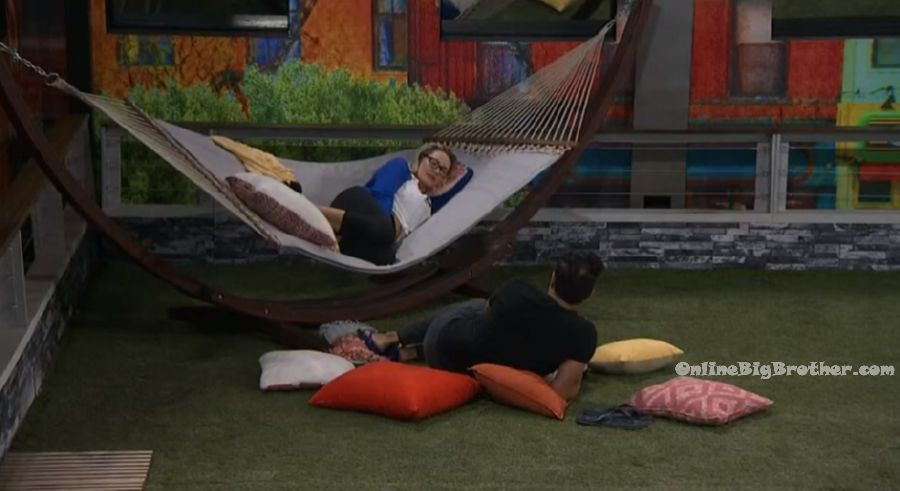 12:55am Kitchen. Dani and David.
David – what's happening next week. Dani – settle down its Saturday! Why are you rushing. David – I'm not rushing. Dani – you have to enjoy a week off. There are few weeks in this house that are chill. Those are the weeks that you just shut up and enjoy it. Dani – do you miss Nicole? David – yeah. Dani – I liked her a lot. David – She was kind. She took on the social pressure of doing this again.. she just got caught up in the wrong people in the house. That's the part that sucks. I remember in the first week .. she was already dealing with Havenot and then she had flashbacks to last season. I told her no you get out of bed and at least talk to people. And what sucks is in that time period of her trying .. she connected with Janelle. Or got used by Janelle. That's what sucks.
1am Kitchen. Ian and Dani.
Dani – how is it only Saturday. Ian – I'm not complaining we have the yard ..when we have the yard time goes three times faster. Ian – so you think this vote is straight forward? Dani – it should be. If its freakin not then we have serious problems. I know you're on the same page with me. Ian – no, yeah I am. Dani – if people are playing selfishly .. its going to show people's cards if they try and do stuff. Dani – you have the queen (Janelle) and then.. Ian – then you have someone who's never made Jury (Kaysar) two times. Dani – He has zero personal relationships with anyone except for Memphis. Dani and Ian agree they are always on the same page. Ian – Janelle is such a competitor. Dani – she is so good at this game. If it wasn't for Tyler she would have won this HOH. You might have been up on the block. She would have 100% put up Nicole and someone like you beside her. Ian and Dani talk about whether or not there will be someone coming back. Ian – I don't think so because even as it is we would have to have two double evictions.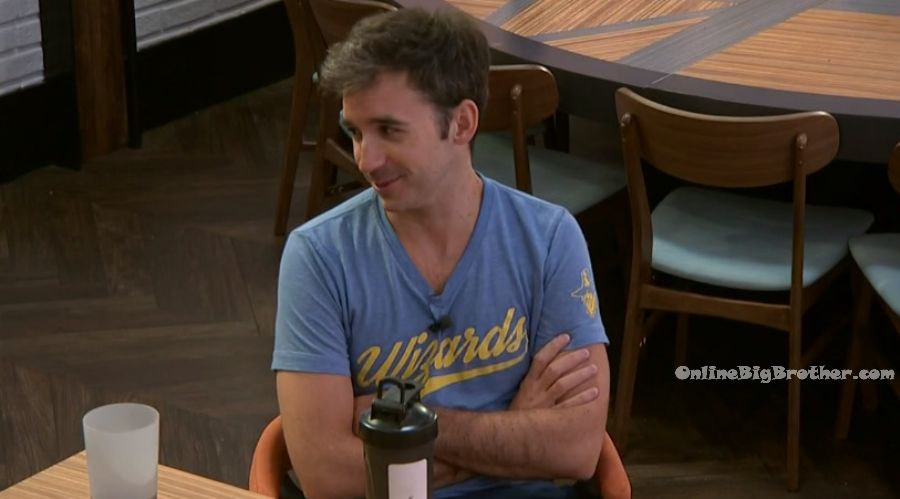 1:27am Hammock. Dan and Kevin.
Day – Ian is never going to detach from NicoleF. Nicole has to leave .. that is the only way to make Ian a free agent. Kevin – if you want to gender balance it out one of us have to win HOH after Memphis leaves. Kevin – strong players ..you need them early on because they take out the threats like Janelle but you don't want them to get far so you have to take them out in the middle.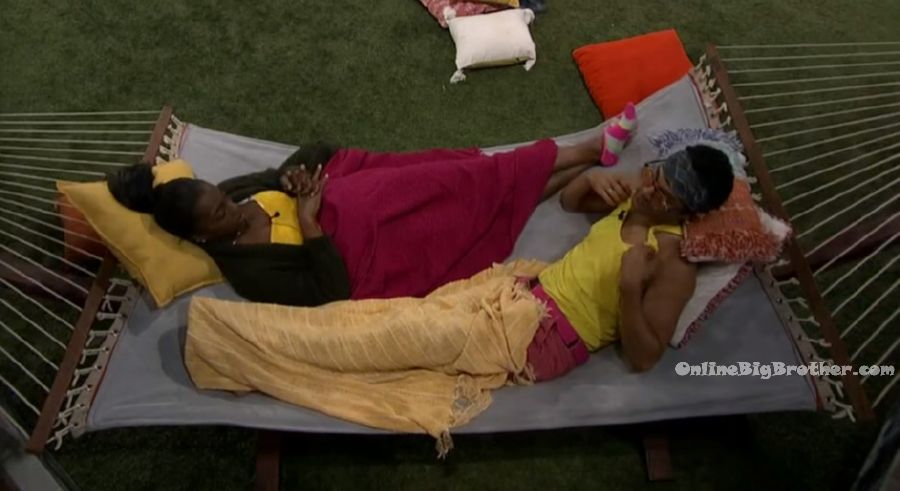 1:33pm – 1:46pm Christmas is in bed when the baby star stars crying. The baby star tells he to take him for a walk in the backyard. 50 laps in the backyard. Christmas – maybe if I am actually nice to it, it will let me sleep all night. Kevin tells her she's got this. Christmas – I feel like 50 is excessive. She finishes and heads back to bed.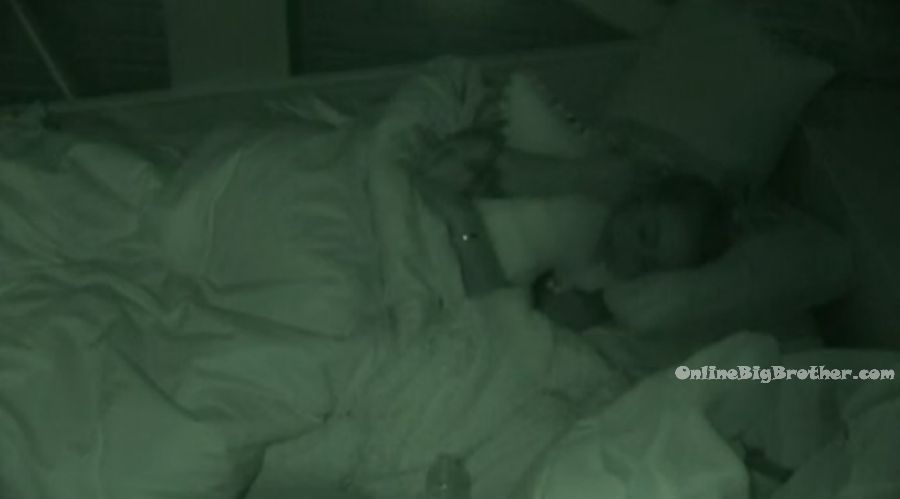 1:50am – 2:25am Kevin and Day.
Day and Kevin talk about how she likes David. Day – if this is the downfall of my game I am going to be so mad. Kevin – I think if you play it like you are right now meaning cautiously then you should be fine. If you're playing it like Rachel & Brendan …or even like Swaggy and Bay .. they were too ride or die for each other. You're not giving off that vibe at all. Day – okay great! That's all I needed to know. And when Cody asked it wasn't are you and David flirting .. it was like is David flirting with you. If he is then he is messing up my game and if people are saying that then he needs to go. Kevin – and if people ask me about it I will say that you're curving and swerving. Day – exclamation point. Kevin – more like period. Day – I feel like these moments I am having with you.. I thought I would have with Bay. I feel like she is closer to what's her face. Kevin – Janelle? If NicoleA is a butterfly then Bay is a moth..they're both attracted to the flame. Why can't they see what I see. Day – yes she is the queen of BB. Kevin – they need to see beyond that. Day – she is Charlotte. Kevin – weaving her web. She eats up women. Day – why didn't she take the deal with Cody? Kevin – because it was probably delivered by Dani and NicoleF was part of the package and she hates women. Or she eats women alive. She will eat up Bay. Day – I think Bay will give her a run for her money. Bay is not her puppet. She ain't Geppetto'ing Bay. They talk about how Ian is a legend and flying under the radar. Day – I am no fool to Ian and how he is playing this game. At some point I will let him know. Kevin – why would you want to do that. Day – when I put him up. Kevin worries if Kaysar wins (HOH) he will be put up. Day – if Kaysar wins he is going for big guns. Day and Kevin head inside to go to bed.
2:40am All the house guests are sleeping..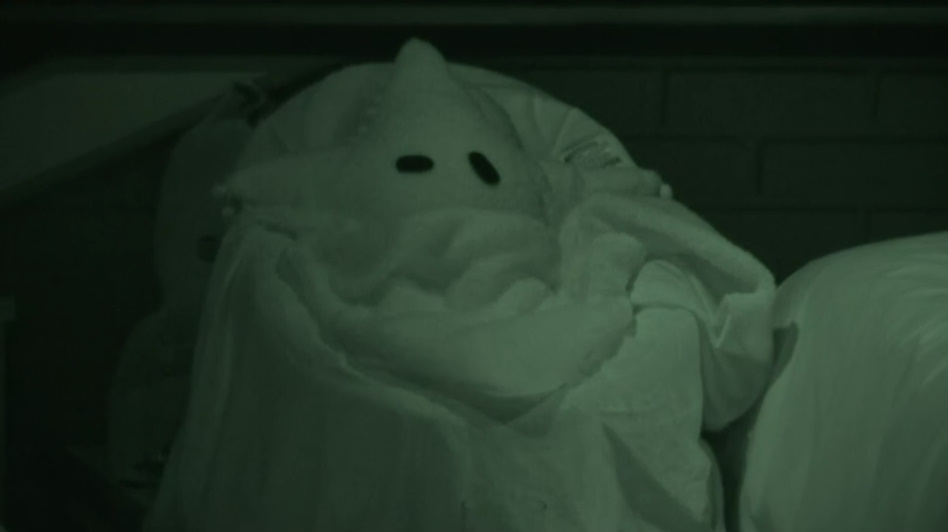 7:30 am Sleeping yo.
Show your support by making a donation.
If you're enjoying our live feed updates this season, please consider donating.
Any amount is greatly appreciated! Your donations go directly to paying the fees required to run this site.