POV Holder:
Kevin
Next POV
May 1st
POV Used
?
POV Ceremony
May 3rd
HOH Winner
Kevin
Next HOH
May 6th
Nominations:
Bobby and Brittnee
Have Nots
Zach, Bobby, Willow (Season slop pass)
POV Players
Kevin, Bobby, Ashleigh, Brittnee, Sarah, Pili
** The 2 round HOH twist that was leaked last week is once again back up for this week (Week 7). **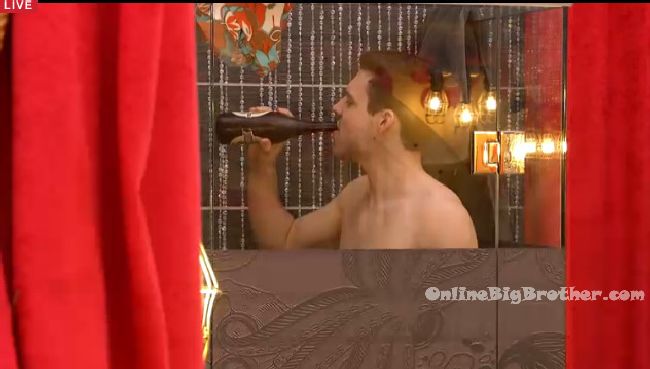 3pm – 11:10pm The live feeds were blocked for the power of veto competition to take place. AFTER just over an 8 hour competition in which Kevin, Bobby, Ashleigh, Brittnee, Sarah, Pili all competed in, KEVIN WON. He also won $10,000 to the BRICK! Guessing from how long the feeds have been down it is likely this was either an endurance POV or a competition where one player competed at a time.
When the live feeds return – Kevin and Pili are in the HOH bathroom – Pili tells Kevin I am so frigging stoked for you!! Pili wonders if she has to put the lobster costume back on? Kevin tells her no, your 24 hours is over. Pili leaves the HOH room. Kevin is alone in the shower drinking a beer and says "that's so much money!! So much money OH MY GOD!! A lot of money!" Pili joins him again and says that he feels bad for Ashleigh. (Asleigh was second place.) Pili says you can't feel bad .. you won! Pili joins him in the shower. Pilar wonders if her family will be disappointed in her because she couldn't finish the competition. Kevin says no they wouldn't be disappointed just like my family wouldn't be disappointed if I hadn't finished. Pili tells Kevin you just won $10,000! We have to go shopping at the Brick!
In the bedroom – Zach and Bruno are talking about random things like jobs and working your way up the ladder.

11:25pm Big Brother blocks the feeds.
11:52pm The feeds return. Most of the house guests are in the kitchen cooking food and chatting. Pili is talking about quitting the competition.

12am – 12:10am In the bathroom – Bobby questions Ashleigh where the missing condom is .. "It was Zach's birthday on Wednesday… he got a nice football cake did he get something else.." Ashleigh says no. Bobby says he's just joking. Ash leaves. Bruno joins Bobby. Bruno asks so its Godfrey? Bobby says yeah he's GONE-FREY! Bobby says he knows that Godfrey is good for their game but they would piss off two sides of the house if they kept him. Godfrey joins them. Godfrey tells Bobby I think you're good he's going to take you off for sure. Bruno asks Godfrey do you think you're good? Godfrey says I don't know. If he keeps his word it'll be Sarah going up. They agree they need to take to Kevin before the veto ceremony.
12:20am – 12:50am In the bathroom – Sarah and Willow are getting ready for bed. Sarah notices she left her toothbrush out and says oh no… it might have been tampered with. Willow says they wouldn't allow that. Brittnee joins them and asks do you still think they want to get God out? Sarah says thats what they said the other night. Zach said Kevin isn't going to want to make a big move. Britt says at least you don't have to worry.. you lose comps and don't get put up and I lose and get put up. Sarah says honestly its what I would do. Sarah says someone is lying to us or Kevin is really that chicken sh*t … if you thought someone actually had a secret veto wouldn't you want to get them out? Brittnee says it doesn't make sense. They either have a 7 person alliance and you're going up next to me or it just doesn't make sense. Brittnee asks do you think I should push the idea of getting it out of Bobby? Sarah says yeah. If you're thinking of taking him down when he has a secret veto .. let him take himself down. Sarah says you can say to Bruno I thought we were trying to make it not look like we were working together. So why would I not say that to Kevin to make it look like we aren't working together. Brittnee and Sarah head to bed and continue to talk. Pilar joins them and tells Brittnee to not worry. Just keep fighting its only going to get harder and harder. After Pilar leaves and Sarah says that was the fakest conversation.
Sarah says if they put me up I will f**king snap on these people!! Brittnee says if they put you up I will go off on them. Sarah says she basically said when I vote you out don't be upset. Brittnee this is the longest Ash has left you alone. Sarah wonders if Zach put her up to it. Sarah says he (Zach) is a snake. You can see it in the way he talks to you. Britt says he's rude.
1am In the bedroom – Willow is talking to Sarah & Britt. Sarah says everyone is acting really weird. Britt says God is acting so comfortable. Sarah says I'm going up. These people are idiots. I don't know why Zach would come right out and say you guys are good. That's him basically admitting the couples alliance. Sarah says if I'm a bigger threat than someone is jacked and saying he's coming after the couples. I just hope I'm not getting played. Willow says I would tell you. Sarah says unless they just want redemption. Britt says for Jordan? Sarah says yeah. Britt says if Godfrey doesn't go up tomorrow I would be like what kind of f**king horse shoe do you have up your butt for them not to put you up after how many times you've said you're coming after them. Sarah says basically Pili just said that I'm going to vote you out and you have to like me. I wonder if she says that to Kevin, Zach and Ashleigh.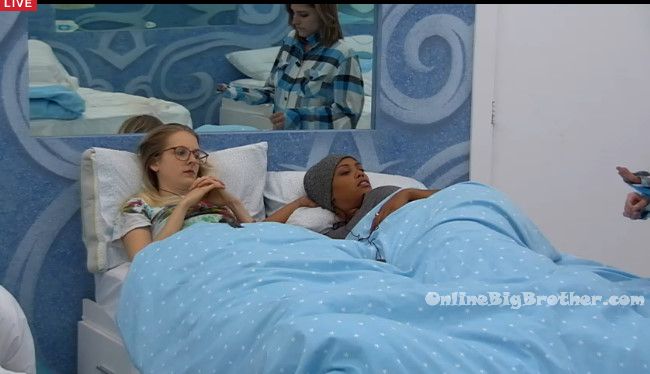 1:30pm Sarah and Willow head out to the hot tub room. Willow says you get so worked up .. just breathe please! Sarah says I just don't have anyone. Willow says I am picking King Kong over Missy Elliot or whatever I'm going to call her. Bobby joins them. WIllow says they told me they're taking you down and putting up Godfrey. Bobby says if Godfrey goes up you have the numbers to keep Britt. Bobby says any time anyone mentions your name I am coming to you. Sarah says yeah the same. Sarah says I should have won that one. Willow comments that she's not winning anything either. Willow says are we Adel, Paul and Kyle right now?! Bobby says we need to win the next HOH. If we squeak by with God going home!!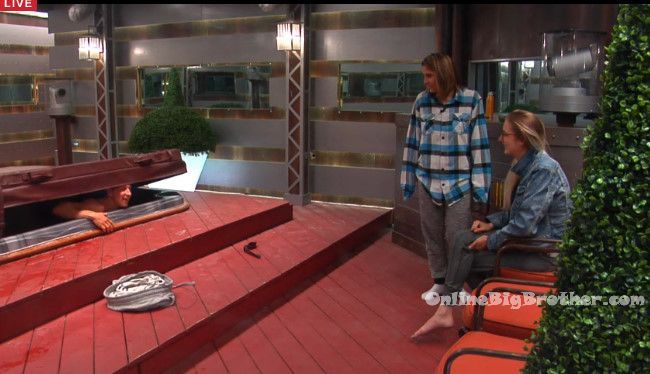 2:20am
All the house guests are trying to sleep ..big brother hasn't turned off the lights..
2:35am Big Brother turns off the lights…
ALLIANCES IN THE HOUSE
There are always a lot of Alliance but we've tried to make sense of it all.. Read our alliance help guide
If you are outside Canada and want to watch the FREE Big Brother Canada Live feeds sign up for a VPN service here https://www.hidemyass.com/vpn/r16399/. It's safe to use, easy to set up, and cheap. Need to know more check out this post explaining how to set it up.
[polldaddy poll=8834825]