Head of Household Winner – Jess
Have note are:
Nominations are: Jack and Jackson
Power of Veto Players are – Jessica, Jack, Jackson, Kat, Nick, Tommy (Nicole – Host)
Power of Veto holder – Jessica
Power of Veto Ceremony –
Powers in the game *** LINK ***
Grab your live feeds —-> BB21 Live Feeds Subscription Link
Rank your houseguests —-> Big Brother 21 Ranking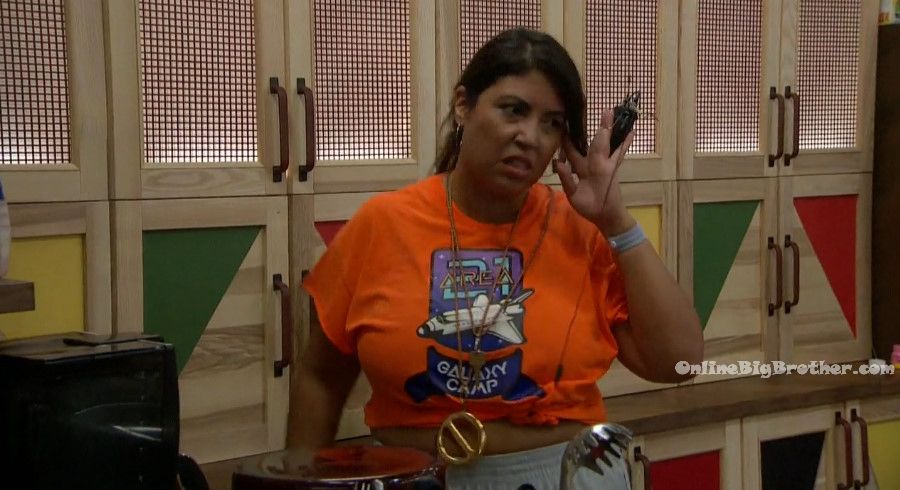 1:24pm – 4:30pm The live feeds were blocked for the Power Of Veto Competition.
Power Of Veto WINNER: Jess
Kat gots a Hawaii vacation
Nick got 5 grand
Tommy got a punishment.
Jack & Jackson got a 24 hour alien punishment (Area 21)?
The live feeds return with all the house guests in the kitchen. Jessica won the veto. Everyone is congratulating her. Cliff congratulates Kat on winning a Hawaii vacation. Holly to Jess – you done good with your boss B***h energy!

Tommy to Sis – This is the best case scenario! Sis – literally .. like what more could you ask for? Tommy – I didn't have to be in a position where I had to choose. Jack will not be going home. We get to be punished for what we did. It is literally perfect! Sis – I know! Tommy – we made it up to Kat by giving her that f**King thing (Hawaii vacation). Literally perfect! Sis – I was sh*tting bricks! And I was feeling bad for Nick ..I didn't know what he would have.. Tommy – he would have had to take the veto if she hadn't because he was a possibility to go up. Sis – this is best case scenario! Tommy – Also Nick has been struggling in the house so now he gets 5 grand. Best case scenario!! And I am so happy I got a punishment so now I can beg for what I did. Jess wins the veto and she gets to keep her noms the same. Sis – I just feel bad for Holly now. Tommy – we have her, she will be good. Jack joins them. Sis – great job. Tommy – you're not going home. Jack – yeah Jackson didn't win. And Jess exposed herself as a competition beast this week with a clean sweep. Tommy – best case scenario! Jack – do you think he has anything up his sleeve? Tommy – no, I won't let him. Jack – you're going to have a punishment like pin-wheel one with a dress. Tommy – I don't care punish me .. make me sit in a room .. as long as it makes it up to Kat and the house. I still don't regret it. Jack – Alien.. 24 hours .. he is going to be pissed!!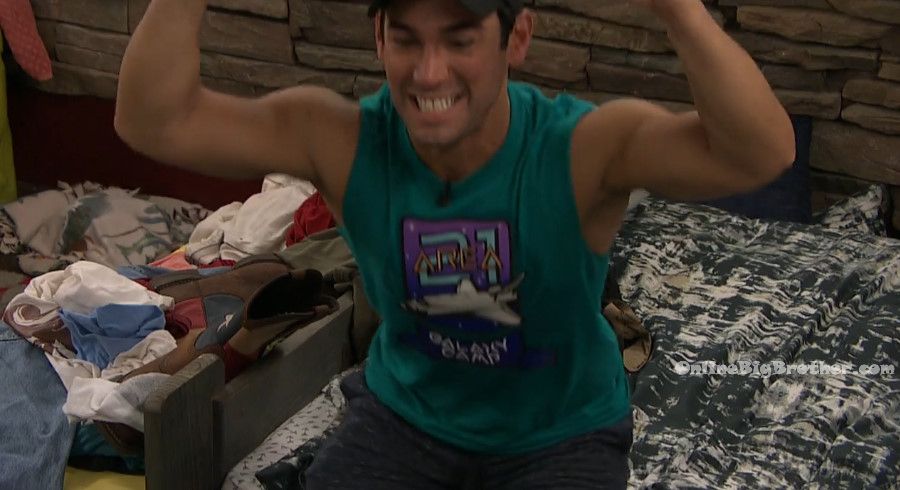 4:46pm Storage room. Cliff, Nicole and Jess celebrate the win. Jess – the gods love me I swear! Cliff – but now .. Nick and Kat.. I worry about both of them. Kat we've got to just say you're hanging us all out to dry if you change what we've done. Jess – Kat, why Kat?! We just need four and I'm the tie breaker. Wait why wouldn't Kat vote with us.. she IS with us. Cliff – I think so but they're all going to be sitting in there with her. They'll all be in her ear like Jackson has treated you so horribly how could you not. They'll be saying you're betraying your womanhood if you don't do this. I just know what kind of pressure they're going to put on her. We'll talk about it. You guys just keep an eye on Kat and I'll keep an eye on Nick.
Jess, Cliff and Nicole celebrating the POV win! @bigbspoilers #BB21 pic.twitter.com/rEp69w8GI1

— Dawg (@DawgsBigBrother) August 4, 2019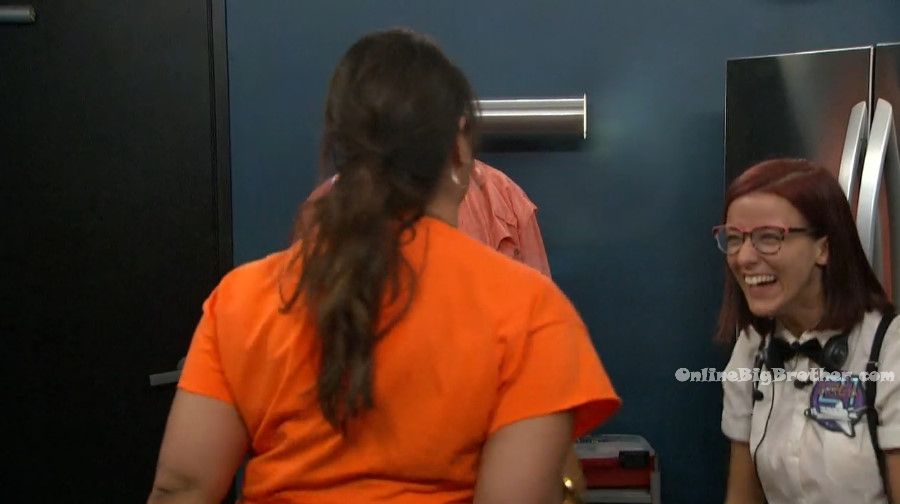 Nick is feeling nauseous after the comp.
5:25pm Jackson and Holly are making out in the camp comeback room. Kat joins them. Holly – Tommy was already like I'm good with Kat now because he didn't take your Hawaii trip. Kat – you're about to evict me but you give me a Hawaii trip that I could.. Kat hears something and checks the door. Kat – I don't want it to sound like I'm not grateful because I am. Kat – you're fine. By the way I lied to you .. I do watch the show. Jackson – I would love it if you could explain to Jess .. hey Jackson and I did talk in depth about Holly but I never told him that we knew each other. Because she thinks that.. so half the house thinks that Jack just found out about this info on day 44 and not that I told him in week 1. I need you to help me out. Jackson and I talked for hours about careers and stuff and he very well might have told Jack that… which I did. It would validate and verify my story because its the truth. They were saying why they wanted to flip was because it was the first time they heard it when in reality they heard it week 1. Kat – this is what pisses me off.. during the stage coach .. Christie would have already know. I had a conversation with Tommy .. and said that Jackson and I had a good talk. Tommy said that is what made him believe it since we fight so much. Bottom line just had reason to put you up but she does not want you out. Holly – Christie is up Jess's a$$ right now. Jackson – so fake! Kat – they're also going after Cliff too. The thing that Tommy keeps harping on ..they're going to try and flip this back on me. You said that four sources told you stuff about Christie. They said it was Cliff..me, Jess and then you back tracked. Nick, Sam, Cliff… but don't say me. Don't you dare. Holly – can you say Bella? Jackson – I don't have a story to with that. Kat – say my story but use Bella's name. In the big brother house people take one little thing and run. Kat – we might fight but its all personal. Jack has been affecting my game and he tried to have me evicted. There is no way you will get evicted. Big Brother blocks the feeds. Jackson – Tommy, Sis, Christie .. they are now the minority. I'm coming after them .. and I am coming after them guns f**king blazing! Kat – Tommy is on my sh*t list! Does he think that he can give me a Hawaii and that makes things all better. I could go to Hawaii.. Jackson – at the drop of a hat. Kat – he would have gotten it taken from him. Holly – he was third out .. he would have had that taken from him. Kat – even last night Jess said that she didn't know if she made the right decision by putting you up. Jackson – she did and I respect it. Tell her that I want to talk to her whenever she would like. I will be in my office. Kat – you have me, Nicole, Cliff, Holly .. that's four.. Holly – we need to secure it just in case Cliff makes a deal with the devil. I don't think he would. Jackson – send them to me because I don't want it to be obvious.
6pm – 6:13pm HOH room. Jess, Kat and Christie.
Kat is fake crying. Kat – I feel really uncomfortable. I can't get straight answers out of people. I have some people telling me one thing and other people telling and like I know what happened. I literally just want to move on from it and it went not how I expected it to go. It really just made me f**king paranoid. And I hate feeling this way and I am just really confused. I wish it never happened. I am sorry. Christie – no don't be sorry. You know how you solve that problem .. you get people that are telling you different things and put them in the same room. Kat – I know, I know. I literally don't even care .. I just want to cut it and forget it.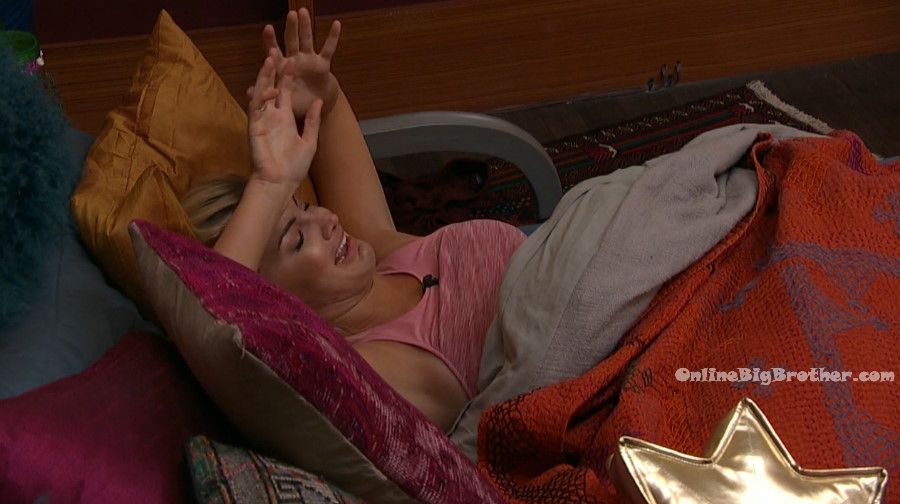 6:27pm Camp Comeback room. Jack and Jackson.
Jackson – I don't know what you're wanting to do or where you're at.. Nick – I know .. I just want you to just wait and not do anything stupid. Jackson – I am staying up here and will let the chips fall where they may. I am not going to campaign against Jack. I am not going to throw anyone under the bus. There was a very locked in plan to have you win the HOH. Nick – I know and then get backdoored. Get put up next week and then go home. Jackson – use you and then toss you. Nick – Holly told me. I know Christie wanted me. I know that she was one of them. Jackson – I am not going to say names. You know where I stand and where I would go after this. Nick – I thought you were going to win this comp. What is Holly doing with her vote this week? Jackson – I am not going to ask her .. I think she would probably vote to keep me. I am not going to speak for her. Nick – I would just say continue to lay low and don't give up. Nick leaves.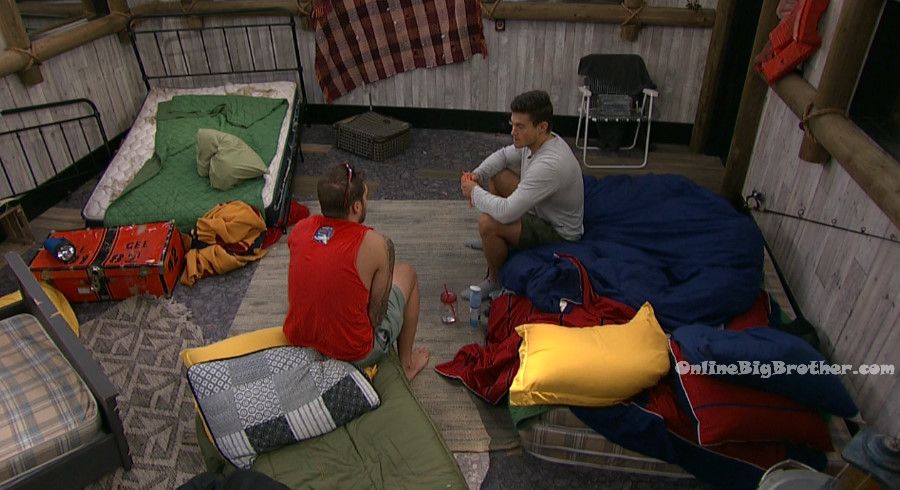 6:40pm Cliff tells Holly that Kat came out of the havenot room crying and then asked why would he say that? Holly – I don't know. I was in there and it was nothing bad. I don't know what she's talking about but it worries me who she's in there with.. Christie was making stuff up about me yesterday. Cliff – we have to get Kat reeled in. Maybe it didn't have anything to do with.. maybe she was just rehashing. We have to get Nick. Holly – I am going to have to act like Jackson is going .. which he still might. He does not deserve to leave this week. He can leave later and I will be sad. Cliff – now that Jess won the HOH and the veto ..they (Christie) can't use the power. Holly – I just want to have a calm week. Cliff – I feel better that you were in there. I thought he had said something really mean to her.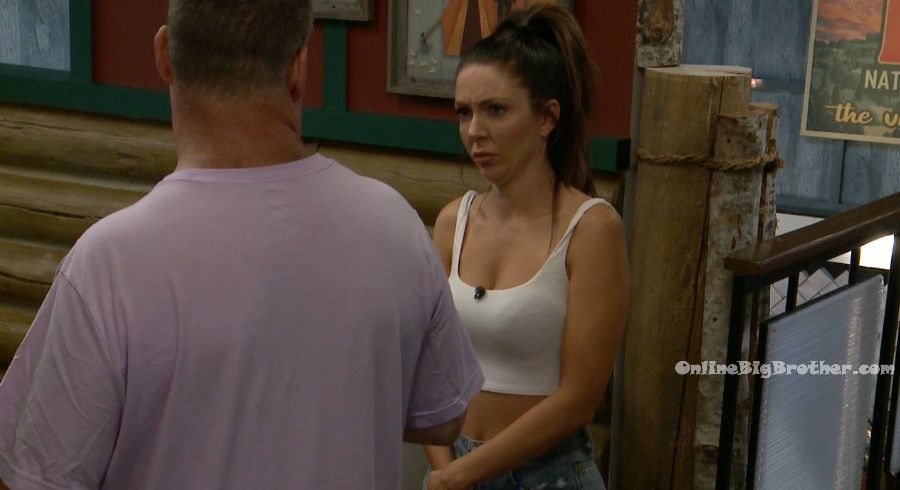 Christie – hopefully this is a unanimous vote that that you don't have to break a tie because that would suck. Christie – they were both given a chance to play in the veto today and they both choked.. so now its up to the house. Jess – I really didn't want to have to make another pick.. b***h does not want to win another HOH. Christie – its so good that you have both.. you're in full control.
7pm Outside the HOH room. Jackson – Jack was saying that he is going to have to talk to you now because he's going to need your vote. Cliff – I'll probably just going to tell him Jack, I am pissed at you that you threw me under the bus. Jackson – my target is Christie. Cliff – and mine is Jack. Play it cool though this week. We will not let on that we're planning to vote out Jack. We have Holly, me, Nicole, Kat and or Nick. Here is the reality .. if you go home on this week .. I will probably go home on the next. If they call me in I am going to act like I am pissed at you. Jackson – where I am going these next few weeks is Christie, Tommy, Sis.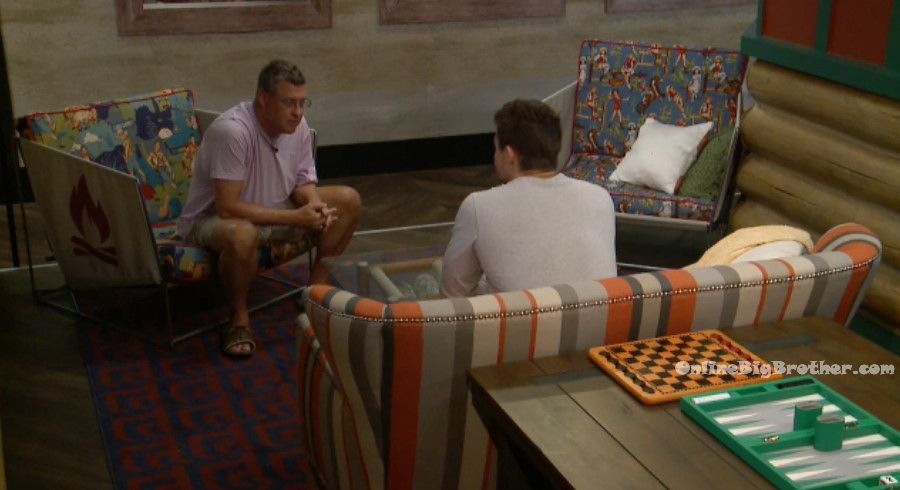 7:15pm Bedroom. Nick, Tommy, Jack and Christie.
Nick – what's wrong? Christie – I'm in a bad mood. Nick – what just happened? Christie – I'm in a bad mood and its just because of my own selfish things that's all. Nick – what does that mean? It doesn't have to do with Kat? Christie – no it does have to do with Kat. It was a series of a couple things. Cliff is a snake. I walked out of the HOH room and he was nestled in the corner with Michie and then they just split in two opposite ways when I walked out. And Kat was in the havenot room for a while and when she came out everyone was like where were you, where were you? And somebody said you're a bad liar. And she didn't say names she said that she owes it to everybody to hear everyone's side and she doesn't want to be questioned. Which I get, I also asked her where were you so she was probably pissed at me too. Its not even a big thing. I'm just salty. This is a no brainer and she is making it seem like it is a big brainer. Tommy – we just f**king gave her a trip to Hawaii!! How are you going to give a speech like that and then keep him? There is no way she is going to keep him. We just have to be so delicate. Tommy – Michie is the only reason why you did this. Christie – the person she is considering keeping is the person that said that they knew each other (Kat and Holly).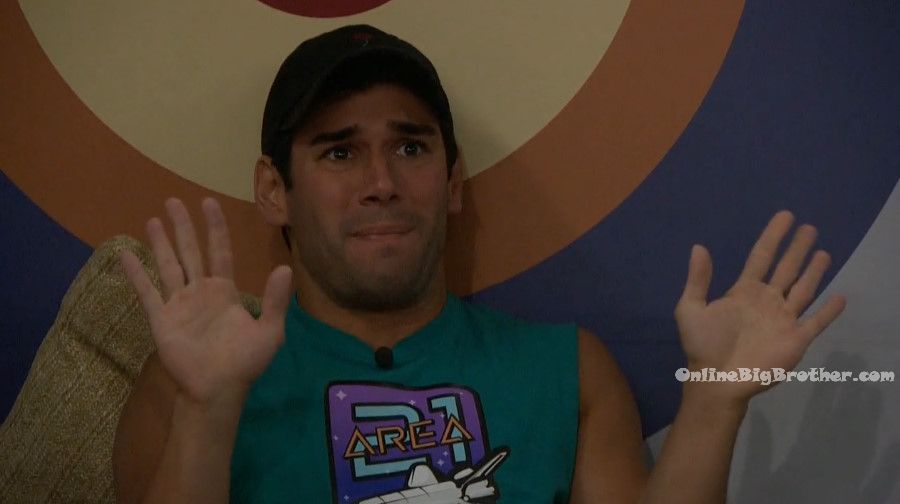 OBB wouldn't be possible with our your support!
If you are one of the generous people that donate to help keep the updates coming, we're giving out a bit more this year. Check out this page for more details: OBB Members