Head of Household Winner – Jess
Have note are:
Nominations are: Jack and Jackson
Power of Veto Players are – Jessica, Jack, Jackson, Kat, Nick, Tommy (Nicole – Host)
Power of Veto holder –
Power of Veto Ceremony –
Powers in the game *** LINK ***
Grab your live feeds —-> BB21 Live Feeds Subscription Link
Rank your houseguests —-> Big Brother 21 Ranking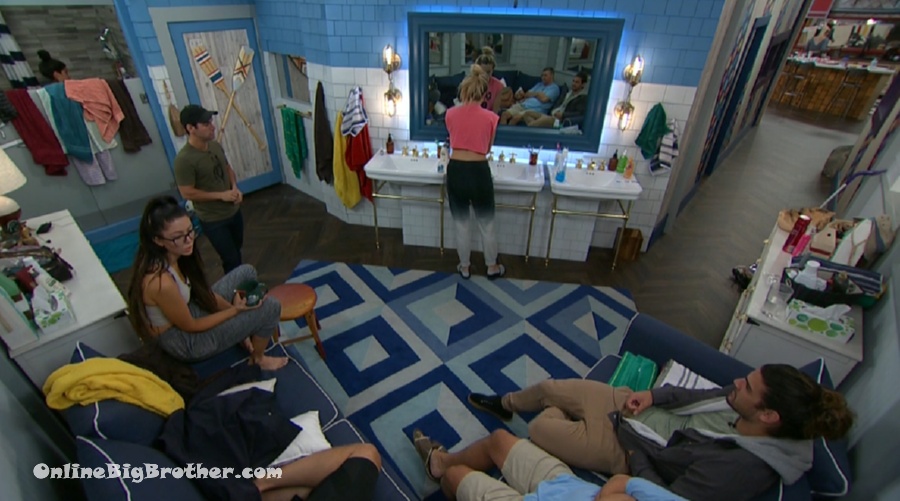 9:43 am
Power of Veto Players are – Jessica, Jack, Jackson, Kat, Nick, Tommy (Nicole – Host)
They talk about how many chips were in the POV player bag. There was 2 houseguest choice chips pulled.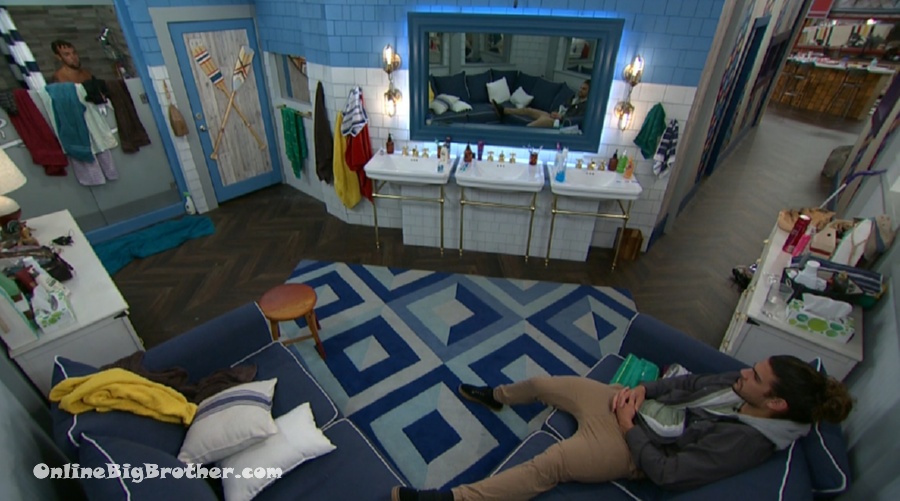 9:55 pm Nick and Jack
Jack – even if I stay up there I'll beat him in a vote
Nick – I know but I don't want to chance it. Look what happened to Kat.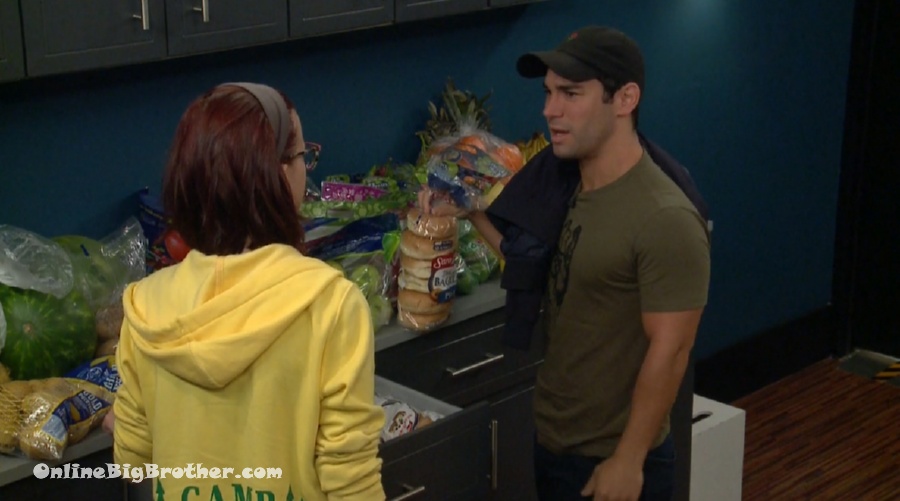 9:56 am Tommy thinks he might be the replacement nomination Becuase he was part of the drama the other day.
10:04 am Holly and Jack alone in the bathroom talking about Jackson's night terrors. Holly says they are pretty bad last night he drenched 3 shirts from sweating so much in his sleep.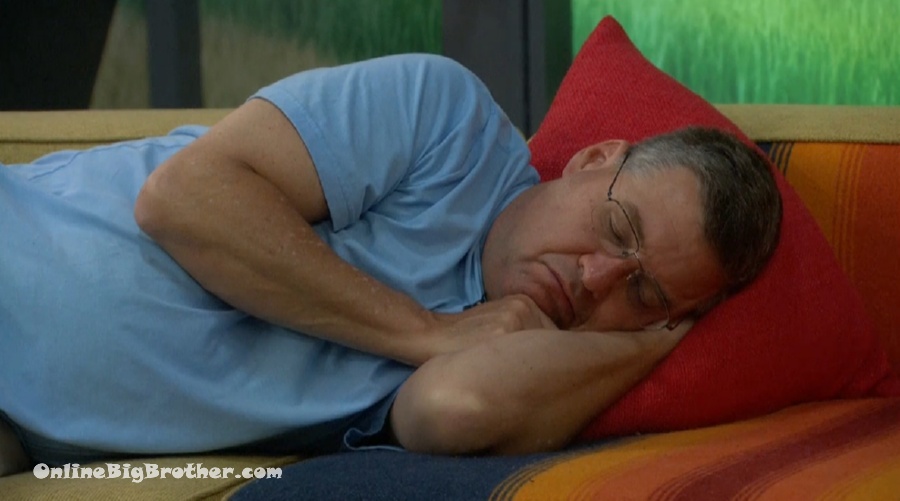 10:20 am Waiting for the Veto. You can overhear CHrsitie in the kitchen going on about all the chips in the POV player bag.
Jack finds someone left the jelly jar on the counter empty.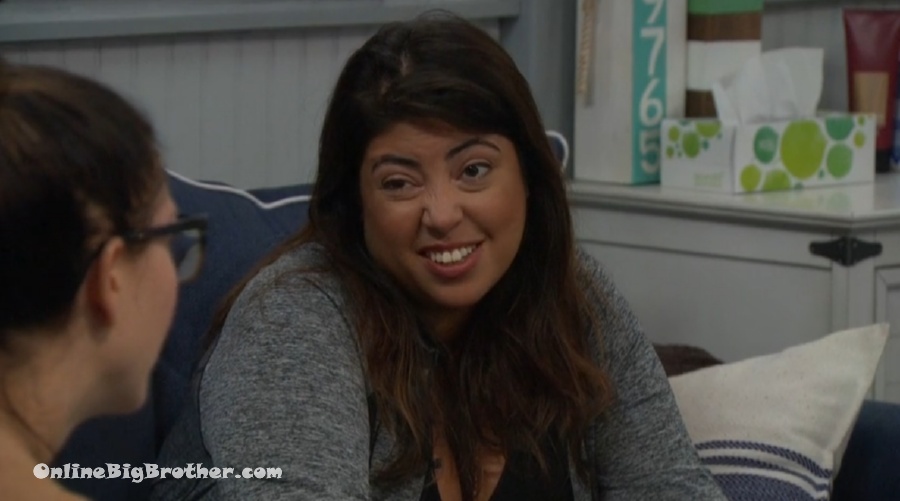 10:29 am Nicole, Jess and Holly
Jess brings up Michie and how he seemed in better sprites today
Holly going on about Jackson's nightmares "It scared me. he ruined 3 shirts completely soaking wet"
Holly – He said If he wins he's keeping it the same.
Holly – I'm glad he didn't get houseguests choice because he didn't know who to pick and he didn't' want to put me in that position
Holly says Tommy will take Jack off. Nick and Kat will keep it the same.
Jess will keep it the same.
Holly says she can ask Tommy not to use the veto but he still will.
Holly – they will use Christie's power
Jess – Christie will tell me if not then she'll be a really big target. She told me she would not.
Jess – I don't see why she would promise me that and then I would be the first person she would like break a promise to (ZOMG .. the first person)
Jess – I will be very very blindsided by that
Jess – a lot of people think that Jackson is going to be out
Holly – Jack thinks he's safe.. which is fine
Jess – I'm willing to have to break a tie.. I want people to figure it out.
They want noms to stay the same.
Jess – I don't have any options (to put up)
Holly points out that last week she put a pawn up and Kat almost went home.
Holly says it feels like high school when she's hanging out with the other group.
Holly – I'm shunned .. exiled
Jess – Welcome to the group (HAHAHAHAHA) that's how everybody felt with you guys, Sorry (BOOM power slam from Jess)
Holly – Sorry.. I know I tried to make it not be like that.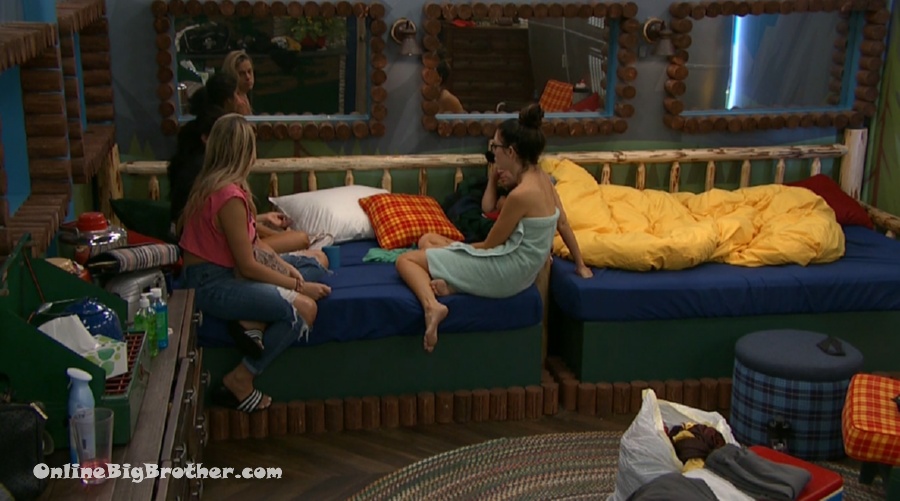 10:49 am Tommy, Holly, Christie, and Sis
Sis going on about how sad she is for Jack because Jackson is mad at him.
Christie – let's push our issues to the side and keep it game.
Sis – Michie hates him and will never trust him again (everyone hates him)
Holly – it's taking time for him to come to peace.
She hopes that they spend the next few days repairing.
They talk about how Jess doesn't want the nominations changed. Christie – Everyone has to do what's best for them personally. That's why I'm glad I'm not playing because it would be sticky
Tommy says he was worried about being a possible nominee so he's glad he can play in the veto for himself./
Sis says JEss told her she'll go up if Jack/Jackson win the veto.
Christie – she told me I was safe.
Sis – she told me it would be someone from the six so us 4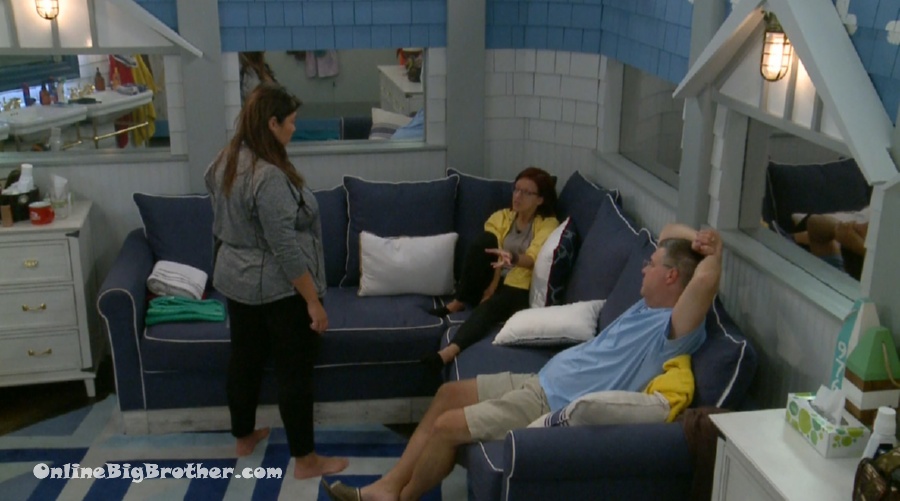 10:57 am Cliff, Jess and Nicole
Cliff says he overheard Sis, Holly, and Christie talking and Christie was saying you have to forgive and forget
Cliff – They're trying to bring in Holly just in case something was to happen
Nicole- makes sense. I walked into the RV and saw Christie, Sis and Jack they were talking about the veto and how it's going to work out.
Nicole – Tommy will take Jack down
Cliff – I'm sure he would
Nicole – what if Christie gives Tommy her power
Cliff – she could (too bad it's not flushed out)
Jess – then we lose Jackson
Cliff – yup
Jess – if that's how she wants to play it then she would be the biggest threat. that would make her the biggest threat
Nicole – I understand people have different targets but I don't understand why Jack is so obsessed with you (Cliff)
Cliff – because I went after him
Nicole – he keeps saying it in front of me he wants to see if I'm going to react or defend you I refuse to do anything
Jess – I'm still trying to wrap my mind around his comment and I don't know if he's talked about both you guys but the only things he put out was CHrsitie and Jackson and he said those are the ones that had the fight Then he said I'm just going to say that I'm not the biggest target here and I feel like their people in this house that are playing both sides
Jess – People ..
Cliff – sure
Cliff – we just have to keep up that Jackson would go home. Christie has to say by 10:00 o'clock tomorrow morning whether or not she can use that power
Nicole points out if Tommy wins the veto Christie gives him the power and Tommy puts up Cliff
Cliff – theoretically Christie promise not to use the power against me. She may try to weasel out of it and say I gave it to Tommy he sued it against you
Nicole – that would be foolish though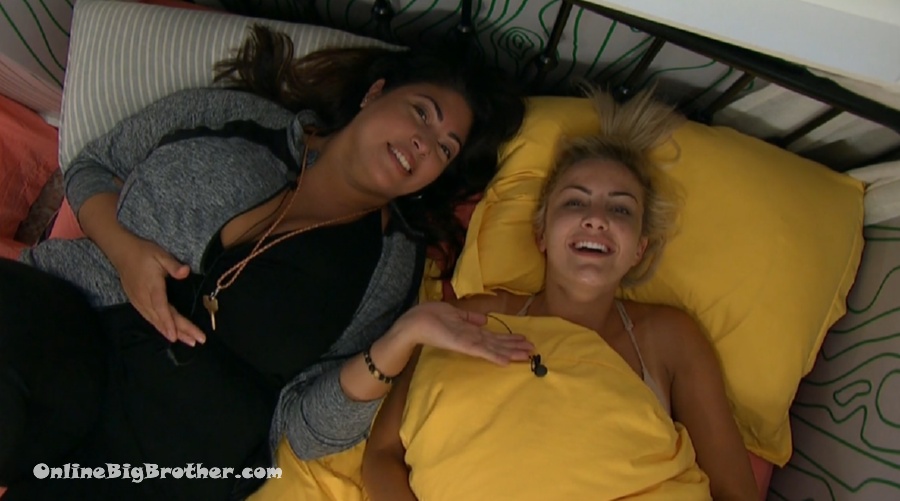 11:20 am talking about cute single friends AKA Kat. Giggling about Brett and kat's crush on him.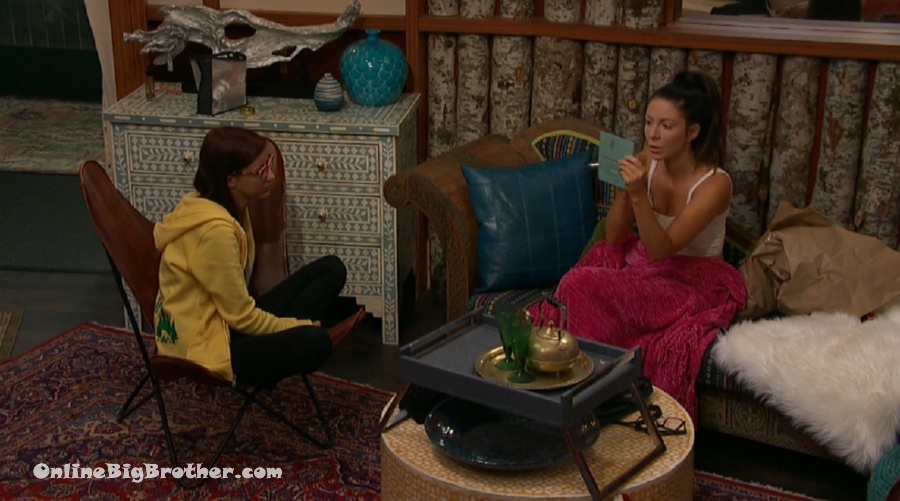 11:24 am Holly and Nicole
Holly beings her 4 hours makeup application.
Holly tells Nicole that Jack and Tommy can't stand Cliff.
Holly says she was in with the six but it didn't matter she had no say.
Holly says there's a tiny minority in the house that is running the majority
Holly – There's a couple of people that make the decisions and they are damn good with their social game. damn good
Holly – I don't want the people running it from the beginning running it at the end
Nicole – I get it
Holly – and being so quick to exile somebody shows a lot. Somebody that you are best friends with.
Holly says all the people in her group turned and exiled her after 45 days, "Chop you're dead to me"
Nicole – that's messed up
Holly says Sis left the room because whatever Tommy and Christie told Jess made her uncomfortable.
Nicole – wow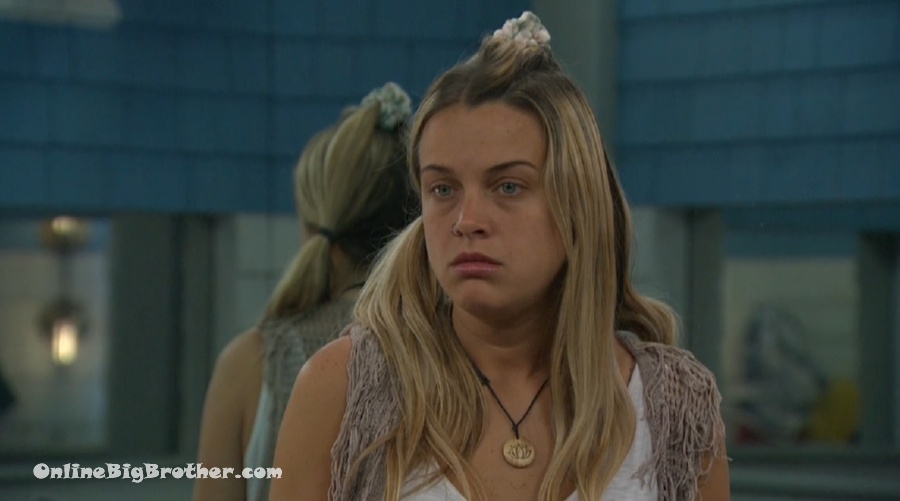 11:25 am Christie, Jack, and Sis
Christie – Jess wants to make sure one of her original noms goes home and she doesn't want to have to put another person up. If you win it we don't want to go up (Sis and Christie)
Christie – I could go up to her and be like you scratch my back, I'll scratch yours you won't have to get any more blood on your hands we won't have to go up on the block I'll use the power let us pick the replacement. You know what I mean?
Christie – BUT, not Cliff. I want Michie gone that's my only thing
Christie – I can't have Michie here he wants me out. I will gladly take out Cliff next week.
Christie – just throwing it out there just an option. I'm still going to base it on what energy is out there and who she's saying she would put up
Jack brings up they get Cliff on the block. He goes, "Jess can't win HOH and Nicole is the only one that is left from the other side"
Christie – then I have 5 new enemies.. that I'm not doing I'm sorry
jack – OKay okay
Christie claims if she trusted Michie she would take on the new enemies.
Christie about Cliff – "I f*ing despise him"

11:43 am Christie on the warpath about Cliff
They think Holly will go back to them once Jackson is gone.
12:07 pm Jack and Nick (Nick knows Jack is the target)
Jack says Cliff threw the last HOH so he could play in the double. Jack was going to but he had to go fo rit "because of the blow out"
Nick – yeah that sucks
Jack – it just shows how inexperienced Jess is with this game (LOL)
Nick – yeah it doesn't make sense. unless she has Cliff than it's four, Kat, Nicole, Cliff, Jess.. and I'm just floating around
Nick – people will look for anything to find if they want you gone. Ohh you didn't clean the sink that's my reason
Nick – I'll do anything to protect you, sis, Tommy Cause I know you guys have my backs fully
Nick says from what he's got the other side is voting out Jackson
Nick – I don't see how they will have the votes.
Nick counts, Cliff, Kat, and Nick. "That's only three"
Nick – unless Holly voted to keep Jackson that would be four – four
Nick says it would himself, Christie, Tommy, and Sis voting for jack
jack – I think Kat trying to vote me out would be a little silly because all I did was listen to Jackson what Jackson told me that's why I had the idea
Nick says it doesn't matter as long as they secure Holly to vote him out, "Which I think she would do, It doesn't f*ing matter"
Nick – it'll be 5 -3 if they did they'll really paint targets on their backs
Nick – I can't see kat or Nicole not voting him out based on what happened. the rogue vote and Kat and him had their own beef.
Nick says anyone up against Jackson is going to go regardless
12:39 pm Christie has received an audience with Jessica at the Candy Throne
Christie legit goes on about how passionate she is for GIRL POWER.
Christie says she would be bord if she had to hang out with the same 5 people all summer.
Christie says she's scared if Michie stays.
Jessica says everyone is scared that is why she put up the two strongest guys.
Jessica comments that Jackson had a lot of concussions he doesn't do well in memory competitions. If it's a double the first competition for HOH is mental. Michie won't do well
Jess – of course, I have to be on my period for this.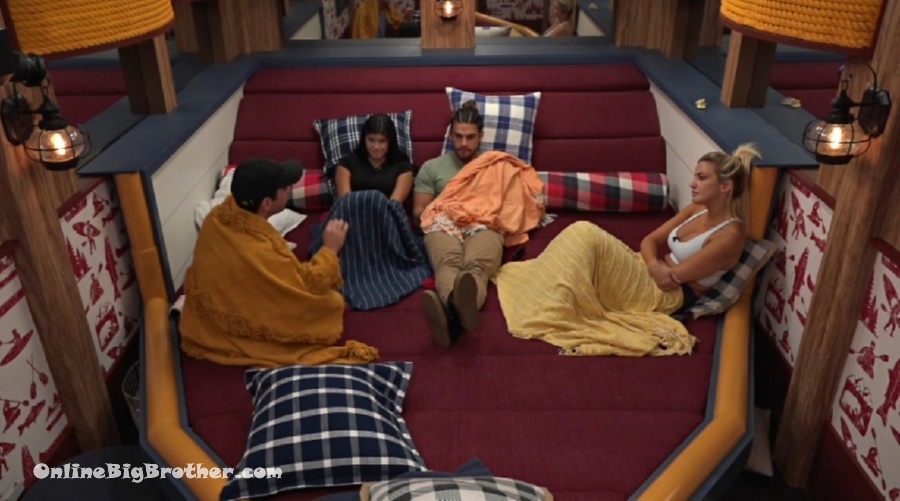 1:00 pm Tommy, Sis, jack, and kat
Tommy pours scorn on Cliff switches gears then starts saying that Jackson made stuff up.
Jack reinforces says that there were some truths but Jackson Elaborated
Kat says that Jackson is reactive
kat – Cliff is a smart player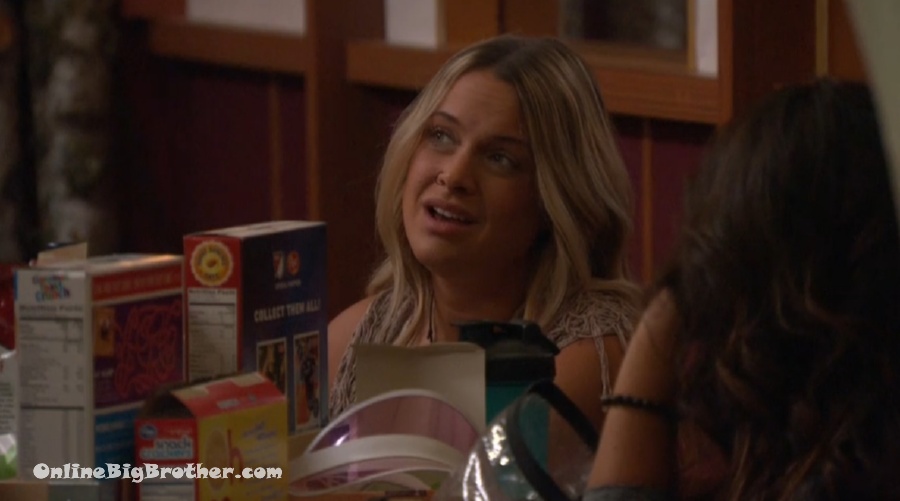 1:12 pm Christie and the candy queen
Christie – now I'm mellowed out. Like my big personality is there but now I'm just a bit boring
Christie – I'm trying to not be as opinionated on things now that we're getting down to less and less people .. being very opinionated is still not the best
Christie starts pouring scorn on Jackson and "the things he says about women"
Jess says each and every person here has said something except for Cliff and Tommy.
Jess – every guy has said something that would be offensive to any girl in here. they've called us b1tched… yelled like I don't give a f* how you feel
1:24 pm VETO TIME!!!!!