Head of Household Winner – Jess
Have note are:
Nominations are: Jack and Jackson
Power of Veto Players are – Jessica, Jack, Jackson, Kat, Nick, Tommy (Nicole – Host)
Power of Veto holder – Jessica
Power of Veto Ceremony –
Powers in the game *** LINK ***
Grab your live feeds —-> BB21 Live Feeds Subscription Link
Rank your houseguests —-> Big Brother 21 Ranking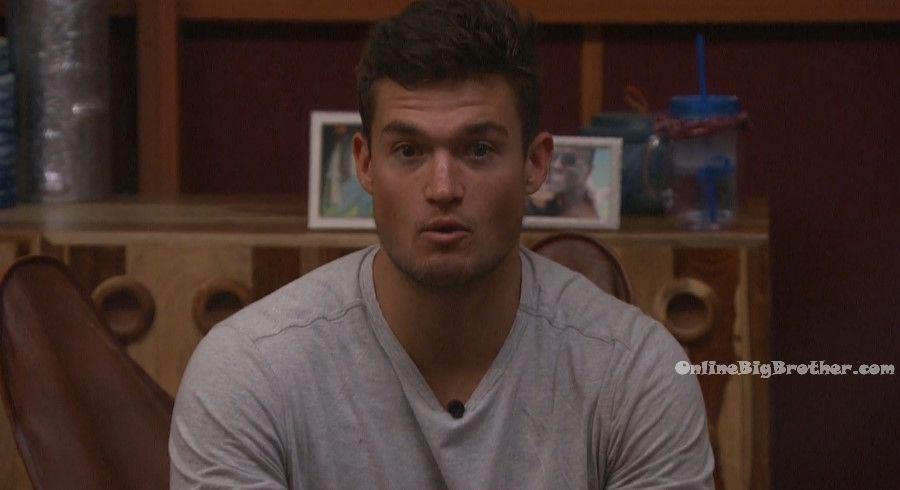 7:46pm HOH Room. Kat, Jess, Holly and Jackson.
Jackson – is there anything that I can help clear up? I haven't lied to you. Jess – are you sure Michie that you've never lied to me? Jackson – I've never lied to you. Jess – you've said to me that you've never thrown anything out .. you've never thrown cookie dough out.. Jackson – I haven't. Jess – so then Christie is saying that you told a group of five that's what you did. Jackson – here's what I said so what I would do is go in there an eat all the cookie dough and then I would come out and hand people the cookie dough. I remember I handed you a piece. Kat – yeah. Jackson – I ate most of it. I would never waste food. Jess – okay. Jackson – the mouthwash I have never poured it down the drain, I've used it. Every time I would go by the bathroom I would use it. I've never poured it down the drain. I wouldn't waste it. I never specified what I did with it. kat – Did Sis come in here to spy? Jackson – yeah they said lets see what info Sis can get. Kat – but this whole thing about us knowing each other is going to get everyone of us sent home. Jackson – I speculated about it on day 4.. and then when he (Jack) came to me and said I think Kat and Cliff are working together to feed you disinformation to get us all to pin each other against each other I was like that doesn't make sense X, Y, Z and also the fact that Kat might know Holly so why would she turn against her closest friend in this house. It was a minor detail. It was not me going around telling people that y'all know each other.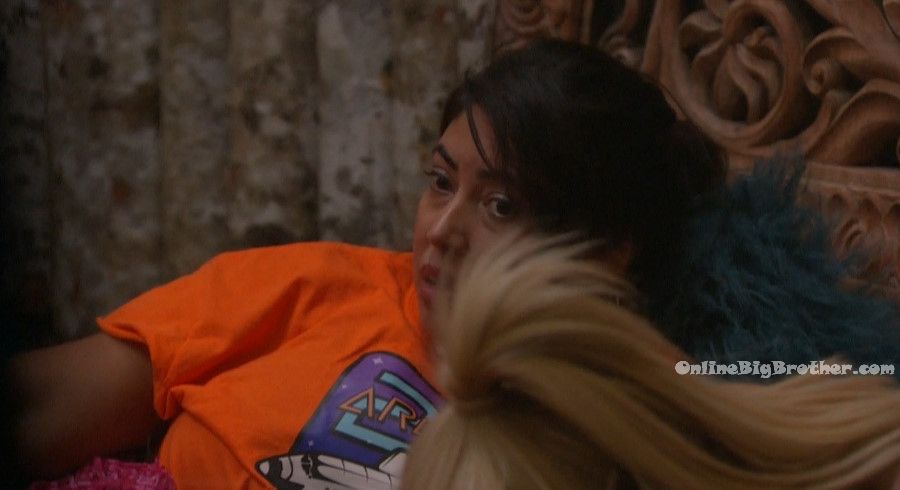 Kat – I feel like going down there and saying we don't F**King know each other. Holly – I think that's beating a dead horse. Jackson – why would I ever endanger your game or her game. You're on the block and I love you to death and I'm in a showmance with her. Why would I do that. I didn't think that would damage your game. I trusted the wrong person. Jackson – Jack is pissed off about something. I don't know the details of what .. I heard someone Nick or Sis say you can't say anything .. if you so much as sneeze around Kat you could lose votes. So he is pissed off about something. They said don't say anything until after the veto because then they will take Jackson off the block. Nicole joins them. Nicole – I can vouch that something seems sketchy. Kat – I'm about to evict him just on his bad energy. Jackson – they're waiting until after the veto is not used so that one of them will not go up on the block. Jess – do you honestly think that Nick would go down there and say don't say anything because if that's the case she is going to take him down and she is going to put one of y'all up. Why wouldn't I put Nick up!? Because the know that he is trying to fan-angle his way in here. Get our information and send it to them so he is playing both f**king sides! And I will take him the f**k off and put Nick up! Jackson – I did not come up here to say that to get taken off the block.. I swear on the bible. Holly – you know what he (Jackson) was going to do if he won the veto .. he was going to keep the noms the same! This f**ker! I almost choked him! kat – you're a reckless motherf**ker! Jackson – I think Nick was trying to tell them to tread lightly. I think he was trying to be out of the radar. Jess – yet he is going to swear to Christie that he is going to vote you out. Jackson say that he will leave and let them talk. I'll be in my office. Jess – you already know that you were not the target. They hug. Jess – and that's why he's (Jackson) staying. Jackson leaves.


8:05pm HOH room. Nicole, Jess, Holly and Kat.
Kat – if the vote goes wrong and Jackson goes home and Jack stays.. that is literally the worst case scenario. As we have found out so far, Jackson is not the threat, it is Jack. And honestly it is Tommy .. so if I were you just to eliminate any kind of stress.. like which way is Nick going to vote or anyone else.. why don't you take Jackson off and put Tommy up?! That way Jack loses another vote. Because you're going to have blood with Tommy no matter what. If Jack goes home you're going to have blood with Tommy, maybe Christie .. maybe not. Just think about it. I am going to vote my way no matter what. Jess – I don't want more unnecessary blood on my hands. Jess – I want to set Nick up! Like I need to know where his loyalties are. He can't say I am totally with you guys or this that and the other. Nicole – Christie and Sis were really nasty at him (Cliff). I can't friggin' take it. I am going to go off on them. My whole argument is stand up for yourself and don't be a bystander. Holly – that's why I love you.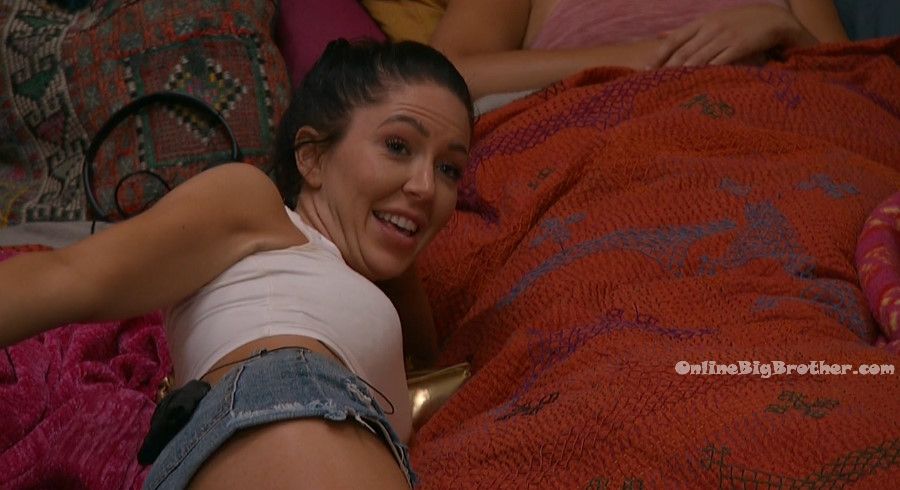 9pm Tommy comes out of the storage room and says who wants to see my Explor-a-costume!?! Tommy – this is a punishment for everyone, not just me. For one week whenever I get a mission control I have go to the storage room for a mission .. and I will either be travelling at the speed of light, sound or smell. And then I have to go in EVERY ROOM and scream I am travelling at the speed of blank. And there are three different activities that go with each one. Nick – so you could do it in the middle of the night? Tommy – yup!
Tommy "Who wants to see my Explor-a-costume!"#BB21 @bigbspoilers pic.twitter.com/A7UtfJOMH8

— Dawg (@DawgsBigBrother) August 4, 2019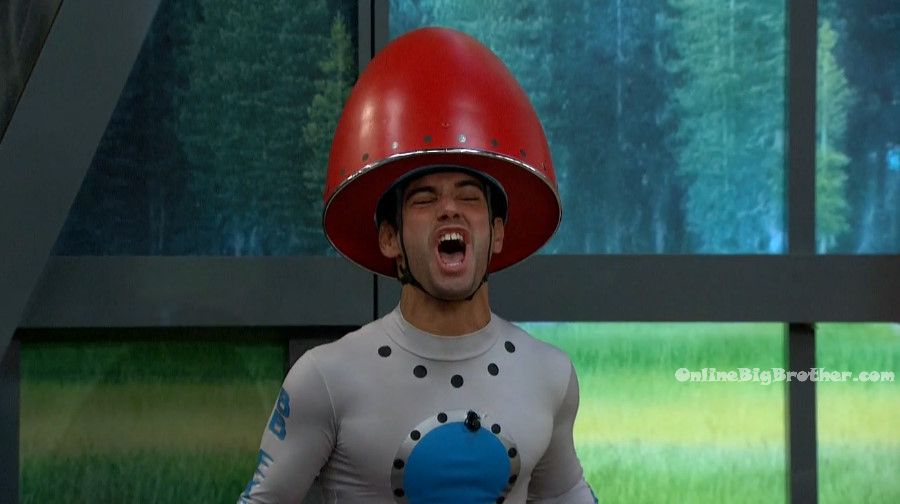 9:08pm – 9:25pm Tommy gets a mission control to travel at the speed of light.. Tommy runs around from room to room saying he is traveling at the speed of light! Jack – that is the best punishment I have ever seen! Tommy finishes and immediately has to repeat it all over again. Tommy – I'm loving it! Tommy – this helmet is heavy! Tommy – then has to do it again.. lol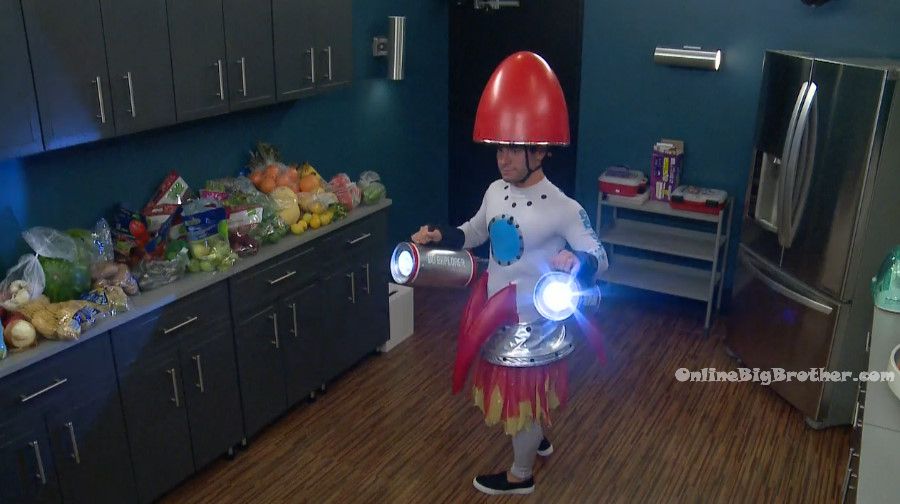 9:55pm Mission Control! Tommy – I'm traveling at the speed of SOUND!! 10:05pm Tommy has to travel at the speed of sound again..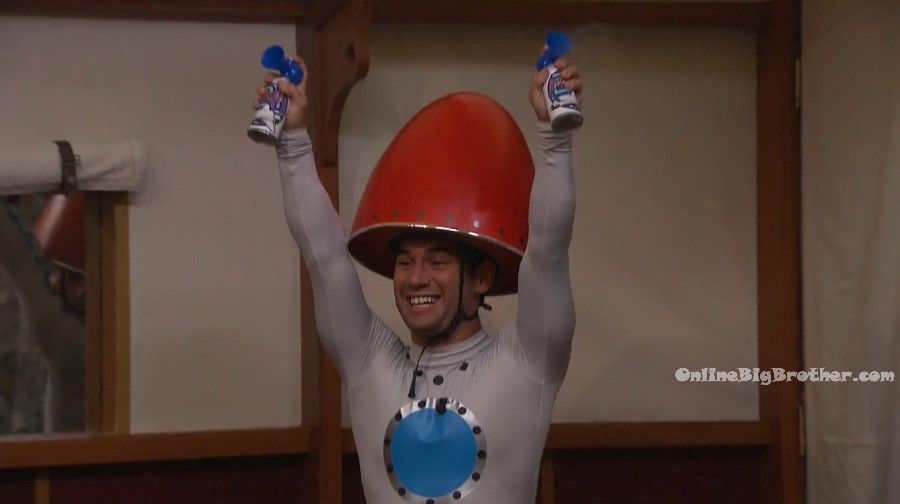 10:17pm Hammock. Cliff, Jack and Tommy.
Jack – how do you feel about the other day? Cliff – you kind of dragged my name through the mud. Tommy – I told him.. Cliff – I know and I appreciate that. Jack – I haven't been able to talk to him all day. Cliff – and a lot of it really wasn't me .. it sounds like him and Christie a little bit and stuff that Sam threw out there. Tommy – it really was Sam. Jackson didn't have anything but he is claiming that he did. Cliff – and that's the thing that bugs me and irritates me is .. I don't mind the fact that it was discussed that he and I had that little conversation ..I'll own up to it. Its the fact that he is saying it was over an extended period of time. It was nothing of the sort. There is a big difference of one and the other. It was a betrayal on me and everyone. He is playing his own game. Tommy – I don't respect that game play. Cliff – I don't understand the reason why .. he blew up his own game. And I know Kat and the way she plays around. Jack – and its the arguments that she has with Jackson and she still talks to him. Cliff – I tried to be honest with you all and I hope you see that. Tommy – I am sorry for not trusting you. Cliff – I put you up before and it was never personal. Jack – and I can respect that.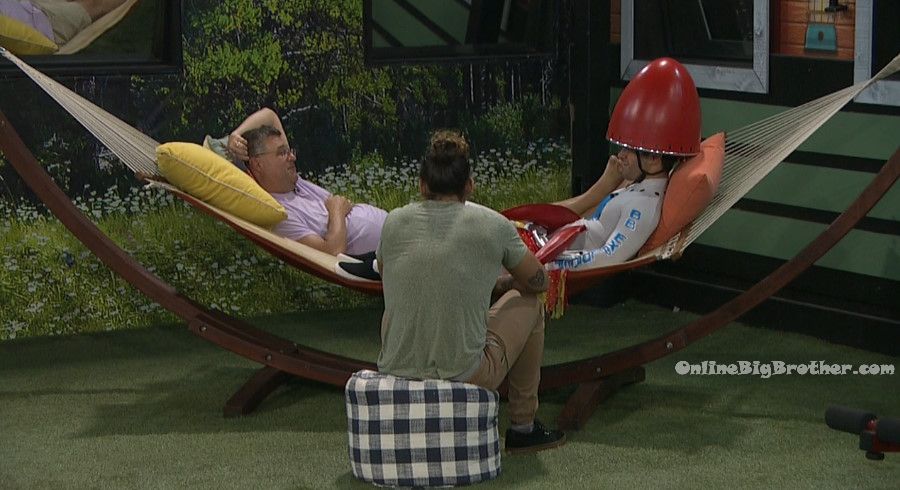 10:45pm – 11pm Mission control! Tommy – I'm traveling at the speed of sound!!
10:50pm – 11pm Bedroom. Jack, Tommy and Nick.
Jack – based on what Cliff was saying I don't think that he trusts Jackson very much at all. Nick – Okay good. Jack – and I don't think he is crafty enough to lie straight to our faces. Did he tell you the possibility of the flip? Tommy – yeah, yeah. Jack – those numbers are good! Nick – what? Jack – if Cliff can swallow his pride and bring Jackson on his side. Nick – that's what we were just talking about .. it would be me, Tommy and Sis next week because she won't win it .. she won't have to. Jack – there are two pieces to that puzzle.. Christie would have to live with Jackson. Cliff would have to swallow his pride and on getting dragged through the mud by Jackson. Nick – I would wait until after the (veto) meeting. Jack – I'm not going to do any crazy campaigning.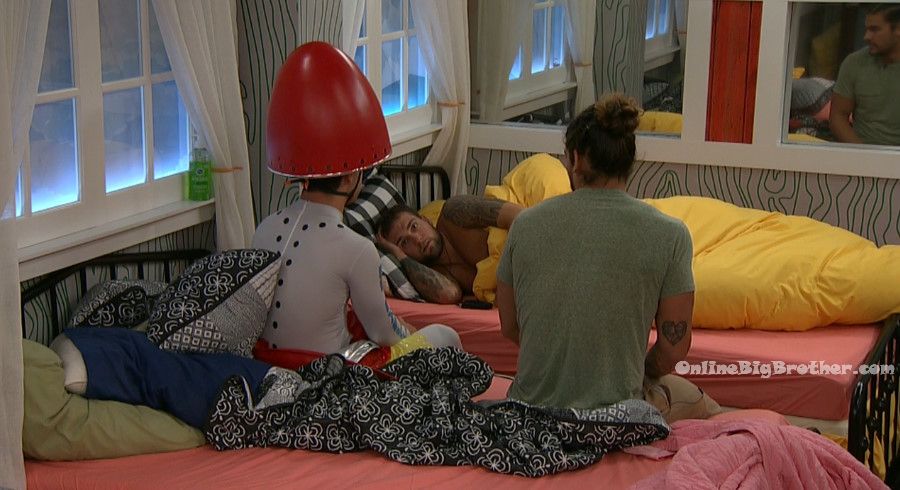 11:32pm HOH room. Tommy brings pizza for Jess, Nicole, Kat, Holly and Christie. Jess – is this traveling at the speed of smell?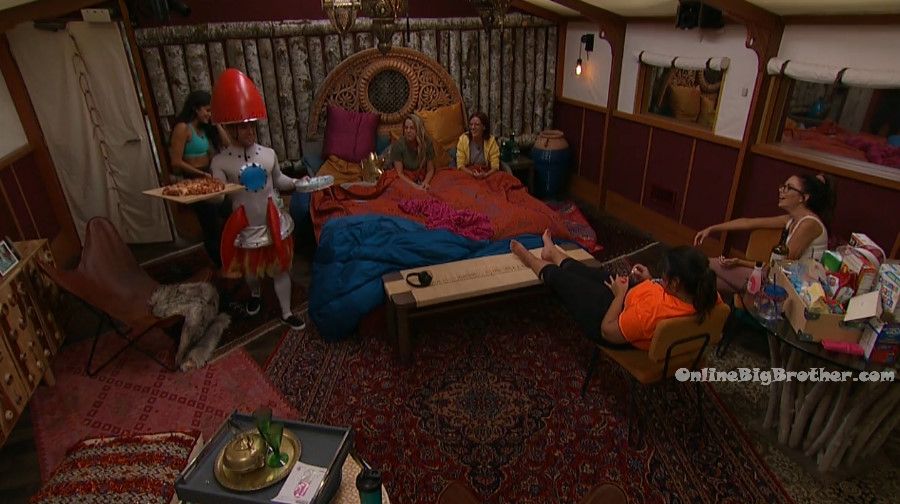 11:34pm – Mission control! Tommy you must travel at the speed of smell. Tommy starts going from room to room. Jack – oh that is ripe! Christie – that smells like sweaty man a$$!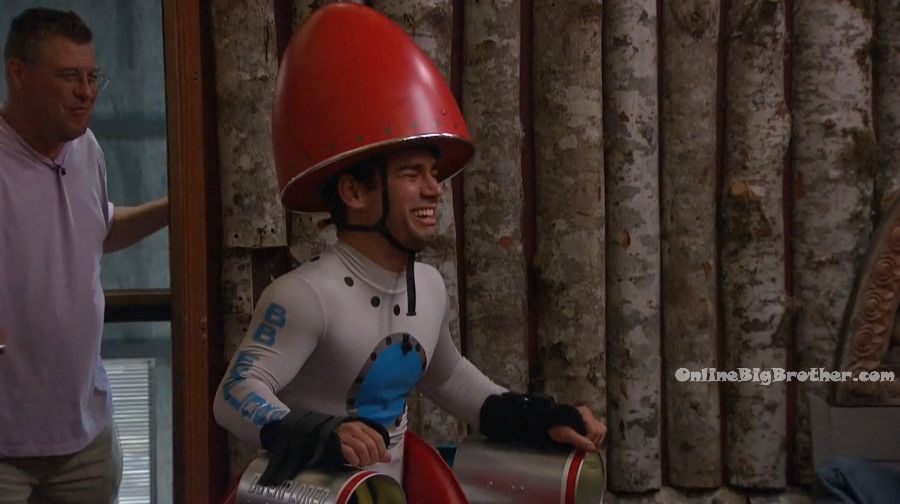 11:43pm- 11:50pm Tommy gets another speed of smell mission..
Tommy lingers and goes back and forth in the HOH room.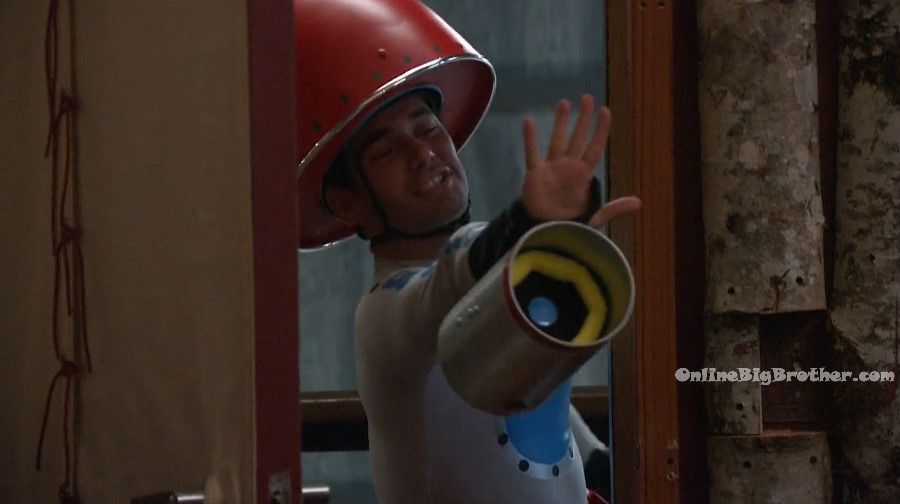 11:55pm HOH room. The house guests are playing a guessing game. One house guests says a phrase while another tries to guess what they're saying while wearing the headphones playing music. Sis and Christie play first and then Jess and Sis. Jess – Fluid in my knees. Sis tries to guess. Sis – fluid in my pen!s. Fluid in my an*s.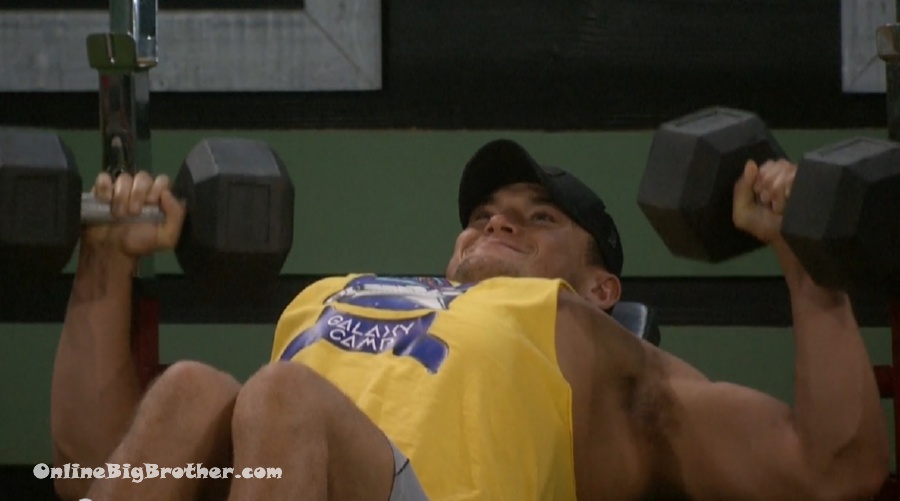 12:37 am Jackson and Holly
Holly going on about hating to be part of the "Cool kids" club.
Holly – I saw Nicole crying when Sis and Christie were making fun of Cliff while he ran
Michie- that's f*ed
Holly – did you hear Jack when he was like Slow down Cliff don't move down so fast.
Michie – in case y'all forget BUD he smoked all your a$$es. He wrangled four sheep with one f*ing leg. In case you all forgot he was the first one to come back in camp comeback
Michie – He battled back. The dude is a f*ing beast.. Jack how many vetos have you won
Michi declares he's not eating the fruit jack cuts.
Holly points out they can't be that petty whil accusing people of acting like highschool
Michie – I don't care I'll cut my own fruit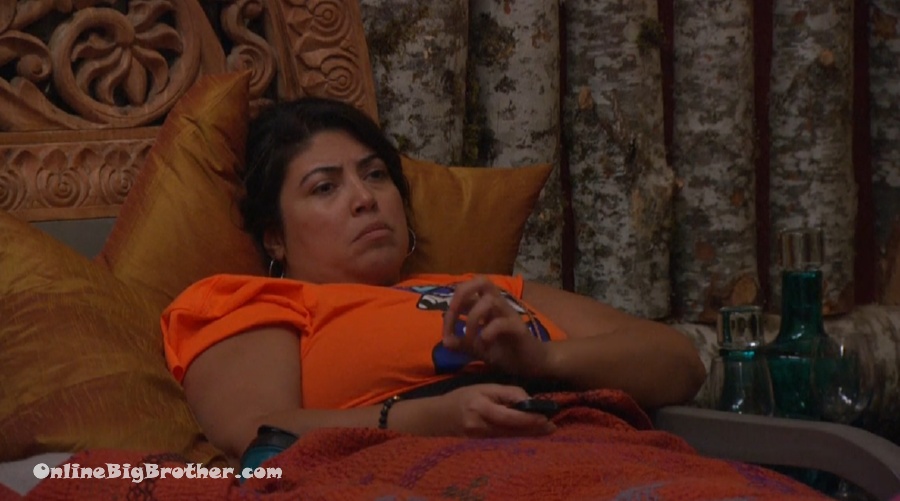 1:05 am Kat, Jess, and Holly
They talk about Jack and Christie trying to flip things at the last minute again.
Kat – they can say whatever about Michie at this point I'm voting out JAck
Jessica understands how people will say things out of desperation. "She' is at this point grasping at straws she doesn't want for it to seem as though she wants ti to go Jack's way however in knowing that she doesn't have the numbers and you are a big one she is looking to say things to make you feel bad about your decision and then retracting and saying but it's your decision"
Holly – that's what she did to me with my HOH
Jess – I kinda did that with Tommy and Sis ..
Jess – I want the sh1t to blow up in a way that shows people Nick's game is not a good game
Jess – I know they are already looking at him as like the bottom of the bottom but at the same time it's kinda like this is a guy that's f*ing up your game.
Jess – I want to be like hey he's suggesting to me I put up one of you guys. I don't know how to say it.
Jess says she trust Nick second least beside Jack. The only reason she's working with him is for numbers, "I want to feel connected to people I am working with. I don't want to feel paranoid all the time"
They bring up how Michie gets a reputation for disrespecting women but Nick does is just as much. When Christie walked by Nick he said
"You want that GS to smell like Halibut" (GS – girl scout cookie – vag1na)
Kat – Nick disgusts me
Holly – he literally is asking girls how they're v@g1nas smell
Holly – In the comp he said Hey Cliff get a whiff of that GS
Jess goes on about being the only person with a "v@g1na" strong enough to put up Jack and Jackson (BAM)
Kat retells Jessica saying "If he wants to have a pissing contest then we'll see who has the bigger d1ck"
Kat – it was the most savage thing I've seen my entire life.
Jess – yeah I kinda said that I was so mad.
Jess – if he wants to have a pissing contest I'm going to whip it out and we'll see who has a bigger d1ck
Kat – that's when you became the house
Jess – and I'll get votes out next week
Holly brings up Nick making a comment after him and Bella came out of the shower "Well I think I just broke her in half"
Kat – ewwwwwww
Holly brings up Christie making allegations against Jackson saying he's disrespectful to women, "she was getting really heated and not letting him speak. She threw in like the rogue vote and all this other stuff"
Holly goes on that Christie was mocking Michie and being super condescending "calling him names.. she called him a f***"
Holly – she said he disrespected women. I said YOU NEED TO STOP. You DO need to realize the allegations you make publically on National Television have real repercussions on people's real lives in the real world. You cannot say things if there was an isolated incident you talk to that person and hash it out. You can't make these claims they have real repercussions
Holly – she was screaming it in front of a room filled with people
Kat mentions that Jackson is "super aggressive"
2:26 am Tommy does a light show while wearing his butt plug costume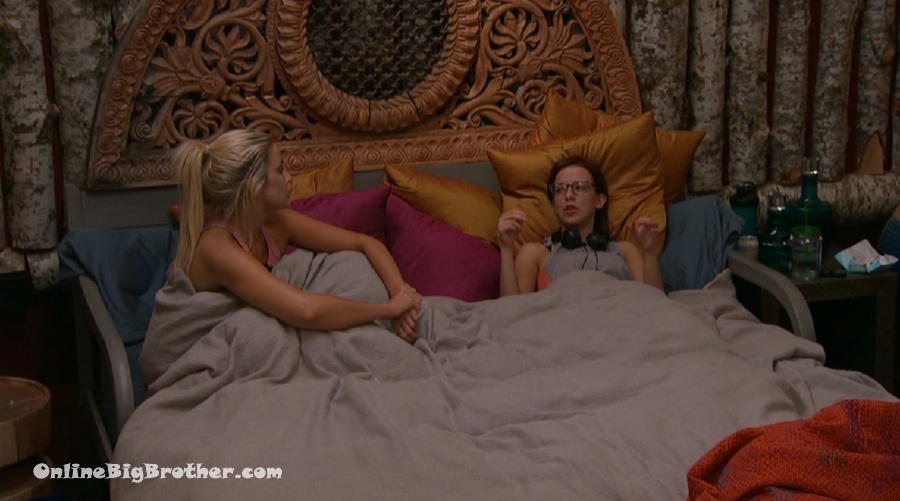 2:29 am Nicole and kat
Nicole brings up how Sis, Christie, Jack and Tommy are working on her always pointing out the rogue vote from Jackson. Nicole goes on how they area lso trying to make it sound like they all saved her when that wasn't the case. they only voted for her to stay because they wanted to screw over Nick and bella.
Still up at 3:49 am Jess, Nicole, and Kat. Nicole wonders if Christie's power doesn't end this week. Jess says that Christie can't lie about it.
Jess about the nominations "everyone wants one or the other out"
Nicole says that Tommy told Jess he wouldn't use the Veto if he won it but he "swore" to Jack he would use it on him.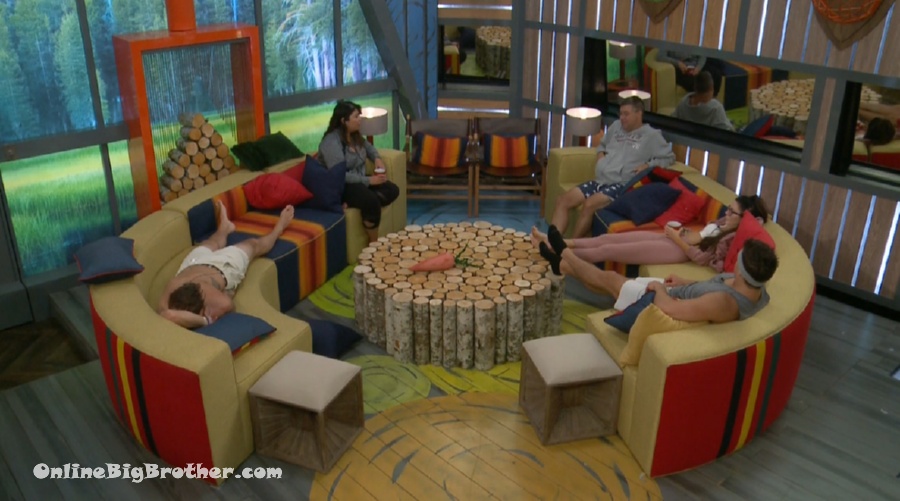 10:30 am Houseguests are up.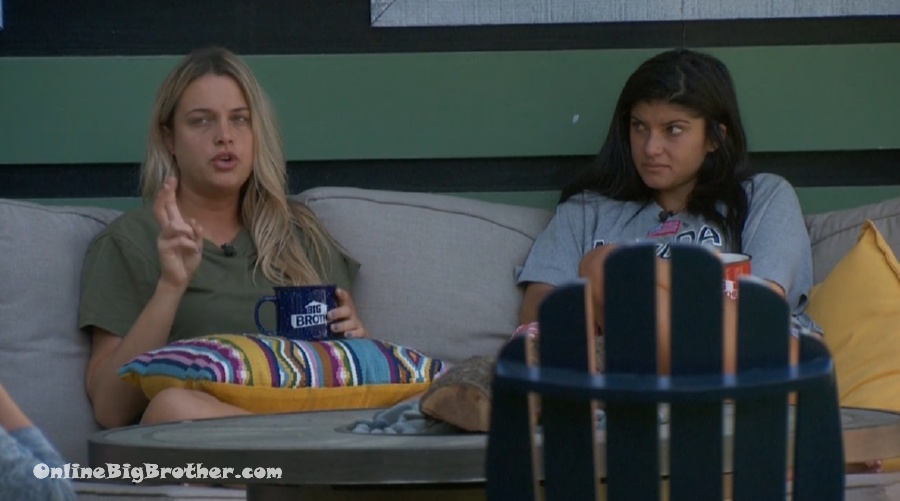 10:47 am
Talking about "3 tortures" or the penalties the players got in the veto. Christie – That's why we don't have have nots.
Nick – you think Jack's will starts after Jacksons
Christie – they're not going to overlap three punishments at once
Christie – Jackson's is going to be sucky too they're going to wake him up in the middle of the night. Cause 'on call' means all night. he's an alien doctor
Holly comments that Nick got the 5K in the veto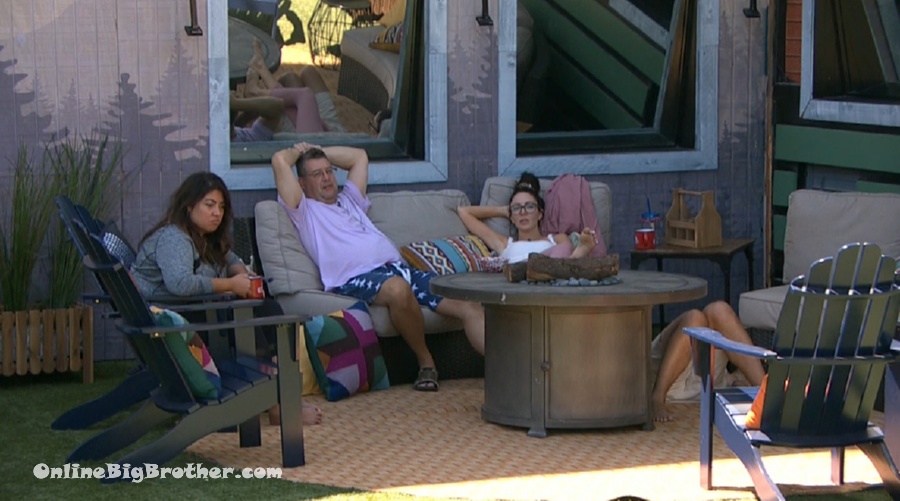 11:12 am Cliff, Holly, and Jess
Holly talking about how close she lives from the studio her work is about 35 miles from here. It takes 45 minutes "We go against traffic"
OBB wouldn't be possible with our your support!
If you are one of the generous people that donate to help keep the updates coming, we're giving out a bit more this year. Check out this page for more details: OBB Members