Big Brother Spoilers Jack wins the Head of Household. A new twist called CAMP COMEBACK allows the first four evicted houseguests stay in the house. They do not play in competitions or take part in ceremonies but one of them will be given the chance to come back in the house.
They got to see a commercial for the Power of Veto it will include a trip to Fiji. Jack has nominated Jessica & Kemi up. Jessica is the pawn and Kemi is the target. If one of them wins the veto, Kat will be the replacement nominee.
Power of Veto Players: Jessica, Jack, Kemi, Jackson, Sam, Bella
Power Of Veto WINNER: SAM
Sam also won the Fiji trip.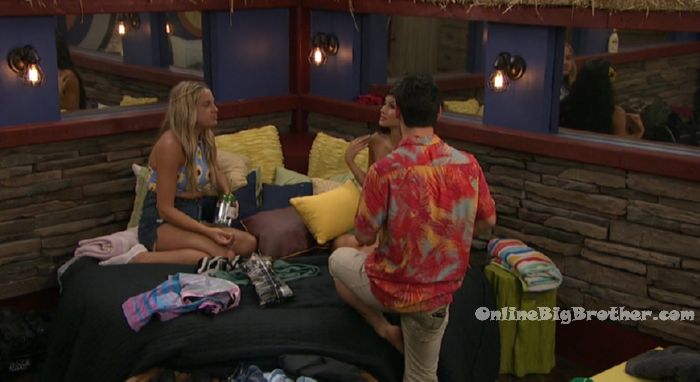 4:43pm The live feeds return with Christie, Tommy and Analyse in the bedroom chatting. Analyse – the person that is saying sh*t is the one in the RV room. Christie – first of all if I heard that I would be upset. I just think that Bella is equally playing every side. I think that she is just young .. I know you're (Analyse) young too. I think that she is playing a little aggressively trying to cover her Nick and Sam alliance. As well as her Gr8ful alliance. Not realizing that will eventually bite her. But let her do that. I would act like you didn't hear that. Kill her with kindness. Christie – he (Sam) isn't using it (Veto). I know he isn't. Sam joins them. Sam comments on how he won't have any vacation time left to go on the trip (to Fiji).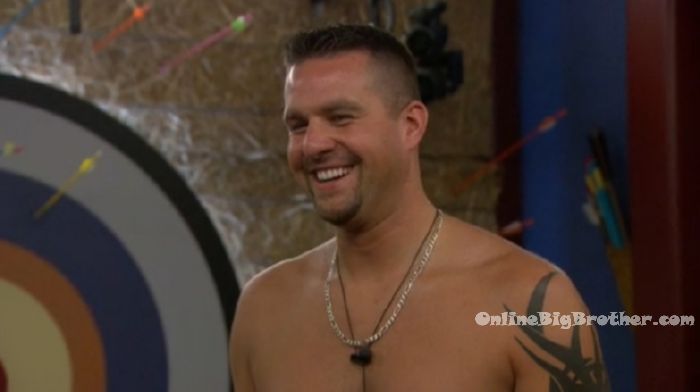 4:50pm HOH room. Jack and Jackson.. Jack – do you think he will use that veto? Jackson – no, I strongly think that he won't use it. I don't see any reason why he would. She drew his name. It wasn't like a house guest choice.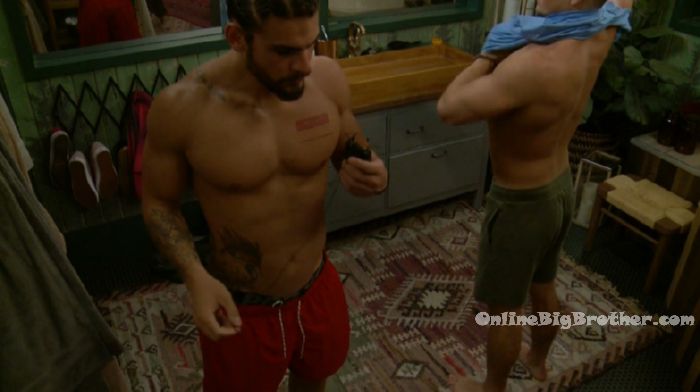 Jess and Jackson. Jess – I love you. I don't want to cry. They're emotional tears. I don't want you to think that I'm conspiring or doing anything to try and take you out of this game. Jackson – I know. You have my word .. I don't listen to hear say.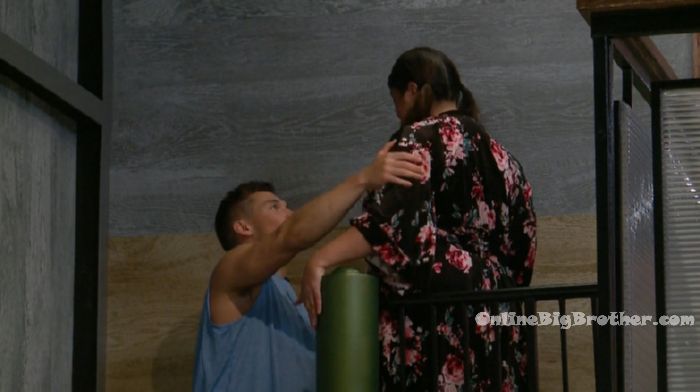 5pm HOH room. Jack and Nick. Jack – I was talking to Bella and whatever happens with Gr8ful we're going to send the person home who poses the greatest threat to Gr8ful and not to me. Nick – we were just discussing me, Sis, Christie, Tommy… we think that Kemi is the best to go. Jack – WOW! Nick – she said your name, Jackson's name and she said Sis's name.. so why not. Jess doesn't pose a threat to me.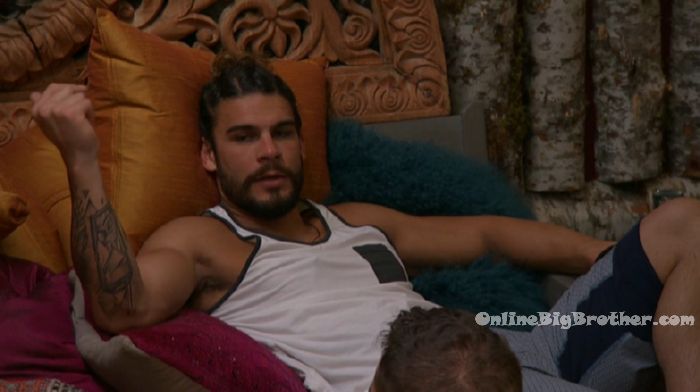 5:10pm Kat and Kemi. Kat – I know that if he uses it I am going up. I love having you here. Kemi – regardless of who you vote for we are going to be friends after this.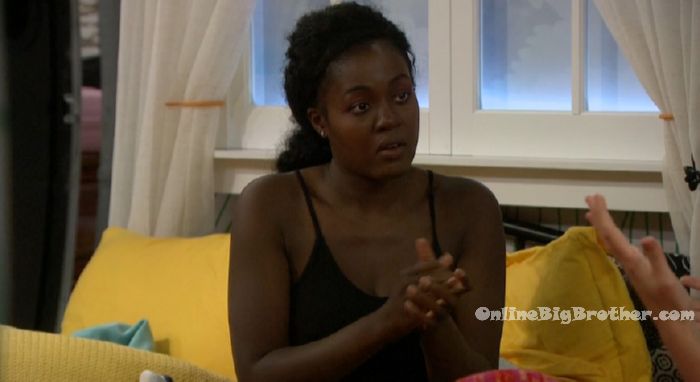 Jackson is in the boat room. Holly is icing his foot / ankle. Cliff joins them. Jackson comments on how he is going to be in here for awhile. Cliff – the fact that you did this so early and kept busting your a$$ out there.. Jackson – I could feel everyone's steps. I know I could have won. I know I could have won that. Everything happens for a reason but damn Fiji would have been nice.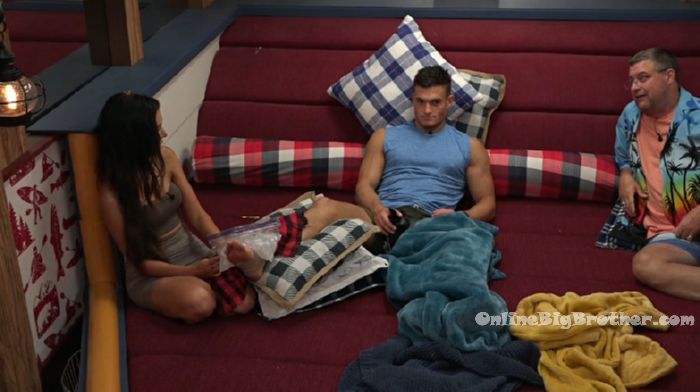 5:20pm Bathroom. Jack congratulates Sam. Sam – and obviously.. (not going to use it). I just wanted Fiji.
5:30pm Bedroom. Kemi and Kat. Kemi – I can't believe I lost. I was so f**king embarrassed. Kat – there is nothing to be embarrassed about. Kemi – I didn't even look at everyone else's strategy. Kat – you're handling it so well. Kemi – any time something bad happens to me I just think about how much of a b***h I was in high school. Kat – OMG I love that you just said that.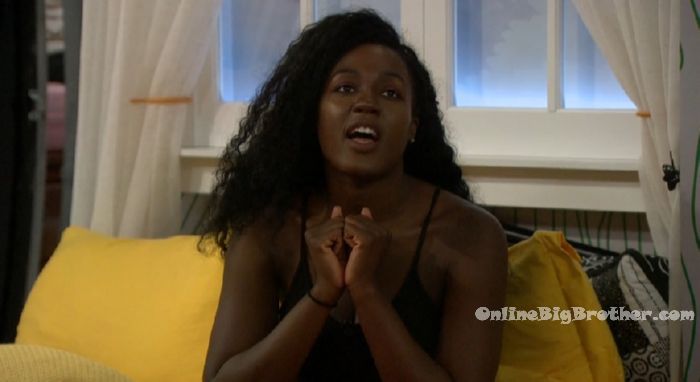 5:37pm Boat room. Kat, Holly and Jackson. Kat – here is the thing about the woman alliance. Holly – did they name it the black widows? Kat – yeah. I'm not in it, I didn't know about it. Holly – I didn't know about it either. All those girls in the trailer have had this all girls alliance. I thought it was just an unspoken all us girls have each others back. Jackson – you look out for us, I'll look out for you… we're all girls. Kat – I didn't know there was a name to it so those b***hes didn't even put me in their alliance. Holly – who was in the black widows? Kat – it was Jess, Bella, Kemi and Nicole. Holly – that's it, what's the point of an alliance with just four. Jackson – you're going to need more than that. Kat – I don't want to be dragged down with Jess. Jackson – you're not. Kat – I'm there for her because she was there for me. Jackson – I tried to tell her (Jess) that this week is about who can handle being on the block the best. I am straight up voting out Kemi. This game is getting interesting. Kat – I am so glad I'm not on the block. Jackson – and you won't be. Sam isn't using it.
6pm Bedroom. Kemi and Sam. Kemi – I feel like if Jess and I are on the block on Thursday I'm going to be the one going home.. or to camp comeback. But I guess my campaign to you is that obviously I would never put you up. Like I am a number for you. The only people I trust in here are you, Bella, Nicole and Nick. Sam – some people trust Nick and some people don't. Kemi – I don't really know the reasons why Jack put Jess up besides that he heard that she had an alliance. Sam – he heard that if she were to win she would put him up. So when he heard that he was like what the f**k. Kemi – its nice that camp comeback exists because then we can all just stay here and have fun but I would much rather be in it. Sam – do you think you would get voted out? Kemi – yes. Jack has a group in the house and I think they would all vote together. And with the whole Christie thing he was up set that I wasn't put up. I really wanted to win this veto. Sam – I would way rather you stay over Jess. Kemi – if you didn't use the veto and I was still on the block would you vote for me. Sam – I would think so yeah. Kemi – do you think Nick would too? Sam – I haven't really talked to Nick. Just keep doing what you're doing. Kemi – I would hope that you use it on me. Its a f**ked up week. I wish I had won veto. Sam – A lot can change.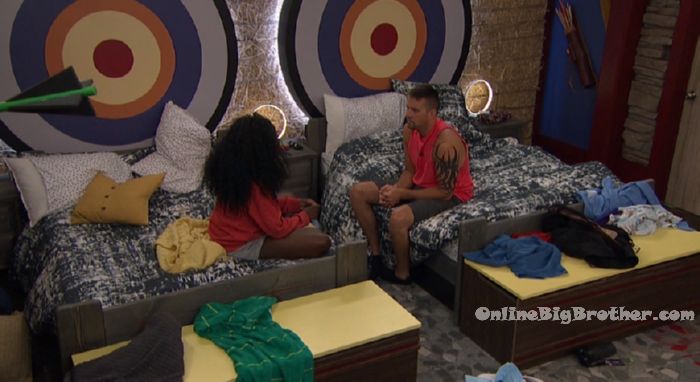 6:50pm – 7:15pm The house guests are making . eating dinner. They do their gratitude circle. Each of the house guests say what they're grateful for.
7:45pm – 7:55pm Bathroom. Christie, Kemi and Bella. Kemi – I f**ked up.. after the veto I was having this long conversation with Kat .. I was like I just feel like its the house against me at this point. Like during the competition everyone was cheering for everyone except me. And then I caught myself and then blacked out. Bella – well during the gratitude speeches I almost lost my sh*t and said I am grateful for people who don't talk sh*t behind my back to people that I actually like. And then I just tried to be an adult. I am just going to try and not say anything to Jess because I would make her cry and it would make me look bad. Sam joins them. Bella tells it to Sam too.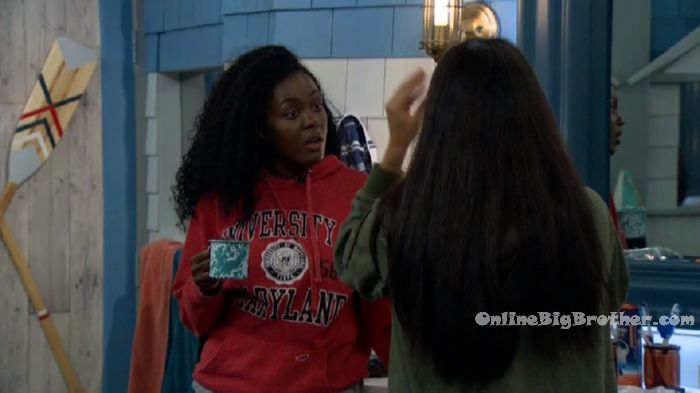 8:30pm Big Brother gives the house guests wine and beer. They all wish Kemi a happy birthday.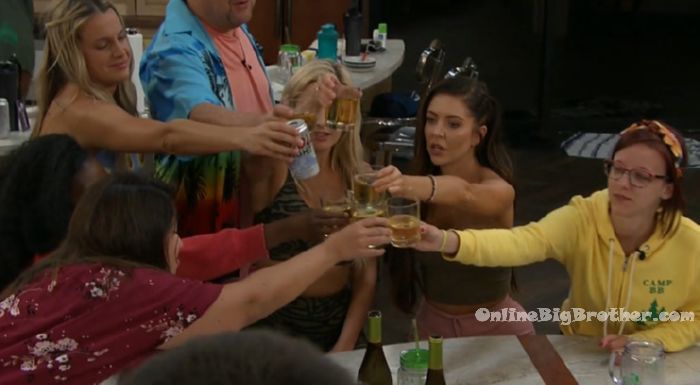 Tommy shot guns a beer.