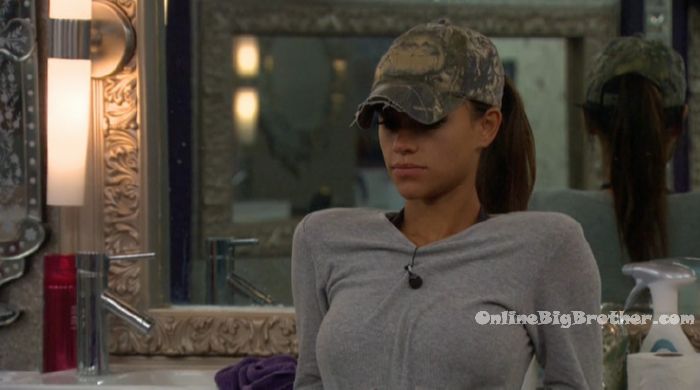 Check out our BB19 Ranking Grid. . rank your houseguests here

12:20pm Bathroom. Josh and Jessica.
Josh – how do you feel? Jessica – I feel like I have one chance to save myself in this game and its do or die right now. No pressure! And I go out there and give it everything I've got and what happens was what is meant to happen. Josh – You're strong. I don't backdoor. If he wasn't safe (Cody) I would have put him up too. You have the opportunity to play. That's just the way I handle things. That's how I play. Its just a game. Jessica – Yeah I know but this game has the power to separate me from the person I care most about right now for a couple of months. I don't want anyone on the block to go home this week. I care about all of them. No matter what its a loss for me. Josh – Its just a game. You're a smart girl… woman sorry. If I would have left when I was put up there.. I don't think America would have gotten to see the good person that I am. I regret everything that happened between us. I'm 23 and I'm a human being. If I am wrong, I'm not hard headed or ashamed to say it. I apologize so I hope that's behind us. Its not a personal thing, its just a game. Me and Cody are different. He doesn't understand me. You and I are different. You stand by your man and everyone will respect that. Jessica – I've come to terms with everything. Whether its my last week or not, I'll be fine. I don't want to go out looking bad no matter what happens to day. Josh – you made it real clear to me that you were gunning for me. Jessica – well when you watch this back you'll see that the people in your HOH room are doing the same thing just doing it a lot sneakier manner. When you realize that you're going to look back and be like F**K!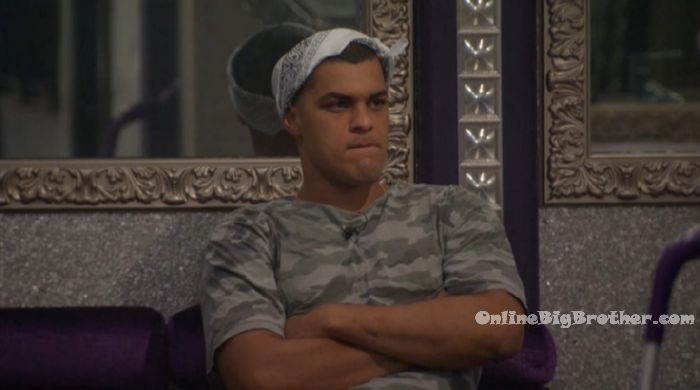 12:25pm – 12:35pm Josh and Jessica head into the lounge room.
Josh – when you look back you'll see how I saw how genuine you are… but Jess you drew the line. I didn't. I tried and I got shut down. And I knew I was going to go up either way. I knew I was going to get nominated. I am not going to shut you out. I wanted to let you know why. Its not for personal reasons. I know I deserve to be here. What happened between me and Cody is between us. You're not up because of him. We're playing a game and whoever goes, goes. Jess – whatever happens in veto happens and I'm fine. Josh – I do feel bad. I'm not an a$$hole. The whole pots and pans thing was on a game strategic level. I didn't know what your temptation was. I wanted to make it so Cody wouldn't want to live with me. The attacks and things that were said, I don't approve of that. Jessica – if it takes an entire house to come after 2 people after 51 days, I'm proud of that. We've been standing for 51 days come Thursday. Josh – I've had the whole house against me since day 1 .. by myself! I cried in the corner. For my parents I'm not going to sit in the corner and die. (LOL)



If anyone understands your situation .. its me. Jess – we're not being isolated. There are two people that you put up on the block that stood up and said they are friends with us.. that they're not allies, they're friends and they're not going to sit around and ignore us. And instead of people saying wow they have brains and can think for themselves they're being punished and not they're sitting on the block next to me. I don't really agree with this horse sh*t don't talk to someone because when I was nominated I wanted people to talk to me. Josh – I am playing a game. Its not personal. A shot was taken at me and I'm given the chance to take one back. Cody in 40 something days he hasn't spoken to me. Jessica – Cody is a really old school person .. and on day 2 you selfishly went for a golden apple. And you also attacked a female. (Megan) He reacted and he does not like you. Josh – its just a game. Jessica – at the end of the day your character is what follows you outside this house. Josh – you're right, thank you for saying that. Clear your mind and do your thing. Josh hugs her they leave the room.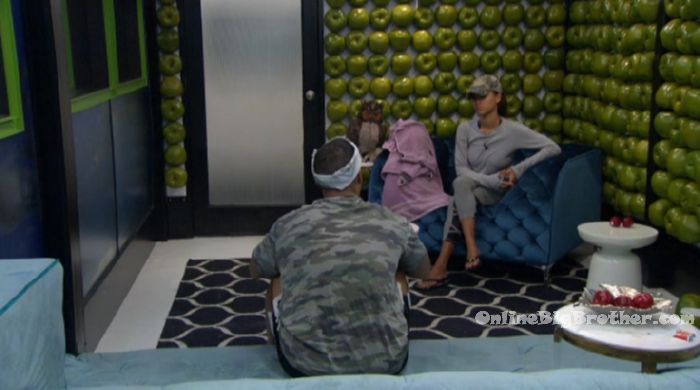 12:20pm Kevin and Christmas cuddling in the bedroom.
Kevin – Elena is going to talk herself getting thrown right out of here. She should just be cool because you had two prime candidates. She's going to make it closer than it should be. Christmas – she is making it easier than it should be. Kevin – Yeah it should just be Jessica. Christmas – Elena was so b***hy and complaining for a few days. Kevin – who does she blame the most? Christmas – I don't know who she is blaming. She was trying to talk Josh into using different pawns. Kevin – who do they run to all the time. Paul .. and he is close with us. Christmas you're going to be fine.

See what they can't show you on TV Try the live feeds for FREE!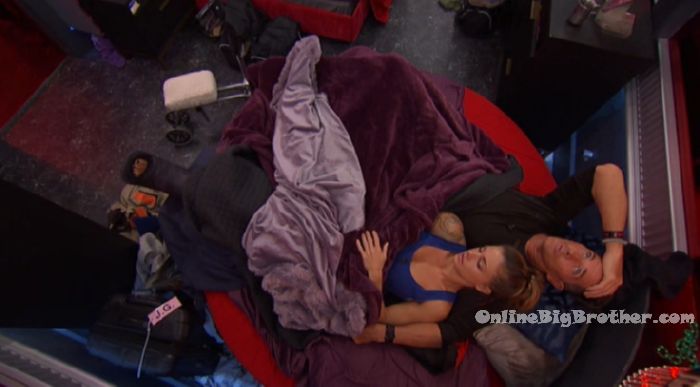 12:52pm Christmas and Josh in the lounge room.
Josh – if I win the veto today, I am keeping noms the same. If Jess wins, it doesn't really bother me because I want Elena out. Christmas – just food for thought if you win the veto.. Josh – pull Jess off. I thought about it. I'll tell her I respect that you came straight forward, lets go head on next week. Josh talks about how he can't trust Elena and how she's a flip flopper. Christmas – I would also take that opportunity to renew your bond with Mark. Bring him in a little bit more to you. You will need to campaign the f**k out it to make sure Elena goes. Josh – I have think I have you, Kevin, Jason, Alex… 4. Christmas – I'm pretty sure Matt would vote for Elena. Raven also. Josh – I will flip Paul. Chrsitmas – wait to see what he wants to do.. wait to see where his alligance lies. I think he is working with her. From there I will have a conversation with Matt and Raven.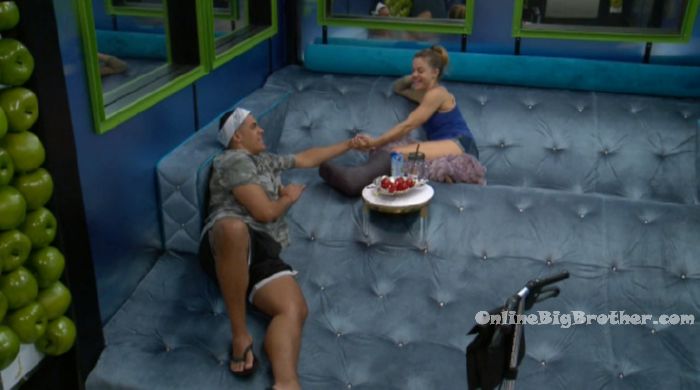 1:08pm HOH room. Paul, Josh and Christmas.
Josh – that power that Christmas has.. (veto player replacement) I don't want it be used this week because I have 3 of my targets on the block the week and to be honest with you I am gunning for Jess and Elena this week. So its not ideal for us to use it when I have 3 of my targets on the block. Elena has made me look like a liar. Manipulated situations. Elena and Jess are my targets this week. I don't trust her. Christmas – our worst case scenarios aren't bad scenarios. There's no point in using it if it doesn't need to be used. Josh – if Jess saves herself, Elena goes home. You hear me. Paul – its your HOH. If she (Christmas) uses it, it makes the chances of Jess going home higher. Which if you ask me she needs to go before Elena. Think about people voting in jury. If you were in the final 2, Jess and Cody would vote against you out of spite.. but Elena .. I think would make a fair decision. If they (Jess and Cody) are in jury they will vote together. They can't think for themselves. Josh – even if Cody gets pulled to play I do not want that power used. Paul – this is a very critical week right before jury. Christmas – it would better for Elena or Mark to pick me to play because it increases their chance to win.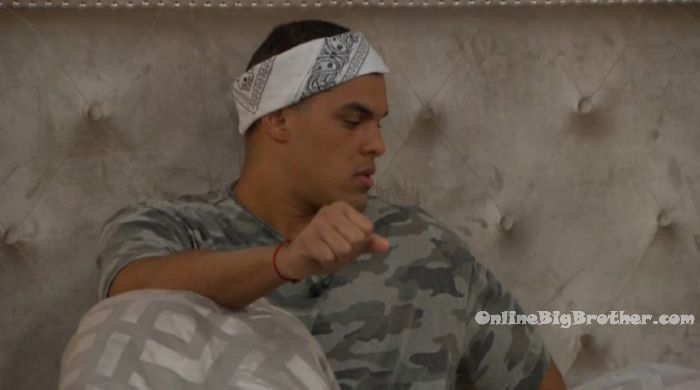 1:30pm Lounge room. Kevin, Jason and Alex.
Alex – he's (Matt) told Christmas that once he gets to jury his whole game is going to change. Kevin – when he finally gets HOH.. the whole game is going to change because its going to be 3 seasons from now. You think he can beat you, Cody.. Alex – he thinks he's been throwing competitions. Kevin – he ain't that intelligent. The man has mannerisms of a sociopath. Jason – exactly but he is as fit as a f**king bird. Kevin – he can't hit a f**king golf ball. Can we get him out next week. F**k Elena. We get Jess this week and Matt next week. Its us three, Mark, Elena and Cody. I know you dislike Cody but its part of the game. I think it would make good tv.. America thinking that Cody is with us now. Jason – he just wants to be alone. Kevin – he wants to be alone because people target him. I'm going to ask him to start training in the morning. They'll start freaking out. Jason – Paul will sh*t his pants. Why not have him as a good player.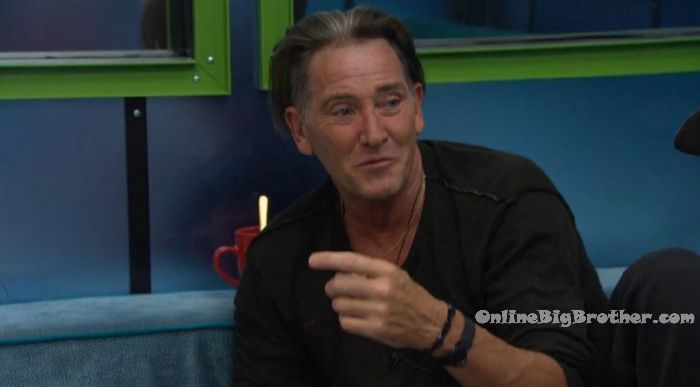 1:50pm – 2:13pm Big Brother blocks the feeds.
Power Of Veto Players:
Josh, Elena, Mark, Jessica, Alex & Christmas
Christmas used her Ring Of Replacement to swap with Cody
FLASHBACK and watch everything you missed: Live Feed 7 day FREE Trial!
When the feeds return – Cody is crying holding onto Jess. Jess – its not over. If they can't get you, they're going to come for me … and we knew that. We were prepared for that. Its not over yet. Cody – you've got to win. Big Brother – Cody please go to the diary room. Cody – f**k you!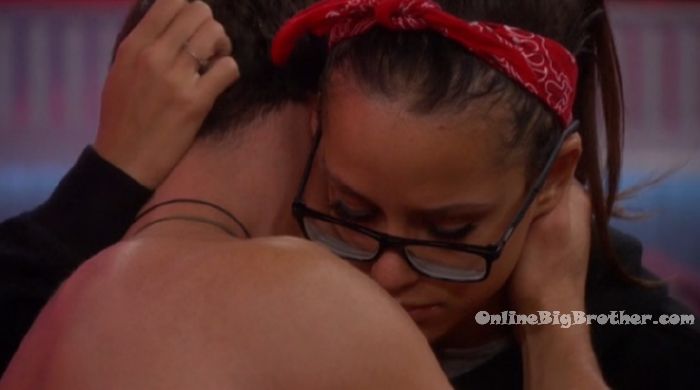 2:20pm HOH room. Josh and Mark.
Josh and Mark agree they've moved on from the drink in the face. Josh – next week if Cody is HOH I just need you to have my back. You're on my team now. I have your back this week, you have my back next week. Mark – for sure. When I win, because I'm winning veto today I am going to mess with you. I'm going to call you meatball.. nothing crazy. Josh – that's fine. Just no touching. Mark can I pick you up? Josh – yeah that's fine. Mark – that was perfect. From picking Cody.. if its OTEV or anything active where we're chasing things, I'm going to get to F**K with Jess. Josh – no, no, no … I told her that I wouldn't and no one else would f**k with her. Mark – I mean just Alex being in her space. We're on the same page, Cody is gone next week. They get Alex to come up to tell them the strategy for the folding comp. Alex and Elena come up. Josh tells them that he doesn't want anyone messing with Jess during the veto. She is already thrown off. He would have locked it down. Christmas joins them. She asks Mark can you have my back next week. Mark says yes. They all go over the folding strategy. Paul joins them.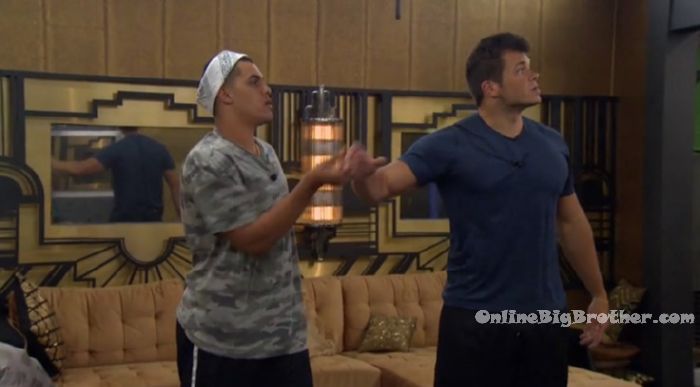 2:55pm – 3:40pm Bedroom – Cody and Jess.
Cody – it figures that witch would conjure yup her sorcery. So smug. She always tried to do this manly stare down with me. I get it you have to over compensate because think you're a dude. Jess – she came up to me and told me if you used your temptation people were going to come after you. Yeah you said that but what you failed to mention was people was you. If she had looked me in the eyes and said if you use this, then game on. Cody – that's what they all do. It takes a damn team to try and take you out. Jess – if you win HOH will you request a photo of me? Cody – yes, no one will see it but me. Jess – maybe a letter. Cody – yeah, I said no letters but yeah. Cody – I would much prefer if we were in the havenot room just to get away from these idiots. Jess – no, that would be too satisfying for them. And I am not into giving them what they want.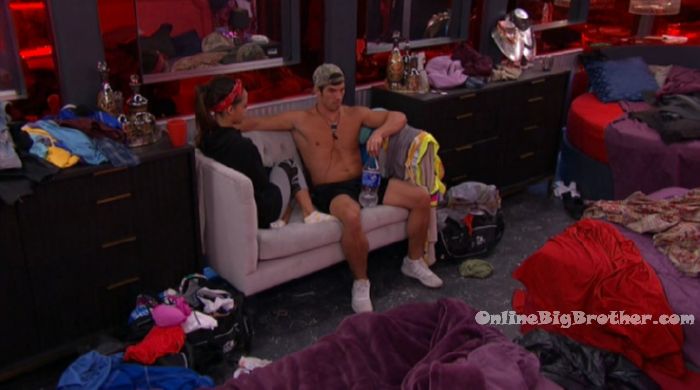 3:40pm Josh talking to the cameras. – I want me or Jess to win the veto because I want Elena to walk out that door on Thursday. I am doing what is best for my game. Now I need to make sure my targets stay up there and we'll see how the week plays out.
3:50pm Christmas and Josh.
Josh – they won't do any of the attacking. They want me to do it. Why don't you do the attacking. Christmas – I know but you can't get aggravated with your team. Elena is putty in his (Paul) hands. Are you doing what I said and securing with people? Josh – I did it with Mark, Matt, Raven.. I spoke to Jason and Alex. Christmas – I don't know what we're going to be up against but I am going to gun for it for you. Paul joins them. Paul – Pots and pans are part of the strategy .. right now you should be pots and pans-ing ..its about knocking people off their game. This is a game, its not the real world. Its a game for MONEY! They're playing on your emotions. Don't feel sorry for a GAME! Josh – the sl*t names .. don't do that! Not on my HOH. Paul – this is part of the game. The name calling thing is not part of it but you can't correct people's mistakes. There is difference between game strategy and being petty. People were petty all last season.
Christmas's ring of replacement: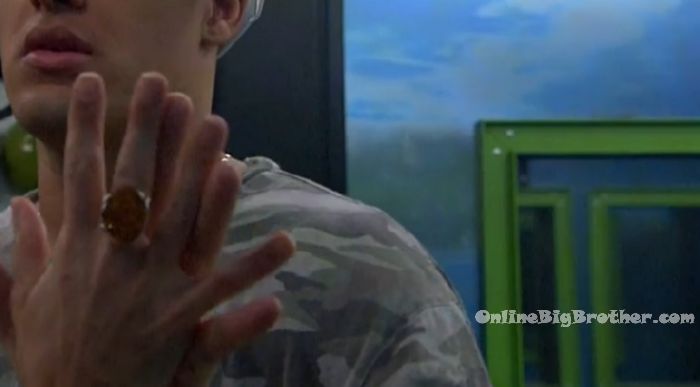 4:03pm Big Brother blocks the feeds for the Power of Veto competition..
6:17pm Still nothing..
If you plan on buying anything from Amazon. Use this link Amazon home
Doesn't cost you anything and we get a small cut.
Links to the ranking system
Rank your house guests here
For those of you that like Statistics here are some expanded reports.