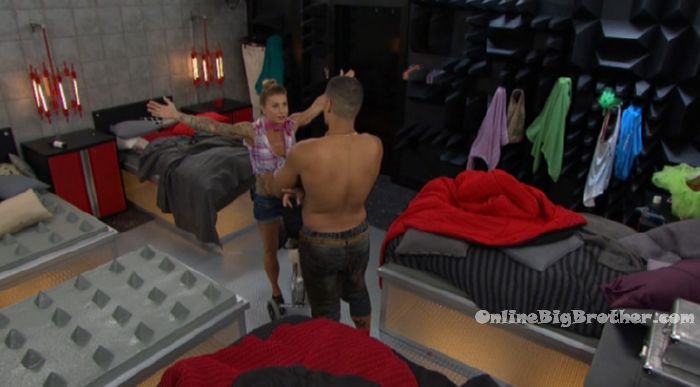 Check out our BB19 Ranking Grid. . rank your houseguests here
Power Of Veto WINNER: MARK
4:03pm – 6:26pm Big Brother blocks the live feeds for the Power Of Veto competition to take place. POV Players: Josh, Elena, Mark, Jessica, Alex & Christmas

See what they can't show you on TV Try the live feeds for FREE!

6:26pm Bedroom. Christmas and Josh.
Christmas – Cody is such a d**k. I was rolling behind him as far away as you are right now and he didn't even hold the door open. I am on a f**king stroller you d**k! Josh – What an a$$hole. Christmas – super A$$! SUPER A$$! If "he" (Mark) takes himself off, you have to pick someone else to go up! Josh – maybe Raven. Christmas – I know she offered but I am too. Just laying it out. Who the f**k is going to vote me out? It would be good because then I could give my speech. Josh – no. Christmas – he is coming after me anyways. Its me you and Paul. So f**king take a shot because.. Alex joins them. Alex – I talked to him and I think if we ask he won't use it. And I think we need to put the pressure on him. Christmas – openly declare he is not with Cody if he does not use it. That is huge for his trust with us and separating himself from Cody. That is huge!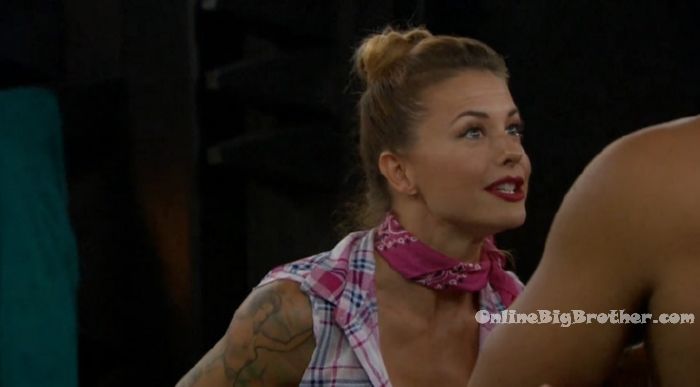 6:30pm Jessica and Elena showering together.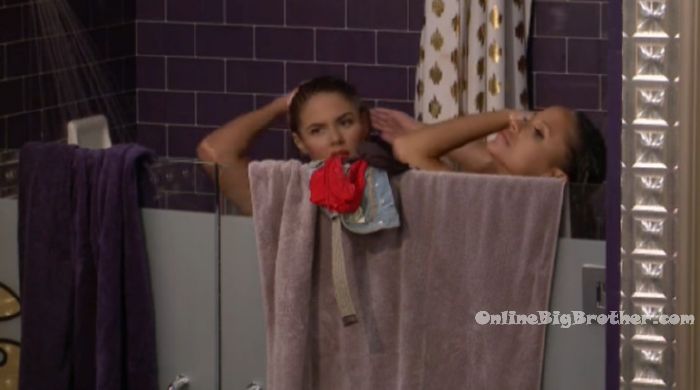 6:35pm Paul and Christmas
Paul – Karma is a motherf**king B***H! Christmas – Jess has to go this week. Paul – 100 million .. not even up for a debate. Christmas – Elena is going to work both sides but she is going to stick with Cody because she doesn't feel safe with everyone here. Paul – if its a double (evcition) Jessica goes and then possibly Cody. Use Elena or someone else as a pawn as a f**k you to Elena. Christmas – I'm going to wear this (ring of replacement) all week.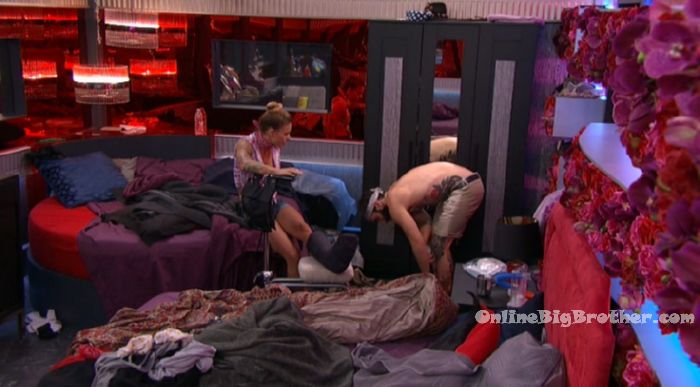 In the kitchen – Christmas – She (Elena) won't talk to me but she'll take a shower with Jessica.
6:40pm Storage room. Paul, Jason, Alex.
Paul – Jessica goes this week and then next week we take another shot at Cody and if we miss we take out Elena. Jason – Kevin wants to bring Cody in. Paul – IF he wins… that's a big one. He wants to set that up …so that if he wins he has to guarantee to not put any of the four of us up. AND then we kick his a$$ out!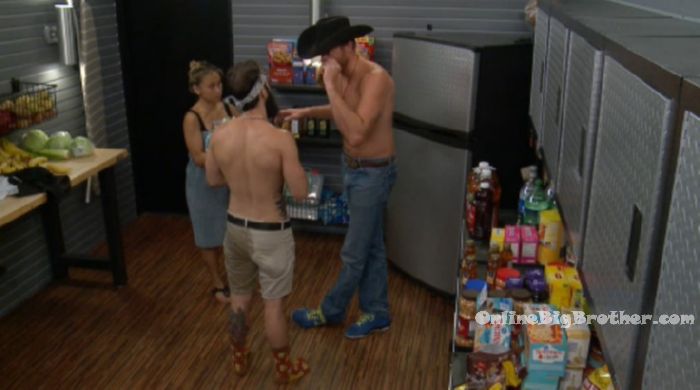 Mark – I said that I didn't like that he couldn't compete … but next week we compete. Jason and Paul tell Mark great job. Mark – no better way to set a fresh start. Paul – when we work together we accomplish things. Mark tells them he is going to use the veto. I am off slop and I can finally see clearly.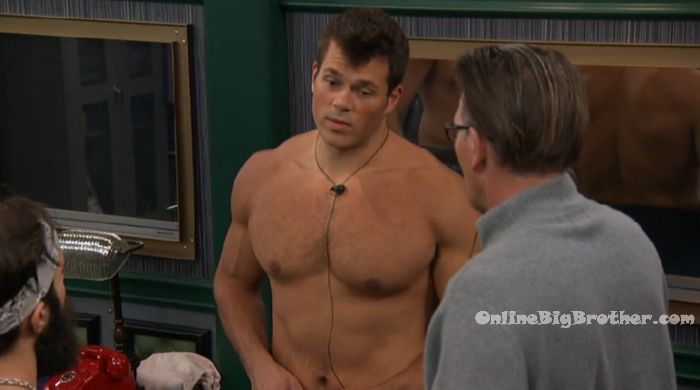 6:45pm Paul and Josh.
Paul – now you better have a boss a$$ speech ready. I genuinely think that you won't be able to convince him not to use it. If he does, then you can put up Christmas. Josh asks should I say that people have doubts that you're with Cody. Paul – I don't know .. just be careful with your words.
7:05pm Bedroom –
Jessica and Cody crying and kissing under the blankets. Cody – how do you want to treat the rest of the week. Jessica – we have 5 days. Cody – we can talk about the outside. ..because maybe there is some rebuilding I need to do… Maybe not from the first reception I got. Jessica – its hard that I'm not going to have his much access to you when this is all I've known. Jessica – I love you. Cody – I love you too… a Lot!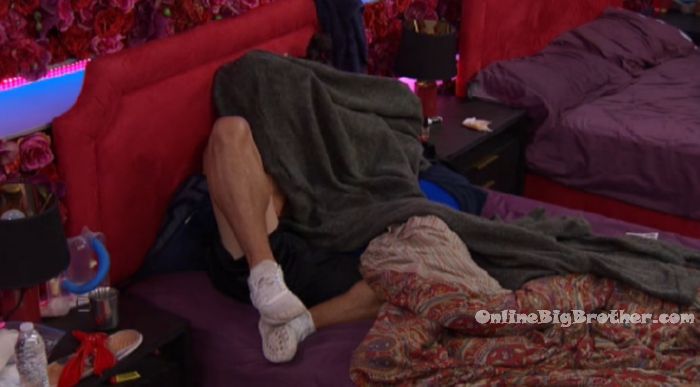 6:55pm Bathroom – Elena comments on how she showered with Jessica so that she could get some of the hot water. Christmas – (Jess) don't get mad at me for using my ability. She took it personally, which she always does. I'm not sorry about it. Elena – good for you.
7pm – 7:35pm Lounge room. Mark and Josh.
Josh – what I am thinking is .. you don't use the veto .. you stay up and we keep the noms the say. That way people that have doubts… you show the whole house where you stand so that everyone that has doubts and questions. That shows everyone where your loyalty stands just because of your friendship. Mark – I appreciate that. Josh – I am telling you my word that everyone is voting her out. Mark – the way I think is that if we all trust each other .. it doesn't matter who goes up. I came here to compete. I am taking myself off especially sitting next to Elena. Its not that I don't trust you guys. I went up as a pawn. If I didn't I wouldn't have been okay with it. I understand people with concerns and if they have them they should come talk to me. Me using it shouldn't cause doubt. Josh – for me you're good with me. Mark – can I be a part of the family? Josh – yes! Mark – I thank Christmas and you. Next week Cody is my target. Josh – He's not good for the house. Just next week if he (Cody) gets HOH, just have my back. If you want me in the room saying its not you're choice, its my choice. .. I will. Josh – if you don't fee l good with it, I will think of something. Mark – I am just happy I made it to jury and I get to stay out here until September.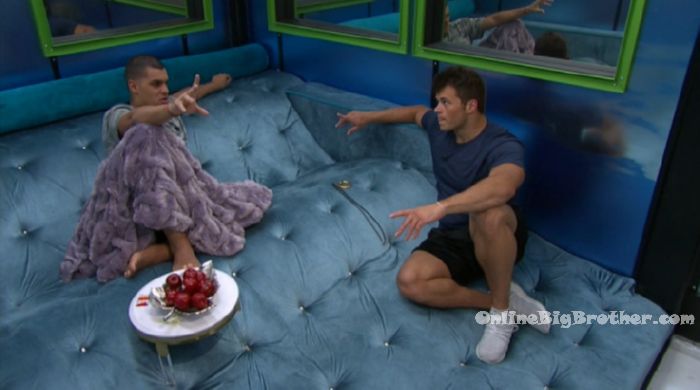 7:50pm HOH room. Jason, Christmas, Josh, Kevin, Alex,
Christmas – he won the veto and its his choice to not use it .. and you won the HOH and its your choice to tell him not to. Don't think about it… persuade him not to use it. That was the plan. Alex – he never said it but I thought he was hinting at it. Christmas – whats the difference between him and anyone else. Alex – he's showing us that he doesn't trust us. Alex – If I had won, I would have kept it the same. Kevin – who would you think? Josh – I am thinking Raven and Matt. I think Matt will be game. Christmas – Matt won't care because we've made it to jury. What is Mark so worried about? (What are you worried about Christmas, you volunteered a couple hours ago?!) I'll talk to him. Josh – I'll talk to him. Christmas – say if you use it … it will be suspect. You have to talk to him tomorrow. If he takes himself off no one will trust him. If he doesn't use it, we will trust him. He won't get any votes. Kevin sees Elena coming up to the HOH room. He says man I'm out. (LOL) Everyone but Josh and Christmas leave the HOH room. Christmas continues to push Josh on how he needs to persuade Mark to not use the veto.
8:20pm The house guests are eating dinner..
8:45pm Bedroom. Jessica and Cody. Jessica talks about her dog and her life outside the house.
8:40pm – 8:50pm Josh, Kevin, Mark and Jason are talking about past events of the season. Josh starts talking about Megan. The conversation turns to talking about the veto competition.

Paul – we took out the stronger player in this situation. Matt – thank him for sending his girlfriend home being his sole responsibility for costing her the 500,000! Paul – that's the thing after we send her home we need the drama focused on him for the HOH comp. Josh – he will probably (punch me in the face). Paul – no dude, he won't. You need to just need to get in his face like how does it feel I just sent your girl home. Matt – your job as a man was to keep your girl safe and you didn't. Josh – he is going to bum rush me. Paul – no he is not. This is nothing, you should see some of the things people have done in the past.
Josh heads up to the HOH room. He talks with Christmas and Matt about trying to convince Mark to not use the veto. Christmas – she (Jess) is done! Finally, please don't give her any more twists. Josh – I'll talk to him tomorrow. Maybe later on tonight you (Matt) talk to him. Matt and Raven head downstairs.



9:45pm HOH room. Paul and Kevin.
Kevin talks to Paul about wanting to pull Cody in with them. Paul – why don't we just wait until after this next HOH because if he doesn't win then we just send him out. I think he would just go behind our backs and tell people. Josh joins them. Paul leaves to go down to the havenot room.
9:50pm – 10:45pm Josh, Alex and Jason.
Josh – I am making Matt and Raven feel super comfortable. If Matt and Raven feel good that's eight of us but if you distance yourself from Matt and Raven .. she will go work with Elena and Mark and Cody. And that forms a split in the house. They annoy me because they are always getting information. Their time is not right now. There are people ahead of them. Like Elena, Cody and Mark. The split is going to happen but not right now. People can't know how tight we are game-wise. Next f**king week I want us to be in power again. We're in jury, its time to go ham. Paul joins them again. Paul – if Mark does pull himself off then put up Matt or Raven. Christmas – I don't think we should be okay with someone else going on the block. Paul – technically he followed through with it. He volunteered to be a pawn and won the veto. I would be like what more do you want? Call Matt out on his bluff and put him up. Jason – I say you don't even tell him just do it. Paul – next weeks agenda .. win HOH. Christmas – that's kind of the agenda every week. Paul – win HOH and then put up Mark and Elena again, then backdoor Cody. Mark joins them. Mark thanks Christmas for what she did today because you were in zero danger. That was crazy. Josh tells Mark – you f**king took a sh*t up here and I almost vomited. Mark – that was when I was on slop, its not that bad now.
10:50pm – 11pm HOH room. Josh, Mark, Elena, Paul and Jason
Elena comes up to the HOH room wearing a shirt with no bra and underwear. Mark is shocked that she's walking around like that. Josh – I don't think this is healthy for any of us. Paul thinks its unfair that guys can walk around shirtless but girls can't.
11:40pm – 12am HOH room. Paul, Elena, Josh.
Paul talks about how all the people come out of the wood work when you get out of the house. Josh says that he wants to understand why Cody gets so mad.
11:55pm Meanwhile in the bedroom – Alex is beating Jason with her shoes…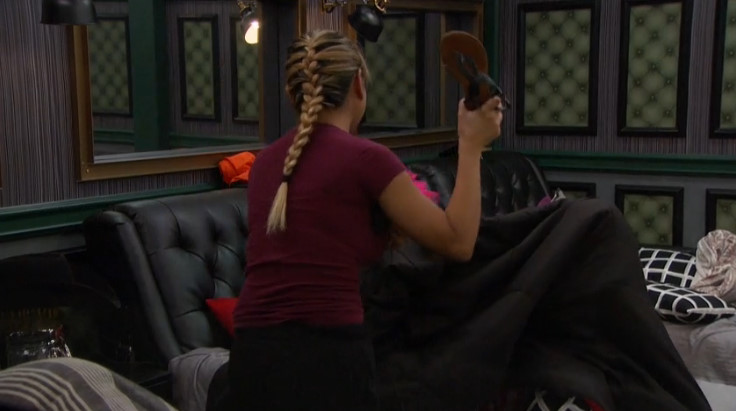 If you plan on buying anything from Amazon. Use this link Amazon home
Doesn't cost you anything and we get a small cut.
Links to the ranking system
Rank your house guests here
For those of you that like Statistics here are some expanded reports.