POV Holder:
?
Next POV:
Aug 25 (Saturday)
POV Used
POV Ceremony
Aug 27 (Monday)
HOH Winner:
Frank
Next HOH:
Aug 30 (Thursday)
Original Nominations:
Dan And Danielle
Current Nominations:
Have Nots
Dan
Last Evicted Houseguest
Boogie and Ashley
Pandora's Box POwer
Ian -> Has a veto power
The Power of Veto Players are: Frank, Danielle, Dan, Jenn, Shane, Britney
POV host: Ian
Big Brother Live Feeds FREE 3 Day TRIAL: See What they can't SHOW you on TV!
10:40am – 11:15am When the live feeds come back, Joe says that he is on the sidelines. He is the only one sitting out. Dan and Ian are in the bedroom talking. Dan asks where Brit is? Ian says the diary room. Dan tells Ian that at least we got the pick we wanted. Dan says we don't want anyone to throw it. Dan tells Ian that he understands if he doesn't use it, but you understand how I would react and what I'd do in the Jury house. Dan and Danielle go to sit in the living room. They think the competition will be a who wants it more or the spelling one. They talk about how they can't hear any building going on in the back yard so that it probably will be the "who wants it more" competition.
11:20am In the kitchen, Britney and Joe are talking. Britney says that she doesn't think she has the votes if she goes up. Joe disagrees. Britney doesn't think she has Shane's vote. Joe disagrees. Britney doesn't think Shane would vote for her over Danielle. Joe disagrees. Joe says that he is going to talk to Ian to not use the veto. Joe tells Britney the perfect word to spell if it's the spelling comp. He says every time Ian wears the shirt he think of it. "Thermodynamics" Britney says that if anyone but Dan wins it, Dan is gone. Joe says he thinks so too.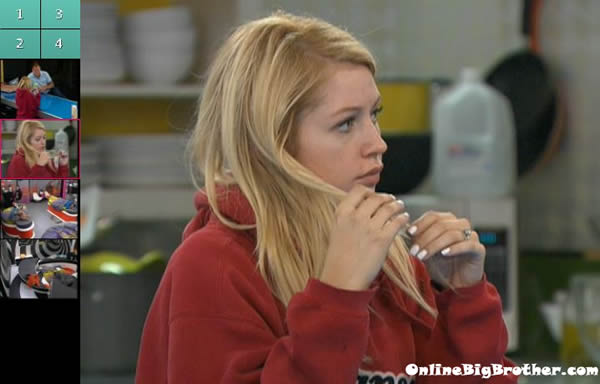 11:25am – 11:45am Britney heads up to the HOH room. Frank says that he can't wait for this comp to get started so that they can know what they are working with. Britney says that she is glad that her and Shane got picked. She says that she thinks it will be the "who wants it more" because the setup is so light. Frank asks her if she will dye her hair pink. Britney says I guess. She says that she is stressed to the max and will be trying to win it. Frank says that he was thinking last night how he told Ian all they had to do was win two HOH and Dan and another one of them would be gone. He says this is just all past tense, I trust you but you have been rolling pretty tight with Dan and Danielle. Britney says that she understands and that she is already resigned herself to the fact that Dan is already one foot out the door. She says it Dan wins the veto, I am worried if I or Shane would go up on the block and I don't know if I have the votes. Frank says if it was you up against Danielle, I think you would have Shane and Ian's vote. Frank says and Joe will vote how I tell him to vote. Frank says between us two, don't take offence to this but if it was you or Shane, I would rather Shane go home because he would work with Danielle. Frank says I want you to win today, as far as my best interest go I think Shane going home would be better if Dan came off. Britney says that she does want to work with Frank, I am working with you. Frank says that he thinks with Shane gone he could get Ian, Joe, Jenn and Britney rolling with him to put Danielle and Dan back on the block. Frank asks Britney if would she be upset if Shane was a casualty this week. Britney said no but that she thinks he would have the votes to stay. Britney explains how a who wants it more competition works and how in her season all the guys took all the prizes when she thought they were taking punishments to get out Brendon.
Dan and Britney are in the living room. Dan says so I have to win the veto or leave it in his hands to use it. Dan asks if he made the right move in picking Jenn. Britney says yeah, because Joe would have taken all the punishments. Dan says that he was a 100% going to throw it to you guys but then I woke up this morning and he said he wasn't going to use it. I trust you guys 1000%. Meanwhile in the arcade room Ian and Britney are talking. Britney says that if Dan wins it, guess who will be going up, yours truly. Britney says that Dan is freaking out because you said you won't use. You need to tell Dan that if Dan or Danielle win it that you will use it. Britney tells Ian to go tell Dan. Ian gets up and goes to tell Dan that he will use it. Dan goes to the arcade and Britney tells him that Ian said he would use it. Dan says that Ian told him that if Frank threatened him he wouldn't use it. Dan then goes to the bedroom to talk to Ian. Ian says that the perfect scenario is that I will use it to take you off. Dan says that he will throw it to them. Ian says that the talk scared the hell out of him last night. Ian says that the talk last night from BB trying to get him to use it has freaked him out. Ian says he will tell Frank beforehand so he isn't blindsided.
Watch it ALL on FlashBack: Pick the Day, Time and Camera View!
12:20pm – 12:40pm In the arcade room Britney and Shane are talking about strategies to winning the different types of POV competitions it could be. Shane then heads up to the HOH room to talk to Frank. Frank tells Shane that he is not afraid to take him to the final two. Shane says that he would take him too. Frank says that there aren't many people that would take us to the final two. He says that Shane is the only person that would take him. Frank explains how the final HOH competition plays out. Shane says that he is going to do whatever it takes to win the POV and take all the punishments but will not shave his head. Frank agrees. They talk about maybe giving up $50G's or $75G's. Shane says that Dan said he had to write a cheque for $140,000 to the IRS after he won.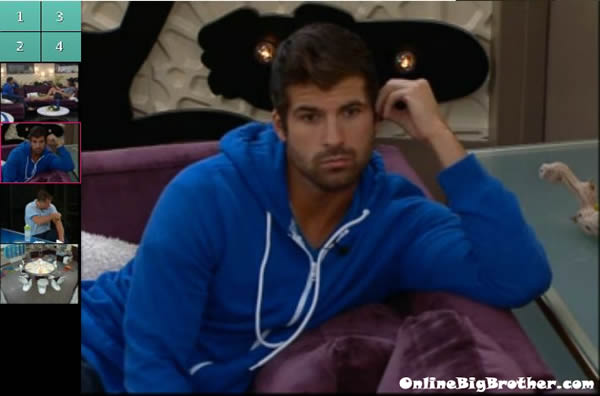 Watch the 24/7 Uncensored Live Feeds of the Big Brother house:
3 Day FREE Trial!
Ian and Dan are in the have-not room talking. Ian says that one thing you said to me was that you would rat me out Mother F**ker. Dan asks did they ask you. Ian says yeah, if you did that, it would not only screw over me, but also the whole.. Dan says no, I would never. Ian says that he told Frank when he asked about it that he was trying to keep you off the block. Dan says that I can't throw it unless I know I have your vote if it is me versus Shane. Ian says that they need to make sure Shane or Britney win the POV today. Ian says why do I always get put in these positions. Ian leaves and goes to lay down in the kicks room.
12:55pm Ian is talking to Britney that he is getting really pissed off that he keeps getting put in these positions. He says that Dan keeps asking for more, more and more and more. Ian says that he keeps getting threatened with jury votes and he is tired of it. Ian says that Dan and Frank threatened him. Ian says that he is getting tired of it and is seriously considering going into the diary room and talking to a psychiatrist. Ian says that he hopes he can win HOH next week and take Frank out. Ian tells Britney that he told Joe to pick a side, that Joe just floats to the power and that he doesn't respect that.
Share it YO!!
Tweet